By: Jayne D'Arcy
Kojonup local Kevin Gale was working in a paddock with a friend, cutting and splitting wood, when disaster struck.
He was using an older model Superaxe wood splitter with a leg control to split a large odd-shaped log.
"My arm slipped between the block, I overbalanced, fell backwards and activated the control for the splitter to come down," recalls Gale of the incident.
"My arm was under it. Of course that happened in a matter of seconds.
"When it dawned on me what had occurred, I screamed. My friend came over, pulled me into reality and called the ambulance on his mobile."
Trained as a St John ambulance driver, Gale knew there was a limited time for survival and a golden period if there was any chance of keeping his arm, which was severed between his right wrist and his forearm.
He claims a history of stubbornness and certainly didn't let niceties get in the way when it came to fighting for his life.
"My friend put the phone on speaker on my chest. I could hear the conversation and I interrupted and said: 'This is an amputation! Please get the helicopter airborne now!'
"From my St John Ambulance training I knew that the helicopter was the answer. I said: 'I'm not going to answer any more questions until you tell me that chopper is airborne,' and then the woman on the phone confirmed it was."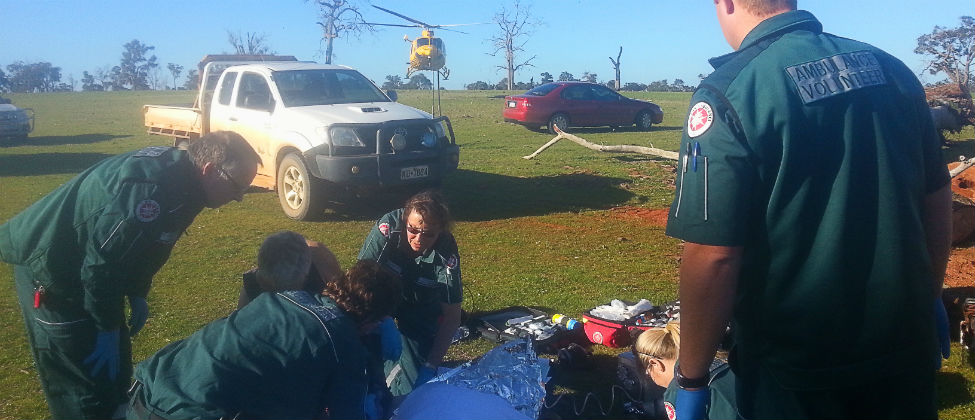 Another St John-trained neighbour soon arrived, as did local ambulances.
An RAC Rescue helicopter appeared soon after, landing on the paddock, and Gale was transferred from the ambulance, where he had been stabilised, to the helicopter, which flew him to Royal Perth Hospital.
He remained conscious throughout the journey, which enabled him to convey his wishes.
"I had a professor of trauma come up and recommend an amputation. I said 'no way!'.
"Then he told me it was up to the plastics team. The leading surgeon of the plastics team came over and looked over his shoulder and said 'oh yeah, we can do that'."
And they did.
According to Gale, the quick response of RAC Rescue was the key to his operation's success.
"Without that service I would have been outside the eight-hour window for the operation."
The incident happened at 2.30pm and Gale says they started the nine-hour operation at 7.30pm.
"Things fell into place. The chopper crew were available, they could come straight away; the ambos turned up at the right time, and there was the fact that I was conscious and had not lost much blood.

"The chopper guys played a big part by getting me there in one piece. I was delivered in the best possible condition for surgery."
The day after the event and operation, the pilot, David Shaw, popped in especially to see how Gale was.
"He walked in and I was able to wave at him with my right hand and wiggle my fingers," says Gale. "He was amazed."
Funded by the State Government, the RAC Rescue helicopters are managed by the Department of Fire and Emergency Services (DFES) and sponsored by RAC.
Your RAC membership helps us sponsor the RAC Rescue helicopters, which fly life-saving missions every hour of every day.

As a membership organisation we don't have shareholders, which means we can reinvest our profits for the better of our members and the WA community.
In return, we give back to you with savings on fuel, shopping and more. And your membership helps us sponsor the RAC Rescue helicopters.

That's the power of membership.