We've joined forces with West Australian Music (WAM) to support their 2016–17 Wheatbelt Touring Circuit and the WAMbassador initiative, which sees six local musicians champion road safety messages throughout the region.
RAC General Manager Corporate Affairs, Will Golsby, said the WAMbassadors are engaging with the community to raise awareness about the Wheatbelt's unacceptable road safety record.
"Tragically, 2,155 people were killed or seriously injured on Wheatbelt roads between 2004 and 2013. This year there have already been more fatalities on Wheatbelt roads than the whole of last year," Mr Golsby said.
"Last year, the Wheatbelt road fatality rate was six times the Perth metropolitan rate, four times the state rate and well above nearby regions.
"The WAMbassadors drive community discussion about how everyone has a responsibility to help save lives and prevent serious injuries, given 65 per cent of Wheatbelt crashes can be attributed to deliberate driver choices, such as speed, drink driving and inattention."
WAM has chosen local musicians Erin Pope, Ash Nardini, Hayden Sprigg, Polly Medlen, Jayden Crook and Pete Byfield, many of whom have been affected by road trauma themselves, to be WAMbassadors.
WAM CEO Mike Harris said the touring circuit is an effective platform for the WAMbassadors to dispel the myths around road safety and replace them with fact.
"As people in the community come together to enjoy live music, the WAMbassadors, who are Wheatbelt locals, can engage with their peers and draw attention to the consequences of poor choices behind the wheel," Mr Harris said.
The continuation of RAC's partnership with WAM, which began in 2012, is testament to the quality of the touring circuit which brings a diverse range of talented, upcoming and established music acts to the region and raises awareness about the impact of road trauma in the community.
WAM's Wheatbelt Touring Circuit and WAMbassador initiative earned a finalist nomination for the Insurance Commission of Western Australia Regional Safety Award, as part of the Western Australian Regional Achievement and Community Awards, for promoting safe practices in regional communities.
The opening tour kicked off in July with headline act The Kill Devil Hills playing gigs in Northam, Merredin and Quindanning, followed by successful tours in August, September and October throughout the Wheatbelt.
The remaining tours will happen over one weekend in November 2016 and February, March, April, May and June 2017. Visit wam.org.au/wheatbelttour for dates and venues.
To learn more about the WAMbassadors and the touring circuit download the free Wheatbelt Touring Circuit magazine: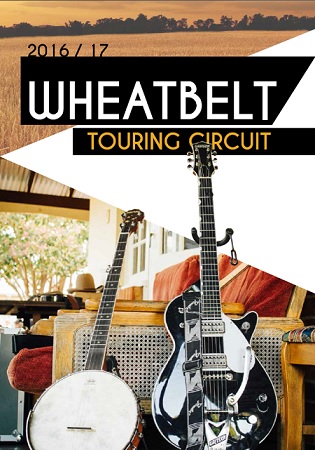 Wheatbelt Touring Circuit Magazine (PDF 3.75MB)
If you're interested in hosting a gig or playing on a tour contact WAM on (08) 9227 7962.
Special thanks to photographer: Mary Parker
Wheatbelt road fatality statistics are representative of the 2004 – 2013 period as reported by Western Australia's Road Safety Commission.