Seventeen-year-old Kelli Kang has ticked one of life's big boxes – she has her P-plates.
Although Kang has managed to get around quite well without a car, she's excited about the added independence having a drivers' licence will give her.
Kang, who is still at high school, is the first of her close friends to get a drivers' licence and says that, like her, most of her friends are keen to get their licence because of the autonomy it will give them rather than the pure practicality of getting around every day.
"Before I got my licence I'd just been using public transport," she says.
"So getting my licence is more about giving me freedom to do stuff with my friends, not really for me to get places.
"Because a lot of my friend's parents drive them around, it's been less important to them too. But I think getting your licence becomes more important as more of your friends get theirs."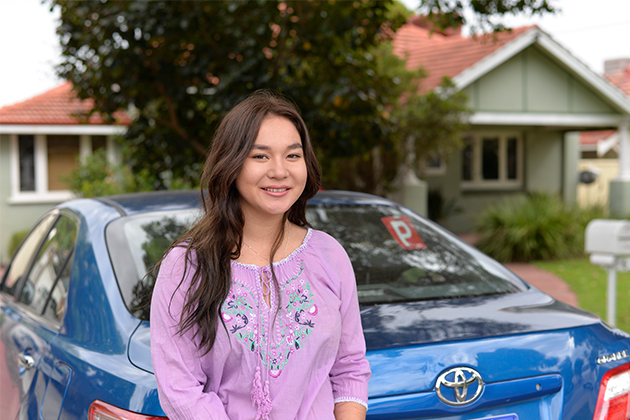 It's an attitude that was also evident in RAC's 2017 Young Driver Survey. While 72 per cent of 17- to 21-year-olds said they needed a car to get around, only 57 per cent said their life would be dramatically affected if they didn't have a licence.
In a typical week, 42 per cent said they travelled as a passenger in a car and 37 per cent used public transport. Kang is lucky enough to have a car that was gifted to her by her grandmother.
For her, the make and model wasn't important, she was just happy to have a car. She also made it through the learning and examination process easily.
"I found it fairly easy to get my licence. I passed on the first go which most people don't apparently."
In addition to the road safety information gained through her driver training, Kang says some of her earliest memories of road safety messages were those she was exposed to in primary school.
"They used to have a lot of those stop, look, listen and think messages."
Today, as a passenger in cars with other young drivers Kang is happy to call out her friends' risky driving behaviours, though she says it's usually with a light-hearted tone.
Given the high representation of young people in road fatalities, it's a sentiment that's great to hear.
2017 RAC Young Driver Survey Results
Behind the wheel
39%
Had a near miss while driving because they were distracted
38%
Had at some time driven even when they were too tired to drive
35%
Had expressed anger at other road users while driving
Mobile usage
48%
Used their mobile phone while stopped at traffic lights
21%
Used their mobile phone in slow moving traffic
Getting around
72%
Said they need a car to get around
57%
Would be dramatically affected if they lost their licence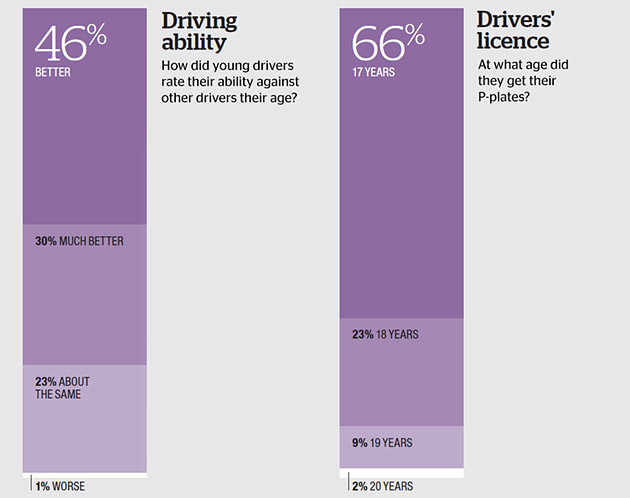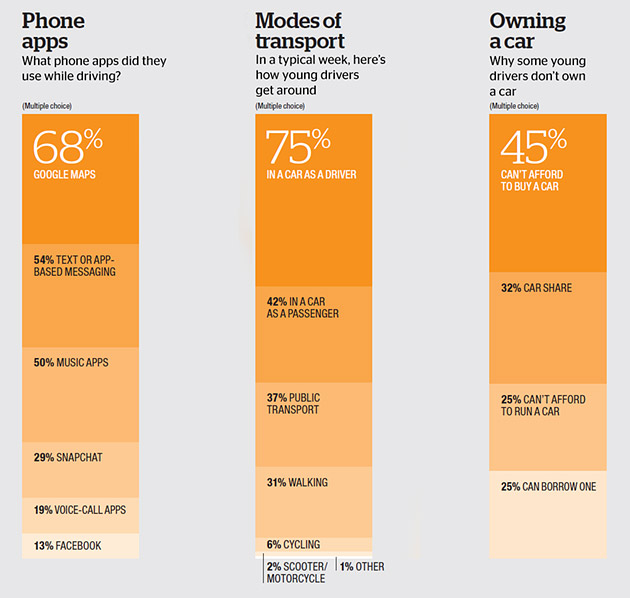 Young driver education
Sadly, young drivers continue to be over-represented in road fatality statistics. In 2016, the road fatality rate for 17- to 19-year olds in WA was almost double the statewide rate.
We want to see this number fall to zero. RAC's interactive driver education program is designed to develop safety values among the next generation of drivers.
If your school is looking for a way to teach primary or secondary students how to be safe on the roads, our Community Education team can help.
Do you know someone about to get their licence?
Drivers aged 17-21 can get free RAC Standard Roadside Assistance for one year and up to two subsequent years for half price with continuous membership with free2go.
Your membership helps us create a better WA.
Your membership helps RAC provide young driver education, improve road safety in WA through partnerships with government and industry, support more sustainable ways for people to get around WA, and sponsor the RAC Rescue helicopters.
Plus, we give back to you with discounts on RAC products and services, plus great everyday savings.
Doing more for WA and for you.
That's the power of membership.