15 July, 2019 By: Fleur Bainger
When Julian Ilich arrives to meet me, he's got a light dusting of rain on his parka and a healthy glow to his cheeks.
But despite riding his bike at 25km/h for 10km to get here, he's not puffing or sweaty. In fact, he seems to slide into the café seat opposite with a resting heart rate.
His treadly is a new breed of ebike, one the team at Tiller Rides has designed and called the Roadster. He still has to pedal to activate its power, but it's far easier than the pushbike most of us grew up with.

"To me it's kind of like the bionic man; the bike multiplies your effort by two or three times," he says. "It detects how much force you put on the pedals. I'd say it's about a quarter of the normal effort you'd put in to go the fastest it goes, which is 25km/h."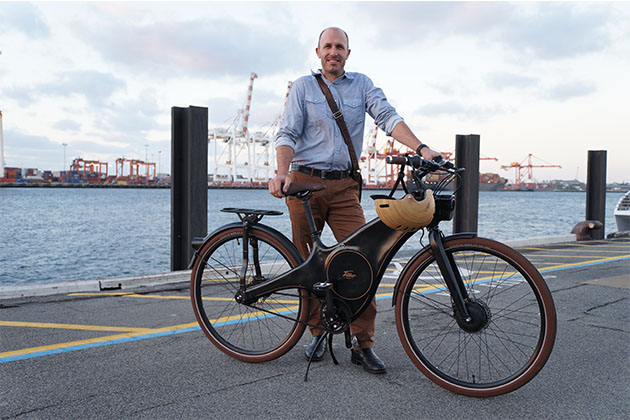 Julian, who has a background in mechanical engineering, first started dreaming about his ideal electric bike back in 2010. A pause between work contracts in 2015 gave him space to think more seriously about the idea, and brainstorm with a 3D modeller who was renting out his AirBnB room, as well as with a graphic designer mate. Suddenly the idea had legs.
Julian never set out to build an electric bike but was in fact trying to solve a wider issue. "I did a year's degree in sustainable city design. The key solution was: we've got to get cars out and have more people walking and cycling," he says. "So I wanted to know, how do we get more people riding, because I know the benefits of it. How do I contribute to that?"
---
Enjoying this article?
Sign up to our monthly enews
---
Julian saw a gap in the market for a streamlined ebike that would appeal to the urbanite; something that is attractive, has excellent function, and that you can get around on while still looking slick.
"Steve Jobs said, 'You should only design a product you want to use yourself.' This is designed for me. I've experienced all the problems it solves."
Julian believes the ebike will also appeal to those who appreciate good design, value the environment and are conscious of health, as well as retirees looking for an affordable transport option.
When the first prototype bike was created in 2016, Julian threw himself into Tiller Rides full time. Despite it not being his first start-up business, he found the leap unnerving.
"I had chest tension for the first three months, wondering if I'd done the right thing."
The bike has now been tweaked and the third prototype was released at Christmas time, 2018. It reads like a piece of Apple technology. A lightweight frame using aircraft grade, rustproof aluminium contains everything from a removable, rechargeable battery to a rain poncho. There's a grease-free rubber belt instead of a chain, a motion sensor alarm and GPS 'find my bike' tracker, as well as built in cable lock and lights, keyless unlocking and even a USB port.
They've also thought of including an emergency tyre repair kit. The battery will last for 80km of riding on full assist and the power cord has a magnetic plug similar to that of an Apple computer, so that if it gets yanked, the bike won't fall over. All up, it weighs 25kg.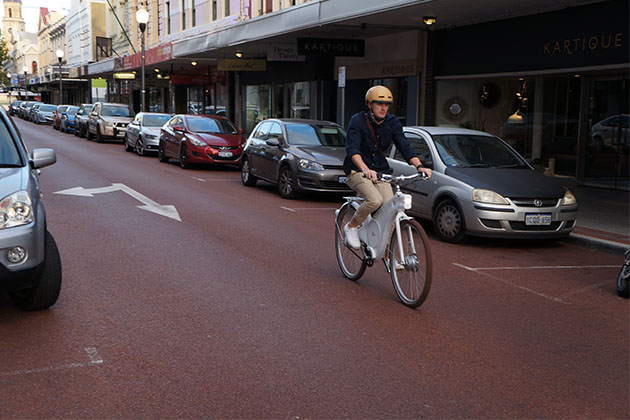 Man on Tiller ebike riding down the street
Julian's pursuit of the perfect bike has been somewhat unconventional. During the journey, the entrepreneur formed a design advisory group made up of people he "met on the street" who he felt would be useful sounding boards. He also partnered up with Ray Glickman, a former CEO of the City of Fremantle and Amana Living. "I showed Ray a picture of my bike on my phone; he's motivated towards sustainability. He said, 'Someone should help you with that'," says Julian.
Together they assembled a board of experts. "When things have got a higher purpose to them, a bit of soul, it has an extra value in it.
"There's a very good chance this will make money for the people involved, but none of them are in it for that reason. It's about inspiring people."
To make sure he's got it right, Julian has tested the bikes with hundreds of people. This year, he started doing pop up test rides around the city and allowed people to book in longer trial rides.
With a healthy number of pre-orders already taken, Julian's dream of helping to create a more sustainable city is well on the way to coming true.
Enjoy this story? Get more of the same delivered to your inbox. Sign up to For the Better eNews.
We're working towards a cleaner and greener future
An important part of RAC's planning for the future is looking at how we can live, work and move around the State more sustainably.
Last updated November 2020