Games
Help your students learn all about bicycle, pedestrian and passenger safety. Not only does it make learning fun, but it's also aligned to the Western Australian curriculum!
The program includes:
Online digital games
Teaching resources and lesson plans
In-school presentations by road safety experts
The games are designed to help children learn at their own pace, for optimal learning outcomes it is important that the games are viewed as part of a larger ongoing educational focus on road safety and not the only focus. By working together we hope parents, teachers, schools and the RAC can play a life-changing role in our community.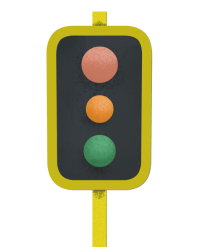 Congratulations you've found the golden traffic light!
Go to rac.com.au/kids to tell us where you found it.
Member Benefits
Welcome pack
We'll send you a welcome pack with your very own RAC Little Legends Club® membership card. Use your card to access everyday member benefits.
Monthly eNewsletter
We'll make sure you're kept up to date with the latest RAC Little Legends Club® news, offers and competitions with our regular eNewsletters.
Exclusive discounts on events
As an RAC Little Legends Club® member you'll have access to exclusive savings on a range of family and community events throughout the year.
Become a member
RAC Little Legends Club® members receive access to our award winning online road safety games, their very own RAC Little Legends Club® welcome pack and membership card, Which gives them access to awesome benefits and discounts.
Join