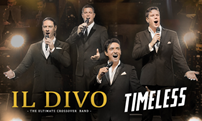 Pre purchase / e delivery
Savings exclusive to RAC members
IL DIVO Timeless Tour 2018
Presented by: One World Entertainment
Il Divo are the world's leading classical crossover quartet and have announced the Australian dates for their Timeless Tour 2018! They have performed in front of the world's great and good – from President Barack Obama to Her Majesty the Queen. They have shared microphones with fellow superstars from Barbara Streisand to Celine Dion and their sell-out concerts have been attended by Hollywood icons including Tom Hanks and Robert De Niro.
The group comprises of Switzerland's Urs Bühler, Spaniard Carlos Marín, the USA's David Millers, and Sébastien Izambard of France. Il Divo came together following an international search that discovered the fabulous four. They have released seven studio albums to date, most recently in 2015. They're about to release another album soon in Australia! Don't miss them when they tour Australia this October!
What do I get?
Il Divo, are coming to RAC Arena on Tuesday 16 October, save 20% off all price category tickets (excluding packages). Offer valid from 2 August 2018 to 16 October 2018.
That's the power of membership.
How do I redeem?
Simply purchase your ticket from the dedicated link below.
You'll also be asked to enter your RAC member number in the coupon code field, your member number can be found on the front of your card ignoring all dashes and spaces – the discount will then be applied automatically.
Lost your RAC membership card? Order one now
Not a member? Find out how you can join RAC today!
Terms and Conditions
Terms and conditions:
*20% off all price category tickets excluding packages. This offer is only available from the following dedicated link, click here. Offer valid from 2 August 2018 to 16 October 2018. Discount valid for the RAC Arena, Tuesday 16 October show only. Valid RAC member numbers only, lapsed/resigned member numbers will not work.