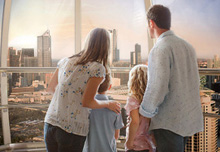 Pre purchase / e delivery
Purchase your voucher online
What do I get?
Save from 10% off on a variety of amazing experiences all over Victoria such as Eureka Skydeck, Melbourne attraction passes, Phillip Island passes, Great Ocean Road skydiving and much more!
How do I redeem?
Book your experience through Experience Oz using your RAC membership card. Show your RAC membership card on arrival.
Where do I get the offer?
Experience your adventure all over Victoria.
Not a member? Find out how you can join RAC today!