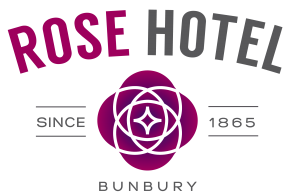 Show your card
Book today!
What do I get?
10% off accommodation on presentation of RAC member card at check-in.
How do I redeem?
Redeem in person at the Rose Hotel, book online, or phone 9721 4533 to book.
Please advise the Rose Hotel that you are a current RAC member when booking. RAC membership card MUST be presented on arrival.
Lost your RAC membership card? Order one now
Where do I get the offer?
Phone Rose Hotel and Motel on 08 9721 4533
Location: corner or Wellington & Victoria Streets, Bunbury WA 6230
Not a member? Find out how you can join RAC today!
About Rose Hotel and Motel
Serving customers since 1865, the state heritage listed Rose Hotel remains one of the most unique venues in WA's South-West. After extensive renovations in 2016 the Rose Hotel has been renewed and refreshed for the future. Casual front-bar, family restaurant and modern pub grub, function ballroom, separate motel accommodation and drive thru bottle-shop. The Rose Hotel – where the oldest just became the newest. The Rose Hotel comprises a family restaurant with kids area, public bar, ball room and lounge for events, 25 unit motel accommodation and a drive-thru bottleshop.
Terms and Conditions
Terms and conditions apply. Our 10% off accommodation on presentation of RAC member card at check-in is available all year. Offer not available in conjunction with any offers being run by The Rose Hotel and Motel. Current RAC membership card must be shown to redeem offer/s. Offer available at premises and online.