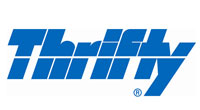 Show your card
Book with Thrifty
What do I get?
When you book your next car rental with Thrifty, you'll really see the benefit of being an RAC member.
• Enjoy a further 15% discount on the best rate of the day
• $5 daily discount on damage waiver protection
• 30% off GPS hire in Australia
• Free additional driver in Australia
Members can also enjoy exclusive car rental benefits with Thrifty New Zealand.
How do I redeem?
Book online or simply present your RAC membership card at any Thrifty in Australia and New Zealand.
Lost your RAC membership card? Order one now
Where do I get the offer?
Visit your nearest RAC Travel branch or book online.
Not a member? Find out how you can join RAC today!
Terms and Conditions
Must present a valid RAC membership card upon reservation & time of collection. 15% discount on best rate of the day, available at Thrifty locations in Australia and New Zealand only. Offer valid for commenced and completed rentals from 01 November 2016 until 31 October 2017. Limited Time Specials: Damage Waiver Premium Protection available at a discounted price of $22/day or Ultimate Protection at $28/day, both options discounted by $5/day, available in Australia only. Ultimate Protection is capped at 10 days per 30 day rental. New Zealand Protection Options include Total Protection Package & Accident Excess Reduction, both options discounted by $5/day. For more information on damage waiver products in Australia & New Zealand please speak to a consultant. Additional driver fee waived for RAC members, offer valid in Australia only. GPS unit hire available at a discounted daily price of $7.70 (Inc. GST) at selected locations in Australia only, usual daily rate is $11 and a capped rental price of $77.00 (Inc. GST) for a maximum of 30 days rental. Offers are subject to availability & cannot be used in conjunction with any other promotion, special offer or coupon. All car rentals must meet the standard age, driver licence and credit requirements of Thrifty. All rentals are subject to the terms and conditions of the Rental Agreement.