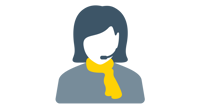 Save on RAC products and services
To book call 13 17 03
What do I get?
The Motoring Advice team can assist you with technical and general motoring enquries. RAC members can call on 13 17 03 to access free motoring advice from our Motoring Advice team available Monday to Friday 9am to 5pm.
How do I redeem?
Call us on 13 17 03 to chat to one of our friendly Motoring Advice team members.
Not a member? Find out how you can join RAC today
Terms and Conditions
Must be a current RAC member.
RAC provides general motoring related advice only and does not provide legal advice.