May 2, 2017 by Ross Cooper
Originally from Kerala, in the south of India, RAC Travel & Cruise Applecross travel consultant Bisha Balan has lived in Australia for 10 years, and been part of the travel industry for the past 12. In March 2017, she shared her passion for her home country when escorting an RAC Guided Holiday to India along with 30 RAC members. We chat to Bisha...


Tell us a bit about yourself?

I'm a mother of two and one of those rare individuals who looks forward to my morning cup of tea and commute to work. It is definitely fulfilling to be able to basically be a tour guide to clients as they make plans to explore the world, tick off items in their bucket lists, create special memories and come home with suitcases full of incredible experiences.
What do you love about India?
It's no secret that I love India. It's the little things that create a beautiful journey there - moments that you can never really experience through pictures or movies.
It's an experience for all your senses. As mesmerizing as Taj Mahal or the beaches of Goa can be, it's things like the colourfulness and vibrancy of every sight, sound and smell that you truly fall for.
The soft chanting from temples at sunset, the smell of incense at marketplaces or temples, the colourful and elegant saris, the variety and devotion in India's kaleidoscope of religions and the simple kindness of the people are all things I love about the beautiful country.
Tell us about your most recent trip with RAC members. What were the highlights?
Seeing our RAC members immerse themselves in the local culture; from learning some traditional dance moves, trying all the extravagant flavours India's food had to offer including making their own roti's (flatbread) it was all a very rewarding and memorable experience.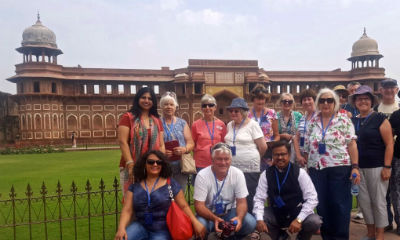 Any travel trips you recommend about travelling around India?
India is so diverse; it would take a lifetime to experience everything that the country has to offer. The biggest tip I would offer is to take it one step at a time and enjoy every moment without trying to fit in multiple cities within just a couple of days. On arrival in India, it may seem chaotic at first but there is a method to the madness - life is just lived more fluidly and you'll start to embrace it in no time.
Where are you travelling to next?
I really want to explore Canada, so hopefully I'll be able to whip up an itinerary for myself sometime soon!
"Bisha is very proud of her country and loves to share the India experience with people. She went out of her way to ensure every member of the group received her personal attention when required. We believe Bisha is an asset to RAC."
You can join Bisha on her next adventure with RAC Travel...