3 days from
$999
per person, twin share
Luxury tented camp
Daily departures
All inclusive
Experience nature at its finest with this 3 day 2 night jungle lake safari. Not only will you spend a night at the Elephant camp and have the opportunity to get up close and personal with these gentle giants, you will also spend a night at the floating luxury camp.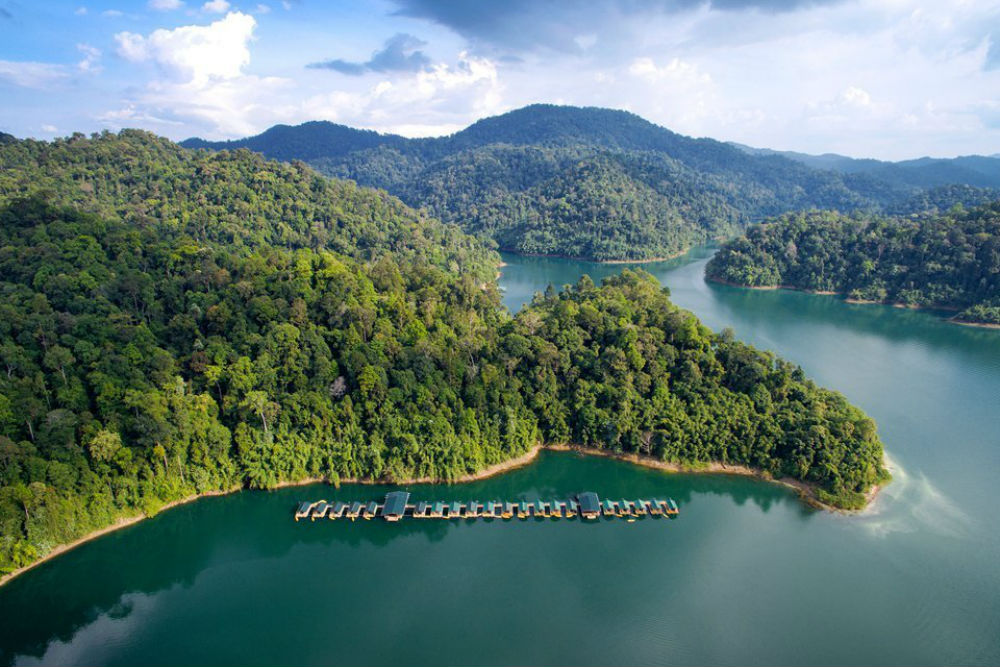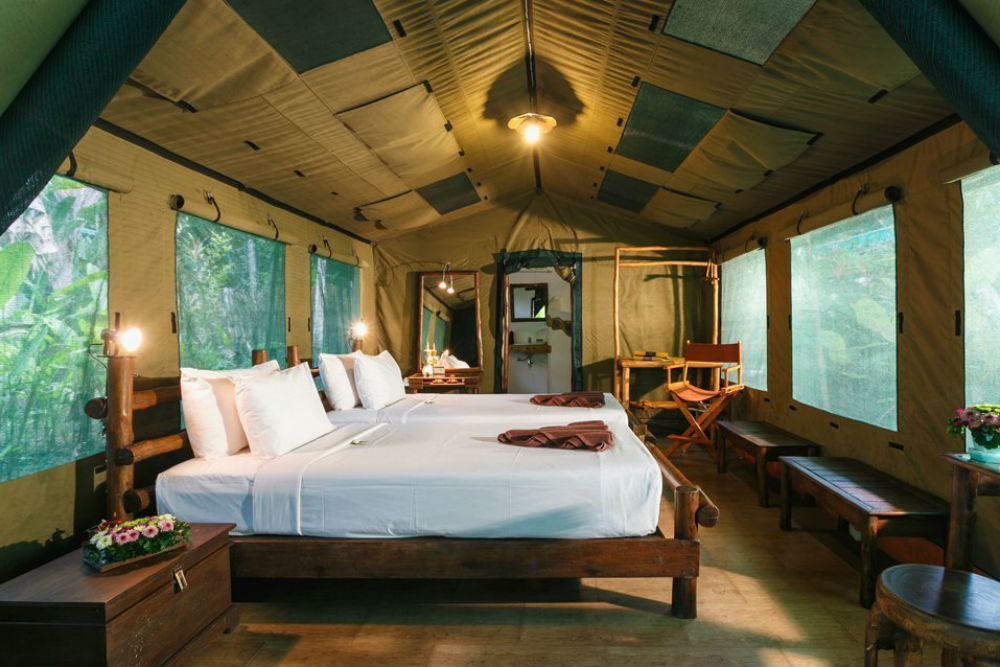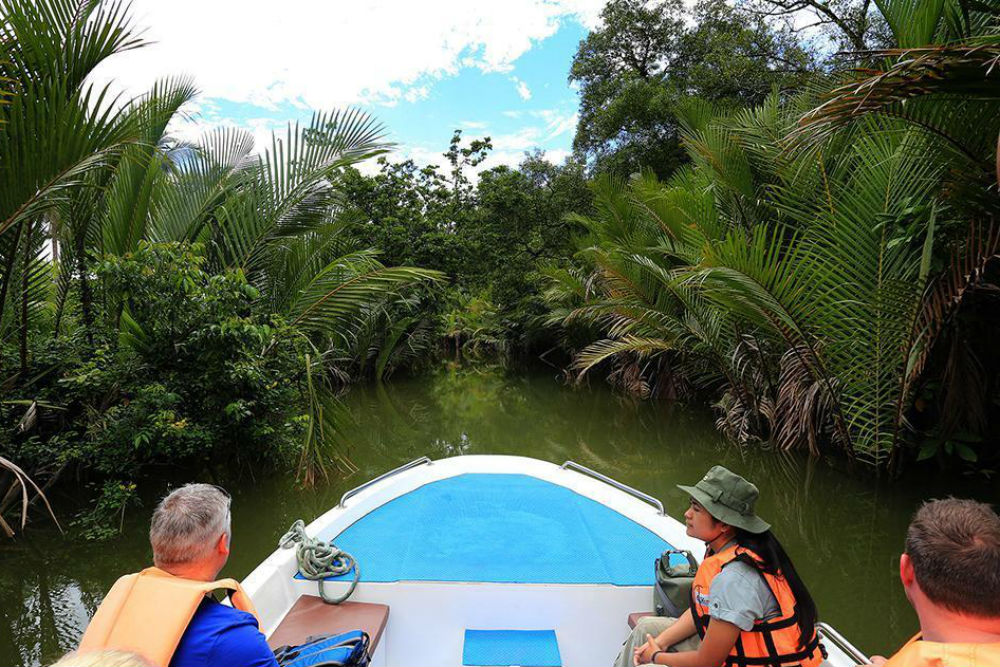 1st Days Activities: The Amazing Elephant Experience.
Transfer from the airport or hotel to Elephant Hills Camp in Khao Sok.
Elephant Hills Elephant Experience: Feeding, washing and interacting with Asia's largest land animal. A really touching experience in an almost untouched environment.
Canoe Safari down the Sok River. Sit back and enjoy the breathtaking beauty of Khao Sok.
Evening Activities: movie presentation, dance performances and cooking demonstration.
2nd Days Activities: Spectacular Cheow Larn Lake.
Visit a local market in Takhun to experience Thailand's rural lifestyle.
Boat Trip. Sightseeing in a traditional longtail boat on Cheow Larn Lake.
Lunch at the Rainforest Camp. Canoes are available to explore the spectacular surrounding.
Jungle trekking on foot through southern Thailand's unique Rainforest environment.
Overnight at the Rainforest Camp.
3rd Days Activities: Flora and Fauna in the Fabulous Forest.
Guided canoe safari and Wildlife spotting.
Lunch at the Rainforest Camp and chance to swim before return transfer to hotel or airport.
Day 1: The amazing Elephant experience
Welcome to Elephant Hills Camp
Pick-up from your hotel or the airport in Phuket, Khao Lak, Phang Nga, Krabi, Surat Thani or even from Koh Samui and transfer to Khao Sok. En-route, glimpses of tropical rural life here in southern Thailand can be caught. Upon arrival at Elephant Hills Camp, buffet lunch is served at 12:00pm, a variety of delicious Thai dishes cooked not too spicy awaits you.
Time travel on a canoe trip
After lunch you can relax during a jungle river canoe trip down the Sok River. The canoes are very stable and safe; life jackets are provided as well as a local river guide to paddle the canoe. Drift along the jungle river passing Limestone Mountains and cliffs covered with exotic tropical vegetation. Sometimes hornbill birds can be seen flying high overhead or reptiles basking in the sun on the riverbanks. From the canoe you can experience some of the last areas of primary rainforest, a world that has changed little in thousands of years.
The amazing Elephant Experience
Get out of the canoe and head over to the elephant park. Here you can see, touch and learn about the life of Thai elephants and about the Elephant Hills elephant conservation project. Your guide will also teach you about the mahout, the elephant caretaker. While participating in our amazing Elephant Experience you will get very close to and even get your hands on these magnificent animals, you will have the chance to interact with them and learn the secrets of their mahouts. You will prepare and feed them one of their daily meals, including their dietary supplements that help with their digestion and their overall well-being, then watch them bathe before you scrub and wash them clean. This is a once-in-a-lifetime opportunity to really experience the Asian Elephant, this part of the world's largest land animal!
The laid-back evening you deserve
After all this activity close to nature it is time for a hot shower in the unique bathroom of your luxury safari tent. Relax and enjoy the panoramic views of the surrounding jungle-covered mountains – this is 100% real nature! A wide selection of cocktails, wines and spirits is available at the "Jungle explorer's club bar". Optional evening entertainment includes a movie presentation, a traditional Thai dance performance from local school children and a cooking demonstration, where you learn how to properly prepare Thai specialties. At 8:00pm it is time for dinner in this unique location beside the rainforest, the sounds and the atmosphere will make this a memorable meal.
Spend the night in your luxury safari tent with a comfortable bed, reading lights, hot water and a western-style toilet. The tents' doors and windows are covered with mosquito netting as well as canvas flaps, so insects and reptiles will not bother you. Temperatures at night drop a little, the tents are well ventilated; blankets keep you warm in the chill of the night. This is real luxury so close to the heart of the rainforest!
Day 2: Spectacular Cheow Larn Lake
Good morning Khao Sok!
Wake up to the sounds of nature and birds calling from the bushes next to the tent. By the time the sun comes up and the mist over the rainforest-covered mountains to the south of Elephant Hills clears, gibbons' territorial morning calls echo down the valley. Tea and coffee making facilities are available in your tent for early risers; breakfast is at your leisure.
Spectacular Cheow-Larn-Lake
Today you will explore Cheow-Larn-Lake by local long-tail boat. Cruise across emerald waters passing towering rainforest covered Limestone Mountains to the "Guilin" of Southern Thailand. The Cheow-Larn-Lake is a little known wonder of southern Thailand and features a first-class habitat for wild elephants, the rare Asian ox, hornbills and hundreds of other tropical birds, various monkey species, amphibians, reptiles and even tigers and leopards. This combined with a myriad of other species hidden in the rainforest-covered hills make it one of the most unique and important areas of rainforest in South East Asia. Take your time to marvel at the majestic mountains rising sheer out of the water and experience nature at its best!
Lunch on a floating luxury camp
Head to the floating Elephant Hills Rainforest Camp, situated in the heart of the national park, where our staff will check you in to your luxury tent with private en-suite bathrooms, solar- and wind-powered electricity and hot and cold water showers. Find all the conveniences of a modern hotel room inside, combined with solid beds, tea and coffee making facilities and totally unspoilt nature right at your door step. Sit back and enjoy the surrounding views of Cheow-Larn-Lake whilst enjoying a fabulous buffet lunch of Thai dishes which are prepared directly on the property.
A walk to remember – deep into the jungle
Well invigorated you will come face to face with the jungle by exploring it on foot. It is not an army survival exercise, even though the trail is quite steep and times and can be slippery when wet – please talk to your guide if you are feeling unsure about the trek. But remember: There are no prizes for the fastest, snakes and spiders do not jump out at you – it is just an excellent opportunity to explore the ecology of one of the world's oldest rainforests, to see a great variety of exotic plants, tropical hardwood trees with huge roots, orchids, palms, ferns, bamboos, mosses… the variety is huge.
Birds such as the hornbill live high up above, gibbons can often be heard calling to their mates, a macaque or a leaf monkey may be swinging through the branches, beautiful butterflies buzz around – every day is different, but it is always truly wonderful to discover the great variety of life-forms that co-exists here together. Take this advice: Walk slowly. Look, learn and listen. Then you too will start to discover some of the rainforest's secrets.
No fairy-tale is that fabulous
Watch the sun set behind the towering limestone mountains from the deckchair in front of your tent after a refreshing dip in the water and the inevitable shower. Dinner will be served shortly, and then it is only you and the intriguing sounds of nature under a starlit sky… No fairy-tale will ever be that fabulous.
Day 3: Elephant hills rainforest camp. Untouched. Untroubled. Unrivaled.
You'll only regret what you have not done
Wake up to the sounds of Gibbons calling high up in the trees, whilst the clearing mist unveils the true beauty of the lake. Don't think twice: As the jungle starts to stir, you could already be out there exploring prehistoric beauty in your canoe! Or do you wish to submerge into the glassy surface of the lake first? Whatever you choose: By tomorrow you will already regret the things you have not done…
A silent adventure
After breakfast your guide will invite you to join in on a guided canoe safari into the little channels and side arms of Cheow-Larn-Lake. Take one of our kayaks and start scanning the tree tops for lazy hornbill birds or energetic primates. You will find yourself in heart of the rainforest on a silent adventure – words cannot do this experience justice.
One last lunch
Before traveling on, the last lunch is served at the floating tented camp. Bon appétit, they say; then it is time to return to the pier and move on to your next destination. The real joy, though, this inner feeling of complete happiness, will not be transferred away. It stays with you, right there, right in your heart. What remains is the memory. Untouched. Untroubled. Unrivaled.
| Dates | Prices* |
| --- | --- |
| 01 November 2019 - 01 April 2020 | $1,045 |
| 01 May 2020 - 30 June 2020 | $999 |
| 01 July 2020 - 31 August 2020 | $1,045 |
| 01 September 2020 - 31 October 2020 | $999 |
* Prices per person, twin share
* Single supplements will apply
Prices subject to change due to currency fluctuation
Prices based on per person, twin share
Single supplements will apply
Asia escapes & Elephant hills T&C will apply
*Terms and conditions apply: see RAC Travel general terms and conditions