Wonders of Bhutan
with National Geographic Journeys
10 days from
$4,599*
per person, twin share
See an un-touched world
My own room supplement: $1,659
Small group travel
Find out what lights up the faces of the residents of Bhutan, the only country in the world that measures its well-being in GNH – Gross National Happiness
On a 10-day adventure across this bastion of Buddhist culture, explore remote mountain villages and shrines and climb magnificent heights to the cliff-side Taktsang Monastery, 900 metres (2,953 feet) above the valley floor. Amid the soaring peaks and cultural delights of this ancient place, discover your own capacity for happiness.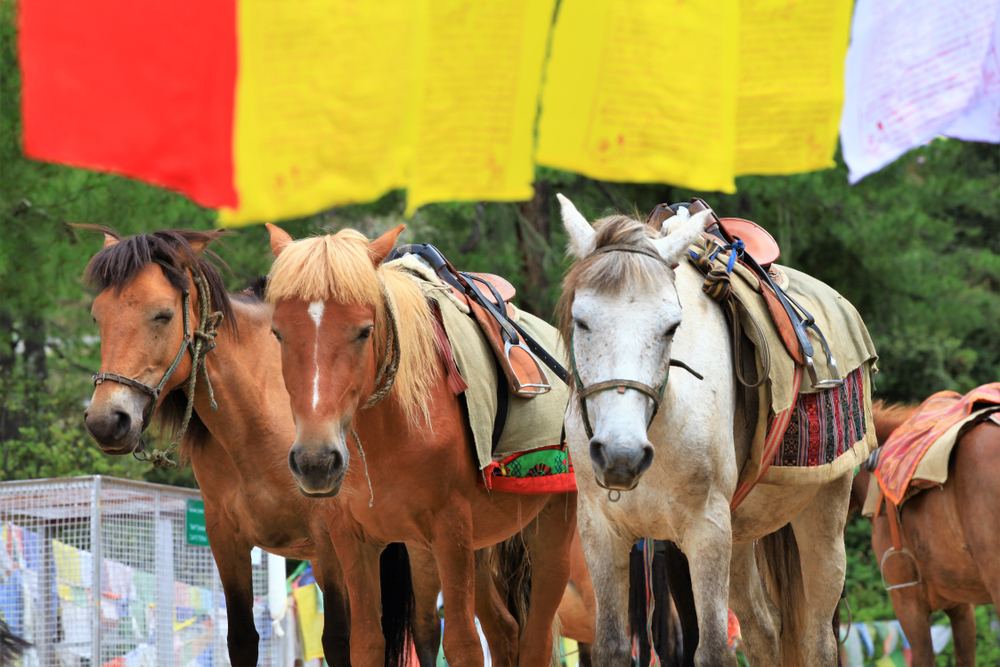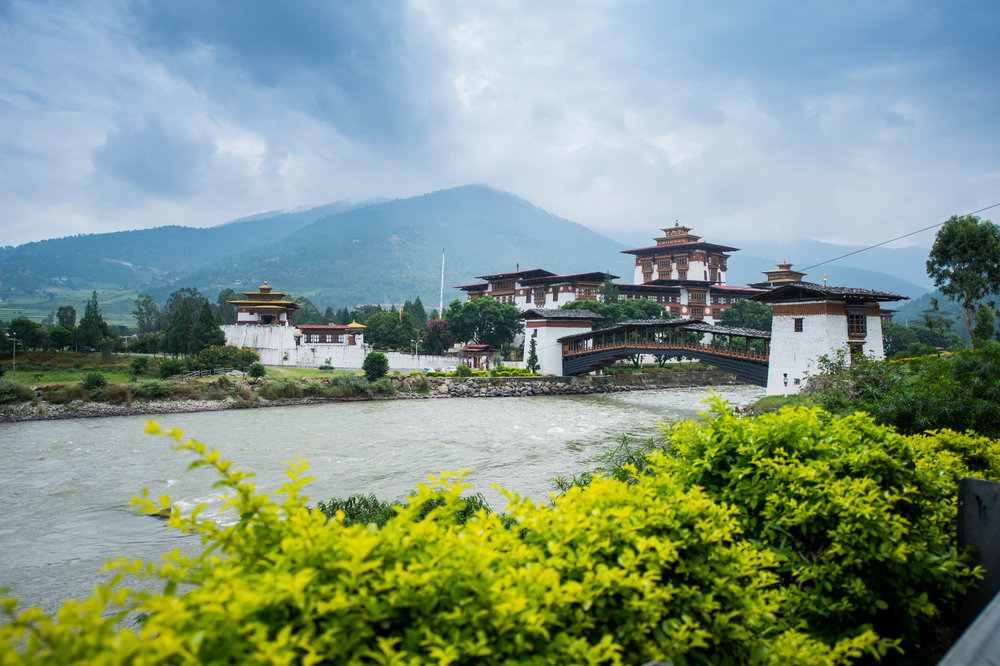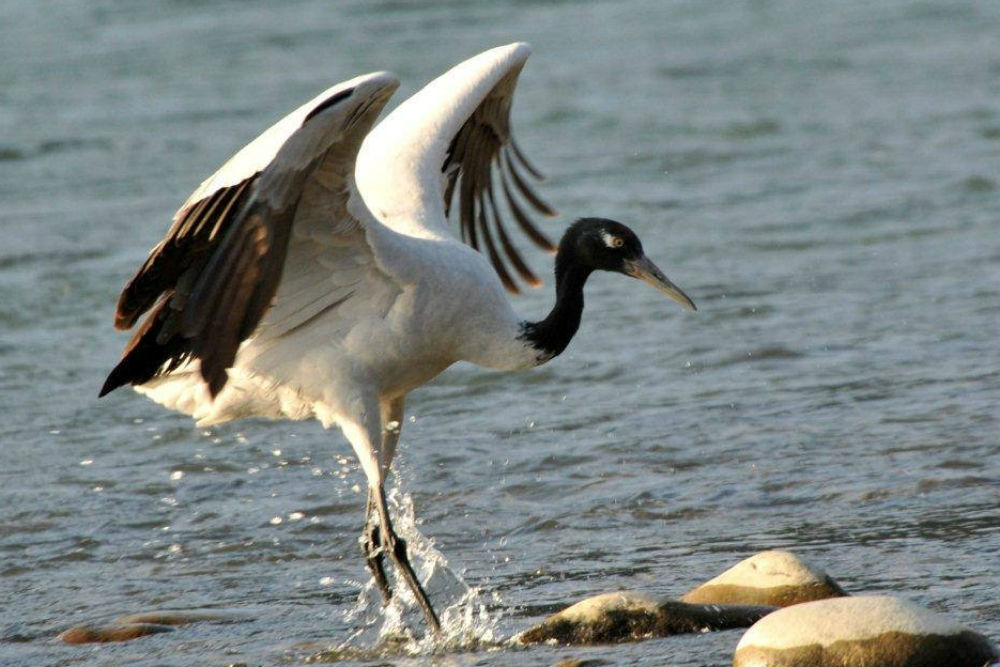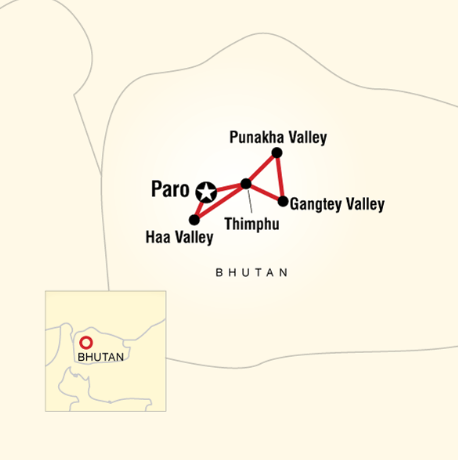 Visit one of the most remote countries in the world
Enjoy a meeting and lecture with a monk about Buddhist culture in Bhutan
Learn how to cook ema datshi (chili cheese) with a local farm family
Hike along peaceful nature trails and thrilling cliffs
Experience the pristine and peaceful nature of the "Dragon Kingdom"
National Geographic Journeys Exclusives: Lecture on Gross National Happiness, Thimphu.
Arrival and departure transfer.
Visit the Rimpung Dzong.
Hike to Punakha Dzong monastery and fertility shrine.
Visit the town of Wangdue and walk to Khamsum Yueley Chorten shrine.
Visit the village of Khewa.
Black-Necked Crane Centre visit.
Hike to the monastery of Gangtey Goempa.
Walk across Phobjikha and Khewa valleys.
Visit the National Library, the Institute for Zorig Chusum (arts and crafts) and the Thimphu Chorten.
Hike to Kila Goempa nunnery.
Explore shrines and temples of the Haa Valley.
Visit the fortress of Drukgyal Dzong and hike to Taktsang Monastery (Tiger's Nest).
Visit Kyichu Lhakhang Temple.
All transport between destinations and to/from included activities.
| | |
| --- | --- |
| Start date - 2019 | Price per person* |
| 21 September | $4,599 |
| 19, 26 October | $4,599 |
*Twin share accommodation
If you would like your own room, a supplement of $1,659 is payable
Day 1 - Paro/Thimphu
Arrive at any time and transfer to Thimphu. In Thimphu, time permitting, take an orientation walk in town and get settled in.
In clear weather, the flight over the Himalayas offers magnificent views of the world's highest peaks as they give way to the lush green Paro valley. The first gift from Bhutan will be the cool, clean fresh air as you step off the plane. After clearing customs and visa control, an arrival transfer will take you to Thimphu, where we'll be met by our local CEO who will conduct a welcome meeting and orientation.
The adventure begins tonight. Feel free to explore before your welcome meeting, but make sure you're back in time to meet the group. After introductions, your CEO will review the details of your tour. Please note that normal check-in times apply at our start hotels, but you can usually store your luggage for the day if you arrive early.
Accommodation: Namgay Heritage Hotel (or similar)
Meals: Dinner
Day 2 - Thimphu/Punākha
In the morning, meet a Buddhist Monk and scholar to discuss Buddhist beliefs and way of life, as well as values in Bhutan. Drive to Punakha, crossing the Dochula Pass and enjoying stunning views of the Himalayas through flickering prayer flags. In the afternoon, drive to Lobeysa and hike 20 minutes to Chime Lhakhang, temple of the "Divine Madman", built in 1499. Today, it is mostly visited by women, as it is known as a temple of fertility.
After breakfast, drive through dense forests of blue pine, oak, and rhododendrons and enjoy views of the Himalayan range and the valley beyond. After a lunch stop, the road climbs steeply through a forest of pine and cedar, festooned with hanging lichen high up near Dochula pass at 3,050m (10,007 ft). After stopping here for tea and panoramic views of the Himalayan mountain range, we descend along a series of hairpin bends to the fertile valley of Punakha.
Accommodation: Meri Puensum Resort (or similar)Resort
Meals: Breakfast, Lunch, Dinner
Day 3 - Punākha
Enjoy a full day of exploration including a visit to Punakha Dzong, Sangchhen Dorji Lhuendrup Nunnery, and Wangdue Phodrang. In the afternoon, hike through rice terraces and forests to Khamsum Yueley Chorten.
Visit Punakha Dzong, winter seat of the Je Khenpo and the Monk Body, located between the rivers of the Mo (female) Chu and Pho (male) Chu. Hike to Sangchhen Dorji Lhuendrup Nunnery and observe this complex of mediation and traditional arts training center for nuns.
Walk back to the road and then drive a short distance to Wangdue for a visit to the Wangdue Phodrang. We'll continue on to the suspension bridge and hike through rice terraces, fields, and deep pine forest to Khamsum Yueley Chorten, where the view is superb. Descend until we reach the suspension bridge and the return to the hotel.
Accommodation: Meri Puensum Resort (or similar)
Meals: Breakfast, Lunch, Dinner
Day 4 - Punākha/Gangtey Gonpa
Travel to Gangtey and visit the Black-Necked Crane Centre, one of the most ecologically sensitive areas in Bhutan.
Visit the Crane Information Center and learn about the Gangtey/Phobjikha valley which is one of the most ecologically sensitive areas in Bhutan and is known as the winter habitat for the endangered black necked cranes. Explore the Crane information Center which is managed by the RSPN (Royal Society for the Protection of Nature), an NGO striving to protect Bhutan's environment, flora, and fauna. These magnificent cranes migrate from Tibet in early November and return at the end of February.
Accommodation: Hotel Dewachen (or similar)
Meals: Breakfast, Lunch, Dinner
Day 5 - Gangtey Gonpa
Walk to the monastery of Gangtey Goempa, known to hold the most sacred relics in Bhutan. After, walk across Phobjikha Valley to Khewa Valley, where we'll visit an old temple and make an offering. This evening, stop at the village of Khewa and visit a local family's farm for a cooking demonstration and a home cooked dinner.
The valley is also a centre for crane observation run by the RSPN (Royal Society for the Protection of Nature), an NGO striving to protect Bhutan's environment, flora, and fauna. At certain times of the year, it is possible to spot these magnificent birds.
Accommodation: Hotel Dewachen (or similar)
Meals: Breakfast, Lunch, Dinner
Day 6 - Gangtey Gonpa/Thimphu
Drive to the capital to visit the Big Buddha and the Institute for Zorig Chusum, an arts and crafts school where we can watch students practicing traditional arts such as woodworking, painting, and ceramics. Receive a lecture on the Gross National Happiness, an index used by Bhutan to measure the nation's progress.
Enjoy a visit to the Institute for Zorig Chusum, an arts and craft school that's a highlight for those interested in Asian art. The institute was established in 1971 to ensure the continuity of Bhutanese traditional arts. Students study here for 4-6 yrs in various mediums. Explore the institute opt to purchase arts and crafts from the shop.
Accommodation: Namgay Heritage Hotel (or similar)
Meals: Breakfast, Lunch, Dinner
Day 7 - Thimphu/Haa Dzongkhag
In the morning, visit Memorial Chorten. Drive to the valley and visit Lhakhang Karpo (White Temple). In the afternoon, spend time exploring Haa town.
Explore beautiful Bhutanese temples and shrines in Haa town including, the Lhakhang Nakpo (Black temple) and Lhakhang Karpo (White Temple).
The chorten is one of the most prominent religious structures in Thimphu, and for local Bhutanese it is a popular part of their daily prayers. Watch locals walk around the Chorten, spinning the prayer wheels and meditating in this lovely and peaceful spot.
Accommodation: Rigsum Resort (or similar)
Meals: Breakfast, Lunch, Dinner
Day 8 - Haa Dzongkhag/Paro
Drive to the Haa Valley, one of the most remote and sacred valleys in Bhutan via the Cheela Mountain Pass, at 12,500 feet. Hike to Kila Goempa Nunnery which clings to a rocky cliff. Later, visit Kyichu Lhakhang Temple and the local archery grounds.
Accommodation: Hotel Olathang (or similar)
Meals: Breakfast, Lunch, Dinner
Day 9 - Paro
Embark on a vigorous hike up to the Taktsang monastery (Tiger's Nest), the most venerated pilgrim site of the Himalayan world. The view is absolutely stunning, with the monastery clinging to a cliff face towering 2,953m above the valley. Return to Paro and visit the ruins of the Drukgyal Dzong fortress.
Due to the altitude this climb can be tough. Be prepared to spend about 5 1/2 hours to get up and down with stops, including lunch. Remember to stay hydrated and take your time.
The hike is gradual and uphill and takes about 2 hrs to reach the first stop at the cafeteria where you can enjoy views of the monastery. If you choose, you can stop here and wait for the group who choose to continue up to the Monastery. Accommodation: Hotel Olathang (or similar)
Meals: Breakfast, Lunch, Dinner
Day 10 - Paro
Depart at any time. Airport transfer included.
Meals: Breakfast
Visa required
Subject to availability
Tour has physical requirements, speak to your travel agent for details
Itinerary is subject to change
Advertised price is per person, based on twin share
No single supplement applies, however you will be sharing a room with someone of the same gendar
Solo rooms available for a supplement
Credit card surcharge of 1.2% may apply
G Adventures & National Geographic Journeys T&Cs may apply
*Terms and conditions apply: see RAC Travel general terms and conditions