Fremantle to Sydney
with Cunard
10 nights from
$3730
per person, twin share*
Departs 17 February 2024
Aboard Queen Mary 2
Fine dining
This 10 night Australia voyage offers time ashore in three captivating cities with a port day in Adelaide complemented by overnight stays in the metropolitan capitals of Melbourne and Sydney.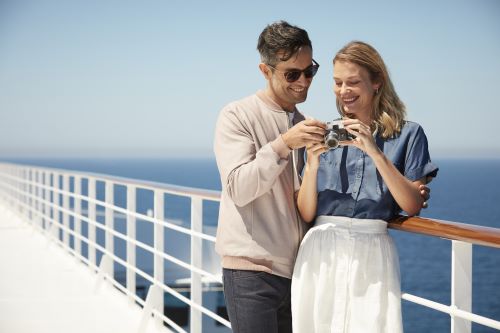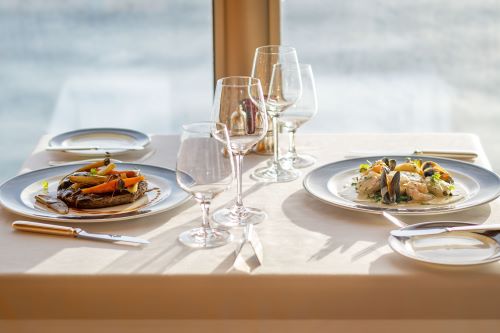 Queen Mary 2
Queen Mary 2 is a remarkable flagship, her style and elegance are legendary. Above all, it's the space she offers and the luxury for you to do as little or as much as you wish which sets her apart.
Guests: 2691
Crew: 1173
Length: 1132ft
Accommodation
Britannia Inside
With a variety of locations to choose from on board, our well-appointed inside staterooms are a haven of comfort and style to enjoy during your voyage. You'll find thoughtful features and luxurious amenities, all organised by your dedicated steward to ensure you are always attentively looked after.
Britannia Oceanview
Positioned to offer sea views, our Britannia Oceanview staterooms provide a private enclave from which to watch the world go by. Perfectly framed views are the backdrop to thoughtful features and luxurious amenities, all organised by your dedicated steward to ensure you are always attentively looked after.
Britannia Balcony
Drink in sparkling sea views from your own private, outdoor space in one of our Britannia Balcony staterooms. You'll find thoughtful features and luxurious amenities, all organised by your dedicated steward to ensure you are always attentively looked after.
Britannia Club Balcony
Take advantage of prime sea views from your own private, outdoor space in one of our Britannia Club Balcony staterooms. You'll find thoughtful features, luxurious amenities and benefits, all organised by your dedicated steward to ensure you are always attentively looked after.
Princess Grill Suites
Delight in magnificent sea views that can be enjoyed from both in and outside your Princess Suite. You'll find thoughtful features and luxurious amenities, all organised by your dedicated steward to ensure you are always attentively looked after.
Queens Grill Suites
Retreat to an exclusive world of luxury with your own private residence at sea. Bold, striking colours and thoughtful designs bring each space in your suite to life. An attentive butler is on hand at all times to truly customise your voyage experience.
Life on board
Main dining
Your table is reserved for breakfast, lunch and dinner in one of the sophisticated main restaurants on board. Each is the home of deliciously imaginative menus, exceptional wines and impeccable service.
Starters might include salmon gravlax with poached quail's egg or a croquette of suckling pig. For your entrée, you might be in the mood for Dover Sole Meunière or a Chateaubriand, perhaps rounded off with a rich bitter chocolate soufflé or a lighter mango panna cotta.
Alternative dining (at additional cost)
If anything sums up the freedom of your cruise, it is the array of places to eat, from healthy to hearty, from light bites to haute cuisine. It's simply a case of deciding what you're in the mood for. The menu at the Steakhouse at The Verandah features speciality seafood and tender cooked-to-order prime cuts. Each evening, part of the Lido restaurant (Kings Court on Queen Mary 2) transforms into a contemporary and intimate dining experience that celebrates locally sourced and artisan ingredients, hailing from field, farm and ocean.
Evening performances
Every evening during your cruise promises a stellar array of entertainment choices. So, whether you're in the mood for music, dance performances or even magic shows, prepare to settle into your seat. Watch the resident Royal Court Theatre stage dazzling West End style productions or abridged Shakespeare performances. We've also hand-picked a talented line-up of vocalists and instrumentalists, aerial performers and illusionists, stand-up comedians and variety entertainers.
Live music
Live music will be an unmistakable signature of every moment on your ship. Our accomplished resident musicians will create an enticing ambience, during relaxing moments and on grand social occasions. The string trio provides a warm welcome on board and melodic accompaniment to Afternoon Tea. The resident pianist sets an elegant tone to evening dinner drinks in the Commodore Club, and you'll also find harpists and contemporary bands in public rooms and lounges throughout the ship.
Children's activities
Children of all ages are welcome on our ships, and our dedicated clubs offer activities and entertainment. These include arts and crafts, sporting activities, play areas, computer games and much more. They can make friends with other children at The Play Zone, for two- to seven-year-olds, and The Zone which is ideal for eight- to 17-year-olds. Our youth staff will supervise your children and organise events, activities and competitions.
Traditional Afternoon Tea
This daily ritual occurs between 3.30pm and 4.30pm in the Queens Room, a venue akin to a stately ballroom thanks to ambient lighting and ornate furnishings. Come along and witness the procession of white-gloved waiters before they present an array of treats to your table.
The Afternoon Tea menu changes every day. It includes delectable finger sandwiches with a variety of fillings, scones, and elegant patisserie. Delight in our own Signature Cunard scones, available plain or with fruit, with Devonshire clotted cream and strawberry preserve. You'll also have several types of Twinings fine leaf tea to choose from, to accompany your refreshments.
Illuminations
You know you're on a special ship indeed when you can settle into your comfortable seat in the largest planetarium at sea on Queen Mary 2. More than this, Illuminations is a luxury 3D cinema and a classical music venue. The planetarium dome can send you on an epic voyage across the solar system, teach you to navigate by the stars, or show other science and natural history films, with up to four screenings on each sea day. With the dome retracted, Illuminations hosts 3D films and stunning concerts and recitals.
Library
For many, a good read is an essential part of a relaxing holiday and there's no better time to indulge this passion than whilst on board with us. You'll find the range of titles available in our beautiful libraries is as impressive as the refined surroundings.
So, find yourself a good book, pull up a leather armchair and enjoy some quiet contemplation. You may even wish to join the Cunard Book Club where thought provoking literary discussions with fellow guests are led by the ship's librarian.
Gala Evening
The true romance of ocean travel is never more alive than on our Gala Evenings. You'll feel a palpable sense of occasion in the air as guests emerge from their staterooms in their finest eveningwear, beautifully attired in tuxedos and ball gowns, like a scene from a Hollywood movie.
Sporting Activities
There are many ways to keep yourself active on our ships. A few laps of the Promenade Deck and the games of shuffleboard and deck quoits have been pastimes for almost as long as we have been sailing. You'll find pursuits like table tennis, paddle tennis, golf putting and swimming too. For armchair sports fans, Sport24 offers coverage of major events including the Premier League, Wimbledon, Formula 1, the Ryder Cup and more, shown in certain bars and lounges, and all staterooms and suites.
Fitness classes (at additional cost)
Setting your own pace really defines the Cunard experience, and our fitness classes offer a sociable way to stay active and energetic. Work on your posture and strength with Pilates, yoga or t'ai chi. It's easy to raise the pace by joining in aerobics and spinning classes, boot camps or even personal training sessions.
Highlights
Exquisite dining
Dance the night away at the elegant Gala Evening
Enjoy a Cunard tradition of daily Afternoon Tea
Stunning evening performances at the theatre
Inclusions
Staterooms
A choice of Britannia, Britannia Club, Princess Grill and Queens Grill staterooms and suites. All en suite and air-conditioned.
Your own personal steward or butler* (for Queens Grill suites).
Nightly turndown service.
Satellite TV (with multi-language film and music channels).
Direct-Dial Telephone.
Refrigerator.
Hair Dryer.
Safe.
Daily Shipboard Newspaper and Programme.
Egyptian cotton bed linen.
Pamper pack.
Dining
Breakfast, lunch and dinner in the main restaurant associated with your stateroom grade.
A self-service buffet restaurant (the Lido or Kings Court) offering breakfast, lunch, dinner and snacks.
Room service.
Afternoon Tea of sandwiches, cakes and pastries each day.
Tea, coffee, water and fruit juice are available 24 hours a day at the Lido Restaurants on Queen Elizabeth and Queen Victoria, and Kings
Court on board Queen Mary 2.
Water during meals and coffee after meals.
Entertainment
Productions in the Royal Court Theatre, including light-hearted comedies, serious dramas Shakespeare classics and spectacular musical productions.
Dancing in the nightclub or Queens Room.
Deck games, board games, and quizzes.
Access to our on board libraries.
A variety of fitness and dance classes.
Live music in many venues, including resident bands to jazz ensembles to classical recitals and soloists.
Film screenings in cinema venues or in your stateroom.
Shows in the planetarium (Queen Mary 2 only).
Cunard Insights - regular talks on contemporary issues by well-known celebrities, experts and personalities.
Health and well-being
Full use of the sports court for football, deck tennis, basketball and more
A choice of swimming pools and whirlpool spas
Fully equipped gym
Children's clubs
Full access to our supervised age-specific children's clubs.
Wide range of entertainment and age-specific activities offered day and night.
Not included
Shore experiences.
Premium soft and alcoholic drinks.
Drinks packages and wine collections.
Wine experiences.
Dining in our alternative venues.
Speciality Afternoon Teas.
Gift packages.
Internet packages.
On board retail and art gallery.
The casino.
Spa and salon facilities and treatments
Selected classes, tours and activities on board.
Gratuities.
Travel insurance

Fremantle to Sydney
Day 1: 17 February 2024: Perth (Fremantle)
Day 2 to 4: 18 - 20 February 2024: At sea
Day 5: 21 February 2024: Adelaide, arrives early morning, departs early evening
Day 6: 22 February 2024: At sea
Day 7 to 8: 23 - 24 February 2024: Melbourne, overnight, arrives early morning, departs afternoon
Day 9: 25 February 2024: At sea
Day 10 to 11: 26 - 27 February 2024: Sydney, overnight, arrives early morning
Departure:17 February 2024
| Stateroom | Price per person, twin share* |
| --- | --- |
| Britannia Inside | Sold out |
| Britannia Oceanview (Cat. EF) | From $3730 |
| Britannia Balcony (Cat. BF) | From $4740 |
| Britannia Club Balcony (Cat. A2) | From $5300 |
| Princess Suite (Cat. P2) | From $6100 |
| Queens Suite (Cat. Q6) | From $6700 |
Prices are subject to change based on availability. Prices correct as at 21 November 2023.
Please enquire with your local RAC travel consultant for current availability and pricing.
*Advertised prices are in Australian Dollars, based on double occupancy. Fares reflect best fare available for a stateroom in each category. Prices correct as at 21November 2023 and are subject to change at any time. Fares based on specific departure dates only. Higher fares may apply to other departure dates. Once booked, your fare may be subject to increased taxes, fees and port expenses. You will be notified of this before it is added to your fare, or to your on-board account. Please enquire with your RAC travel consultant for full fare details and inclusions as well as full Cunard terms and conditions.
See RAC Travel general terms and conditions.