A Swiss Fairytale
with APT
11 days from from
$9,895*
per person, twin share
Air credit of $1,000* per couple
Zurich return
Solo prices available
If you love horse-drawn carriage rides, wine tastings and the world's best alpine scenery, then this is the journey for you. See Switzerland spring to life, where you're so close to nature that even one of your stays is literally on a lake.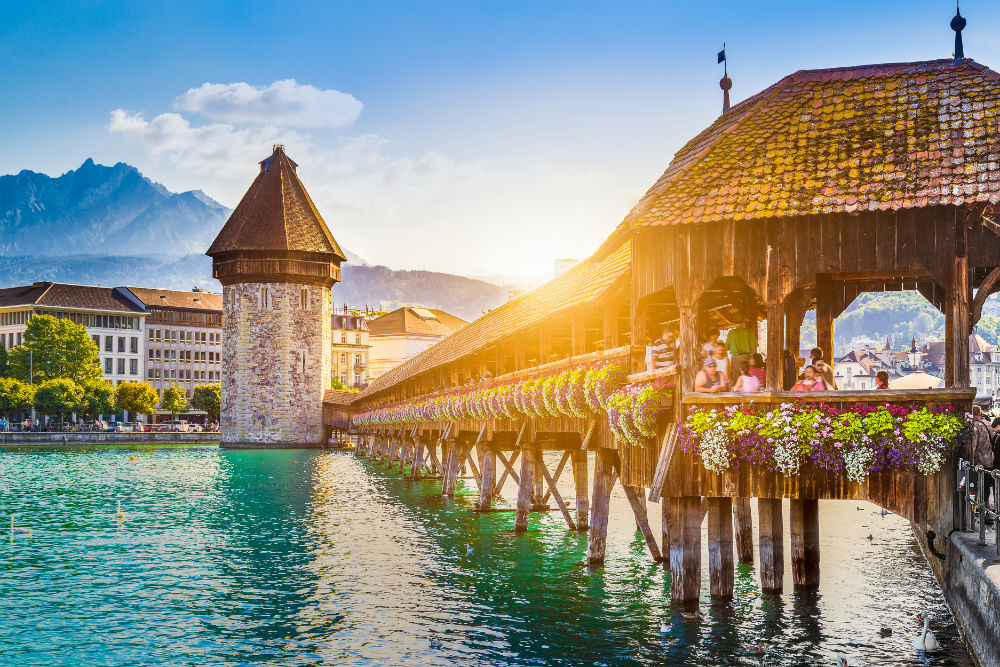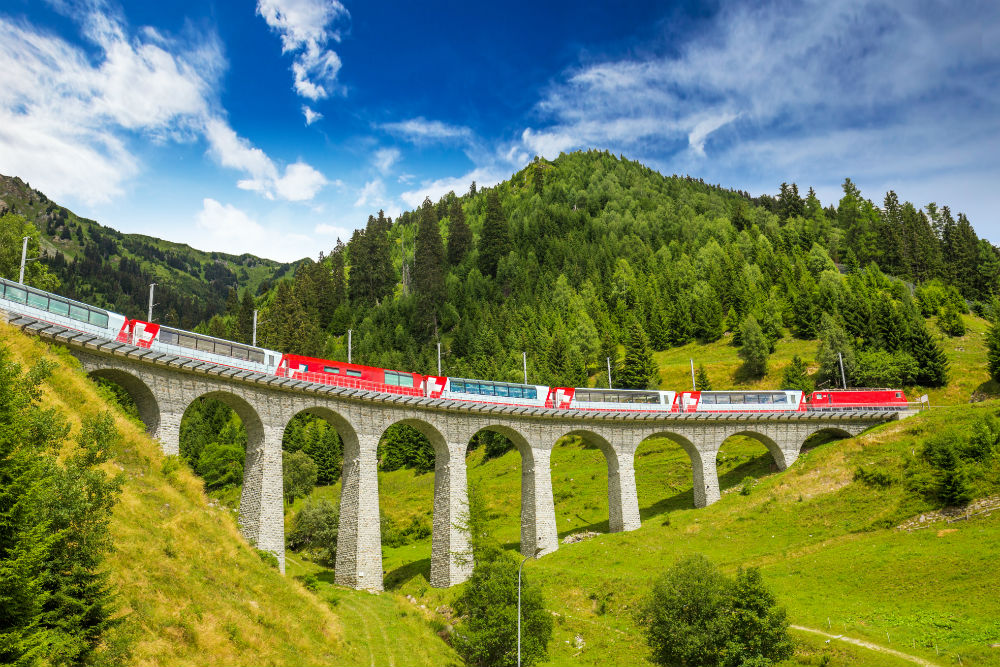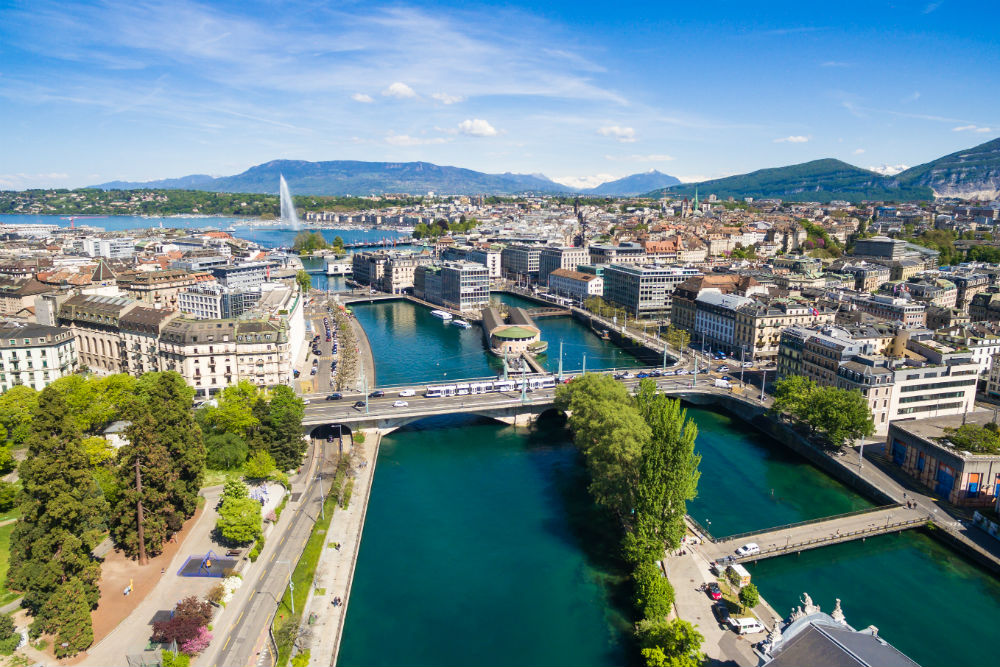 Trip Highlights:
Visit the Klotzli Messerschmiede workshop and see how prized folding knives are made
Sip the fine cuvee of Mauler during the wine tasting
Put your feet up as a horse-drawn carriage takes you into the wild of the Roseg Valley
Trip Inclusions:
Experience in 12 destinations
Freedom of Choice Inclusions in Zermatt
Transfers, porterage and gratuities
Luxury dining - a total of 17 meals
Expert tour director
10 nights authentic accommodation
Day 1 | Arrive Zurich
Welcome to the start of your in-depth Swiss discovery. We'll meet you on arrival and take you to your hotel. You'll have the afternoon at your leisure to get out and explore, or perhaps unwind with a drink from your hotel's rooftop bar, which offers stunning views of the city, lake and alps. This evening, come together at a welcome reception to get to know your fellow travellers and tour director.
Accommodation: Small Luxury Hotel Ambassador Zürich
Day 2 | Zürich, Lucerne, Bern, Neuchâtel
Stop in Lucerne on your way to Bern, where you'll enjoy your Signature Experience. Continue to Bern, the Swiss capital where you will have some time at leisure to explore on your own terms. We have something special planned for your accommodation for the next two nights, which is situated literally on Lake Neuchâtel, as the hotel is built on stilts. Here, share in a welcome dinner before retreating to your oversized pavilion sitting over the water.
Signature Experience: Visit the Klötzli Messerschmiede workshop and watch on as masterful artisans hand-craft Swiss folding knives, where you will gain an appreciation of the skill it takes to maintain such high standards of knife production.
Accommodation:Palafitte Neuchâtel
Meals: Breakfast & Dinner
Day 3 | Neuchâtel, Le Locle
Awake to possibly the best view of Lake Neuchâtel this morning. The Swiss have a time-honoured tradition of producing some of the world's most exquisite watches, therefore we have arranged a special visit to Le Locle. Here, you will embark on what is known as the Watch Route. Visit an esteemed watchmaker, where you'll see first-hand the precision and patience it takes to craft these fine wrist accessories. You then have the afternoon free to do as you please. Perhaps wander through the historic museums, stroll along the lake shore, put your feet up and relax, or take a dip in the lake via your private ladder into the water.
Accommodation: Palafitte Neuchâtel
Meals: Breakfast
Day 4 | Neuchâtel, Montreux
Today is all about getting into the natural landscapes Switzerland has to offer. Head across Lake Neuchâtel to Creux de Van, a 160-metre high vertical rock than spans more than four kilometres. Its basin contains 200-million-year-old limestone deposits of a prehistoric ocean. Afterwards, enjoy your Signature Experience. Later, arrive at your hotel in Montreux.
Signature Experience:It's wine time as you pause for a moment to savour a Mauler tasting, a fine cuvée that is based on traditional methods since 1829.
Accommodation: Hôtel Victoria à Glion sur Montreux, in a guaranteed Lake View Room
Meals: Breakfast & Dinner
Day 5 | Montreux, Sion, Zermatt
Enjoy a leisurely sleep in or explore Montreux independently. Travel to Sion, where you will stop to admire the castles of Valère and Tourbillon and marvel at their Romanesque-Gothic designs. This afternoon, you'll head to the chalet village of Zermatt.
Accommodation: Zermatt, Hotel Sonne
Meals: Breakfast & Dinner
Day 6 | Zermatt
You will have the choice of sightseeing that best suits you. We have left the afternoon free for you.
Freedom of Choice - Sightseeing: Should you wish to head off-piste, set out on a hike along the 5-Seenweg (Five Lakes) Trail. Follow the path along the Stellisee, Grindjisee, Grünsee, Moosjisee and Leisee lakes, where you will see the reflection of the Matterhorn in the shimmering waters – the perfect photo opportunity. Otherwise head to the village centre, where you will soar to new heights as you board a train to Gornergrat, ascending 3,089 metres in just 33 minutes. At the peak, the views will leave you spellbound.
Accommodation: Zermatt, Hotel Sonne
Meals: Breakfast
Day 7 | Zermatt, Andermatt, Pontresina
Head to Andermatt, where you'll board the Glacier Express for one of the most iconic Swiss rail adventures. For something a little more special, you will be travelling on the train's finest 'Excellence Class', where your guaranteed window seat takes you up close to sublime alpine scenery, while a refined regional five-course menu with accompanying wines is served for lunch. Disembark your train and arrive in the ski resort town of Pontresina.
Accommodation: Pontresina, Hotel Saratz
Meals: Breakfast, Lunch & Dinner
Day 8 | Pontresina, Tirano
Today's adventure takes you into the Roseg Valley, where you will enjoy your Signature Experience. Afterwards, the time has arrived to hop on the famous Bernina Express to Tirano, taking in sublime alpine scenery along the way.
Signature ExperienceIn the Roseg Valley, sit back and relax, while a horse-drawn carriage takes you on a leisurely journey through stunning scenery. This is what fairytales are made of.
Accommodation: Pontresina, Hotel Saratz
Meals: Breakfast
Day 9 | Pontresina, St Gallen
Farewell Pontresina as you make your way to culture-filled St Gallen, teeming with charming lanes and half-timbered houses. While here, enjoy a visit to the Abbey Library of Saint Gall, which houses an impressive book collection. Here, a fire in the year 937 destroyed the abbey, however, the library remained intact. Afterwards, arrive at your accommodation located right next to the World Heritage-listed Abbey District. Dinner is served at a local restaurant this evening.
Accommodation: St Gallen, Hotel Einstein
Meals: Breakfast & Dinner
Day 10 | St Gallen, Kreuzlingen, Stein Am Rhein, Zürich
There's still one more day to immerse yourself in Swiss natural wonders. Travel to Kreuzlingen, where you'll board a cruise on Lake Constance and the Rhine River. Prepare to have your breath taken away as you glide along the peaceful waters through nature at its finest. Afterwards, disembark in Stein am Rhein and feel the rush of the Rhine Falls. Come full circle as you return to Zürich, where you will savour a farewell dinner.
Accommodation: Small Luxury Hotel Ambassador Zürich
Meals: Breakfast & Dinner
Day 11 | Depart Zürich
The fairytale has come to an end. Farewell your tour director and new-found friends after breakfast, then be transferred to the airport for your onward flight
Meals: Breakfast
| | | |
| --- | --- | --- |
| Departure Date: | Twin share per person | Solo |
| 27 June - 7 July | from $9,895* | from $12,995* |
| 15 - 25 August | from $9,895* | from $12,995* |
| 12 - 22 September | from $10,195* | from $13,295* |
Prices above are based on per person prices
Promotion
$1,000* per couple air credit when flights are booked through APT
Advertised price is per person and correct as of 29 January 2019

Prices and deals are subject to change at any time
Itinerary is subject to change at any time due to unforseen circumstances
Air credit offer of $1,000 per couple cannot be redeemed for cash and is non-transferable
A non-refundable deposit is due within 7 days of reservation and final payment is due 120 days prior to departure date
Offers are available for travellers departing Australia
A strictly limited number of offers are available on selected itineraries and is subject to availability and can be withdrawn at any time without prior notice
Flights must be booked with APT
Should you choose to depart earlier than your scheduled tour departure or make variations to airline routings, surcharges apply
Airline schedules are subject to change without notice and APT is not liable for any additional costs incurred due to airline changes
Any changes made after ticketing may incur amendments and/or cancellation fees, in some cases, tickets are non-refundable
All taxes vary for each departure point and routing of airline are subject to change
Fuel surcharges may apply
Frequent Flyer miles/points may not be awarded
Credit card fees of up to 1.2% may apply
APT individual terms and conditions apply.
*Terms and conditions apply: see RAC Travel general terms and conditions