Christmas Cruise with Princess
aboard the Sea Princess
15 nights from
$2,599*
per person, twin share
Cruise departs Fremantle: 23 December 2019 & 23 December 2020
Bonus onboard credit!
Solo prices available
A world of mystical islands with spellbinding names like Bali & Lombok and commune with nature on a thrilling tour of Komodo Island – home of the endangered Komodo dragon and a UNESCO World Heritage Site.
Step aboard the
Sun &
Sea Princess
and prepare for a vacation that will dazzle your senses. From the four-story Atrium to tantalizing dining options, a Vegas-style casino and a variety of incredible entertainment choices, including Movies Under the Stars®, you'll find a relaxing retreat that's as captivating as the places you'll visit on this grand vessel.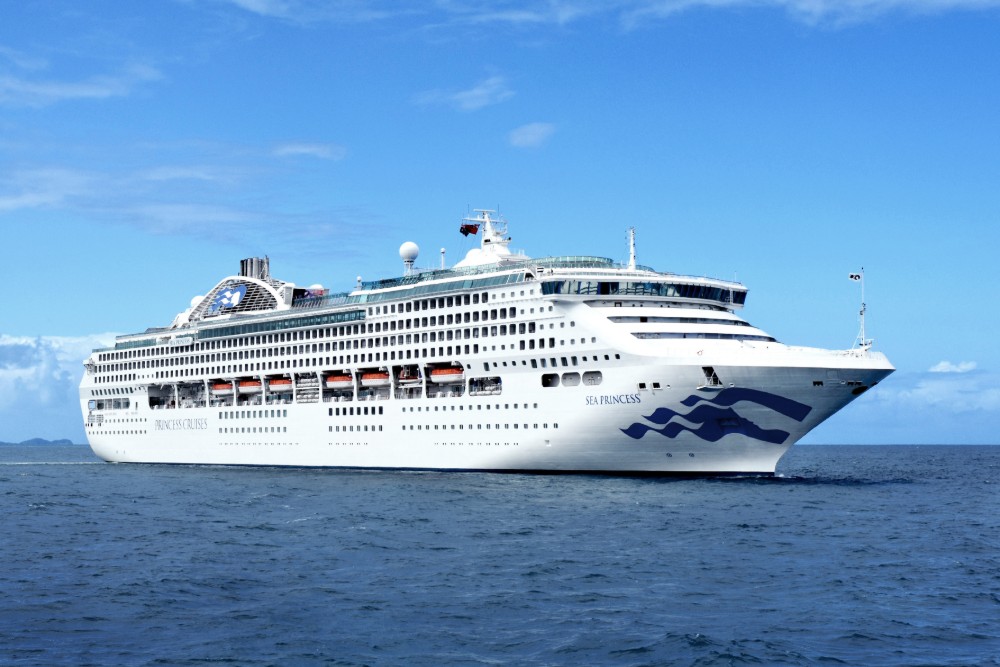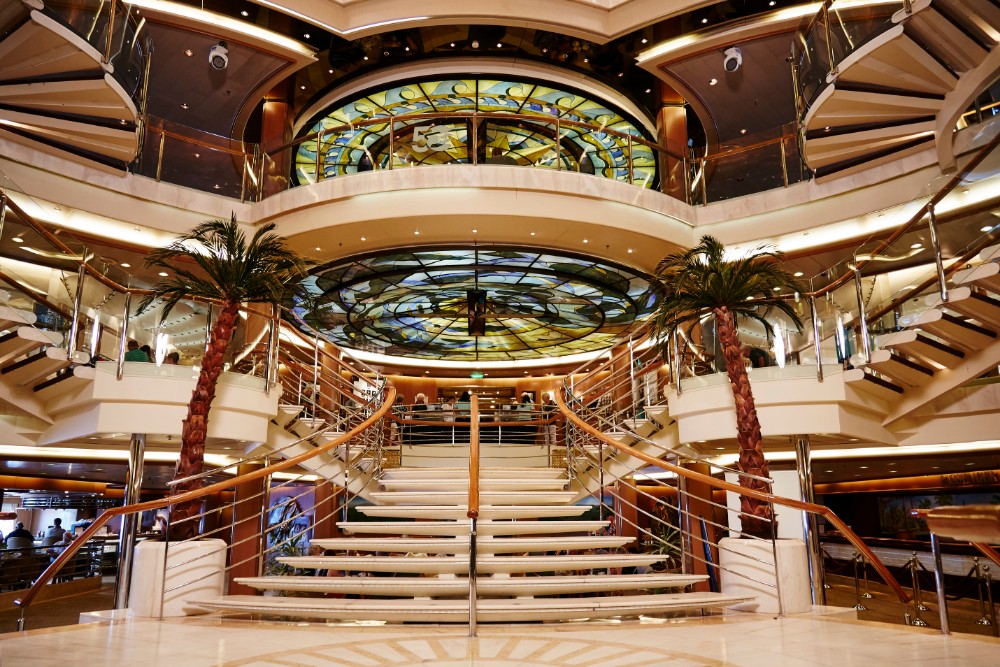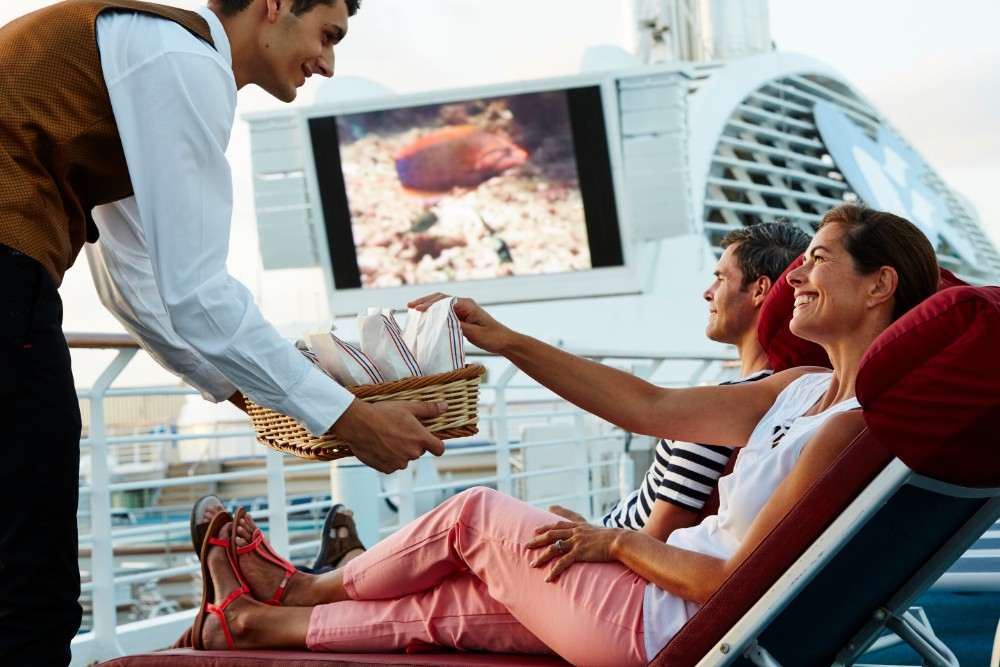 Sun & Sea Princess accommodation
Interior: These staterooms are the perfect place to recharge your batteries. Our most affordable option, featuring two twin beds or a queen-size bed. Other amenities include a refrigerator, hair dryer, TV, closet and bathroom with shower.
Oceanview: Enjoy the added benefit of a view of the ocean from either a picture window or porthole that brings in natural light. This stateroom includes all the amenities of an interior room.
Balcony: This impressive stateroom offers the added indulgence of a balcony and gives you more space than a standard stateroom. Enjoy your own private outdoor space with a table, two chairs, and a relaxing view of the inspiring scenery surrounding you, whether a beautiful sunset over the ocean or a new city to explore. It's also perfect to enjoy cocktails before dinner or a leisurely breakfast.
Mini Suite: Choose a luxurious Mini-Suite with balcony which is substantially larger than a Balcony stateroom and receive a complimentary welcome glass of Champagne. Mini-Suites include a separate sitting area with sofa bed, premium bathroom amenities and two flat-panel televisions. For families or groups needing a little extra space, Mini-Suites offer an appealing and affordable option. More details
Club Class: Mini-Suite with exclusive VIP touches. A premium stateroom category featuring our best located Mini-Suite staterooms, as well as the great amenities found in all Mini-Suites — plus premier dining benefits and luxurious perks. Each night, enjoy Club Class Dining, an exclusive dining area featuring expedited seating with no wait, expanded menu options, dedicated wait staff and tableside preparations. Other amenities include priority embarkation and disembarkation, a complimentary one-time wine set-up and so much more!* More details
Suite: Most luxurious accommodations at sea. Surrounding you with deluxe accommodations, a spacious Suite with balcony* includes all the amenities of a Club Class Mini-Suite, plus incredible premiums. Enjoy more living space, a sofa bed and separate seating areas, and wonderfully enhanced amenities that range from priority embarkation and disembarkation to a complimentary mini-bar setup in suite and so much more. More details
Day 1 | Depart Fremantle
Board the Sea Princess ready for your cruise to Indonesia.
Day 2 - 4 | At sea
Day 5 | Lombok*
Lombok is renowned for its traditional craft villages. Artisans produce the exquisite brocaded cloth called songket, elegant woodcarvings, and superb pottery made from local hillside clays. The island also possesses great natural beauty, from the dramatic rice terraces and plantations of the south to the tropical rain and cloud forests of the north. Lombok is home to Mt. Rinjani, Indonesia's second highest peak, a magnificent volcano soaring over 12,000 feet above sea level.
Day 6 | Komodo Island*
Komodo lizards quietly thrived in the harsh climate of Indonesia's Lesser Sunda Islands for millions of years until their existence was discovered about 100 years ago…when Dutch sailors encountered the creatures for the first time, they returned with reports of fire-breathing dragons. Reaching 10 feet in length and weighing over 300 pounds, Komodo dragons are the world's largest and heaviest lizards. The best place to view these magnificent and endangered creatures is on Komodo Island, the largest island in Komodo National Park, a UNESCO World Heritage Site and Man and Biosphere Reserve.
Day 7 | Ujung Pandang
Once the dominant trade center of eastern Indonesia in the 16th century, Makasar enjoyed its status as one of the largest cities in Southeast Asia. As the island's spice trade flourished so did the infringing reach of foreigners. Finally, early in the 17th century, the Dutch successfully invaded. Today, it's a bustling city once again thriving on an endless supply of exciting attractions, fun activities and lots of charm. While change has brought many hotels, villas, markets and shops, you can still watch local fisherman unloading their catch from charming boats called pinisiq or stroll the serene grounds of Fort Rotterdam, a living testament to the Dutch colonial period.
Day 8 | At sea
Day 9 | Semarang
Across the Kedu Plain from the port of Semarang on Java stands one of the great manmade wonders of the world: the temple at Borobudur. The largest Buddhist temple in the world, Borobudur lay covered in volcanic ash for nearly a millennium until it was rediscovered in 1814. For nearly a century afterward, treasure hunters and souvenir seekers pillaged the ruins. In 1973, UNESCO supervised a 10-year restoration of this, one of the most awe-inspiring sights on the planet.
Day 10 | At sea
Day 11 | Bali *
For over a century, Bali has fascinated the Western imagination. The island embodies the very essence of the exotic and mysterious East. Steep hillsides of tropical green reveal terraced rice paddies while plantations of coffee, banana, cacao and fragrant spices line the roads. Monkeys haunt the grounds of a sacred temple in a forest, while traditional villages produce intricately stylized batik, superb jewelry and beautiful paintings. And Balinese dance, with its angular movements and rhythms, remains somehow stirring and shocking. Bali may be accessible, but it remains forever exotic.
Day 12 - 14 | At sea
Day 15 | Geraldton
he capital of the Batavia Coast was founded in 1850 as a commercial port serving the Northampton lead mine some 30 miles to the north. While Geraldton remains one of Western Australia's major ports, the city has become a magnet for vacationing Australians. Located between the Chapman and Greenough Rivers, Geraldton boasts a superb Mediterranean climate, scenic beauty and pristine beaches. Coronation Beach has become an international destination for windsurfers.
Day 16 | Fremantle
After Breakfast, disembark the Sea Princess
Ports marked with an * mean they are a tender port and have limited wheelchair access
Departures:
23 December 2019
| | | | | | | |
| --- | --- | --- | --- | --- | --- | --- |
| | Inside | Oceanview | Balcony | Mini Suite | Club Class | Suite |
| Per person | $2,599* | $3,469* | $3,899* | *waitlist | *waitlist | *waitlist |
| Solo cabin | $4,883* | $6,623* | $7,483* | *waitlist | *waitlist | *waitlist |
Promotions:
RAC Exclusive: Book with RAC for exclusive availability, discounted prices and receive bonus onboard credit
23 December 2020
| | | | | | | |
| --- | --- | --- | --- | --- | --- | --- |
| | Inside | Oceanview | Balcony | Mini Suite | Club Class | Suite |
| Per person | $2,699* | $3,499* | $3,898* | $4,899* | $5,699* | $7,099* |
| Solo cabin | $4,999* | $6,599* | $7,579* | $9,399* | $10,999* | $13,799* |
Promotions:
RAC Exclusive: Book with RAC and receive bonus onboard credit
Above prices are based on per person in a twin share cabin. Prices are based on a from price. Strictly subject to availability.
Advertised price is per person and correct as of 28 October 2019
Onboard credit is based on AUD and is applied to the first 2 passengers in a stateroom
Onboard spending money is non-transferable, non-refundable, non redeemable for cash and cannot be used at the medical centre or casino
Offers may be withdrawn at any time without prior notice and are strictly subject to availability
Itinerary is subject to change at any time due to unforseen circumstances
Credit card fees of up to 1.2% may apply
Princess Cruises terms and conditions apply
*Terms and conditions apply: see RAC Travel general terms and conditions