Coral Coast with Princess
aboard the Sea Princess
8 nights from
$1,464*
per person, twin share
Multiple departures
Bonus onboard credit
Solo prices available
Cruise along the world famous Coral Coast of Western Australia aboard the Sea Princess
Step aboard
Sea Princess
and prepare for a vacation that will dazzle your senses. From the four-story Atrium to tantalizing dining options, a Vegas-style casino and a variety of incredible entertainment choices, including Movies Under the Stars®, you'll find a relaxing retreat that's as captivating as the places you'll visit on this grand vessel.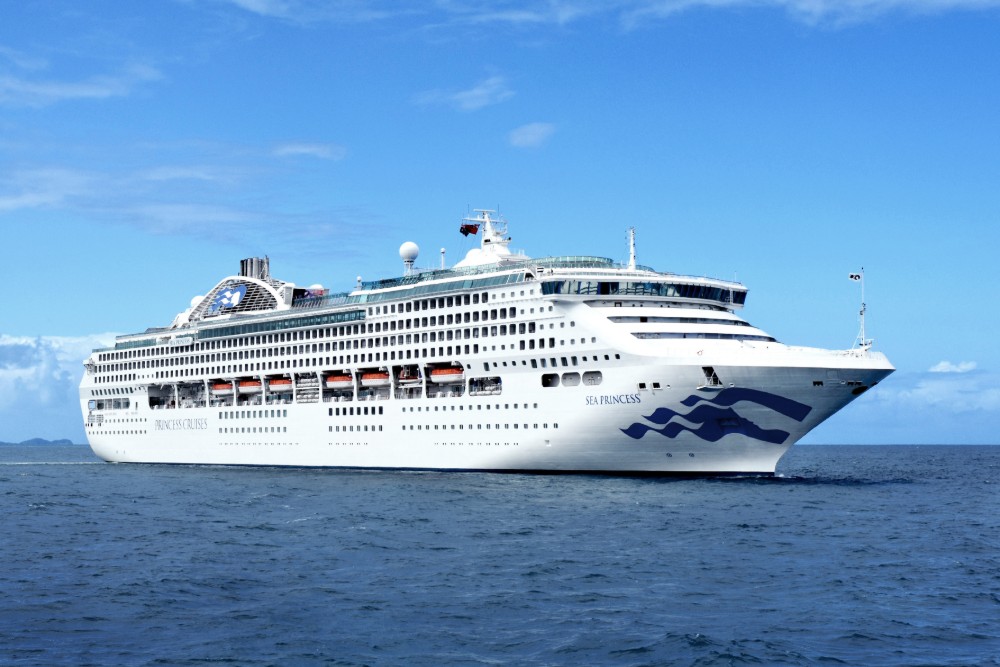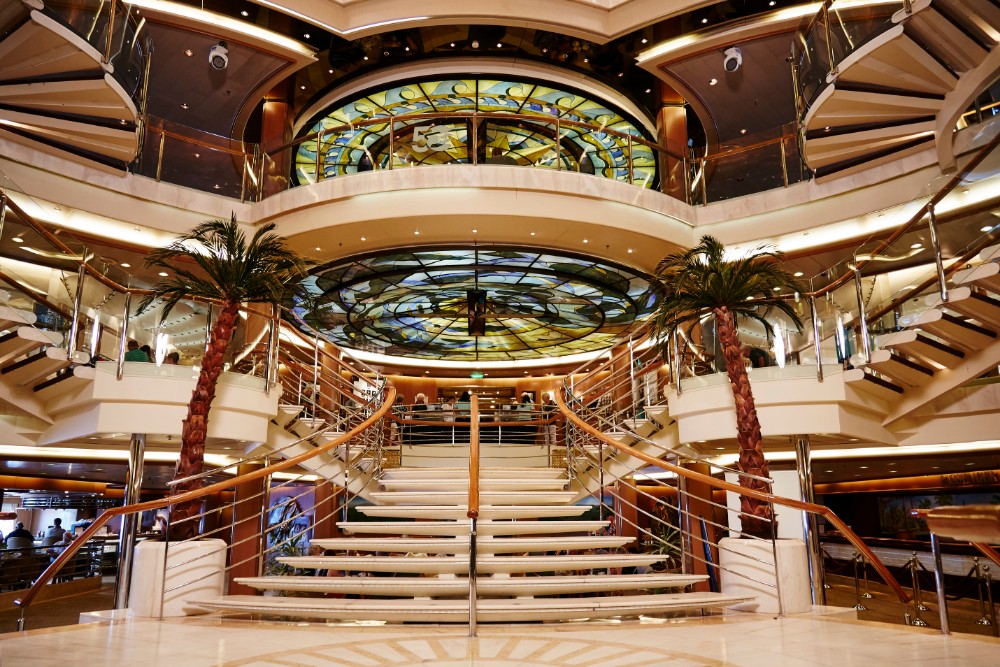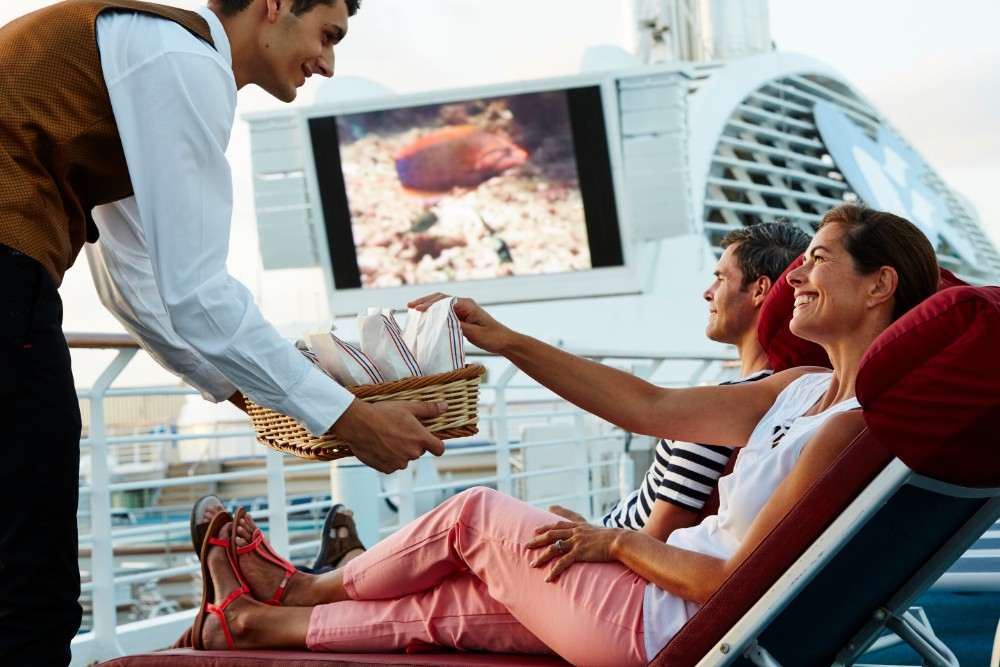 Sea Princess accommodation
Interior: These staterooms are the perfect place to recharge your batteries. Our most affordable option, featuring two twin beds or a queen-size bed. Other amenities include a refrigerator, hair dryer, TV, closet and bathroom with shower.
Oceanview: Enjoy the added benefit of a view of the ocean from either a picture window or porthole that brings in natural light. This stateroom includes all the amenities of an interior room.
Balcony: This impressive stateroom offers the added indulgence of a balcony and gives you more space than a standard stateroom. Enjoy your own private outdoor space with a table, two chairs, and a relaxing view of the inspiring scenery surrounding you, whether a beautiful sunset over the ocean or a new city to explore. It's also perfect to enjoy cocktails before dinner or a leisurely breakfast.
Mini Suite: Choose a luxurious Mini-Suite with balcony which is substantially larger than a Balcony stateroom and receive a complimentary welcome glass of Champagne. Mini-Suites include a separate sitting area with sofa bed, premium bathroom amenities and two flat-panel televisions. For families or groups needing a little extra space, Mini-Suites offer an appealing and affordable option. More details
Club Class: Mini-Suite with exclusive VIP touches. A premium stateroom category featuring our best located Mini-Suite staterooms, as well as the great amenities found in all Mini-Suites — plus premier dining benefits and luxurious perks. Each night, enjoy Club Class Dining, an exclusive dining area featuring expedited seating with no wait, expanded menu options, dedicated wait staff and tableside preparations. Other amenities include priority embarkation and disembarkation, a complimentary one-time wine set-up and so much more!* More details
Suite: Most luxurious accommodations at sea. Surrounding you with deluxe accommodations, a spacious Suite with balcony* includes all the amenities of a Club Class Mini-Suite, plus incredible premiums. Enjoy more living space, a sofa bed and separate seating areas, and wonderfully enhanced amenities that range from priority embarkation and disembarkation to a complimentary mini-bar setup in suite and so much more. More details
Day 1 | Depart Fremantle
Lying at the mouth of the Swan River, historic Fremantle - founded in 1829 - is your gateway to Perth, the capital of Western Australia. Situated on the banks of the Swan River some 15 miles upriver from Fremantle, Perth is a bustling city where soaring high-rises co-exist with elegant sandstone buildings from the colonial era. Life here moves at a slower pace, so during your visit, relax and savor the bounties of Western Australia, from the wonders of the bush to the wineries of the Swan Valley, from excellent shopping to a leisurely cruise on the Swan River.
Day 2 | Geraldton
The capital of the Batavia Coast was founded in 1850 as a commercial port serving the Northampton lead mine some 30 miles to the north. While Geraldton remains one of Western Australia's major ports, the city has become a magnet for vacationing Australians. Located between the Chapman and Greenough Rivers, Geraldton boasts a superb Mediterranean climate, scenic beauty and pristine beaches. Coronation Beach has become an international destination for windsurfers.
In 1692 the Dutch East India Company Batavia was shipwrecked on the offshore Abrolhos Islands. Calamity was followed by mutiny and murder. The lurid tale ensured this portion of Western Australia would be named the Batavia Coast.
Day 3 - 4 | At Sea
Day 5 | Broome
In the 1870s, pearl fishermen discovered the rich waters of Roebuck Bay. A decade later, Broome was founded as a base for the pearl trade and was soon described as "the pearling capital of the world." Japanese, Chinese and Aborigine divers toiled in arduous, dangerous labor to harvest oysters from the seabed. For all its importance to the pearling industry, Broome remained a remote outpost on Australia's Kimberley Coast until its discovery as a travel destination. The legacy of its pearling days can be seen in the town's colorful mix of 19th- and early 20th century buildings. Broome also boasts Cable Beach - a 13-mile strand of white-sand that stretches along the azure waters of the Indian Ocean.
Day 6 | At Sea
Day 7 | Exmouth
Exmouth lies some 780 miles north of Perth on the rugged and stunningly beautiful Northwest Cape. This remote corner of Australia has been of strategic importance since the days of the Second World War. In fact, Exmouth was built in 1964 to support the Harold E. Holt Communications Station. Nearly 45 years later, the base remains a top-secret installation. Australians, however, discovered the North Cape's strategic importance as a travel destination. Here rugged mountains and stony gorges descend to stunning beaches. Australia's longest fringing reef lies just offshore. Its crystalline waters boast great fishing, and whale sharks are frequently encountered basking on the surface between April and July.
Day 8 | At Sea
Day 9 | Arrive Fremantle
Departures:
13 September 2020
| | | | | | | |
| --- | --- | --- | --- | --- | --- | --- |
| | Inside | Oceanview | Balcony | Mini Suite | Club Class | Suite |
| Twin per person | $1,549* | $2,300* | $2,199* | $4,149* | *waitlist | $5,289* |
| Solo cabin | $2,933* | $4,420* | $4,233* | $8,112* | *waitlist | $9,489* |
| Quad cabin | - | $6,309* | - | - | - | - |
Prices above are from prices. Solo & quad prices are total for the cabin. All prices are strictly subject to availability
Promotions:
RAC Exclusive: Book with RAC and receive bonus onboard credit & reduced rates
15 December 2020
| | | | | | | |
| --- | --- | --- | --- | --- | --- | --- |
| | Inside | Oceanview | Balcony | Mini Suite | Club Class | Suite |
| Twin Per person | $1,464* | $1,864* | $2,072* | $2,872* | $3,202* | $4,072* |
| Solo cabin | $2,928* | $3,728* | $4,144* | $5,744* | $7,026* | $8,144* |
| Quad cabin | - | $4,526* | $5,072* | - | - | - |
Prices above are from prices. Solo & quad prices are total for the cabin. All prices are strictly subject to availability
Promotions:
RAC Exclusive: Book with RAC and receive bonus onboard credit
Advertised price is per person and correct as of 1 October 2019
Onboard credit is based on AUD and is applied to the first 2 passengers in a stateroom
Onboard spending money is non-transferable, non-refundable, non redeemable for cash and cannot be used at the medical centre or casino
Offers may be withdrawn at any time without prior notice and are strictly subject to availability
Itinerary is subject to change at any time due to unforseen circumstances
Credit card fees of up to 1.2% may apply
Princess Cruises terms and conditions apply
*Terms and conditions apply: see RAC Travel general terms and conditions