2021 Princess World Cruise
An adventure of a lifetime
108 nights from
$24,499*
per person, twin share
Departs 3 June 2021
AUD onboard and no tipping required
Receive up to $1,000 per person onboard credit
Cruise to far-flung corners of the globe and discover hidden wonders on a journey of a lifetime. A World Cruise delivers the most incredible places to explore. Tick off UNESCO World Heritage sites and famous landmarks that fulfil your bucketlist dreams. See breathtaking gems off the beaten path. Embrace the subtle details of adventure that every intrepid traveller enjoys, like the mist from sea spray and watching the sun sink below the horizon. On board Sea Princess®, relax and enjoy the journey as you discover the world with ease.
Step aboard Sea Princess and prepare for a vacation that will dazzle your senses. From the four-story Atrium to tantalizing dining options, a Vegas-style casino and a variety of incredible entertainment choices, including Movies Under the Stars®, you'll find a relaxing retreat that's as captivating as the places you'll visit on this grand vessel.
Length: 260m Guests: 2,000 Balconies: 400+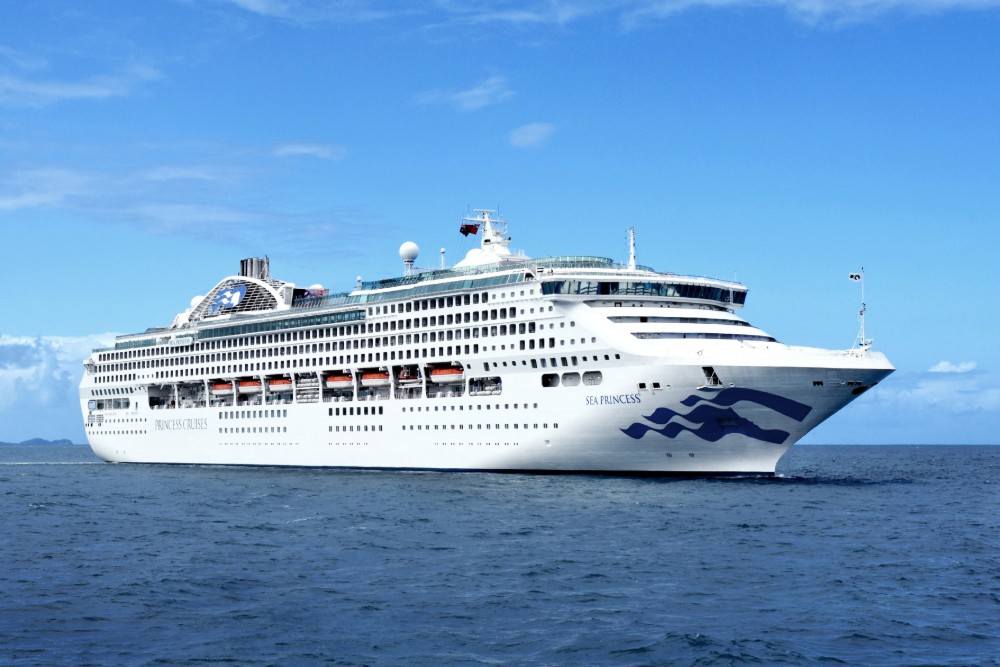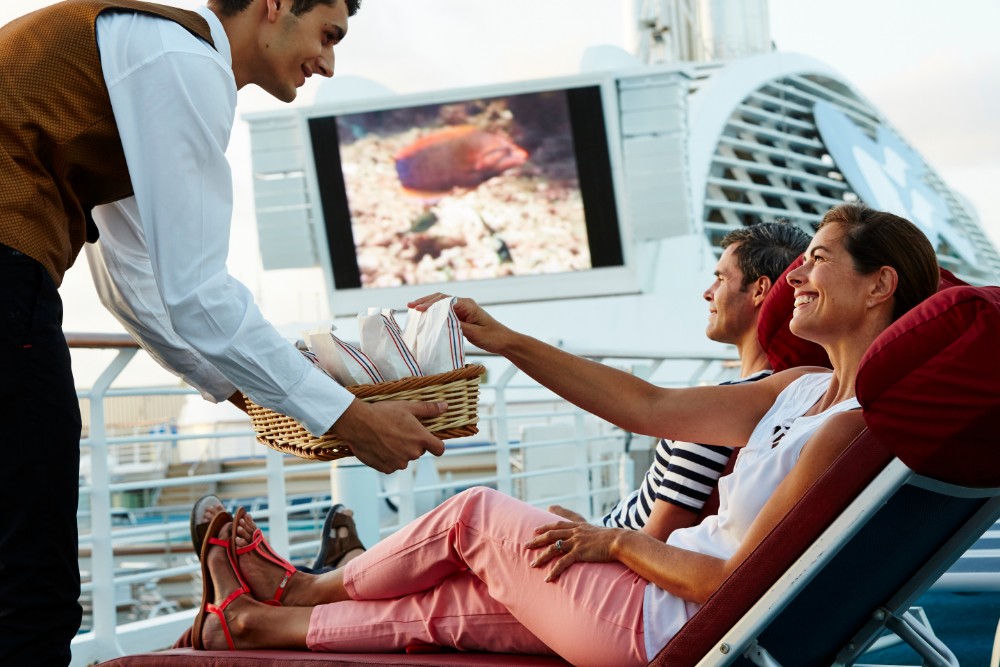 Sea Princess accommodation
Interior: These staterooms are the perfect place to recharge your batteries. Our most affordable option, featuring two twin beds or a queen-size bed. Other amenities include a refrigerator, hair dryer, TV, closet and bathroom with shower.
Oceanview: Enjoy the added benefit of a view of the ocean from either a picture window or porthole that brings in natural light. This stateroom includes all the amenities of an interior room.
Balcony: This impressive stateroom offers the added indulgence of a balcony and gives you more space than a standard stateroom. Enjoy your own private outdoor space with a table, two chairs, and a relaxing view of the inspiring scenery surrounding you, whether a beautiful sunset over the ocean or a new city to explore. It's also perfect to enjoy cocktails before dinner or a leisurely breakfast.
Mini Suite: Choose a luxurious Mini-Suite with balcony which is substantially larger than a Balcony stateroom and receive a complimentary welcome glass of Champagne. Mini-Suites include a separate sitting area with sofa bed, premium bathroom amenities and two flat-panel televisions. For families or groups needing a little extra space, Mini-Suites offer an appealing and affordable option. More details
Club Class: Mini-Suite with exclusive VIP touches. A premium stateroom category featuring our best located Mini-Suite staterooms, as well as the great amenities found in all Mini-Suites — plus premier dining benefits and luxurious perks. Each night, enjoy Club Class Dining, an exclusive dining area featuring expedited seating with no wait, expanded menu options, dedicated wait staff and tableside preparations. Other amenities include priority embarkation and disembarkation, a complimentary one-time wine set-up and so much more!* More details
Suite: Most luxurious accommodations at sea. Surrounding you with deluxe accommodations, a spacious Suite with balcony* includes all the amenities of a Club Class Mini-Suite, plus incredible premiums. Enjoy more living space, a sofa bed and separate seating areas, and wonderfully enhanced amenities that range from priority embarkation and disembarkation to a complimentary mini-bar setup in suite and so much more. More details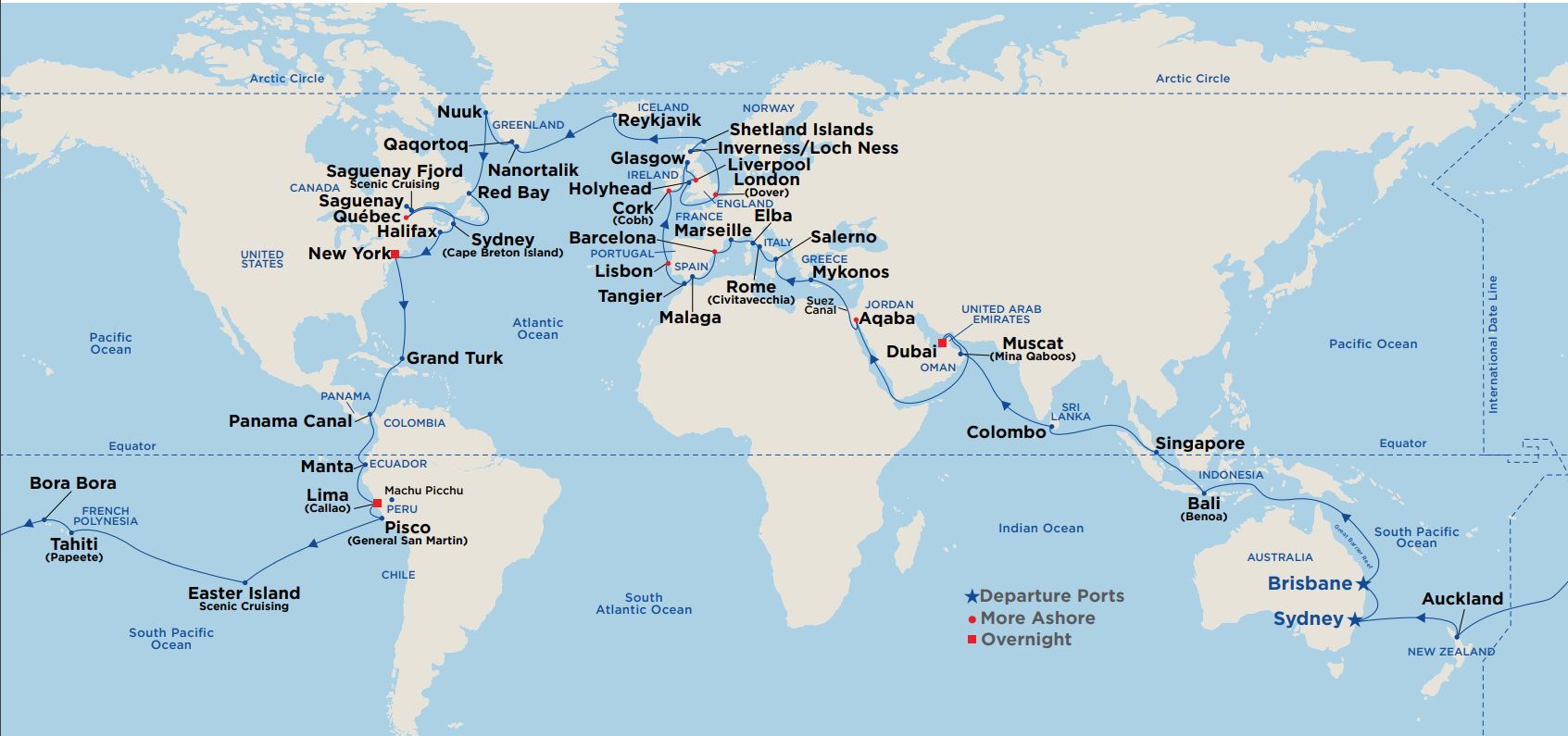 View a mini brochure here (PDF 534KB)
Early Booking Benefits
Guests booking before 30 April 2020 will receive:
Onboard spending money (aud)
Full world cruise - 108 nights $1,000 per person
World cruise segments - 50-74 nights $400 per person
World cruise segments - 22-34 nights $100 per person'
Complimentary mini-bar set up
Once off set up on embarkation day, valid for suites only on all voyage lengths
Captain's Circle Guests
Additional savings of up to $1,000 per person apply.
Full world cruise - 108 nights $1,000 per person
World cruise segments - 50-74 nights $500 per person
World cruise segments - 30-34 nights $200 per person
World cruise segments - 22 nights $100 per person
World Cruise Roundtrip
Itinerary
Departs
Nights
Inside
Oceanview
Balcony
Mini-Suite
Sydney return
3 June
108
$24,499
$30,299*
$37,699*
$64,499*
Brisbane return
5 June
108
$24,499
$30,299*
$37,699*
$64,499*
World Cruise 52 - 74 nights

Sydney to London
3 June
52
$12,499*
$15,599*
$19,299*
$32,699*
Sydney to New York
3 June
74
$17,999*
$22,099*
$27,299*
$46,499*
Brisbane to London
5 June
50
$12,299*
$14,999*
$18,499*
$31,499*
Brisbane to New York
5 June
72
$17,599*
$21,599*
$26,599*
$45,299*
London to Sydney
25 July
56
$14,099*
$17,199*
$21,299*
$35,799*
London to Brisbane
25 July
58
$14,699*
$17,899*
$22,099*
$37,099*
World Cruise 22 - 34 nights

Sydney to Dubai
3 June
22
$4,299*
$5,499*
$7,099*
$12,799*
Dubai to London
25 June
30
$8,199*
$9,899*
$11,999*
$19,899*
London to New York
25 July
22
$5,299*
$6,499*
$8,099*
$13,799*
New York to Sydney
16 August
34
$8,299*
$10,199*
$12,699*
$21,499*
All prices are based on per person, twin share. Prices are subject to availability. For Club Class suites & Suite prices or other cabin configurations please speak to your RAC Consultant
Prices advertised are correct as of 28 October 2019 and inclusive of all promotions
Fares are cruise only, inclusive of all taxes, government fees and charges (subject to change) based on the lead in category for each stateroom type
While reasonable allocation of staterooms has been set aside at these fares, if the allocation is sold out the fares may no longer be available
Some ocean view staterooms have obstructed views
Onboard spending money offer applies to the booking for the fares advertised and is in AUD on selected itineraries only and varies on the voyage length as specified for bookings made before 30 April 2020
Onboard spending money is per person and is applied to the first 2 passengers in a stateroom
Onboard spending money is non-transferable, not redeemable for cash, and cannot be used at the medical centre or casino
All details and cabin availability are strictly subject to change
Offers may be withdrawn at any given time without notice
Guarantee cabins means cabin numbers will be selected by the cruise line prior to departure
Credit card surcharges may apply
Princess Cruises terms and conditions apply
*Terms and conditions apply: see RAC Travel general terms and conditions