Singapore to Fremantle
aboard the Sea Princess
12 nights from
$1,999*
per person, twin share
Cruise departs Singapore: 23 October 2020
Bonus onboard credit
Solo prices available
Step aboard
Sea Princess
and prepare for a vacation that will dazzle your senses. From the four-story Atrium to tantalizing dining options, a Vegas-style casino and a variety of incredible entertainment choices, including Movies Under the Stars®, you'll find a relaxing retreat that's as captivating as the places you'll visit on this grand vessel.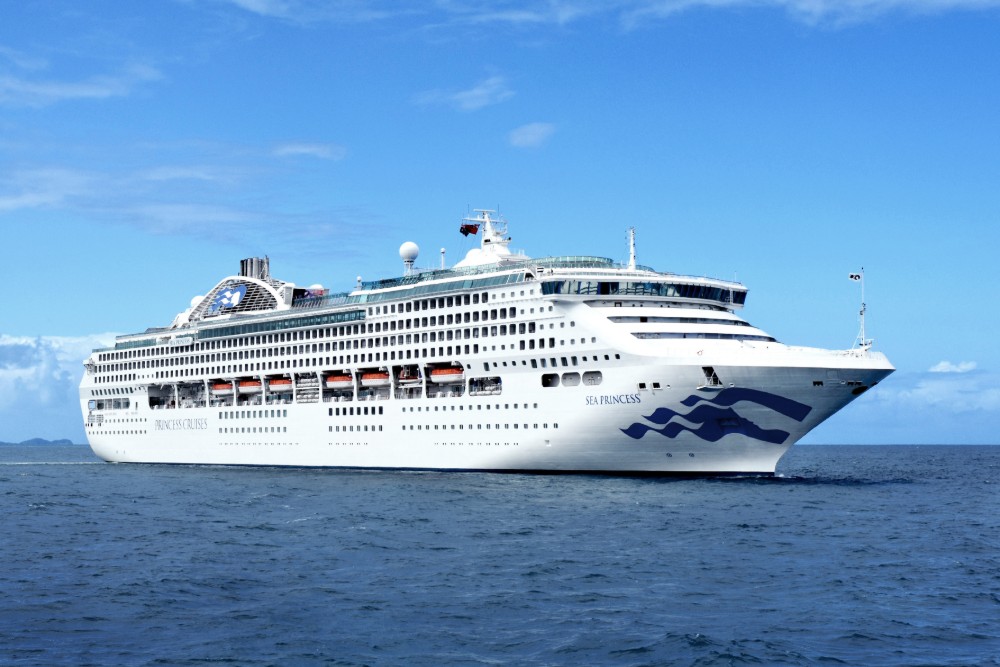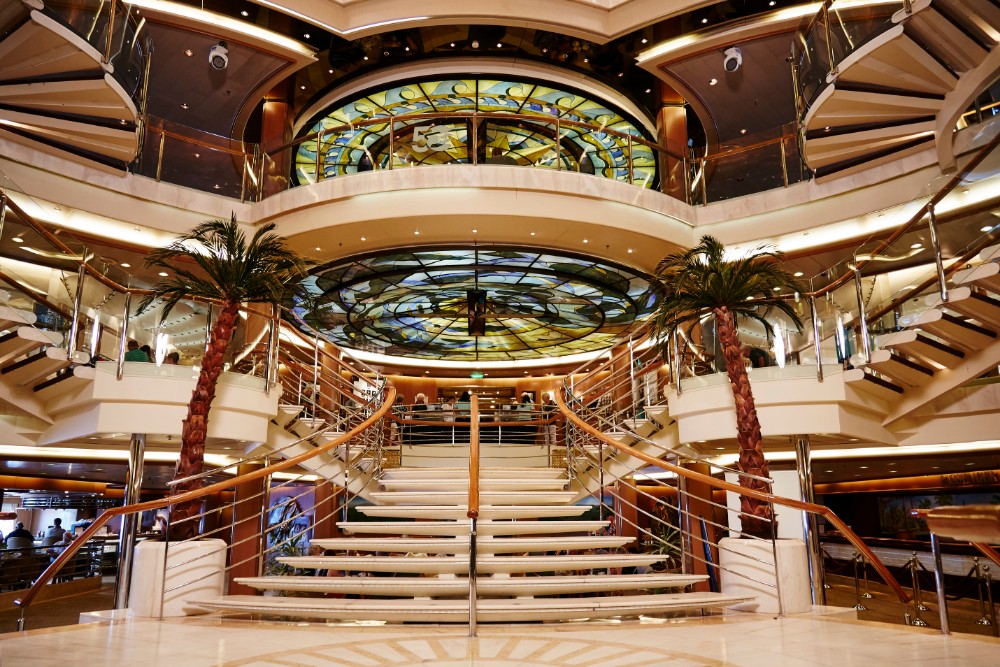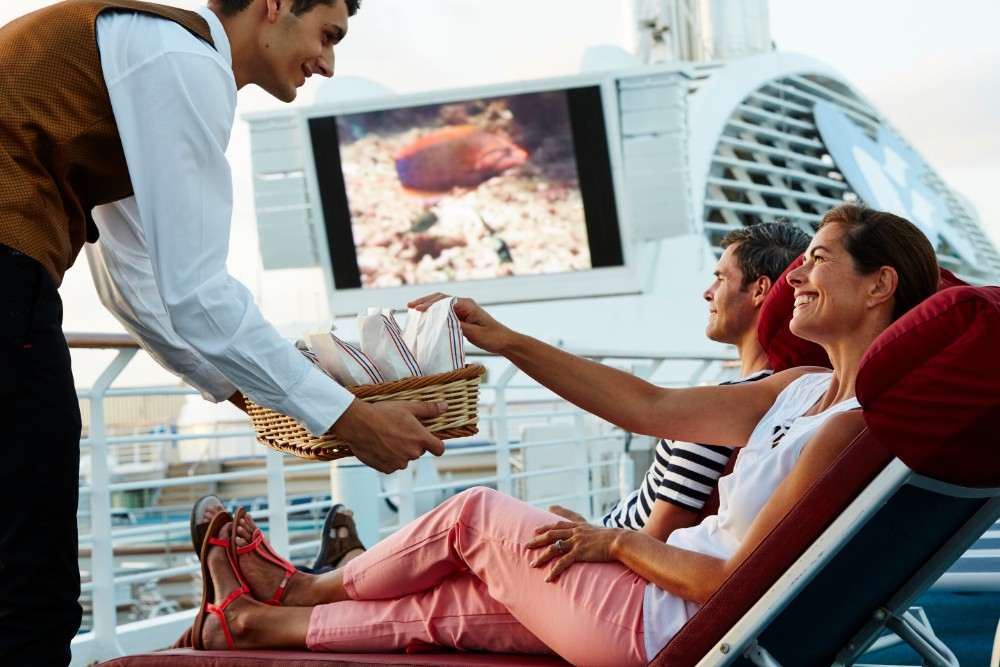 Sea Princess accommodation
Interior: These staterooms are the perfect place to recharge your batteries. Our most affordable option, featuring two twin beds or a queen-size bed. Other amenities include a refrigerator, hair dryer, TV, closet and bathroom with shower.
Oceanview: Enjoy the added benefit of a view of the ocean from either a picture window or porthole that brings in natural light. This stateroom includes all the amenities of an interior room.
Balcony: This impressive stateroom offers the added indulgence of a balcony and gives you more space than a standard stateroom. Enjoy your own private outdoor space with a table, two chairs, and a relaxing view of the inspiring scenery surrounding you, whether a beautiful sunset over the ocean or a new city to explore. It's also perfect to enjoy cocktails before dinner or a leisurely breakfast.
Mini Suite: Choose a luxurious Mini-Suite with balcony which is substantially larger than a Balcony stateroom and receive a complimentary welcome glass of Champagne. Mini-Suites include a separate sitting area with sofa bed, premium bathroom amenities and two flat-panel televisions. For families or groups needing a little extra space, Mini-Suites offer an appealing and affordable option. More details
Club Class: Mini-Suite with exclusive VIP touches. A premium stateroom category featuring our best located Mini-Suite staterooms, as well as the great amenities found in all Mini-Suites — plus premier dining benefits and luxurious perks. Each night, enjoy Club Class Dining, an exclusive dining area featuring expedited seating with no wait, expanded menu options, dedicated wait staff and tableside preparations. Other amenities include priority embarkation and disembarkation, a complimentary one-time wine set-up and so much more!* More details
Suite: Most luxurious accommodations at sea. Surrounding you with deluxe accommodations, a spacious Suite with balcony* includes all the amenities of a Club Class Mini-Suite, plus incredible premiums. Enjoy more living space, a sofa bed and separate seating areas, and wonderfully enhanced amenities that range from priority embarkation and disembarkation to a complimentary mini-bar setup in suite and so much more. More details
Day 1 | Depart Singapore
Singapore - the very name summons visions of the mysterious East. The commercial center of Southeast Asia, this island city-state of four million people is a metropolis of modern high-rise buildings, Chinese shop-houses with red-tiled roofs, sturdy Victorian buildings, Buddhist temples and Arab bazaars. Founded in 1819 by Sir Stamford Raffles of the fabled East India Company, the city is a melting pot of people and cultures. Malay, Chinese, English and Tamil are official languages. Buddhism, Taoism, Islam, Hinduism and Christianity are the major faiths. Singapore is an ever-fascinating island boasting colorful traditions, luxurious hotels and some of the finest duty-free shopping in the world.
Day 2 | At sea
Day 3 | Phuket, Thailand
Hailed as the "Pearl of the Andaman Sea," this island off Thailand's long southern coast boasts a colorful history. A crossroads for trade, Phuket has been a melting pot of Thai, Malay, Chinese and Western influences. Its importance over the past 500 years stemmed from the island's natural resources, which include tin, hardwoods and rubber. In the past half-century, Phuket has enjoyed wide popularity as one of the premier travel destinations in Southeast Asia. Travelers are drawn to the island's beaches, crystalline waters, and dramatic, forested hills.
Day 4 | Langkawi, Malaysia
Langkawi comprises a group of 99 tropical islands lying off the northwestern coast of Peninsular Malaysia. The main island is known as Pulau Langkawi. The islands are shrouded with an intriguing heritage of myths and legends that feature ogres and gigantic birds, warriors and fairy princesses, battles and romance. Langkawi has been accorded the Geopark status by UNESCO, for its beautiful geological heritage of stunning landscapes, karsts, caves, sea-arches, stacks, glacial dropstones and fossils. With a geological history dating back 500 million years, the islands contain unique rock formations that stir the imagination and baffle the mind.
Day 5 | Kuala Lumpur, Malaysia
From a lawless huddle of kampongs in the trackless jungle, Kuala Lumpur, the capital city has grown into a fascinating metropolis. Steel and glass towers stand side by side with graceful stone colonial buildings and mosques adorned with slender minarets. The commercial, financial, economic and cultural heart of Malaysia, Kuala Lumpur (better known as KL), is a melting pot. Its population of 1.6 million is comprised of Malays, Chinese, Indians, and a mix of different cultures including Eurasians and others.
Day 6 - 7 | At sea
Day 8 | Bali, Indonesia*
For over a century, Bali has fascinated the Western imagination. The island embodies the very essence of the exotic and mysterious East. Steep hillsides of tropical green reveal terraced rice paddies while plantations of coffee, banana, cacao and fragrant spices line the roads. Monkeys haunt the grounds of a sacred temple in a forest, while traditional villages produce intricately stylized batik, superb jewelry and beautiful paintings. And Balinese dance, with its angular movements and rhythms, remains somehow stirring and shocking. Bali may be accessible, but it remains forever exotic.
Day 9 - 12 | At sea
Day 13 | Arrive Fremantle
Arrive into Fremantle and after Breakfast disembark from the Sea Princess.
Itineraries marked with an * are Tender ports and wheelchair access is limited
Departure: 12 nights departing 23 October 2020
| | | | | | | |
| --- | --- | --- | --- | --- | --- | --- |
| | Inside | Oceanview | Balcony | Mini Suite | Club Class | Suite |
| Per person | $1,999* | $2,599* | $2,999* | $3,799* | $4,749* | $5,599* |
Above prices are based on per person in a twin share cabin. Prices are based on a from price. Strictly subject to availability. Please check with your RAC Travel Consultant about Solo cabins
Promotions:
Book by 24 April 2019 and receive:
50% reduced deposit
Up to $185 total onboard credit for the cabin
Advertised price is per person and correct as of 9 April 2019
Itinerary is subject to change at any time due to unforseen circumstances
Please ask your RAC Travel consultant about solo cabins
Single passengers must pay a single supplement
Onboard credit is based on AUD
Onboard spending money is per stateroom and applied to the first 2 passengers in a stateroom
Onboard spending money is non-transferable, non-refundable, non redeemable for cash and caannot be used at the medical centre or casino
50% reduced deposit is valid until the 24th April 2019
Credit card fees of up to 1.2% may apply
Princess Cruises terms and conditions apply
*Terms and conditions apply: see RAC Travel general terms and conditions