Best of Eastern Canada & USA
with Insight Vacations
16 days from
$6,638*
per person, twin share
Visit Niagra Falls
Look at over the New York skyline from the Top of the Rock
See US capital: Washington DC
From delicious regional delicacies in Montpelier, where you'll try Vermont's traditional 'sugar on snow', to the sweeping skylines of New York City, you'll be taken aback by Canada's natural wonder and the US's revolutionary history.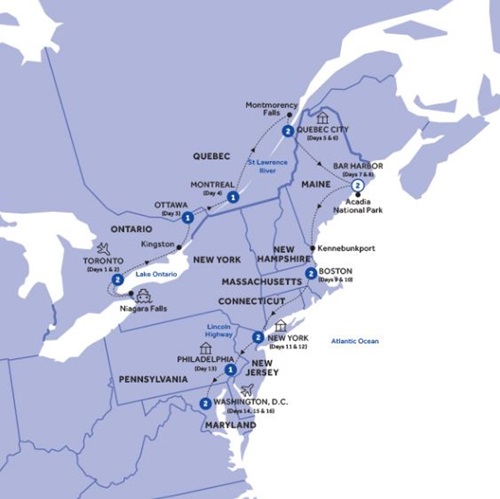 Niagara Falls: Board your cruise and greet the howling spray, wind and thunder at the base of the falls. Browse the shops and galleries of Niagara-on-the-Lake.

Kingston: See the old buildings, churches and fortifications.

Quebec: Visit the Montmorency Falls.

Quebec City: Visit a Sugar Shack for lunch on the Isle D'Orleans.

Kennebunkport: Stroll along the shops and historic buildings.

Bar Harbor: Experience the natural beauty of Acadia National Park.

Boston: Follow part of Boston's red-brick Freedom Trail which brings the story of the American Revolution to life.

New York: Enjoy sweeping skyline views from the Top of the Rock Observation Deck at New York's famed Rockefeller Center. See the Financial and Broadway Districts and Battery Park.

Philadelphia: View Independence Hall and visit the Liberty Bell.

Washington, D.C.: View the sites of this historic capital including the White House and Capitol Hill. Visit the Lincoln Memorial.
Ottawa: Experience a cooking demonstration by C'est Bon Cooking master chefs using Canadian staples such as Maple Sugar, Haskaps, Labrador Tea, wild flowers and other foraged and harvested, seasonal ingredients. Learn to master a few key French-Cuisine techniques and enjoy a three-course Dinner with wine.
Our highly-skilled Travel Director will ensure your journey is seamless, serving as your expert guide, consummate organiser, and friend overseas.
Enjoy the comfort of Insight's luxury, air-conditioned, 40-seat coach with double the standard legroom and onboard washroom.
Personal radio headsets give you the freedom to wander during visits to famous highlights, without missing any of your Local Expert's fascinating commentary.
We carry your bags for you and promptly deliver them to your hotel door.
Hotel and restaurant tips are included - you'll never have to worry about how much to give, nor search for foreign currency. We also include all taxes and porterage charges at hotels.
Stay connected with friends and family with our complimentary coach and hotel Wi-Fi (where available).
From time to time, your Travel Director will enchant you with an Insight Flourish, which is a local specialty representing the destination.
| | |
| --- | --- |
| Departure date | Price per person* |
| 3 May 2020 | $6,368 |
| 10 May 2020 | $6,728 |
| 17 May 2020 | $6,818 |
| 21 June 2020 | $6,953 |
| 5 July 2020 | $6,953 |
| 12 July 2020 | $6,953 |
| 2 August 2020 | $6,818 |
| 9 August 2020 | $6,818 |
| 16 August 2020 | $6,818 |
| 30 August 2020 | $7,178 |
| 6 September 2020 | $7,178 |
*Prices based on twin share, per person. Must pay in full before 18 December 2019.
Day 1 - Thrilling Toronto.
Welcome to Toronto, a vibrant city on Lake Ontario, full of fine restaurants, bars and a unique mix of cultures. On arrival at Toronto International Airport, a transfer will take you to your hotel. You'll meet your Travel Director and fellow travellers for a Welcome Dinner with wine at 18:00.
Hotel: Hilton Toronto.
Meals: Dinner with Wine
Day 2 - Toronto and the thundering falls.
Travel up University Avenue to see Queen's Park and the Parliament Buildings, before venturing on to spectacular Niagara Falls. View this great natural wonder up-close on a cruise to the base of the falls. Browse quaint Niagara-on-the-Lake before returning to Toronto.
Meals: Breakfast
Day 3 - Kingston and Ottawa.
Journey to historic Kingston, otherwise known as the Limestone City and view the old buildings, churches and fortifications, with many of them being constructed from limestone itself. Continue to the Canadian capital of Ottawa where you'll join a cooking demonstration at C'est Bon. Set in their state-of-the-art kitchen facilities close to ByWard Market, you'll learn new culinary skills and more about local cuisine. Ingredients include Canadian staples such as maple sugar, haskaps, labrador tea and wild flowers. End the experience with a delicious three-course dinner with wine, before heading back to your hotel, the Hilton Lac-Leamy.
Hotel: Hilton Lac-Leamy, Gatineau-Ottawa.
Meals: Breakfast, Dinner with Wine
Day 4 - Montreal, the Royal Mountain.
Get ready for an exciting morning exploring Ottawa, with a tour of the city's stately boulevards, before heading to the diverse metropolis of Montreal, which is in the French-speaking province of Quebec. Once there, you'll join a Local Expert who will guide you around Old Montreal, the grand mansions of Mount Royal, and the iconic Notre-Dame Basilica.
Hotel: Le St-Martin Hôtel Particulier, Montreal.
Meals: Breakfast
Day 5 - The old walled city of Quebec.
Today is a day for foodies. Enjoy lunch at a local sugar shack and learn how maple syrup is created and harvested, before visiting the awe-inspiring Montmorency Falls. Enjoy an afternoon in Quebec City. Set atop sheer cliffs and with a strong French influence both in its culture and architecture, this elegant city will be your home for the next couple of days. 
Hotel: Hotel Manoir Victoria, Quebec City.
Meals: Breakfast, Lunch
Day 6 - Relaxed start - Quintessential Quebec.
Discover more of Quebec's unique European charm with a Local Expert, who will guide you along the city's quaint cobblestone streets. You'll see the Latin Quarter, Plains of Abraham, City Hall and Palace Royale. You'll also walk past the Citadel, which offers great view of the city and Château Frontenac. In the evening you'll choose from a selection of top local restaurants on a Dine-Around Evening.
Meals: Breakfast, Dinner with Wine
Day 7 - Quebec to Bar Harbor.
Bid 'Au Revoir' to Quebec City as you cross the U.S. border and travel toward Mount Desert Island on the Atlantic Coast. A tranquil getaway, this large island comes with freshwater lakes, rugged clifftops, forests and striking mountains. Make the most of the tranquil setting at your hotel, which is situated on the island itself.
Hotel: Harborside Hotel, Spa & Marina, Bar Harbor.
Meals: Breakfast
Day 8 - Explore Acadia National Park.
Take in the natural beauty of Acadia National Park, with its dramatic rocky shoreline and rugged nautical charm. You'll witness amazing views of the park from the top of Cadillac Mountain, while guests wanting to explore on foot can join their Travel Director to view well known spots such as Thunder Hole. You'll have time to explore Bar Harbor on your own. Stop for an ice cream or head to the bustling souvenir stores to stock up on some holiday treats. The evening is saved for a delectable Highlight Dinner with your new friends, as you feast on authentic Maine lobster, a local specialty and one that won't disappoint.
Meals: Breakfast, Dinner with Wine
Day 9 - Coastal New England to Boston.
Follow the rocky Maine shoreline, stopping in picturesque Kennebunkport, a glitzy, New England resort town and the iconic home of the Bush family. The town has a number of fine, well-preserved mansions, many of which have been turned into pretty inns.
Hotel: Hyatt Regency Boston.
Meals: Breakfast
Day 10 - Boston, the cradle of liberty.
Famous for its American Revolutionary war history, Boston is a place for keen history buffs. Join your Travel Director as they guide you along the Freedom Trail, a route that leads you to 16 historically significant sites, including Old State House and the meeting house where the Boston Tea Party of 1773 was planned. The rest of your day is at leisure. Perhaps take a stroll to Downtown Crossing or historic Faneuil Hall. For foodies looking for treats, head to Boston's North End. With its large Italian community, this part of town houses some of the best Italian bakeries in the city, as lines of shoppers circle the block to get their hands on fresh canolis and other treats.
Meals: Breakfast
Day 11 - Bite of the big apple.
Follow the bright lights to New York City. Visit the Top of the Rock Observation Deck with stunning views of the New York skyline. Your hotel is in the heart of Midtown and a short, 10-minute walk from the United Nations Headquarters and just steps away from Grand Central Terminal and the Chrysler Building. This evening, your local EatWith host will delight you with a home-cooked meal and immerse you in life in NYC.
Hotel: The Renwick Hotel, New York City.
Meals: Breakfast, Dinner with Wine
Day 12 - A Manhattan masterpiece.
Explore the City that Never Sleeps with your Local Expert, before heading out on your own. If it's tranquillity you're after, relish the calm of Central Park, an expansive space designed by renowned landscape architect Frederick Law Olmsted.
Meals: Breakfast
Day 13 - Liberty in Philadelphia.
Travel to Pennsylvania's largest city, Philadelphia, where the Liberty Bell first chimed and Thomas Jefferson wrote the Declaration of Independence. Explore Independence National Historic Park and visit the Liberty Bell with your Travel Director before enjoying some leisure time on your own.
Hotel: Philadelphia Marriott Downtown.
Meals: Breakfast
Day 14 - Relaxed start - Washington, D.C.
After a relaxed start, journey to Washington, D.C., the nation's capital and a haven for history and art lovers alike. Enjoy the afternoon at leisure. Perhaps join an optional Illuminations Tour in the evening before spending the night at the luxurious Mayflower Hotel, proclaimed by President Truman to be Washington, D.C.'s 'Second best Address', after the White House. 
Hotel: The Mayflower Hotel, Autograph Collection, Washington D.C.
Meals: Breakfast
Day 15 - Washington, D.C. sightseeing and leisure time.
In the morning, immerse yourself on a sightseeing tour and delve into the proud heritage of a nation. View the White House, the striking Washington Monument, and sprawling National Mall. Reflect on the country's most turbulent days at the Lincoln Memorial and the World War II Memorial. The rest of the day is at leisure. Join your Travel Director and fellow guests for a Celebration Dinner and toast to new friends and fantastic memories.
Meals: Breakfast, Dinner with Wine
Day 16 - Depart Washington, D.C.
A morning transfer will take you to Dulles International Airport or Reagan National Airport for your flight home. Alternatively, extend your stay at your own pleasure.
Meals: Breakfast
Advertised price is based on twin share
Itinerary is subject to change due to unforeseen circumstances
A single supplement will apply for solo travellers
Travel Insurance is not included but is required
Further Insight Vacations T&Cs apply
A credit card surcharge of 1.2% may apply
*Terms and conditions apply: see RAC Travel general terms and conditions