Northern lights & Scandinavia
with RAC Travel
18 days from
$9,995*
per person, twin share
See the Northern Lights*
Includes flights from Perth
Escorted from Perth
Offering the chance to explore Oslo, Norway's capital, before experiencing one of the world's most famous rail journey "the Flam Railway". Enjoy Hurtigurten's unique northbound voyage up the coastline of Norway for a chance to view the mysterious Northern Lights. "Finnish" in Finland, with a night in a glass igloo and a trip to a husky farm.
The Aurora Borealis are a natural phenomenon often seen in northern latitudes during October-March. However, you'll get to discover there's far more to experience in this magical wonderland. A six-night coastal voyage through Norway's picturesque fjords, as our ship heads north to the Arctic circle, the trip finishes with a day excursion to Estonia's medieval town, Tallinn.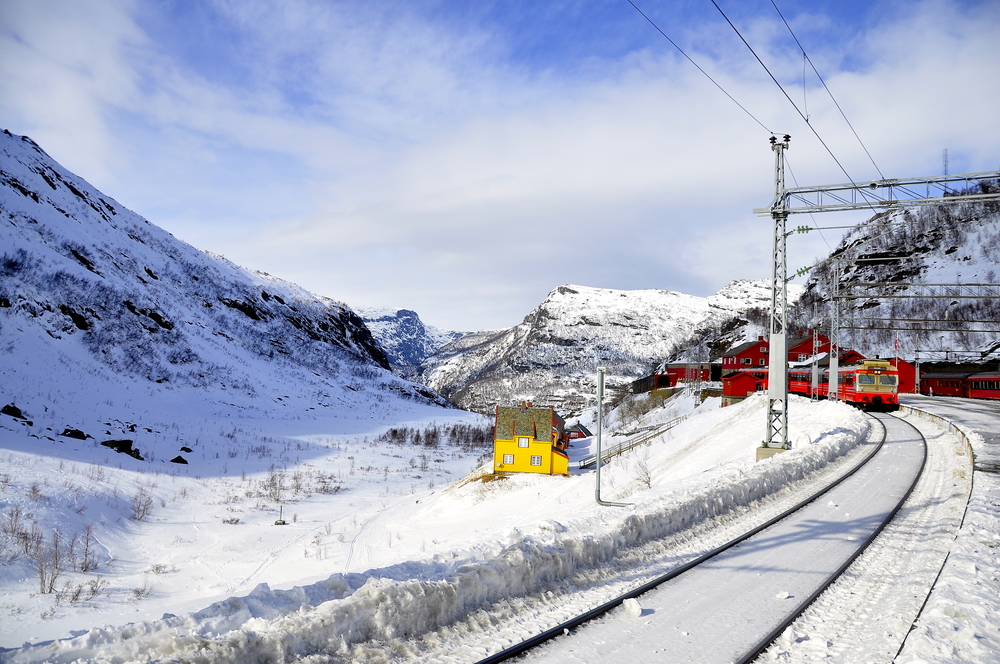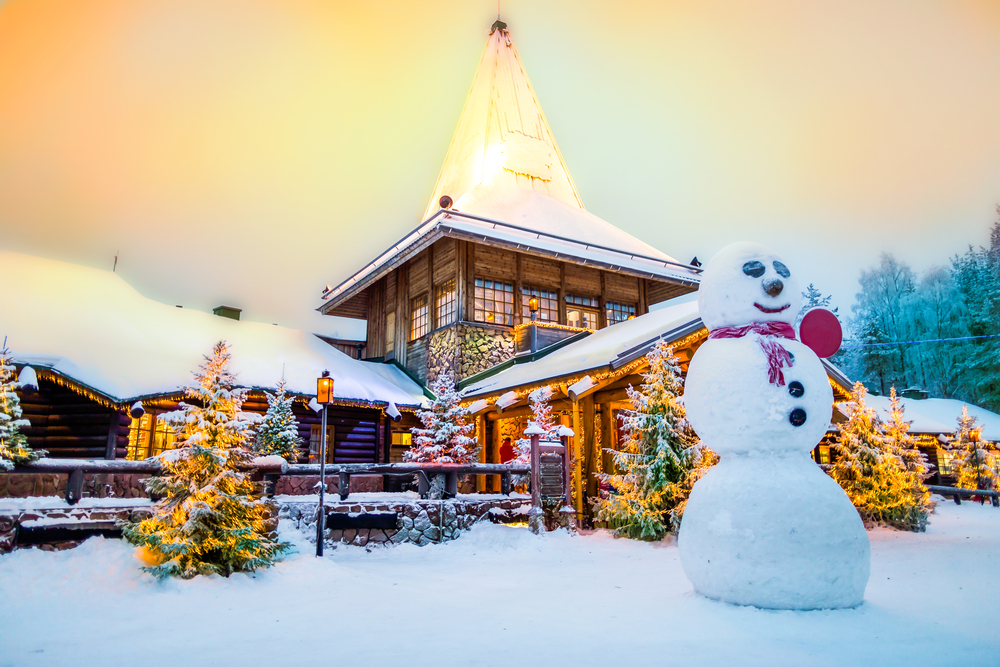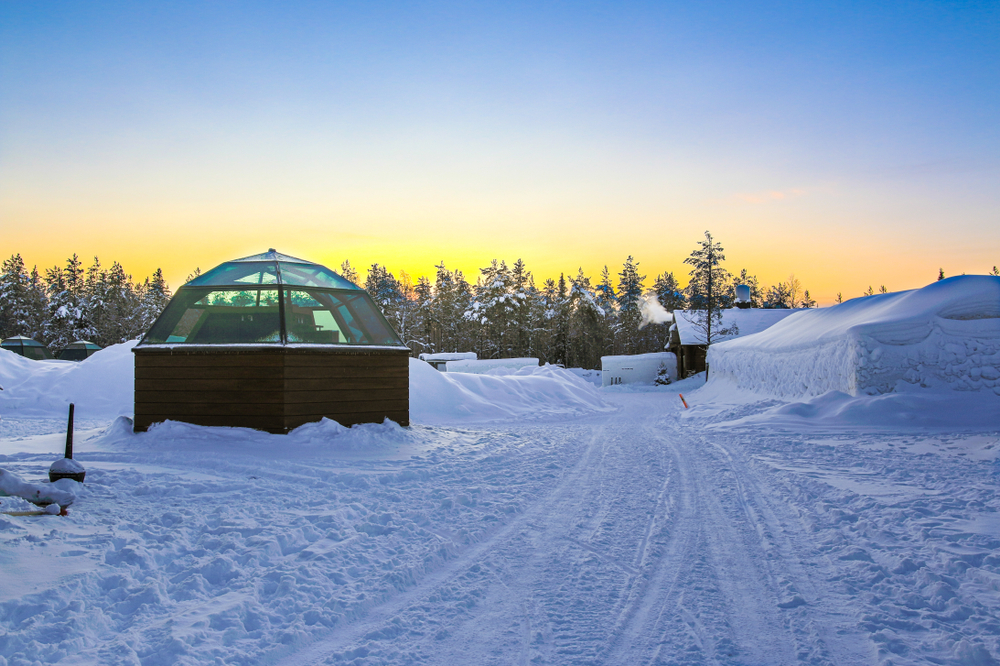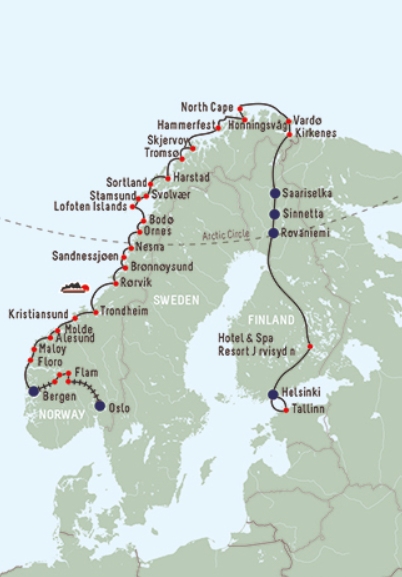 A night in a unique glass igloo - lay in bed and gaze at the stars (and if lucky, the Northern Lights)
Discovering the Sami culture and remarkable arctic wildlife of Finnish Lapland
City tours of Oslo, Bergen, Helsinki and Tallinn
Experience the worlds most famous rail journey, "the Flam Railway" in Norway in a nutshell
Spend a night in the wilderness of the Finnish lakes district
A visit to Rovaniemi, the home of Santa Claus
A visit to a traditional husky dog farm
A relaxing cruise along the coast of Norway, by far the best way to experience the country's stunning fjords and historic coastal towns
A day excursion to the medieval town of Tallinn in Estonia
The services of a Bentours' tour manager throughout the journey
A complement of 'optional excursions' will be made available 6 months prior to the tour departure date.
4 star accommodation
Daily breakfast, 7 lunches and 11 dinners
City tours of Oslo, Bergen, Helsinki and Tallinn
Norway in a Nutshell, famous Flam rail journey
English speaking guide from start to finish
Huskey Farm visit
Santa Claus Village visit
Departure date
Cabin
Price per person (twin share)
Solo supplement

18 November 2020



Middle deck (N Cat)
$9,995*
$2,265
Superior middle deck (P Cat)
$10,150*
N/A
Superior upper deck (U Cat)
$10,390*
N/A
*Price based on per person, twin share on the lead in cabin aboard the Hurtigruten Vessel
Day 1: Oslo - 18 November 2020
Arrival in Oslo Airport and the group will be met by private coach and English-speaking local assistant for transfer to hotel. Check in on arrival
Accommodation: Thon Hotel Opera
Meals: Dinner
Day 2: Oslo - 19 November 2020
After a leisurely breakfast meet the guide in the lobby of the hotel for a half day (3hrs) city tour of Oslo. This includes taking in the must-see sights like Vigeland Park, the Oslo Opera House, Holmenkollen Ski jump and more. Entrance is also included to the Viking ship museum, one of the highlights of any visit to Oslo.
Accommodation: Thon Hotel Opera
Meals: Breakfast
Day 3: Oslo to Flam - 20 November 2020
After an early breakfast we will start our "Norway in a Nutshell", catching the morning train for the famous rail journey through the Flam Valley, from Oslo to Myrdal. There we change trains to begin the famous Flam Rail, with spectacular fjord views. We will break our journey in Flam
spending the evening in this beautiful tiny village.
Accommodation: Flamsbrygga Hotel, Flam
Meals: Breakfast, Dinner
Day 4: Bergen - 21 November 2020
This morning board the ferry from Flam to Gudvangen, passing through the narrow Naeroy Fjord. On arrival to Gudvangen your journey continues by bus. Waterfalls line the road as the coach weaves its way through the valley to Voss. At Voss board a train for the last leg of the "Norway in a Nutshell" journey, arriving into Bergen in the afternoon.The rest of the day is yours to enjoy at your own leisure.
Accommodation: Hotel Zander K
Meals: Breakfast
Day 5: Bergen - 22 November 2020
After a relaxing morning, in the afternoon depart the hotel with an English-speaking guide on a tour of picturesque Bergen. Pass St. Mary's Church & Haakon Hall. Walk around the colourful and picturesque fish markets and old Hanseatic wharf at Brygge. Visit Troldhaugen, the home of Norway's most famous composer Edvard Grieg (1843 - 1907). Troldhaugen consists of the Edvard Grieg Museum, Grieg's villa, the hut where he composed music and his gravesite. In the evening, board the MS Trollfjord; you are then invited to enjoy our tasty dinner buffet, based on the best ingredients from the coast. We sail north from Bergen along the Hjeltefjord, the same route the Vikings once plied to the Shetland Islands and beyond. We are heading to the high north. Spend the rest of the evening relaxing as you admire the spectacular landscapes, either from deck or in our panorama lounges.
Accommodation: MS Trollfjord
Meals: Breakfast, Dinner
Day 6: Florø to Molde - 23 November 2020
(Day 2 of the voyage) If you wake up early the next day, you have the chance to enjoy the breathtaking beauty of the Nordfjord, followed by a delicious breakfast. As we sail past the West Cape, we are out on the open sea. The ship then navigates through skerries and islands before reaching Alesund. Distinguished by its numerous spires, towers and highly-ornate buildings, Alesund is a town renowned for its beautiful art nouveau architecture.
After the stop in Alesund continue to Molde - known as the 'City of Roses'. This attractive coastal city also has a wonderful view to 222 mountain peaks, called 'the Molde panorama'. Enjoy discovering the town on your own or with one of our excursions.
Accommodation: MS Trollfjord
Meals: Breakfast, Lunch, Dinner
Day 7: Kristiansund to Trondheim to Rørvik- 24 November 2020
(Day 3 of the voyage) Few large cities have managed to preserve their intimacy as effectively as Norway's third largest city, Trondheim. Viking king, Olav Tryggvason, founded this ancient city as early as 997. Spend time in Trondheim exploring the city on your own or perhaps joining one of the optional shore excursions on offer.
In the afternoon, the ship sets a northwest course, passing the beautiful Kjeungskjær lighthouse and numerous charming islets and rocky outcrops. After passing through the narrow Stokksund, the ship heads towards charming Rørvik.
Accommodation: MS Trollfjord
Meals: Breakfast, Lunch, Dinner
Day 8: Brønnøysund to Svolvær - 25 November 2020
(Day 4 of the voyage) Today we cross the Arctic Circle! This invisible line is situated at 66 degrees 33 minutes north and marks the border to the Arctic Region. In summer, this means 24-hour daylight - often referred to as the 'midnight sun'. During winter, being above this latitude provides the best chances for experiencing the Northern Lights. Even if you aren't awake to see the Arctic Circle, the captain makes sure that the occasion is a memorable event. If you are sailing in Arctic waters for the first time, you can participate in a daytime Arctic Circle ceremony on deck.
Later this afternoon, the sight of the 1,000m high Lofoten Wall appears on the horizon. Tucked between majestic granite cliffs and white sandy beaches, Lofoten is an experience that is out of the ordinary. The charms of the Lofoten Islands are revealed in the small, picturesque fishing villages with their bohemian ambience. Take a stroll between stockfish racks and 'rorbuer', the traditional fisherman's huts.
As we sail through the narrow Raftsund, we stop at the entrance to Trollfjord. Here we serve freshly made fish cakes out on deck. You also hear the story of 'The battle of Trollfjord', which took place here in the winter of 1890. If you look closely, you might see trolls up in the steep mountains. Or you might not.
Accommodation: MS Trollfjord
Meals: Breakfast, Lunch, Dinner
Day 9: Stokmarknes to Skjervøy - 26 November 2020
(Day 5 of the voyage) During the morning hours, we briefly dock at Risøyhamn, Harstad and Finnsnes. The ship then continues to Tromsø, `Capital of the Arctic´, for a prolonged stay. Many epic Arctic expeditions used Tromsø as a starting point.
After an exhilarating day in Tromsø, we continue our northbound journey
Accommodation: MS Trollfjord
Meals: Breakfast, Lunch, Dinner
Day 10: Øksfjord to Berlevåg - 27 November 2020
(Day 6 of the voyage) Enjoy magnificent sub-Arctic landscape as we cross the 71st parallel on our journey towards North Cape, one of the northernmost points on the European continent.
After brief early stops in Hammerfest and Havøysund, we arrive in Honningsvåg, the gateway to the spectacular North Cape. An optional excursion to the North Cape plateau puts you at 71°10'21´N, only 2,000 km away from the geographic North Pole. (supplement rates apply)
The ship then continues north, sailing into the heartland of the indigenous Sámi people. We pass their ancient sacred site, the rock formation Finnkirka, as we approach our next stop, the fishing village Kjøllefjord. Here you have the opportunity to learn more about the Sámi people, as well as to explore the wonderful landscape.
Accommodation: MS Trollfjord
Meals: Breakfast, Lunch, Dinner
Day 11: Kirkenes & Saariselka - 28 November 2020
The vistas become more dramatic as we approach Kirkenes. We arrive in nearby Vadsø early in the morning and just after breakfast, arrive in Kirkenes, at 30° East, further east than Istanbul and St. Petersburg. This is Hurtigruten's turning point for the return journey southwards. Kirkenes is known as the capital of the Barents region and gateway to the east.
On arrival to Kirkenes disembark the ship (no porterage service is available at Kirkenes pier). Enjoy a short drive through Kirkenes and learn more about its history before making our way towards Finnish Lapland.
Arrive to the small village of Inari and visit the SIIDA Sami museum (visit with a museum guide – approx. 45 min/1hr). The museum offers a unique possibility to learn about the Sami culture and the diverse nature of Northern Lapland. Lunch included at the museum. After the visit, we continue to Saariselka
Accommodation: Lapland Hotel Rienkonlinna
Meals: Breakfast, Lunch, Dinner
Day 12: Saariselka - 29 November 2020
Today we visit a husky farm. The barking of enthusiastic dogs will welcome us! The head musher talks about the life and training of these unique arctic animals, and we have the chance to take some amazing photos of the breath-taking arctic wilderness.
Accommodation: Lapland Hotel Rienkonlinna
Meals: Breakfast, Lunch, Dinner
Day 13: Saariselka - 30 November 2020
Today we check out of the hotel and transfer to Sinetta. En route stop at Santa Claus Village, where you will have free time to explore, and maybe see Santa himself.
This evening spend the night in a glass igloo which is such a unique and wonderful experience where you may have the chance to see the northern lights while lying in your bed, an experience you will cherish for a lifetime!
Accommodation: Arctic Snow hotel & Igloos, Sinnetta
Meals: Breakfast, Dinner
Day 14: Rovaniemi - 1 December 2020
Today we set out for Rovaniemi, where you will have free time or optional extra touring options. Tonight we are staying in Rovaniemi, a lovely town on the border of the Arctic Circle.
Accommodation: Sokos Vaakuna Rovaniemi
Meals: Breakfast
Day 15: Jarvisydan - 2 December 2020
This morning we head via coach for Jarvisydan, a hotel resort spa in the Finnish wilderness. In the afternoon you'll be able to relax and if this takes your fancy, have a spa treatment, or participate in many of the outdoor activities the resort has to offer
Accommodation: Jarvisydan Hotel spa and resort
Meals: Breakfast, Dinner
Day 16: Helsinki - 3 December 2020
Today we leave the wilderness via coach and head into the capital of Finland, Helsinki Arrive into Helsinki in the afternoon, and explore the city with a half day city tour (2hrs), including entrance to the "Rock Church", before checking into the hotel
Accommodation: Scandic Marina
Meals: Breakfast
Day 17: Tallinn - 4 December 2020
Today we have an early start with a full day excursion to the medieval town of Tallinn in Estonia. Transfer to the port and embark the ferry to Tallinn. On arrival to Tallinn begin a combined bus and walking tour of the most interesting parts of the city. (3 hrs) Stops will include the baroque Kadriorg Park, Song Festival Grounds and the seaside district of Pirita. Walk through the winding, cobble stoned streets of the Old Town, cross Toompea Hill, before continuing to the Palace of Toompea that today houses the Estonian Parliament 'Riigikogu. Visit Aleksander Nevskij Cathedral and the Dome Church. There will be time at leisure in Tallinn before boarding the ferry to return to Helsinki.
Accommodation: Scandic Marina
Meals: Breakfast, Dinner
Day 18: Helsinki - 5 December 2020
Breakfast in the hotel. Check out of the hotel and transfer to the airport for your flight homeward.
Meals: Breakfast
Price is based on twin share, lead in cabin per person
Northern lights are a naturally occurring event and cannot be guaranteed
Single supplement will apply
Subject to availability
Escort and tour are both subject to minimum numbers to depart.
Price subject to change
Credit card surcharge of 1.2% may apply
Bentours, Hurtigruten & Qatar Airlines T&Cs apply
*Terms and conditions apply: see RAC Travel general terms and conditions