Oberammergau & Country Roads of Bavaria, Switzerland & Austria
with Insight
11 days from
$5,895*
per person, twin share
Best seats in the house for Passion Play
Ride the Glacier Express
Lock in your spot on this once a decade itinerary
Bookings are now closed - please speak with your travel consultant for more information on other holidays we can arrange for you.
See the world famous Oberammergau Passion Play in conjunction with this trip around Bavaria, Switzerland and Austria; opulent palaces, quaint gabled shop fronts and expansive vineyards await you on this enchanting tour.
Experience the unrivalled beauty of the Alpine world with a trip on the Glacier Express, awaken your scenes during a private exploration of Schonbrunn Palace in Vienna and enjoy the best seats in the house for the Passion Play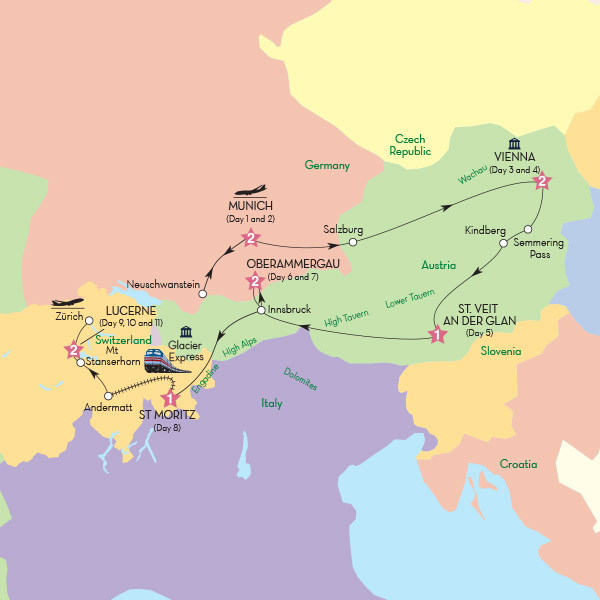 Included Quality Dining: 10 Buffet Breakfasts (BB) and 6 Dinners (D) with wine (DW).
Oberammergau: Dine in a local restaurant amid the buzz of excitement from Passion Play goers and enjoy local hospitality before the second half commences.
Special Hotel - St Moritz: The elegant Crystal Hotel is located close to shops in the town centre, where all the prestigious names from Chanel and Gucci to Louis Vuitton are lined up together.
Special Hotel - Lucerne: The century-old City Palais in the heart of Lucerne has been masterfully restored. Behind the historical facade lies this distinctive first-class luxury Renaissance Hotel.
Our highly-skilled Insight Tour Director will ensure your journey is seamless, serving as your expert guide, consummate organiser, and friend in a foreign land
Enjoy the comfort of Insight's luxury, air-conditioned, 40-seat touring coach, with extended Business Class legroom and on-board restroom
Personal radio headsets give you the freedom to wander during visits to famous highlights, without missing any of your Local Expert's fascinating commentary
We carry your bags for you and promptly deliver them to your hotel door
Hotel and restaurant tips are included; you'll never have to worry about how much to give, nor search for foreign currency
Plus, we include all taxes and porterage charges at hotels
Stay connected with friends and family with our complimentary coach and hotel Wi-Fi (where available)
From time to time, your Tour Director will enchant you with an Insight Flourish - a local tidbit representing authentic food or beverages unique to the destination
Complimentary transfers from Munich Airport and to Zurich Airport are available at scheduled times only on arrival and departure days (should your flights not coincide with these transfers, or additional accommodation has been booked through Insight Vacations, charged transfers are available)
Neuschwanstein: A Local Expert leads you through fanciful rooms fashioned by medieval legend. Take in the amazing views over valleys and verdant mountains.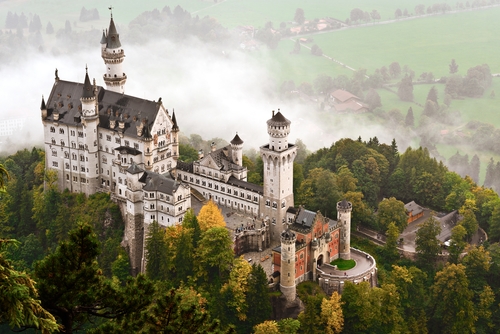 Vienna: A private, guided exploration of Schönbrunn Palace will have all your senses tingling. Stand beneath frescoed ceilings, crystal chandeliers and gilded Rococo frames where Mozart performed as a child prodigy.
Salzburg: See the Mirabell Gardens, Mozart's birthplace on the Getreidegasse and visit the Cathedral in the Old Town with a Local Expert.
Glacier Express: Journey through the heart of the Swiss Alps aboard the world-famous Glacier Express. Once settled into your modern panoramic viewing car, sit back, spellbound as Mother Nature unveils a scenic symphony of epic grandeur.
Oberammergau: Experience the spectacular Passion Play that has made this town famous. Watch from your premium seat as local villagers perform as they have since 1634 in this once in a decade event. An emotive and critically acclaimed performance depicting Christ's last days, this is an event not to be missed.
Munich: See the Marienplatz, Town Hall and Glockenspiel.
Vienna: Tour the Ring Road seeing the City Hall and Parliament.
Kindlberg: See the colourful maypole.
St Veit an der Glan: See the Plague Column and Rathaus.
Innsbruck: See the Golden Roof and Imperial Palace.

St Moritz: See the spa quarter and 'sgraffito' façade on the museum house.
Lucerne: See the emotive Lion Monument, Jesuit Church and Chapel Bridge.
Scenic drives: Bavarian Alps, German Alpine Road, Semmering Pass, the Dolomites, Engadine Valley, Grison Alps.
Stanserhorn: A spectacular journey by cable car and cogwheel railway takes you to the summit for expansive mountain views over Lake Lucerne for your special Celebration Dinner. Fill your glasses with wine and toast to newfound friends.

Vienna: For your dining pleasure, you are offered a selection of Vienna's vibrant restaurants. With drinks, a delicious 3-course dinner and Gemütlichkeit in abundance, your Dine-Around Evening is a culinary experience not to be missed.
Day 1 - Welcome to fun-loving Munich.
Airport transfers leave Munich Airport for your hotel at 10:00 and 13:00. Join your Tour Director at 15:00 for an orientation. See the Feldherrnhalle in the Odeonsplatz, the Palace of the Dukes of Wittelsbach, the English Garden, the Hofbräuhaus, St Peter's Church and the famous Marienplatz. Afterwards, enjoy a Welcome Reception with the opportunity to mingle over a pleasant evening of dinner and wine.
(Three-course Dinner with wine, plus tea or coffee)

Day 2 - Jewels of the Bavarian Alps.
Embark on an exciting visit to Neuschwanstein Castle, built as a retreat for the wildly eccentric King Ludwig II, bristling with turrets and pinnacles. See the exuberantly-decorated apartments including the Throne Room and Lohengrin Grotto. The rest of the day is free for you to explore Bavaria's capital city. Perhaps visit one of its many art galleries and museums, or relax and enjoy a coffee in the delightful Marienplatz?
(Buffet Breakfast)

Day 3 - The city of Mozart and on to Vienna.
A short drive over the Austrian border leads to Salzburg, 'alive with the sound of music'. Sightseeing with a Local Expert will reveal the formal gardens of Mirabell Palace, the imposing fortress, the cathedral in the Old Town and Mozart's birthplace. After lunch, head for the Austrian capital of Vienna.
(Buffet Breakfast)

Day 4 - Vienna and the Habsburgs.
In the morning, a Local Expert will reveal the highlights of Schönbrunn Palace, full of frescoed ceilings, crystal chandeliers, mirrors and gilded ornaments. Spend some time in the formal gardens before going on to view St Charles' Church, the Hofburg Palace, Parliament and State Opera House. The afternoon is all yours to explore the city at your leisure. For your Dine-Around Evening experience, choose from a fantastic selection of restaurants.
(Buffet Breakfast, Three-course Dinner with wine, plus tea or coffee)

Day 5 - Sleepy Austrian byways to St Veit an der Glan.
Take a delightful drive through undiscovered Austria. Climb the dramatic Semmering Pass and stop in Kindberg with its colourful maypole. Continue to St Veit an der Glan, former seat of the Dukes of Carinthia and explore the fabulous medieval city walls, the old town square and the ancient Plague column.
(Buffet Breakfast, Three-course Dinner with wine, plus tea or coffee)

Day 6 - Pass the Dolomites to Innsbruck and Oberammergau.
Pass the magnificent Dolomites as your journey continues through the High Alps to arrive at mountain-ringed Innsbruck. An orientation of Innsbruck shows you the 14th century houses of the old town, the impressive Imperial Palace and the delightful Golden Roof. Then continue north to Oberammergau, situated in the heart of the Bavarian Alps and home of the Passion Play since 1634.
(Buffet Breakfast, Dinner)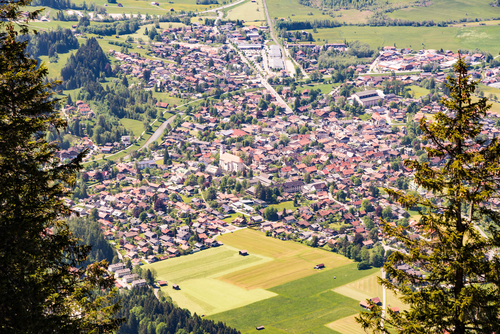 Day 7 - The Passion Play.
(Relaxed Start) After a morning at leisure in charming Oberammergau, take your premium reserved seats to witness the world famous Passion Play, re-enacting the last days of Christ on earth. After a break for dinner in a local restaurant, the captivating performance continues into the evening.
(Buffet Breakfast, Dinner)

Day 8 - Through the Alps to Switzerland.
(Relaxed Start) Continue to Switzerland, driving along the beautiful Engadine Valley and on to the chic Alpine resort of St Moritz. Enjoy the marvellous scenery and fresh air or browse in the elegant boutiques. Another option is a ride on-board the Bernina Express.
(Buffet Breakfast)

Day 9 - All aboard the Glacier Express and on to Lucerne.
An unforgettable journey allows ice-capped mountains, stone-built villages and lush meadows to slip by the windows of your Glacier Express train. Ascend through the spiral tunnels of the Albula Pass and cross the Landwasser Viaduct before heading down through the Oberalp Valley to rejoin the coach at Andermatt. Continue north to lovely Lucerne, one of Europe's most popular cities. Join your Tour Director to see the sorrowful sculpture of the dying lion, cut out of a limestone cliff to commemorate those Swiss Guards who died at the Battle of the Tuileries.(Buffet Breakfast)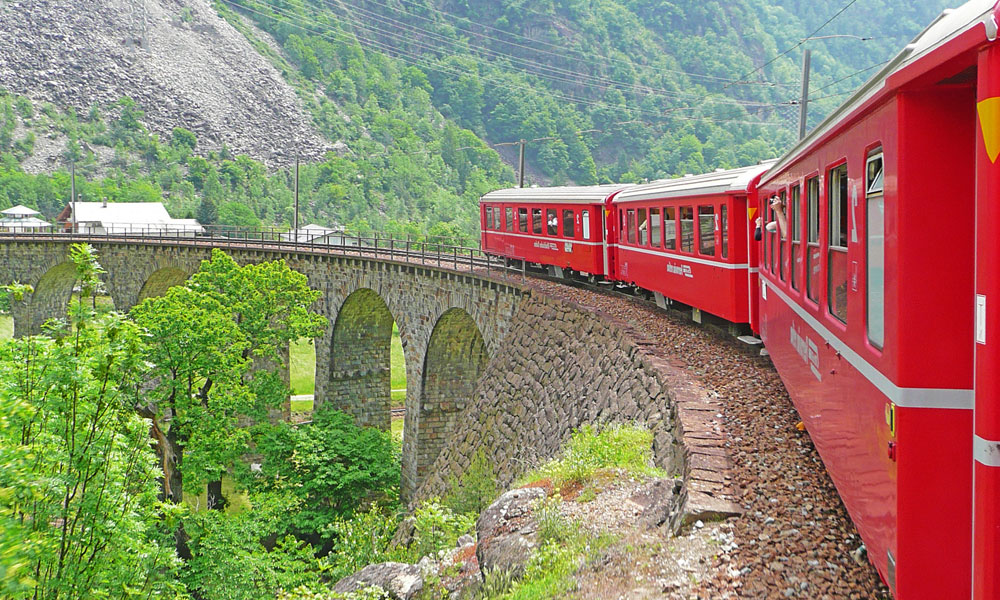 Day 10 - Dinner at the 'Roof of Europe' in Stanserhorn.
(Relaxed Start) The morning is at leisure in this beautiful city with its 14th century covered wooden bridges, painted gables, old walls and watch towers of the medieval fortifications. Stroll across the Chapel Bridge to the Jesuit Church, or use your free time to shop. Later, head to the town of Stans, to embark on a scenic journey by funicular railway and cable car, to the summit of the stunning Stanserhorn. On a clear day there are views as far as Alsace and the Black Forest in Germany. Here, amid true Alpine majesty, your amazing journey literally peaks with a fabulous farewell Celebration Dinner in a panoramic restaurant. This will be a fantastic bird's-eye wining and dining experience you'll never forget!
(Buffet Breakfast, Three-course Dinner with wine, plus tea or coffee)

Day 11 - Leaving Zürich.
Your departure transfer arrives at Zürich Airport at 08:00. Please do not schedule any flights before 10:00.
(Buffet Breakfast)
Departs:
12 June 2020 - $5,895 pp*
All Oberammergau inclusive holiday prices are indicative only and are subject to change including, but not limited to, hotels, meals sightseeing inclusions, itineraries, transfers and transportation all subject to change. Confirmed prices will not be available until 31 August 2019
A $760 per person non-refundable deposit is required by 1 February 2019
All Oberammergau inclusive holiday deposits are non-refundable unless overall price increases by more than 15%, in which case guests are eligible to cancel without penalty. If the trip price decreases, guests will be entitled to the lower trip price.
Single supplement from $680
*based on twin share, per person; price updated 25 July 2018 from $5,150
*All Oberammergau inclusive holiday prices are indicative only and are subject to change including, but not limited to, hotels, meals, sightseeing inclusions, itineraries, transfers and transportation all subject to change. Confirmed prices will not be available until 31 August 2019
All Oberammergau inclusive holiday deposits are non-refundable unless overall price increases by more than 15%, in which case guests are eligible to cancel without penalty. If the trip price decreases, guests will be entitled to the lower trip price.
No Early Payment Discounts nor any other discounts are applicable to the Oberammergau portion of the trip. Deposit protection guarantee is not available on trips including the Oberammergau.
A $765 per person non-refundable deposit is required by 1 February 2019
Final payment due 14 February 2020
Please note that single and triple rooms are not available for the Oberammergau stay. Solo travellers and triple share guests will be matched and accommodated in a twin room with a fellow solo Insight traveller (of the same gender) for the duration of the stay.
*Price advertised is per person, twin share
Single supplement applies to solo travellers
Tours subject to minimum numbers to run, please ask your consultant for more information on guaranteed departure dates
Itinerary subject to change without notice
Insight Vacations terms and conditions apply.
Credit card fees of up to 1.2% may apply
Terms and conditions apply: see RAC Travel general terms and conditions