26 March, 2015 By: Alex Forrest
You can't ignore the styling of the BMW X6 M50d.
In fact, not mentioning its appearance first in this story would be like walking into the kitchen, seeing an elephant in the corner wearing a pink tutu while standing on its head, then turning around and making a cup of tea.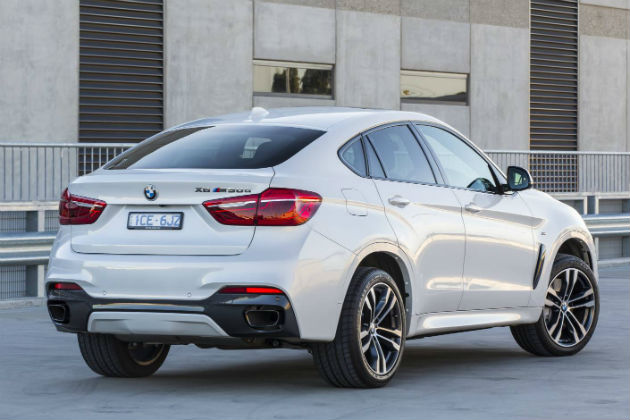 So let's talk about that so we can move on.
No large luxury four wheel drive could be described as subtle, but if there's one vehicle to make them look like a row of shrinking violets, it's this.
With styling that is strangely both high and low-slung at once, this is one of the most divisive new vehicles we have test driven in recent years.
Some loved it, some loathed it, but everyone noticed it.
Sharper looks
In 2015, BMW updated the regular X6 to align with the current X5 styling cues, making this the second generation X6 since the model was initially launched 2008.
The current X6 range brings with it more muscular looks, with a wider front grill and more defined contours than the previous model.
In addition, the X6 M50d also gets large front quarter panel air vents which aren't just decorative and actually work to suck air out of the engine bay.
BMW calls these vents Air Breathers, which must mean the X6 isn't amphibious.
There's also the typical suite of BMW M features, such as a rear spoiler, M-specific side mirrors, quad exhausts and M-specific 20-inch alloy wheels. If those wheels are too common, you can option 21-inch wheels.
Pricing
To get into an X6, you'll need at least $115,400 plus on-roads and the luxury car tax. The M50d we tested starts at $157,500 plus on roads.
Then you can start with the options list. A sunroof for $3,500, anyone?
Under the skin
Cosmetics aside, the changes that matter are underneath X6's giant, child-scaring exterior.
These include a set of engines which offer up to a 22 per cent reduction in fuel economy, depending on which engine you choose.
In the M50d, the engine is a 3.0-litre diesel with three turbochargers (two relatively small turbochargers and one large turbo) working together in a multi-stage process to produce 280kW and a whopping 740Nm.
Despite weighing more than 2,100kg, the X6 M50d will accelerates from standstill to 100kmh in 5.2 seconds if you ask it, which is 0.1 seconds quicker than the old one.
In the official ADR test, fuel consumption of 6.6l/100km and CO2 emissions of 174g/km – impressive given its performance.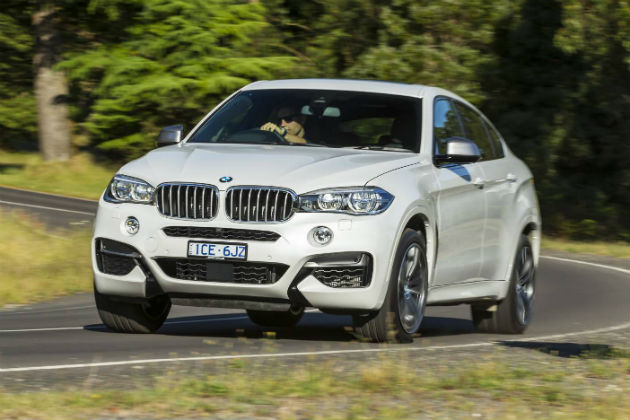 Transmission is an eight-speeder controlled by either the centrally mounted lever or steering wheel paddles. As an M model, the M50d gets air suspension with a self-levelling rear axle, and sportier spring rates and damper settings to manage the expectations generated by the M badge.
On top of that, you can also opt for the dynamic adaptive suspension package, which brings torque vectoring and active roll stabilisation.
The X6 M50d's handling is indeed impressive given its bulk, but there's no escaping its width on the road. You would think the vehicle's steeply raked rear quarters would hinder rear visibility, but the mirrors and rear camera do a surprisingly good job of conveying what's happening around its large but pert backside.
Other safety kit includes an advance ESC system (BMW calls theirs DSC) which can allow the driver to enjoy the vehicle while also puling in the reins when the situation is about to become unsafe.
Standard safety kit across the X6 range includes six airbags, a surround view camera, head-up display and the usual electronic aids such as ESC, traction control and hill descent control.
Remote control
The car we road tested had the optional ConnectedDrive Freedom package, which allows owners to control some of the cars functions remotely.
This turned out to be particularly handy on a typically hot February in Perth. We could use a smart phone app to remotely turn on the vehicle's ventilation system half an hour before we left the office.
You can also unlock the vehicle remotely, find out where it is via GPS, and flash the headlights.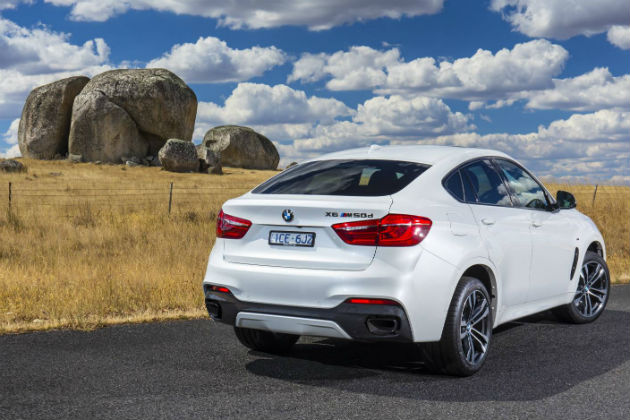 The BMW X6 M50d is a specialised SUV (well, BMW calls it a 'Sports Activity Coupe') which is more about the looks and the driving experience than practicality.
Does it live up to the expectations generated by the M badge?
Well, it has a different purpose from the early production M cars such as the brilliant E30 M3 or E28 M5 sports saloons. These cars were about performance in a still-practical and relatively subtle package.
The X6 M50d is as much about being seen as it is about being a large SUV that goes and handles better than most of its high-riding, two-tonne competition.
It's less practical than an X5, yet more expensive and more conspicuous and for some people, that's exactly the x-factor they need.
BMW X6 M50d Specifications

| | |
| --- | --- |
| Price (as tested): | $157,900 plus on-roads |
| Engine: | 3.0-litre diesel straight six, triple turbo |
| Power: | 280kW @ 4,000 rpm |
| Torque: | 740 Nm @ 2,000 rpm |
| Claimed fuel economy: | 6.6L/100km |
| ANCAP Rating: | not rated |
| CO2 Emissions: | 174g/km |