23 September, 2020 By: Jane Hammond
Personal transporters, like Marty McFly's hoverboard in Back to the Future, are not quite ready for the consumer market but small battery-powered devices like e-scooters, e-skateboards, Segways and e-bikes have the potential to revolutionise the way we travel.
In cities around the world, e-bikes and personal mobility devices (PMDs), like e-scooters and e-skateboards, are taking city pavements, bike lanes and roads by storm.
In Australia, these small battery-powered get-arounds are becoming more visible, as commuters look for new and more efficient ways to beat congestion and save time and money. But in maximising their potential, we first must overcome a few hurdles around their safe and legal use.
In WA, the Road Traffic Code 2000 specifies that e-scooters must only be capable of travelling at a top speed of 10km/h (when propelled by the motor on level ground) and the motor can only have a maximum power output of 200 watts. But despite this, many devices being sold in the State are higher powered, can travel faster and can't be legally used on public roads and paths in WA.
If a PMD can travel above 10km/h it could technically be considered a 'motor vehicle' under the current regulations. However, motor vehicles must be licensed and operated in accordance with the Road Traffic Code, which isn't possible for these devices. So, a rider could, again technically, be regarded as operating an unlicensed vehicle. E-bikes have a different classification and can travel up to 25km/h when propelled by the motor.
Weighing up the benefits and challenges
RAC senior manager Public Policy, Sarah Macaulay, says e-bikes and PMDs have the potential to reduce unnecessary car trips and harmful vehicle emissions. E-bikes are helping to make cycling a more convenient commuting option and PMDs are becoming increasingly appealing for shorter trips.
But she says there is a lot of confusion around the legality of devices and how they should operate in public areas, as well as safety considerations.
"The current laws governing the use of roads and paths in WA are not really set up for PMDs and don't recognise many new devices. We're seeing a lot of e-scooters which don't comply with current regulations, as well as other PMDs like e-skateboards which aren't defined in the Code. What rules apply to these is unclear."
Keeping it legal
Director of Future Mobility with the Department of Transport, Simon Grieve, warns that riding non-compliant PMDs anywhere other than on private property could land you in trouble with the law.
Grieve says the State Government is working to examine ways that PMDs could be safely introduced in WA and are closely monitoring their use in other cities.
"The National Transport Commission, with input from the states and territories, is examining the barriers to the safe use of PMDs and is expected to make recommendations about national regulations to state and federal transport ministers in November 2020," he says.
RAC's Sarah Macaulay says that refining the framework for the safe and legal use of new and emerging PMDs will be crucial, particularly as demand increases.
"Safety must be first and foremost and we need to give careful consideration to where and how PMDs operate to reduce potential conflicts with others sharing the same space.
"We know from a recent RAC member survey that pedestrians often don't feel safe sharing paths with PMDs."
Macaulay says that during recent COVID-19 restrictions, Perth saw shared paths and streets come alive with more people walking, cycling and riding PMDs for exercise and recreation.
"We really want to see the boost in active travel sustained as the new normal, but with increased activity we need to be even more conscious and considerate of other shared path users."
A growing market
Market analysts Grand View Research estimate the global e-scooter market alone has an annual worth of more than $28.7 billion.
It says that the rising need for fuel-efficient vehicles, backed by increasing concerns over carbon and greenhouse gas emissions, is expected to drive the adoption of e-scooters over the next decade.
Grand View forecasts that advances in technology, and in particular battery life, will further the popularity of these devices.
The Department of Transport's Simon Grieve says anecdotal evidence suggests that sales of e-bikes and PMDs are increasing across the nation.
Nationally there are around 1.2 million bicycles sold in Australia every year and e-bikes make up a small but rapidly growing share of that total.
Bike Industries Australia general manager, Peter Bourke, says electric bike sales in Australia have doubled every year for the past three years.
He forecasts that at least 60,000 new e-bikes will have hit the road in the 12 months to July this year.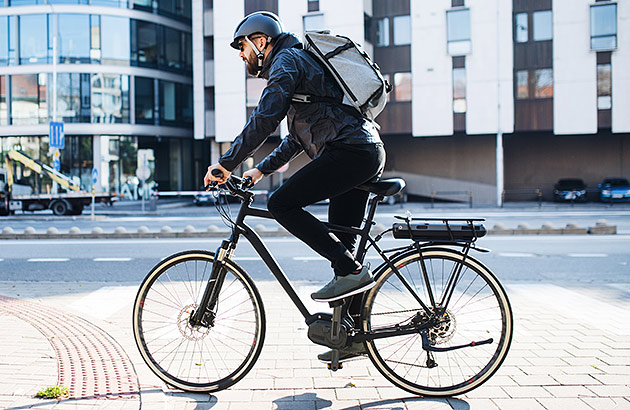 Segways, although popular overseas, have not yet made big inroads into the Australian market. In WA there are an estimated 200 Segways in operation and most of these are used as tour vehicles by tourist operators.
Grieve says WA's first e-scooter rental trial commenced in the City of Bunbury in March this year. It was only running a short time before the COVID-19 restrictions called a halt to the trial but was well received by the public.
In the UK, the Government announced in May that it would be fast-tracking approvals for e-scooters on its pavements and roads as a way of boosting the economy post the COVID-19 crisis and maintaining social distancing. The move is part of a A$475 million plan to increase cycle lanes and promote micro-mobility as a transport option.
E-scooter rideshare rental company Lime is working on approvals to get a trial of the latest generation of e-scooters on the streets of Perth by this summer. Similar trials have taken place in Brisbane and ride-sharing scooter schemes now operate in more than 120 cities around the world.
E-bikes
E-bikes are in a different vehicle category to the smaller PMDs and can be ridden on shared paths, bike lanes and roads in WA.
There are two main types of e-bikes defined under WA regulations: Power Assisted Pedal Cycles (PAPCs) and Pedelecs (which comply with European Standards).
PAPCs are permitted to have a motor with a maximum output of 200 watts, while Pedelecs are allowed a motor up to 250 watts. In both cases, the power assistance must cut out at 25km/h.
They cost anywhere from $1500 to $15,000 and have a range of up to 150km. They're relatively cheap to run, costing less than a $1 for a full battery charge.
Riders must be 16 years or over to ride an e-bike with the motor engaged and all riders must wear protective helmets.
E-scooters, e-skateboards and hoverboards
In WA, e-scooters, where the motor has a maximum power output of 200 watts and the device has a maximum speed of 10km/h (when propelled by the motor on level ground), can ridden on footpaths and suburban roads with a speed limit of 50km/h or lower with no dividing line or median strip. They can't be ridden on one-way roads with more than one marked lane or after dark. A helmet is required when riding these devices in WA.
E-scooters cost upwards of $1000 and can be fully recharged for well under a dollar. Some e-scooters can be folded and carried on public transport.
E-skateboards and hoverboards can be bought for a few hundred dollars. The hoverboards currently available to the consumer market are electrically powered balance boards on wheels.
It's important to note that e-skateboards and hoverboards are currently not defined under the rules that govern WA's roads and paths, so if you're thinking of buying one to use anywhere other than private property, contact WA's Department of Transport first.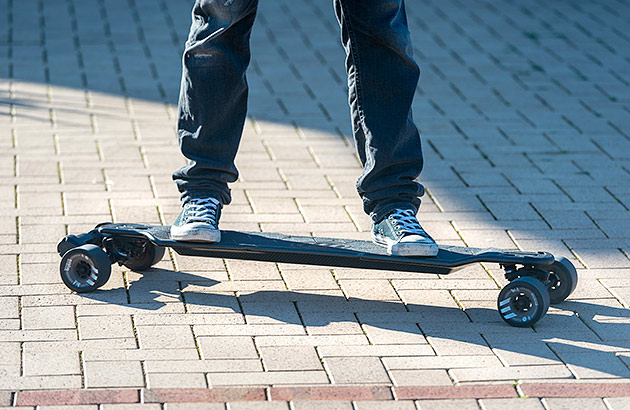 Segways
Segways and similar self-balancing personal e-transporters, are at the high end of the PMD market, retailing at around $10,000 to $12,000 each.
They are allowed on shared paths in WA in specific areas but only as part of commercial tour operations where they're limited to speeds of 10km/h.
Their private use in public areas is banned in WA.
Australian Segway distributor Belinda Hill says Segways can be ridden by most people and are even used in the disability sector to assist people with mobility issues.
She says the devices are also being used in warehouses, farms and other private property and have been used as police vehicles in Queensland.
The minimum age for riding this type of device in WA is 12 and helmets are mandatory.
Hill says Segways cost around 60c to fully recharge. The street models can travel distances of up to 29km, while the all-terrain vehicles can travel up to 19km.
Segways were originally designed 20 years ago as an alternative to the car and are used in countries around the world as transport devices, particularly in Europe. They have also been popular in tourist hotspots.
Recently, Segway announced that it would cease production of the original Segway branded device, however other similar devices will continue to be manufactured.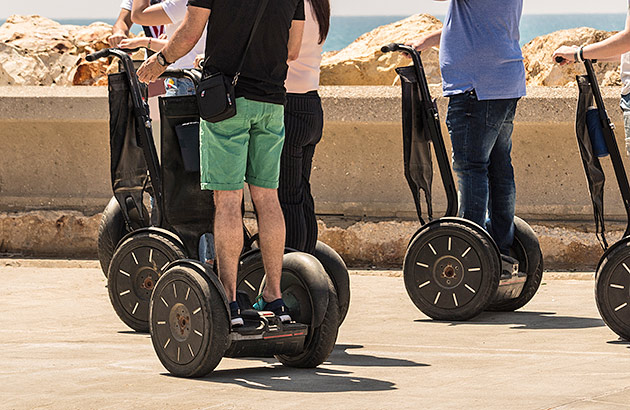 Safety concerns
The Pedestrian Council of Australia has described the use of e-scooters and other rideable electric devices on footpaths and shared paths as a great risk to pedestrian safety.
Australia's first e-scooter death was recorded in Brisbane in May 2019. The Royal Australian College of Surgeons and the Australian Injury Prevention Network found in a survey covering just two months last year, that 134 e-scooter riders in Brisbane presented to hospital for treatment. Although the majority of these injuries were minor (i.e. abrasions, upper limb fractures and sprains), three people were treated for serious head injuries.
But Simon Grieve says that, with the right regulation, PMDs could prove a relatively safe and efficient means to travel short distances.
He says experience elsewhere indicates these devices do have a role to play in the broader transport ecosystem as demand for more innovative, efficient and affordable ways to move around cities and communities intensifies.
"The wheels on the devices are relatively small, so they are susceptible to pavement irregularities like potholes and pavement cracks which could contribute to spills and injuries."
But he notes that many studies have shown that the mandatory wearing of helmets would go a long way to preventing these spills from becoming medical incidents.
Enjoy this story? Get more of the same delivered to your inbox. Sign up to For the Better eNews.
Reconnect WA
Find out how RAC is helping to revitalise streets and public spaces in WA to create more connected communities.