17 December, 2021 By: Byron Mathioudakis
Vehicle safety has come a long way in a relatively short period of time.
Nowadays, safety is the top priority for most carmakers – at least for those selling cars in affluent markets like Australia, Western Europe and North America.
But it wasn't until the 1990s that manufacturers, other than the likes of Mercedes-Benz, Volvo, SAAB and Audi, began to make advanced safety features more widely available.
Previously, safety features in mainstream cars were closer to the bare minimum required by federal regulations. This meant that the most popular, mainstream models, even from respected brands like Toyota, Holden, Ford and Mazda, offered little real protection for occupants, crash avoidance technologies, or protection for vulnerable road users like pedestrians and cyclists.
Seatbelts are acknowledged as transportation's single biggest safety advance of all time, but were only mandated in Australia from the early 1970s. Before the seatbelt mandate, cars gained windscreens that shattered in small pieces rather than in shards (and then laminated glass which was also stronger), anti-burst door latches that kept occupants from falling out, padded dashboards to help reduce head-strike injury, and radial-ply tyres that greatly resisted blowouts and consequent loss of control at speed.
The democratisation of independent, government-funded or sanctioned bodies like Euro NCAP (European New Car Assessment Program) have been driving the safety message home for decades, by championing the safest models while exposing the worst. The five-star rating system is now an easy tool to identify the good from the bad.
As a result, new vehicles are vastly safer than those from previous generations.
However, not all cars are created equally, with some unable to achieve the highly desired five stars. These are the cars that you'd be wise to steer clear of.
Using Euro NCAP and local affiliate Australasian NCAP (ANCAP) data, here are the least safe cars available in Australia over the past 10 years (since 2011). Keep in mind that the models tested before 2020 would fair even worse against today's even stricter testing criteria, so are best avoided.
RELATED: Safest second-hand cars under $15k »
RELATED: Car safety features you should know about »
Mitsubishi Express - 0 stars, from 2020
ANCAP's first (and hopefully only) zero-star rated car caused quite a stir early in 2021, since it is basically a rebadged Renault X82 Trafic launched in 2014 – and that van managed (an albeit mediocre) three-star rating by Euro NCAP in 2015.
Built by Renault in France, the Express bombed mainly due to the absence of active safety systems such as AEB and lane support systems, according to ANCAP. It also called out potential serious injury to the driver's chest in most of the front/frontal-offset tests, along with driver's knee impacts against hard surfaces, neck-injury risk in the whiplash test and no side airbag protection for the front passenger.
Pedestrians and other road users are also at high risk of injury on impact due to poor bonnet-protection performance. Pole testing also showed "significant deformation" of the side cargo door.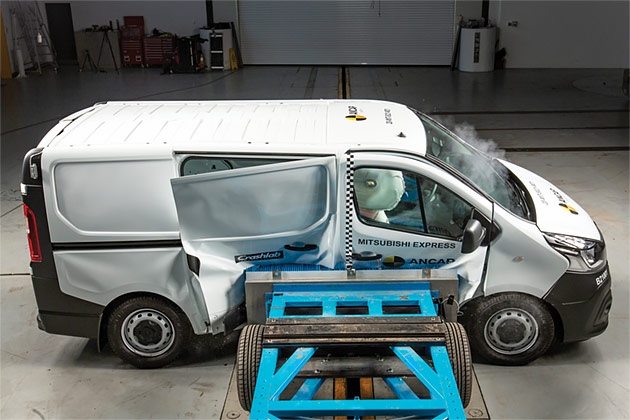 Great Wall Steed - 2 stars, from 2016 to 2021
The Steed is a facelifted version of the V200/V240 pick-up introduced in Australia in 2009 – but that was a variation of the truck sold here as the Holden Rodeo from 2002 to 2008, due to a licensing agreement with Isuzu of Japan. It is, essentially, a three-generation-old D-Max.
Applying only to Dual Cab 4x2 petrol variants, the Chinese-built ute at least brings dual frontal, side chest and side head-protecting airbags, as well as ESC and ABS, but the two-star ANCAP rating reflects the Steed's poor occupant protection, and its lack of driver-assist safety like AEB or lane support systems.
The Steed's whiplash protection is also rated as marginal at best.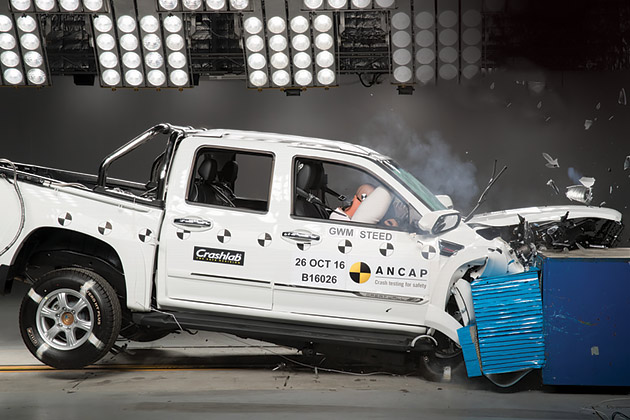 Jeep Wrangler - 3 stars, from 2019
The iconic off-road adventure vehicle was completely redesigned for its fourth-generation outing late last decade, so should have achieved a 5-star result.
However, when it was first rated by ANCAP in April 2019, the Wrangler scored just 1 star. Later that year, Jeep made some upgrades to the Wrangler's safety specification and ANCAP revised the Wrangler's rating to a still-ordinary 3 stars. Issues remaining included not enough driver-assist equipment like lane support technology, a weak passenger compartment that can lead to driver injury (with harm to feet singled out), and a specific dash design that might hurt occupants on impact.
Like the Gladiator ute (which is based on Wrangler underpinnings), autonomous emergency braking is at least fitted, while child protection is mixed, with marginal head protection for the 10 year old crash test dummy in the side impact test, but good for other body areas.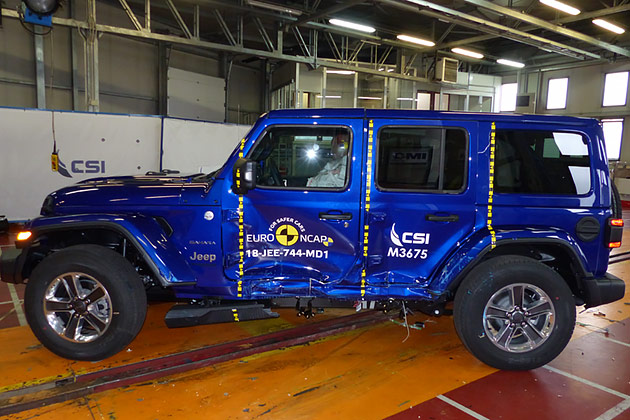 Jeep Gladiator - 3 stars, from 2020
Given the Gladiator is based on the Jeep Wrangler, the Wrangler's crash test data was used to also evaluate the safety credentials of the Gladiator. The huge ute may look tough, safe and well-equipped with safety gear, but looks can be deceiving and the Gladiator is lacking in some critical safety areas.
However, according to ANCAP, there were issues due to a comparatively weak passenger compartment that could lead to driver injury, while aspects of the bulky dashboard might also lead to occupant harm if impacted in certain scenarios.
Also, no lane support systems to help keep the vehicle on course, as well as poor pedestrian injury ratings due to the bonnet design, contributed to just a 3-star rating.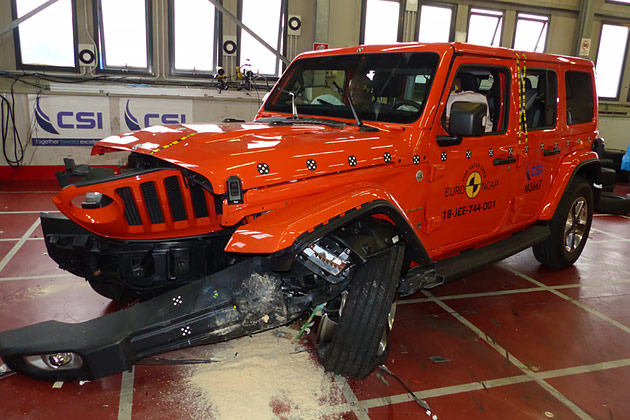 Suzuki Jimny - 3 stars, from 2019
Another recent debutante disappointment, the diminutive Jimny uses ladder-frame chassis construction just like the Jeeps, and also only manages a 3-star rating.
Tested in left-hand drive during 2018, the popular Japanese 4x4 suffers from passenger compartment structural integrity concerns, which led to disproportionate levels of pedal and steering wheel shift.
The driver's airbag didn't remain inflated long enough, meaning head-to-steering wheel contact, while both the driver's chest and rear occupants' heads had marginal protection in front-on collision tests.
Pedestrian impact levels are poor for lower-body areas, as is the AEB stopping performance for vulnerable road users, such as pedestrians and cyclists. Lane support systems are also not available.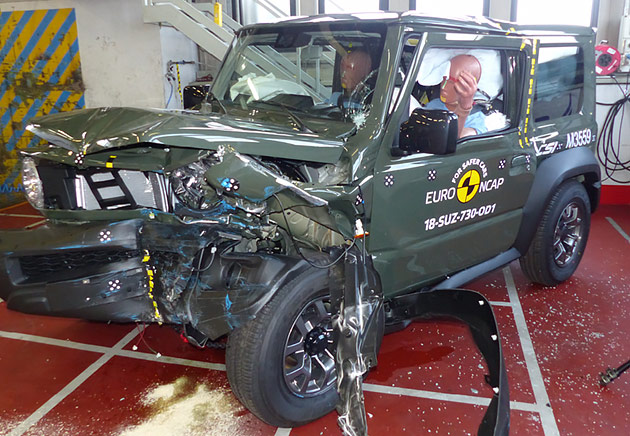 Ford Mustang Fastback - 3 stars, from December 2017
At least the Series II Mustang's facelift gained an extra star from its 2015 predecessor's shocking two-star result.
For adult occupant and pedestrian protection, the US muscle car performs quite well, with a bevy of airbags, AEB and other lane support systems included.
However, the Mustang falls worryingly short on rear-seat protection. For adults, it offers marginal protection for head, chest and pelvis, while kids have very poor side-impact protection.
Note that rear seatbelt reminders are fitted since December 2020 production and that technically this rating only applies to the fastback, not the convertible.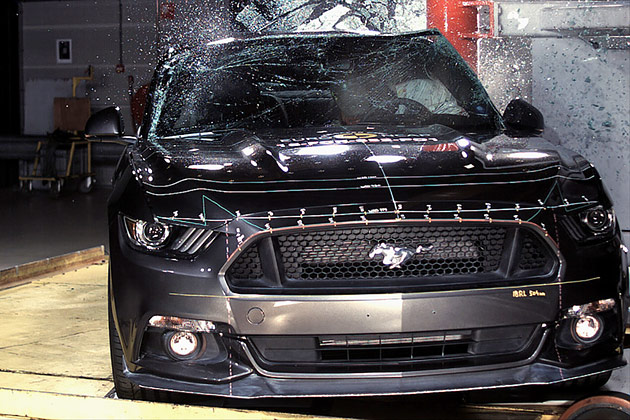 LDV G10 - 3 stars, from 2015
A comparatively modern van from China, the G10 is available in both people mover and commercial van styles, but both achieve the same 3-star ANCAP result.
Despite its relative newness, you only get two airbags (dual front items) and ESC, with no side or curtain protection for occupants in the people mover version. AEB and lane support systems are also absent.
One big issue is front foot injury potential, due to excessive brake pedal movement and footwell area splitting in ANCAP's frontal offset crash test. The steering column and dashboard could also cause harm to the driver, and front passengers can also be susceptible to impact with the dash.
As with the Great Wall Steed, side-impact and pedestrian impact testing was not carried out by ANCAP, so these cannot be assessed.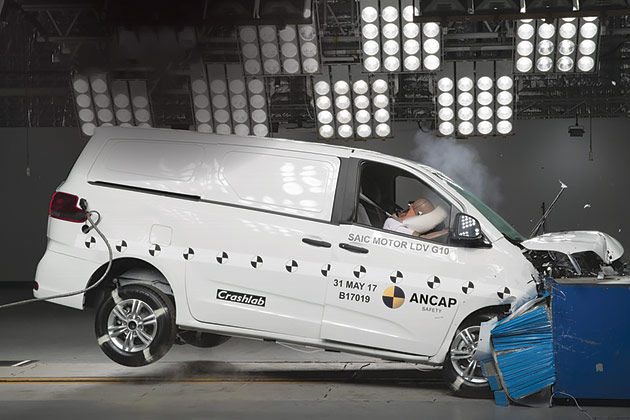 Foton Tunland - 3 stars, from 2012 to 2019
Dating back to 2011, the Tunland is a medium-sized ute from China. Its 3-star rating was achieved during the more-lenient testing processes of 2012, and using a dual cab body.
At launch, only ABS and dual-front airbags were fitted, with no additional airbags or ESC on offer. There is potential for driver's leg injuries due to the steering column, along with marginal protection for pelvis and chest. The front passenger's right foot and left pelvis also score a low protection result.
Despite being a dual cab as tested, the earliest (2012 and 2013) models' rear centre seat position uses the inferior old-fashioned two-point seatbelt design (that can cause severe lower-abdomen injuries), while the lack of any child-seat restraint anchorage points means it is not suitable for children up to four-years-old.
Mahindra Pik-Up - 3 stars, from 2012
As with the Foton Tunland, the long-lived Mahindra Pik-Up's 3-star ANCAP result would be downgraded considerably if it were tested nowadays, due to less-demanding testing back in 2012. The Indian ute was launched in Australia during 2007.
Again, we're talking about a dual cab 4x4 variant here, with dual front airbags and ABS only. No ESC or lane support systems are available, and nor do the rear seats offer any child-seat restraint points.
The risk of foot injury is high in an offset collision due to excessive footwell and firewall intrusion – especially for the driver. The front passenger's right knee is also vulnerable due to potential impact with the centre console.
Important note
ANCAP has recently developed a plan to expire early ratings for vehicles which were assessed under earlier, less stringent crash test protocols and requirements than those in place currently. This is to help ensure consumers are making purchasing decisions based on current vehicle safety standards, rather than choosing a vehicle which may have rated well but been assessed under less strict requirements. Under the plan, ratings for all vehicles assessed in 2015 or earlier will expire on 31 December 2022. Ratings dating from 2016 will expire at the end of 2023, while 2017 ratings will expire at the end of 2024.
Why we only insure safer cars

The safer the car you drive, the better the potential outcome in a crash. That's why we took our commitment to road safety one step further by choosing to not insure or finance any vehicle that was built in 2012 or beyond with an ANCAP rating of less than 4 stars.
We want to help make WA roads safer for everyone.