Travel & Touring | Camping & Caravanning
Trying to reverse a caravan can be a real sore point for travelling couples.
Just ask Jeremy Perks from WA outback road touring group Global Gypsies, who also provides training for caravan owners.
He jokes that learning how to reverse a caravan can "save a marriage".
"What tends to be the most difficult of all is when you get two people, often husband and wife, trying to reverse the van, trying to talk to each other verbally, and not being able to understand each other's description or directions," he says. "That's very frustrating for both parties."
So here is how to get your caravan parked up, according to the professionals.
Know where you're going
Reversing and even towing a caravan safely will be an issue if the caravan is not property hitched, so run through a towing checklist before you set off.
Take a look at the site's location online or call ahead for information to prepare yourself for arrival.
Most caravan park staff will help out when you arrive, so plan to arrive during the office opening hours if possible when someone will be there to provide instructions about your site.
General reversing rules to remember
Perks says that reversing a caravan is a "nine and a half out of 10" on the difficulty scale if you don't have the experience.
So the best way to build up experience and confident is to practice reversing your caravan regularly.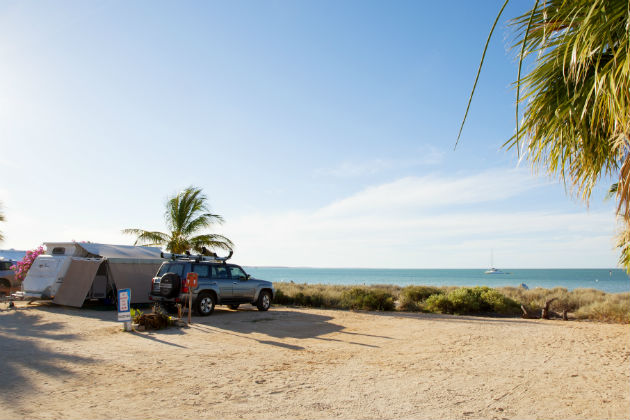 The first rule of thumb is to remember that opposites rule. To move the caravan to the right you need to turn the steering wheel gradually to the left. To turn the caravan left, do the opposite - turn the steering wheel to the right.
Right-hand turns with a caravan are generally easier to manage than left-hand turns as they provide better vision.
If you oversteer in one direction, or the caravan begins to turn in a circle, stop and move forward in a straight line until the caravan has straightened up completely behind your car.
It can help to identify or mark particular points on the caravan so you know when it's aligned with your vehicle.
Steps for reversing into a caravan park
Here are some step-by-step guidelines to successfully reversing your caravan into its caravan park bay.
Step 1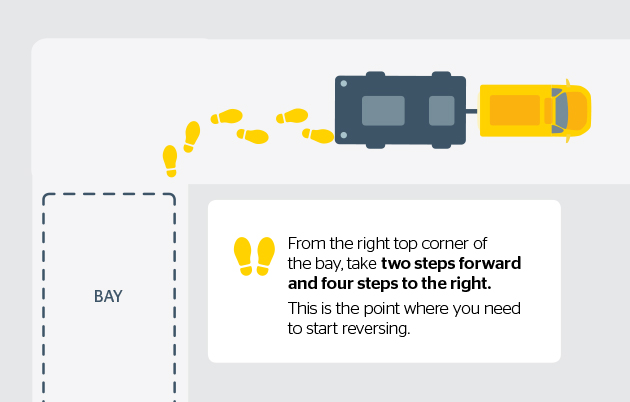 A good trick before you start is to stand at the front right-hand corner of the bay and take two steps forward, then four large steps to the right.
Mark it with a stick or a mark that you can see. Then reverse the right rear corner of the caravan to this point, holding the steering wheel from the bottom with your palms facing upward.
You are now at the starting point for your reverse turn.
The guide or companion should never stand at the back of the caravan as the driver can't see or hear them.
"A guide, who is outside the vehicle, should stand at the front of the vehicle – facing the driver – looking and thinking about the two back corners of the caravan," Perks says.
Step 2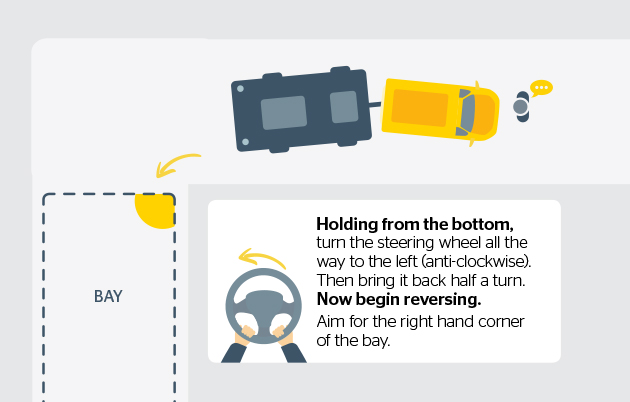 Once the caravan is at the turning point you have marked, turn the steering wheel all the way to the left, then bring it back half a turn, before slowly reversing.
Perks says when you look towards the back of the caravan, the right hand side of the caravan should back into the parking area.
Step 3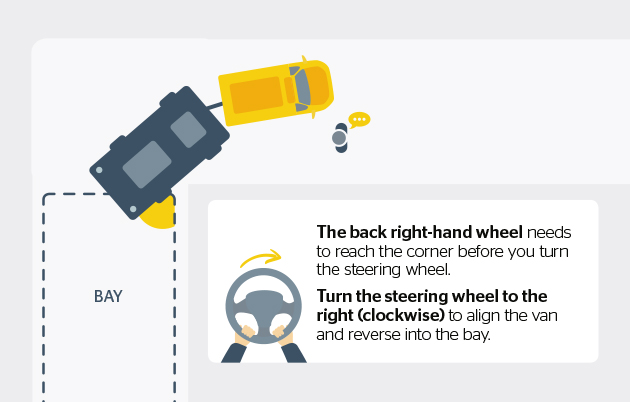 When the right wheel of the caravan reaches the right corner of the bay, turn the steering wheel to the right.
If you jack-knife, simply stop, drive forward, and turn the wheel back to the centre. This can happen when you turn the steering wheel the wrong way or the signals from your travel buddy aren't clear.
You should now be aligned to safely reverse into the bay.
Step 4
Check how much room you've got before continuing so you know how far to reverse.
Once you've successfully parked, set the caravan handbrake, check and secure the wheels so they're stable and won't move, and make sure the van is sitting level before you set up your caravan site.
"If one person acts as the guider and one acts as the driver, and you can do it non-verbally giving each other hand signals which is less stressful [than verbal communication]," Perks says.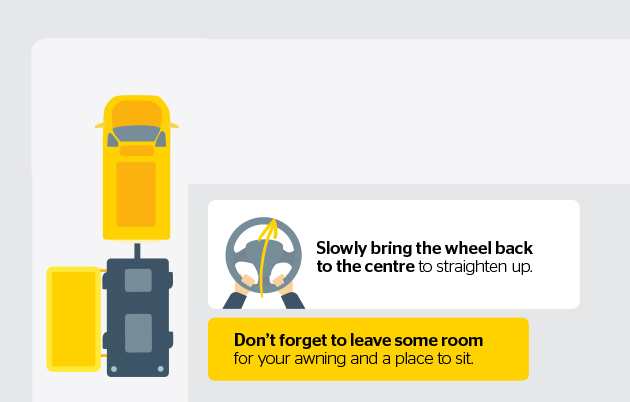 Remember to leave enough room for your awning or annex if you have one and just for a little extra space when you step outside.
What to expect when you arrive
Typically, travellers park their caravans at a designated parking spot to head into reception for check in. Here you'll receive a map, details about the park, and, depending on whether you choose a powered or unpowered site, instructions on how to plug in.
Caravan sites can be between 8m and 10m wide. Most RAC Parks and Resorts sites have a 2pm check in time and 10am check out.
If you need extra time, RAC Parks & Resorts offer members a free late check out (depending on availability) to help you relax.
Ready to test your caravan reversing skills?
Try to reverse your caravan into a spot at one of our nine holiday RAC Parks and Resorts. Members can even save up to 20%* on accommodation.
Updated September 2020
*Terms and conditions apply. Member rate varies according to season. See full website for details.