29 April, 2019 By: Jim Mathers
While more traditional methods of traffic calming remain popular, some 'out-of-the-box' road safety measures are being trialled locally and overseas.
The modern driver is well accustomed to speed humps, roundabouts, median and rumble strips being used to slow traffic down or to encourage more cautious driving behaviour.
But now treatments of a more psychological nature are being used to change the driver's perception of the road environment.
Traffic calming devices like digital signs display a driver's speed as a reminder, and landscaping (such as tree planting) and varying road surfaces change the feel of traffic environment to encourage lower speeds.
"If designed appropriately, these treatments can markedly reduce vehicle speeds. And reductions in vehicle speed at impact can substantially reduce the risk of injury to a person in the vehicle, walking or cycling," says Brendan Lawrence from Monash University Accident Research Centre (MUARC).
While digital signs and varying road surfaces are common in WA, in some parts of the world they are using more unorthodox traffic calming methods to get drivers to slow down.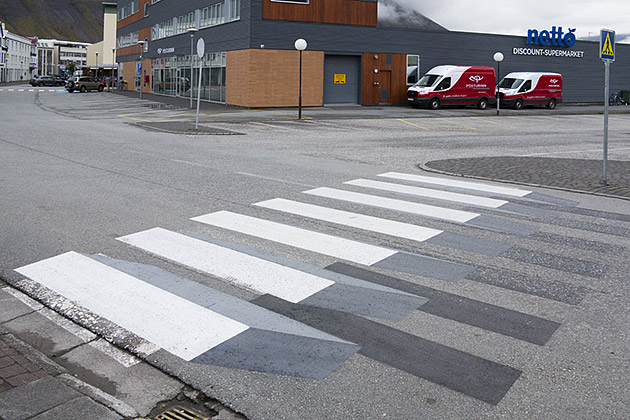 Optical illusions and singing roads
In the Icelandic town of Isafjordur, the local authority installed a 3D pedestrian crossing that looks like it's hovering above the road.
The 3D effect is achieved through the design of the lines on the road surface.
Isafjordur Municipality's Information Officer, Halfdan Bjarki Halfdansson, says the 3D crossing was used because physical barriers such as speed humps had downsides.
"Speed humps are not the car chassis' best friend and in a place like Isafjordur they are a nuisance when council workers are clearing snow," Halfdansson says.
According Halfdansson the 3D crossing did slow traffic when first installed, "but of course people get used to it. I'm not sure about the effectiveness, but at least it doesn't have the drawbacks of conventional safety measures. We see it as 50 per cent road safety and 50 per cent a great piece of art."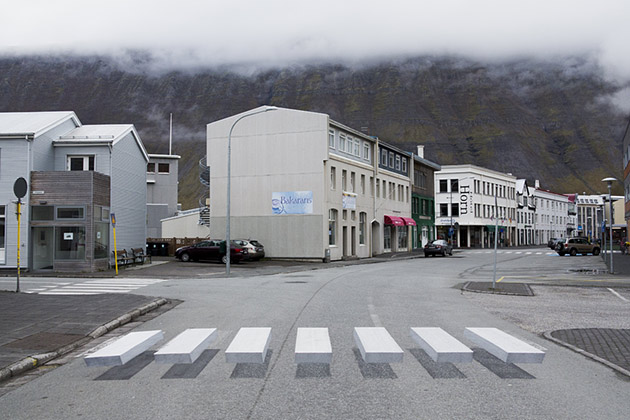 Similar 3D crossings have been trialled in India, Malaysia, China, the US and New Zealand, and in the Queensland communities of Boulia and Cairns.
The idea of merging art and infrastructure has also inspired singing roads.
In the US, on Route 66 near Albuquerque, the New Mexico Department of Transport installed a section of road that 'sings'. When motorists travel over special rumble strips at the designated speed (45mp/h), the rumble of the tyres over the grooves transmits a rendition of 'America the Beautiful' into the car.
It's a technique that's also been trialled in Denmark, Japan, South Korea, China and Taiwan, just to name a few.
---
Enjoying this article?
Sign up to our monthly enews
---
However not everyone considers the singing roads art.
According to a New York Times report, a similar singing road trial last year in the Netherlands resulted in an outcry from residents, some of whom described the continual renditions of their regional anthem as "psychological torture".
Local calming
Here in WA, traffic calming devices remain a key feature of local streets, reducing traffic volumes and speeds to improve safety for all.
"One of the most common complaints local governments receive is about cars speeding in residential areas," says WA Local Government Association's President, Cr Lynne Craigie.
"As well as speeding, other traffic related complaints are about hoon drivers, high volumes of 'through traffic' on residential streets and traffic making streets unsuitable for cyclists and pedestrians.
"This can become a vicious cycle – people think it's not safe to walk or ride due to the number and speed of cars on local roads, so they choose to drive, which then adds to the number of cars on the road," she says.
Cr Craigie says, however, that even proven and commonplace traffic calming devices can have downsides.
"Road humps and cushions are among the most effective measures, however they're also the most complained about, with increased noise often a result," she said.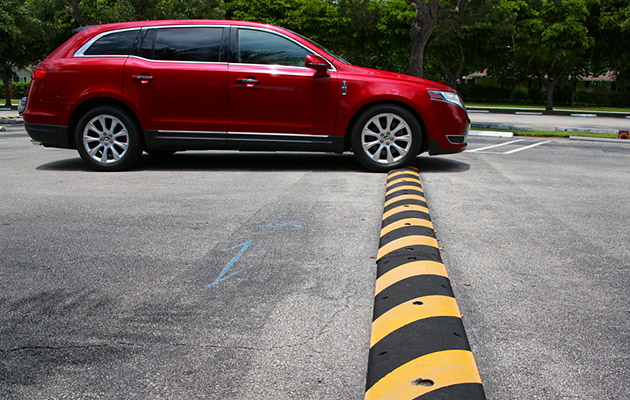 Although audio tactile lines on roads are currently used, particularly in regional areas to inform drivers they might be drifting, musical rumble strips and 3D crossings are not on the WA agenda.
"The use of rumble strips that create a musical tune when driven across at a certain speed is more of a novelty or tourist attraction than a serious road safety measure," says Main Roads Media Manager Dean Roberts.
"The impact of the musical aspect is hard to measure. Drivers must also drive at a certain speed that may not relate to the posted limit and may create a road safety hazard as they attempt to drive across the rumble strips at different speeds."
Main Roads had a similar view of 3D crossings.
"The 3D markings may appear as a road hazard to an approaching driver, with the potential to result in unpredictable behaviour.
New devices for WA
One new traffic calming device which has been introduced at Curtin University is the 'Actibump' a speed bump developed by Swedish company Edeva.
When a radar in the device detects a speeding vehicle approaching, it lowers a hatch a few centimetres, creating an inverted speed bump.
According to Curtin's Director of Operations and Maintenance, Graham Arndt, the 'smart' speed bumps have significantly reduced the number of speeding motorists, steadied traffic flow and provided a safer environment for pedestrians.
"We'll be installing another set of two active speed bumps on Townsing Drive following the promising results we've witnessed," Mr Arndt said.
The inner-city areas of Perth are the most enthusiastic adopters of new traffic calming initiatives. As part of the State Government's Safe Active Streets Program, bike boulevards have been created in Bayswater, Stirling, Vincent and Belmont and speeds reduced to 30km.
People on bikes can ride closer to the middle of the street with cars passing only if there is enough space. The intention is also to improve safety for pedestrians and increase landscaping to make the boulevards attractive places to walk and ride.
In Stirling, self-explaining streets, which includes street narrowing, chicanes, speed humps, median treatments and tree planting have been installed.
Along Oxford Street in Leederville, the coloured asphalt and street-side trees are also part of the traffic calming agenda, while in Dianella, peanut shaped roundabouts are being used where intersection space is limited, for example where Pola Street meets the Strand.
"Well designed traffic calming treatments have benefits for community amenity and help create an environment where safety is instinctive for people using the road," says Cr Craigie.
Safer roads for WA
The design and condition of roads and roadsides can affect the chance of having a crash, and in the event of a crash, the severity. RAC calls on the Government for increased infrastructure investment and policy action to make our roads safer.
As part of RAC's commitment to road safety, our Risky Roads survey asks road users to call out the most dangerous roads in WA. We then use the results to support our advocacy activities.