23 January, 2019 By: Vanessa Pogorelic
Traffic control doesn't just happen in aviation – it's happening each time you get in your car and drive around the streets of Perth, with sensors and cameras sending constant signals to the people who keep our traffic flowing.
It is just after six on a Monday morning and peak-hour traffic is starting to build across Perth's road network.
Inside Main Roads' Road Network Operations Centre (RNOC) in the Perth CBD, banks of computer screens and monitors are buzzing with activity, showing traffic moving through roads and intersections across Perth.
This is the nerve centre for traffic operations in the metropolitan area and the State, operating 24/7, monitoring our roads in real time so that RNOC teams can react to changes in traffic density and incidents that disrupt traffic flow.
RNOC manages traffic across 18,500km of WA roads - one of the largest road networks in the world.
At any time, an incident can suddenly add pressure to the peak-period network and potentially throw traffic into chaos.
"We have an average of 750 incidents per month which are managed from the Network Operations Centre," says Main Roads spokesperson Dean Roberts.
"Fortunately, only a small percentage of these are significant and result in freeway closures."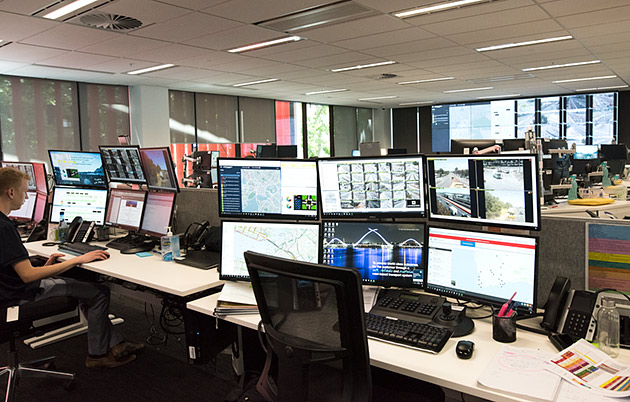 An eye on the traffic
Information about the live state of the road network comes from a range of sources, with signals from more than 3000 sensors, 400 CCTV cameras and more than 500 Bluetooth beacons across Perth and WA feeding into the Operations Centre computers every second of the day.
On our busiest roads, sensors installed at regular intervals just under the surface of freeway lanes are crucial to keeping the traffic flowing smoothly.
"These sensors send us vehicle speeds, number of vehicles, the time gap between two successive vehicles and other useful data – all in real time," Roberts explains.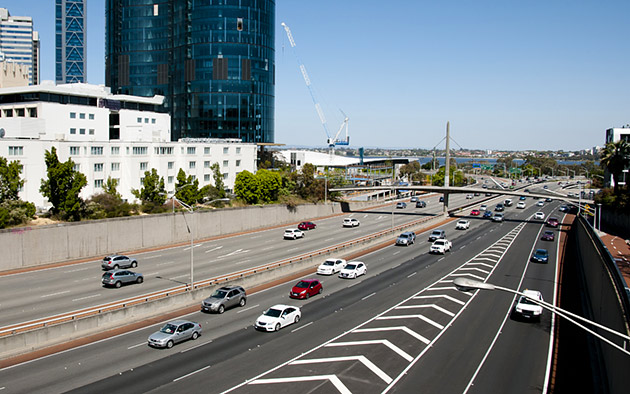 Sensors are also at work under the road's surface at traffic signals and trigger a reaction when your car rolls over them.
"The sensors at the stop line of traffic signals send us data about how busy each lane is. That allows us to adjust the signal timings depending on how busy each movement through the junction is."
Additional monitoring of traffic flows comes from roadside CCTV cameras. During incidents such as crashes, the cameras are used to confirm the crash and can be zoomed in to get a closer view, to evaluate the scene and determine the most appropriate emergency response.
---
Enjoying this article?
Sign up to our monthly enews
---
The Operations Centre also uses Bluetooth signals coming from mobile phones inside motorists' cars to detect the presence of vehicles. Bluetooth beacons collect a time stamp from motorist's devices as they pass.
"Bluetooth data from beacons installed at roadside locations is used to determine average speeds on the roads and therefore the build-up of congestion, which is displayed on a map of the road network."
Despite the heavy presence of sensors and cameras, your privacy is unlikely to compromised. "It's all done without identifying number plates or vehicle occupants," says Roberts. The Bluetooth stamp only identifies that a mobile device has passed, not who the device belongs to.
Dealing with emergencies
It's not just major crashes that can cause chaos. Something as simple as a flat tyre or a car breakdown can cause massive disruption to traffic flow, so clearing obstructions as quickly as possible is critical.
If needed, the Operations Centre will call emergency services to a scene. Also on call and monitoring high traffic areas such as the CBD or Northbridge Tunnel, is the Incident Response Service (IRS) team which operates a fleet of specially fitted vehicles.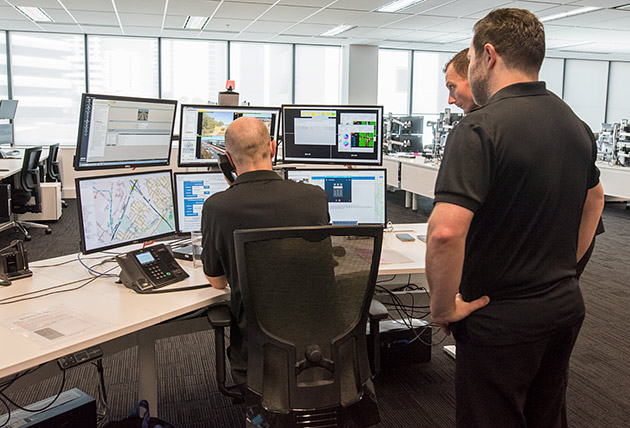 All IRS vehicles have a soft foam push pad mounted on the front that moulds to the shape of a vehicle or object obstructing traffic flow, to safely push it out of the way. One IRS vehicle known as a 'road rake' can collect large objects left by vehicles that have lost their loads.
"The IRS can safely remove broken down vehicles, debris and other obstructions so we can restore normal traffic conditions as quickly as possible," says Roberts.
Crashes involving large vehicles such as trucks take longer to clear as specialised heavy vehicle towing services must be called in. At times cranes may even need to be dispatched. Truck rollovers can take several hours to clear.
When an incident occurs, the Operations Centre will post messages on electronic signs over highways and freeways, warning approaching motorists of the hazard. Alerts are also sent out through television and radio traffic broadcasts and social media, in the hope of giving drivers enough notice that they can choose different routes.
Roads to the future
While the technologies and strategies used to keep our traffic flowing are already highly sophisticated, Main Roads will continue to investigate new ways of doing the job better.
South of Perth along the Kwinana Freeway from Farrington Road to the Narrows Bridge, Perth's first 'Smart Freeway' is currently being developed.
Between the Canning and Narrows bridges, the emergency stopping lane is being permanently converted to an extra traffic lane, with emergency bays being built beside it. Electronic signs over freeway lanes will show variable speed limits, as needed, to help balance the flow of traffic. Along with data constantly flowing back to the Operations Centre, the Smart Freeway system will enable better management of freeway speed and occupancy.
And in the not-too-distant future, traffic information will also flow back to drivers. Roadside infrastructure will communicate directly with vehicles about road conditions and incidents, allowing drivers to make their own decisions about their direction of travel.
For Main Roads, this means future traffic will move even more harmoniously.
"As we move towards a more predictive and dynamic operating model, the ability to forecast problems before they occur can only lead to more network efficiencies," says Roberts. "And that is a good outcome for drivers."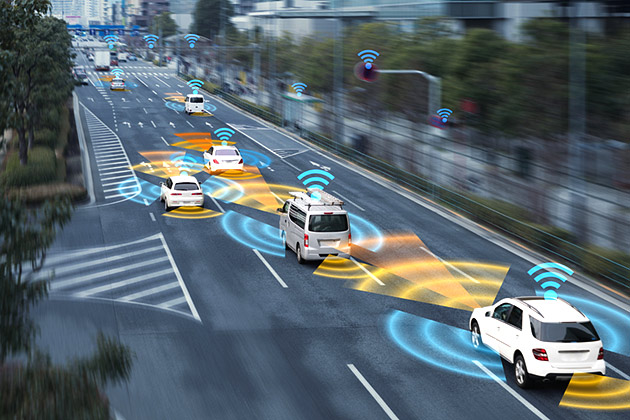 How traffic signal sensors work
Sensors just under the surface of the road at traffic signals work via a process of electrical induction. There is a weak electromagnetic field that the metal in your car interrupts, so driving over the detector triggers the traffic control system to give you a green light when appropriate.
The weight of the vehicle has no impact, so even bicycles and motorcycles can trigger it, if they're in the right spot. The detectors are placed one metre before the stop line in the middle of the lane, so the signal control system will know you're there if you wait over the top of the detector.
We cover you 24 hours a day too
With 24/7 roadside assistance and more patrols on the road than any other service in WA, RAC's Roadside Assistance has been helping West Australians keep moving when their car breaks down for more than 90 years, with cover from just $10 a month.