7 November, 2017
West Australians are no strangers to bushfires. Whether you live in metro or regional WA, the sight of smoke on the horizon is one we all know well.
Aside from the hard work of the Department of Fire and Emergency Services (DFES) and hundreds of volunteer fire fighters, so much of the outcome with bushfires comes down to luck - a change in wind direction or skies that choose to open up and rain down.
Given the complexities in how a bushfire might start or be extinguished, Brad Warren, Senior Manager of Product and Underwriting at RAC Insurance, says many factors need to be considered to assess a property's bushfire risk, known as Bushfire Attack Levels (BAL).
"A Bushfire Attack Level measures things like a building's potential and level of exposure to ember attack, radiant heat and direct flame contact from bushfires," says Warren.
"Consideration is given to a number of factors around an individual building, including the slope of the land, types of vegetation around the building and the building's proximity to any other structures on the site, when assessing a property's BAL.
"So we don't look at the actual number of bushfires because, by sheer luck, you can live in an area that is highly bushfire prone yet has to date had no bushfires," he says.
The map showing bushfire claims made to RAC Insurance in metropolitan Perth and south-west of Perth from 2010 to 2016, demonstrates how broadly, and sometimes how randomly, bushfires can occur.
However this map is only a snapshot of where RAC has received claims - there were also bushfires in Wellard, Kings Park and Bullsbrook during those years, the full extent of bushfire occurrence is much greater.
You can also check out DFES's map of bushfire prone areas to see how they classify bushfire prone areas in WA.
Bushfires in the metropolitan area
Large and significant bushfires in the wider Perth metropolitan area account for much of RAC Insurance's bushfire claims. In 2014, Parkerville, Stoneville and Mount Helena were set ablaze after a damaged power pole fell onto dry grass and ignited. The fires destroyed 57 properties, at least 650 hectares of land and claimed one life.
In Kelmscott and Roleystone, 72 homes were destroyed and 32 damaged after a spark from an angle grinder caused a devastating bushfire in 2011.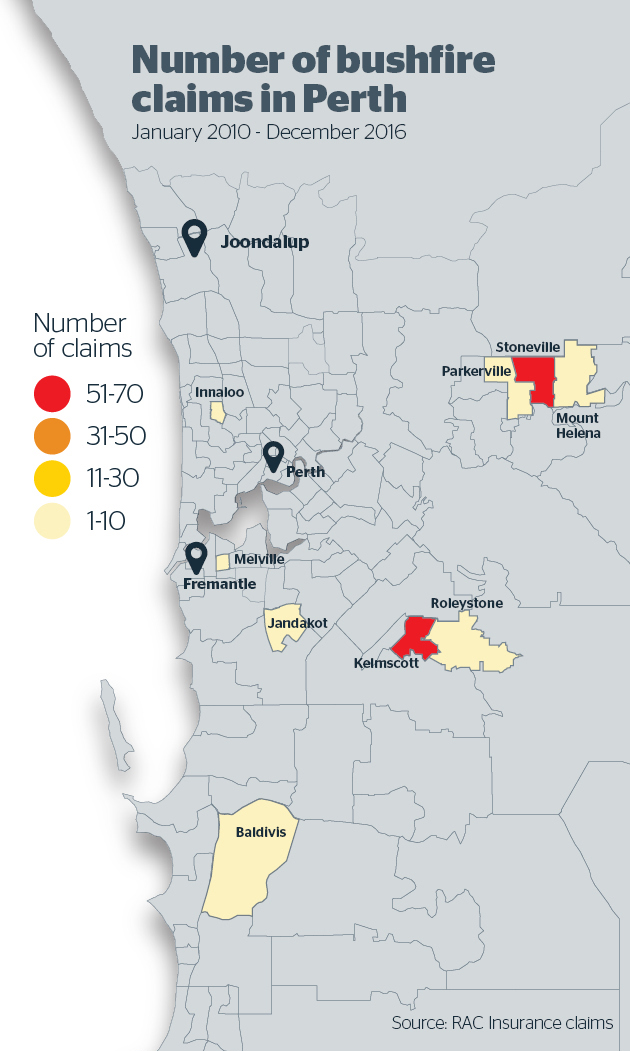 Bushfires in WA's South West
Although bushfires are an annual occurrence right across the South West, as shown by the broad spread of claims.
However, the January 2016 bushfires in Waroona and Yarloop were notable for their size and destruction. Set off by a lightning strike, the fires burned vast amounts of farmland and bush, destroying nearly 70,000 hectares and 181 properties over 17 days.
Tragically, two lives were also claimed and the town of Yarloop suffered catastrophic damage, displacing hundreds of people from their homes. The historic town reopened towards the end of last year.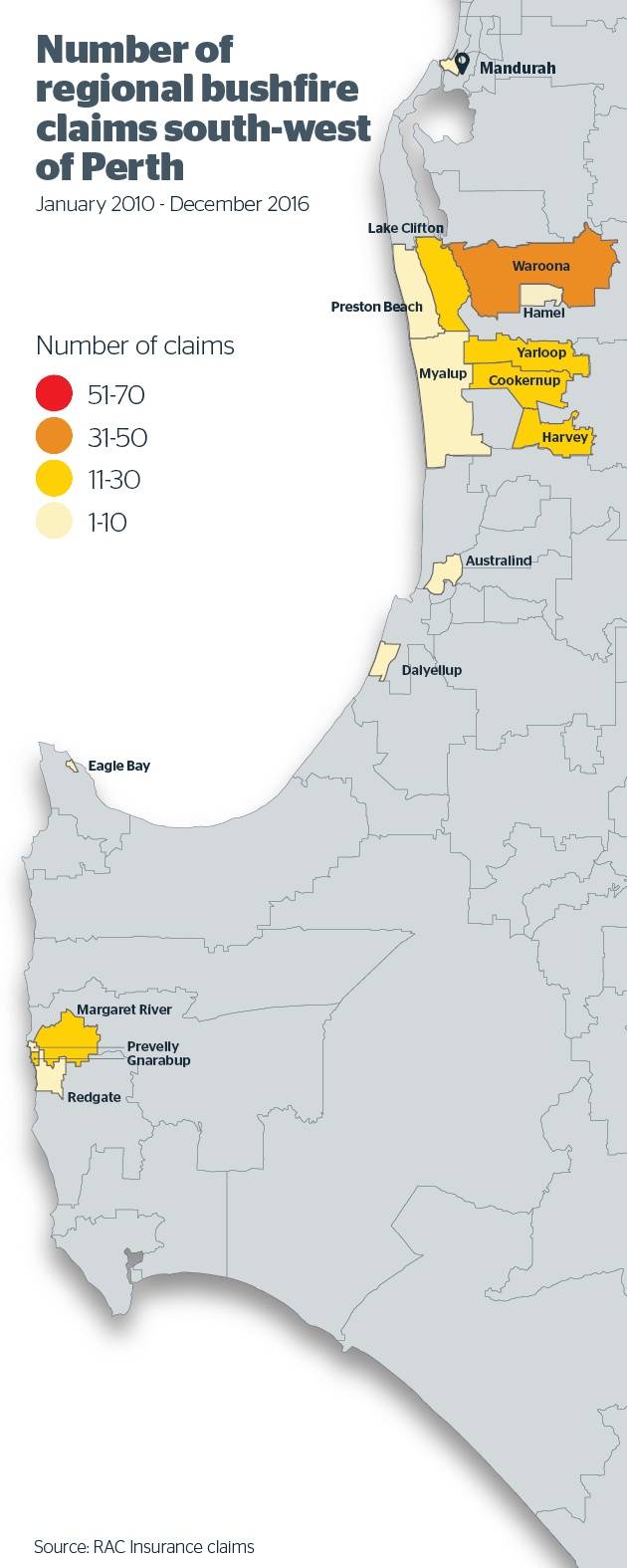 For more about bushfire preparation, including how to identify if you're at risk, read the bushfire factsheet.
---
Enjoying this article?
Sign up to our monthly enews
---
Is your home & contents covered in case of a fire?
Switch to combined Home & Contents Insurance online and save $70 off your first year*.
Products issued by RAC Insurance Pty Limited. *$70 discount applies to your first year of insurance only. This discount is subject to minimum premiums and is only available when you switch to a combined home and contents insurance policy online. Benefits are subject to policy conditions and PED Guide. Before you make a decision, please check the PDS and TMD to see if the policy is right for you.