Trial start date: 17 January 2023
Renee is a mum of three from Collie who's on the road every day. Between going to work, taking her kids to appointments, and catching up with friends and family, her Toyota Hilux and Landcruiser get serious workouts.
With regular trips between Collie and Perth, Renee was concerned that charging and travelling long distances would be a challenge.
Even after the trial, Renee remains a skeptic when it comes to EVs. Read on to find out why…
| | |
| --- | --- |
| Age group | 30-44 |
| Location | Collie |
| Occupation | Customer Service Assistant |
| Current car | Toyota Hilux and Toyota Landcruiser |
| Trial car | Polestar 2 |
| Total kilometres travelled | 683km |
Before the trial: EV skeptic
After the trial: EV skeptic
Day 1
Today I picked up the Polestar 2 from RAC head office. The handover went well. Staff explained things clearly.
Visited Royal Perth Yacht Club to catch up with family who a're looking after our regular car whilst we have this EV. They enjoyed having a quick look over it.
Compared to our Toyota Landcruiser and Toyota Hilux, the Polestar 2 is small!
Driving the EV gave me different perspective on traffic. The car handles and drives very differently. But that didn't change or affect our daily activities.
Benefits or surprises
I was surprised by the braking style and not having a 'start/stop' button to turn the car on or off.
The indicator switch being on the left caught me a bit off guard. But it wasn't really a big surprise, as I have driven cars with this before.
So far, I like the navigation system, which is nice and big, and easy to use.
Challenges or frustrations
Annoying that the driver's seatbelt wouldn't retract, but finally sorted itself out.
Found that compared to my normal cars, the windows and mirrors are weirdly shaped (I'm used to big vehicles).
Felt like I was always going to hit my head on the roof or side panel (think I need to adjust the seat better before I drive it next).
Kilometres travelled: 9.8km
Charged: No charge.
Day 2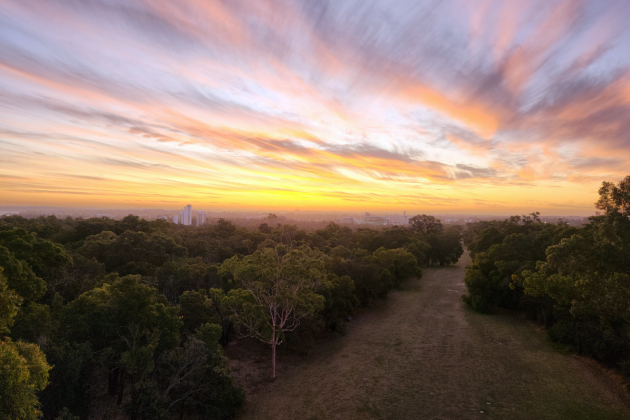 Nearly a full day of appointments. Finished in time for a quick shopping trip, but then had to wait for the shop attendant to get back from a delivery to re-open the shop.
Finding a big difference between how the Polestar 2 'turns off' and what we're used to with our normal cars.
In our Toyota Hilux and Landcruiser, it's so easy to turn off, with no fuel/power wastage. Didn't know how this worked in the Polestar 2, so wasted power whilst waiting for it to turn off, until we finally figured it out (you do it via the touch screen or by locking the car).
In the evening we enjoyed the sunset whilst exploring Kings Park.
Benefits or surprises
My daughter was totally surprised by how far the front seats move forward!
Challenges or frustrations
Trying to find out how to turn the power off was a challenge. Figured it out eventually :).
Kilometres travelled: 14km
Charged: No charge.
Day 3
After another morning of appointments, headed back to RAC head office to charge the car.
In an EV, it really is a different way of 'refuelling'. You don't know until you try if the charging units will work/not.
Fuelling up at a petrol station is obvious and easy. And if something goes wrong, because stations are manned and signs will be up, it's not an issue. Obtaining assistance when things don't work properly is not as easy at an EV charging station because they're unmanned.
Later I drove home to Collie (and visited a sister in Rockingham on the way). Found it was much easier to drive the EV in stop/go traffic.
Benefits or surprises
I found it much simpler and easier to drive in stop/go traffic with the regenerative braking.
Challenges or frustrations
Learning how to recharge the car when recharge units are not working properly has been a challenge. Very thankful to others who were also charging at nearby stations that were willing to assist a learner!
Out of the 3 stations at RAC head office:
Station 1—Initially, the charging unit screen worked, but wouldn't charge the vehicle. Another person rang up ChargeFox to get it to work. We then used this station to charge after they'd finished.
Station 2—Screen didn't work but would charge the vehicle ok for someone using the ChargeFox app to charge and pay.
Station 3—Didn't work at all. Even with ringing ChargeFox to try and troubleshoot.
Have also found trying to charge other devices (mp3 players etc.) in the Polestar 2 frustrating—there's no regular USB or 12V sockets (where the cigarette lighter usually is) available in the front or middle of the car. Luckily, I also had a portable small battery bank charger with me.
Kilometres travelled: 169km
Charged: RAC Head office charging station. Charged 20% in about 30 minutes. Also charged at home, which gave me 20% in 10 hours overnight.
Day 4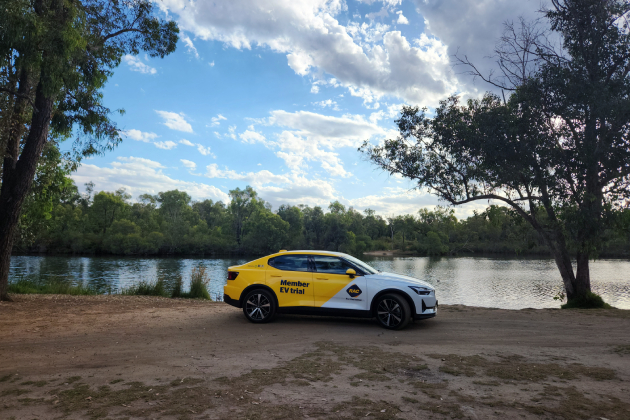 Did some jobs around the house and some gardening at the Collie community garden.
Then took a drive out to see Minninup Pool and 'the big shovel' towards the end of the day.
Benefits or surprises
The boys are loving the big glass roof!
Challenges or frustrations
None today.
Kilometres travelled: 40km
Charged: No charge.
Day 5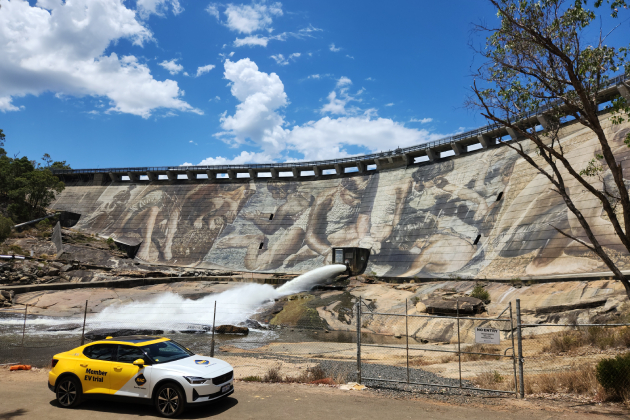 Enjoyed a family day out exploring around Collie.
Did feel the difference not driving our 4WDs today—the Polestar 2 is a smaller car with no roof racks, which meant we weren't able to take kayaks and tubes for the water activities we'd normally enjoy.
Found a charging station at Muja Power Station. Was surprised to find a charging station there—would not have gone looking for this, as do not need it for regular car.
Also confirmed that no hotels/motels in Collie have any charging facilities.
Benefits or surprises
None today.
Challenges or frustrations
Kids were too excited to show dad how to open the boot, so boot opened before he or I could stop it hitting the garage roof, consequently scratching the paint…
Another downside with the Polestar 2 is its much smaller internal space compared to our regular cars, so a LOT more squabbles between kids!
Also noticing the big glass roof really heats the car up on hot days! Especially when all seats are also full.
Kilometres travelled: 130km
Charged: No charge.
Day 7
Did a bit of shopping in Bunbury, followed by swimming lessons with the kids in Collie. Then returned the car to RAC Perth.
Planning and implementing the day's schedule is quite different when driving an EV. Compared to a regular quick petrol refuel, you need to work in EV charging as 'dead' time during the day. Especially challenging on a hot day, with kids!
Had an interesting discussion with a Perth family touring to Pemberton. They were waiting to charge their car after ours.
They said they find their EV great in Perth, with many more charging stations available and just doing regular short drives (E.g., shopping, work, school runs). But like us, they also struggle with longer distances and factoring in charging struggles (stations working/not, availability, locations, waiting time etc.).
Benefits or surprises
None today.
Challenges or frustrations
Did worry that the fast charger we'd planned to use today wouldn't work (throwing our planned schedule—including buffer time—out the window).
Just generally, the wasted 'dead' time whilst waiting for the vehicle to charge has been frustrating. Especially on a hot day with 3 kids!
Feel empathy for others who had to wait for us to finish before they could use the charger too. If we'd been the ones waiting for the charger, there's no way we would've been able to make our appointments (swimming lessons, returning the EV to Perth) in time!!
Kilometres travelled: 320km
Charged: Charged at fast charger in Australind. Glad we didn't have to ring up to get this station to work thankfully! Managed to get it free and didn't need to wait for anyone else, so our plan to eat lunch while the EV charged worked out well.
EV experience in a nutshell
I enjoyed learning more about how the vehicles worked and operated. The experience helped broaden my knowledge and understand whether an EV would be the right car for our family in the future.
I felt that a manual for the Polestar 2 would have been helpful, either in the vehicle or online. Trying to figure out some things in the car through trial and error was interesting without a manual!
The Polestar 2 did not have anything obviously showing if the vehicle was charging or not (finally figured out a green light around the dash screen blinking on/off indicated this). But when charging stations are partly faulty, it's difficult to confirm to the phone operator if it's charging the vehicle or not when the operator doesn't know much about the vehicle either.
Overall, I'd say that my opinion on EVs isn't better or worse. It's just that now I have a better understanding of how they work and whether they suit us.
If using the car for long distances every day, not having access to a public charging station makes an EV unviable. You'll eventually deplete the batteries due to not getting enough charge each night at home (where charging is too slow).
Want to trial an EV?
If you would like to be involved, please register your interest and we'll keep you up to date on possible future trials.