Trial start date: 22 February 2023
Swee is retired and loves getting out and about most days. He's interested in purchasing an electric vehicle as his next car with his main considerations being the environment, fuel prices, and the new technology.

Follow his journey in the EV for a Week trial as he takes his family and friends to Mandurah, Geraldton, Kalbarri, and Jurien Bay. The speed and availability of charging stations is his main concern, particularly for his travel plans north of Perth.
| | |
| --- | --- |
| Age group | 65+ years |
| Location | Atwell |
| Occupation | Retired |
| Current car | BMW |
| Trial car | Polestar 2 |
| Total kilometres travelled | 1,439km |
Before the trial: EV believer After the trial: EV believer
Day 1 & 2
Went to Mandurah with my wife and some friends just to test and try driving the EV before an adventurous trip to Kalbarri at the coming weekend. When I located the RAC charging station at Mandurah foreshore, I charged the EV to 75%.
Benefits or surprises
To my surprise, the charging station was very fast. Charging at a rate of 1% per minute.
Challenges or frustrations
Driving an EV is very different to a normal petrol car. It has no start and no stop button. Very quiet and has very good pick-up. You can easily go over the speed limit if you're not careful.
Kilometres travelled: 135km
Charged: Charged at RAC charging station at Mandurah and, after arriving home, charged again using home charger.
Day 3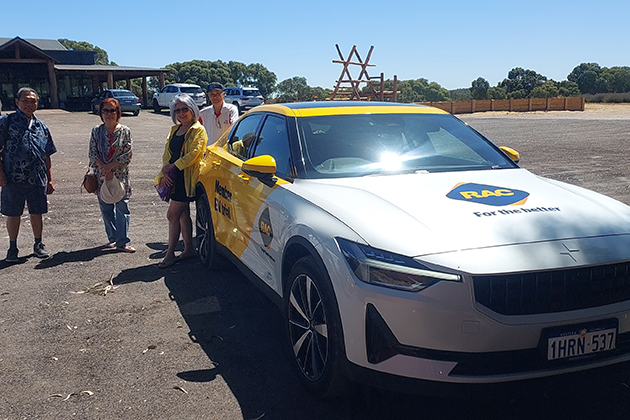 My wife and three of my friends are excited about this weekend's trip to Kalbarri. This is the first time in my life driving an EV car north of Perth. The adventurous part of this journey is that I was informed that there are not that many charging stations along the way. Even if there are, they are not guaranteed to work.
Benefits or surprises
Surprises include how spacious this car is. Easy to drive and charging at the station or home is very easy. However, 1% of power can only cover about 5km. So, driving to Kalbarri from Perth takes a bit of advanced planning (about 575km one-way takes 6 hours and 10 minutes). Taking a full carload with 5 adults will no doubt reduce the driving distance.
Challenges or frustrations
Planning a long-distance journey with little knowledge of where the charging stations are along the way is a very challenging task. Today I travelled 480km with a recharge at 255km. $50.00 (OMG) per charge at 33% left.
Kilometres travelled: 480km
Charged: Used the plug share fast charger at Ampol Station at Jurien Bay. At a rate of $1.25 per KWH, or per charge rate of $50.
Day 4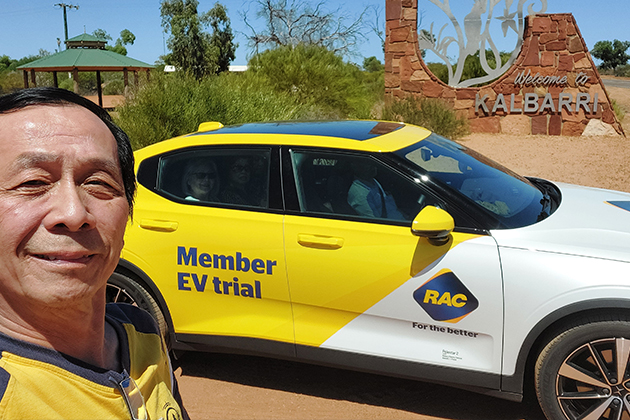 Went to Kalbarri Skywalk from Geraldton. The five of us were very excited and very much looking forward to the trip. Not much different compared to my normal car.
Benefits or surprises
Went to Kalbarri skywalk and very happy with the EV performance.
Challenges or frustrations
However, after visiting Skywalk, we arrived at Kalbarri visitor centre and tried to charge the EV with the three-phase charger. Thank you, Mojo, for loaning me the three-phase cable. The Tesla charging station is not compatible with the Polestar 2.

The frustration I got from charging at that station was that it is a very slow charging station. Spent three hours on a very hot 37°C afternoon. Only managed to charge 34% giving a total of 54% full.

The predicted distance to go back to Geraldton was 155km. 54% should give us 230km range. However, the Google map predicted that I will be -4% charged when I reach my destination. So, without taking any risk, I decided to charge for another 0.5 hours just to give me enough distance coverage. So, the charge went to 58%.
Kilometres travelled: 375km
Charged: I charged using the free three-phase charger at the Kalbarri visitor centre. It was very slow, and I only managed to get 38% charge after 3.5 hours waiting time with nothing to do but to sit under the tree on a 37°C hot Saturday afternoon.
Day 5
Prepared to go back to Perth from Geraldton. With the car fully charged last night using a Tesla Owner Club (TOCWA) charging station at the Port, the first place to visit is the HMAS Sydney II Memorial Park. After coming back from Kalbarri with only 4% charge left, I have better confidence in using the EV for another long-distance drive home.
Benefits or surprises
I could not have reached Jurien Bay if I had not found the quick charger provided by TOCWA at the Port. Charging the EV from 4% to fully charged took about 1.45 hr for $29.75.

After waiting for 3.5 hours to charge the EV on a 37°C day under a tall tree at Kalbarri visitor's centre, I decided to take a chance to go back to Geraldton with 58% charged EV. Google map was estimating that I would have a -3% charge at the final destination, but I took a chance.

I reached Geraldton with a mere 4% charged battery left. Charged the EV at the residence but too slow! So decided to look for an alternative charging station in Geraldton and found the TOCWA at the Port.
Challenges or frustrations
It was a very adventurous and daring experience as I could have been stranded on the lonely highway with no electricity and no charging station for the EV. But knowing the effectiveness of RAC roadside assistance at my fingertips, I took that chance.
Kilometres travelled: 449km
Charged: Charged at Jurien Bay for 1 hr at Ampol Station. The rate was $50 per charge to 90% capacity disregarding the level of the EV battery.
EV experience in a nutshell
Very easy to drive, smoother and more powerful than similar class conventional vehicles. Very green and no pollution, no carbon monoxide to discharge. A lot of alerts/alarms/warnings to help the driver to be more focused on the road, especially for long-distance driving. Spacious and very light.

If the EV battery can be charged using solar energy or self-charging while on the move it would be ideal. The glass roof should be replaced by solar panels. Driving on the road for 3/6 hours with a translucent glass roof is not very comfortable for backseat passengers. Besides, it will take a lot of electricity to get the air conditioning to work effectively.

Installing more fast chargers (15 minutes instead of 4 hours charging stations) would be very attractive for EV users, particularly in remote tourist areas. Metropolitan areas this is very much welcomed too instead of very slow home charging (at the moment my experience is 30% charge in 12 hours using 10amp wall sockets). Not acceptable if you want to go to a remote shire for a holiday the next day.
Want to trial an EV?
If you would like to be involved, please register your interest and we'll keep you up to date on possible future trials.