Visiting the Perth CBD just got a whole lot better, thanks to the launch of the new Smart Bike Hub at RAC Arena. The Smart Bike Hub provides parking for up to 10 electric bikes or scooters at a time, and it is free to use.
Positioned just outside RAC Arena Administration, the hub is the perfect place for event attendees to secure their e-bikes and scooters and give them a top-up while visiting RAC Arena, as well as being conveniently located for nearby city workers to park, lock, and charge during the day.
As the popularity of electric bikes and scooters has continued to grow, so too has the need for more smart parking and charging infrastructure. In January 2023, RAC members expressed their need for more locations to securely park and charge their electric bikes and scooters. We're proud to have been able to make this a reality just 10 months later.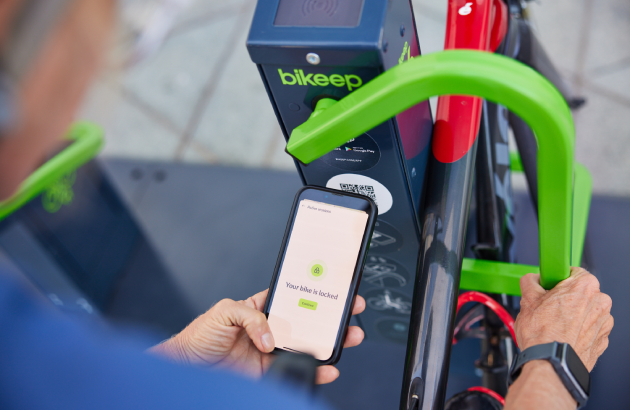 How does the Smart Bike Hub work?
Using the Smart Bike Hub is easy, and it's free! Simply follow the steps below.
Download the Bikeep app and register your details. Bikeep will be your key to locking and unlocking your parking bay.
Check for available bays. Available bays can be booked an hour in advance using the Bikeep app.
Approach the hub. Safely dismount and watch for pedestrians and other riders as you walk towards your booked bay.
Access your bay. When you arrive at the Smart Bike Hub, follow the instructions in the Bikeep app to unlock your bay, or scan the QR code of any available bay to gain access. Bring your own cable to make use of the charging facilities.
Lock your bay and walk away! The Smart Bike Hub uses an intelligent multi-layer security system that prevents theft and gives riders peace of mind while they enjoy their event or city outing.
Unlock your bay. When you're ready to unlock your bike or scooter, jump back into the Bikeep app and follow the instructions. It's never been more convenient to choose active transport!
The Smart Bike Hub is just one of many ways RAC is creating a safer, more sustainable, and better-connected WA. By introducing more smart parking and charging infrastructure, we're hoping to inspire West Australians to swap their car journeys for active transport, which is affordable and accessible, and encourages cleaner and healthier air.
To find out more about how RAC is changing communities for the better and helping West Australians feel safe and confident using active transport on our roads, click the button below.