Western Australia is home to some amazing landscapes. But what lies below the surface?
Crystal Cave – Yanchep National Park
This popular limestone 'stream cave' is adorned with stalactites, stalagmites and helictites, and is one of more than 500 caves recorded in the Yanchep National Park area. You can learn more about the cave and its small creatures on a 45-minute Parks and Wildlife guided tour.
Tunnel Creek Cave – Kimberley
The Tunnel Creek Cave system is one of WA's oldest and features a massive 750 metre-long tunnel with shallow water pools that visitors need to wade through.
A four-wheel drive is required to access Tunnel Creek National Park via Gibb River Road, or take a day trip from Derby, Fitzroy Crossing or Broome.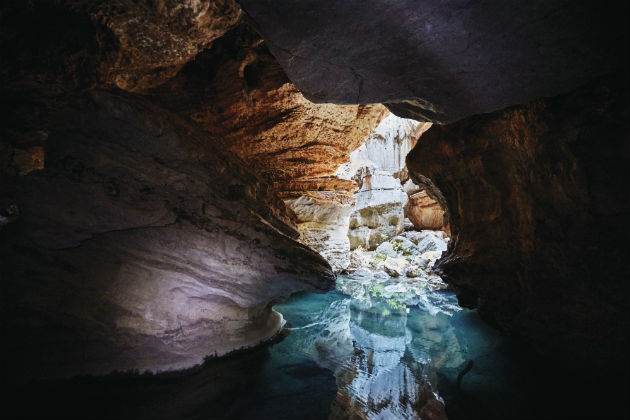 Mimbi Caves – Kimberley
Join Aboriginal guides for an inspiring and thrilling tour deep inside one of Australia's most spectacular and significant cultural and geological sites.
This unique network of caves is a place of deep spiritual significance to the Gooniyandi people as well as being one of the most significant Devonian fossil sites in the world. The caves are 90kms east of Fitzroy Crossing.
Lake Cave – Margaret River
Lake Cave's mirrored waters reflect the strikingly lit formations on its ceilings and walls. It is the only cave in the region with a permanent lake, and at 62 metres in depth it's the deepest of the three nearby tourist caves.
Entry is through a large hole in the ground known as a doline. Lake Cave is just below the CaveWorks interpretive centre and is a 20-minute drive south of Margaret River.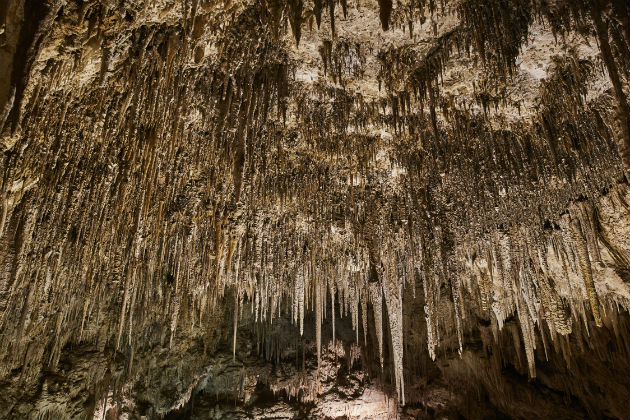 Ngilgi Cave – Yallingup
Ngilgi Cave is on Caves Road and was the first cave in WA open to tourists. Its dazzling network of tunnels and caverns wind some 40 metres below the ground.
Boardwalks lead you down and through the chambers. You can take a regular guided tour or an adventure tour to crawl and climb through sections of the cave not usually seen by the public.
Jewel Cave – Augusta
This is one of WA's most breathtaking tourist caves. It's also the biggest, with four massive chambers, and contains some of the longest 'straw' stalactites of any tourist cave in the world.
The chambers and incredible formations are spectacularly lit, adding to the extraordinary experience. Guided tours are run daily.
Mammoth Cave – Margaret River
Surrounded by towering karri and marri trees, Mammoth Cave is one of the South West's biggest and most spectacular caves and is one of only a few caves in the area that also contains fossils.
It's easily accessible and has wheelchair access to the first massive chamber. Cave tours are self-guided with visitors listening to an audio tour on an MP3 player.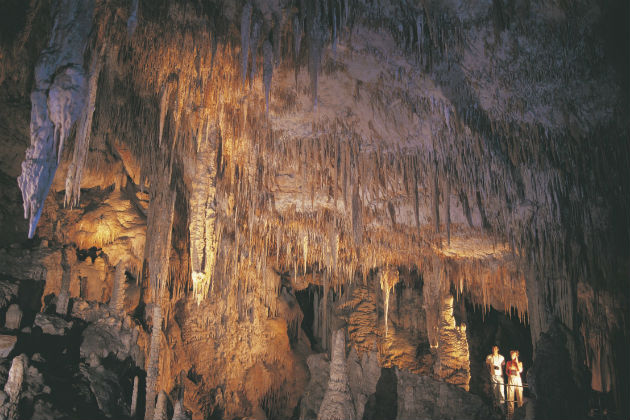 Moondyne Cave - Margaret River
In 2012, Moondyne Cave was re-opened to visitors after being closed for 10 years. Offering a different caving experience to the region's other show caves, visitors are required to wear overalls, gloves and helmets for a tour by torchlight.
The cave is a mix of large crystal chambers and small passages, providing a challenging and unique experience.
Giants Cave – Margaret River
Giants Cave offers all the excitement of a true caving experience as you make your way along the marked paths of this huge unlit cave at your own pace.
At 575 metres long and 86 metres deep, it is one of the biggest and deepest caves in the Leeuwin-Naturaliste ridge. Sturdy footwear is recommended and a torch is provided as part of the entry fee.
Calgardup Cave – Margaret River

Water covering the floor of the three large chambers in Calgardup Cave creates spectacular reflections. There are no guided tours so you can explore at your own pace.
Elevated boardwalks along the way provide great views and the chance to stop and rest. Torch use is included in the entry fee.
Last updated January 2018