Travel & Touring | WA Things To Do
18 January, 2021 By: Norman Burns
We already know Western Australia has an incredible array of destinations and experiences. But there's one sparkling attraction that doesn't get nearly the attention it deserves - and it's right above our heads.
Stargazing as a form of tourism is on the rise, and as fate would have it, West Aussies have front-row seats for some of the best stargazing locations on the planet.
RELATED: WA's best stargazing spots »
RELATED: Stargazing spots within three hours of Perth »
With 80 per cent of WA's population centred in Perth, the rest of the state offers vast, open skies with little light pollution – perfect conditions for Dark Sky Tourism.
Just gazing, awestruck, at the heavens without much clue of what you might be seeing is one thing but having an enriched experience that has flow-on effects for entire communities and regions is another.
That's where Astrotourism WA founder Carol Redford comes in; she's on a mission to help protect the state's 'dark sky asset', which in turn will boost local and international tourism and generate potentially billions of dollars for our economy.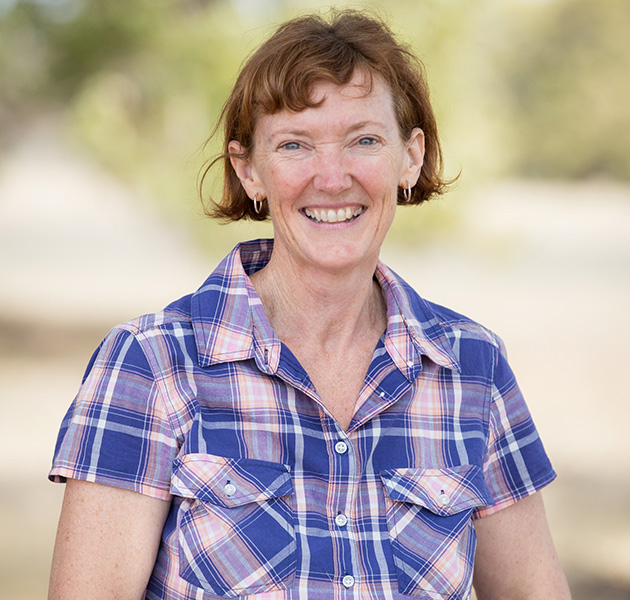 Thanks to the Astrotourism Towns Project, started in 2018, there is now a stargazing 'trail' through WA's regional communities and Redford has been working with 15 local governments across the Mid West and Wheatbelt to help them grow Dark Sky Tourism.
"Globally, we're losing the dark night sky – light pollution has increased by at least 46 per cent over the past 25 years and today around two billion people can't even see the Milky Way," Redford says.
"We're very lucky that light and atmospheric pollution levels are low here in WA but it's still vital to get councils and businesses thinking about the effects of lighting on the night sky or other potential light pollution."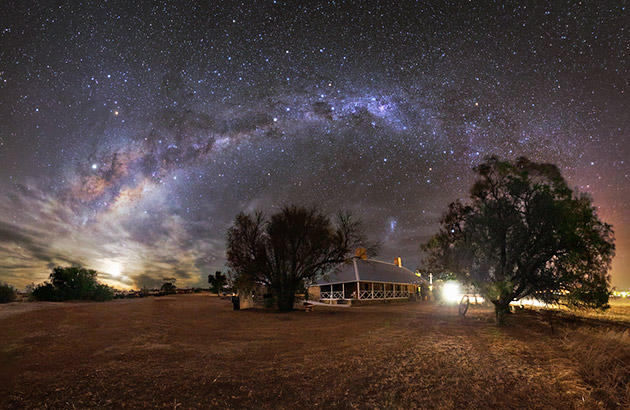 Putting WA on the stargazing map
The State Government, too, is right on the Dark Sky Tourism case – and not the least because it has enormous economic potential.
Redford says that, in terms of Dark Sky Tourism, WA is where the Colorado Plateau (Arizona, Utah, Colorado and New Mexico) was 20 years ago.
"They've made big investments in that area and research estimates that over the next 10 years, Dark Sky tourists will spend $US5.8 billion in the region and more than 10,000 jobs will be created annually.
"Before COVID hit, I was probably getting 20 calls a week from tour operators throughout Australia about Dark Sky attractions in WA, asking where people could go, and what they could see. But there's also growing interest from people within WA; luckily, we already have some great attractions right throughout the state.''
Western Australia is going to be well placed for quite a number of significant astronomical events in coming years.
"Over the next 20 years, 14 total solar eclipses will take place and WA will witness four of these - the most of anywhere in the world.
"Exmouth will be ground zero for the total solar eclipse in 2023. Accommodation in the town is already booked out and we could get 50,000 visitors to the Ningaloo coastline," Redford says.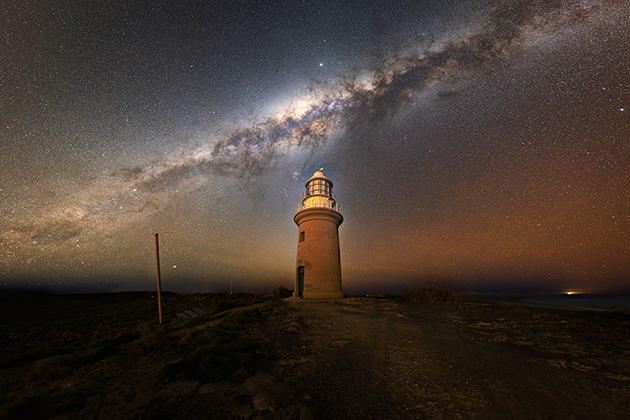 As Exmouth will be the best place on the planet to see the 2023 eclipse, Redford says it will also provide a perfect opportunity to show off our unspoilt dark sky to the world.
WA's best stargazing spots
Western Australia's 2.5 million square kilometres offer almost unlimited vantage points to soak in the universe. Even on Perth's outskirts, the Hills area, Avon Valley and Chittering Valley are relatively light-pollution free. But venture further away from the big smoke and that night sky really hums. Here are some destinations to check out.
Mandurah
Nature lovers Seb and Jamie Van Jones' Salt and Bush Eco Tours are based just 1.5 hours from the Perth CBD and showcase the beauty of the Peel and Mandurah region – including the Lake Clifton thrombolites, bizarre micro-organisms that hark back to the dawn of life on the planet. The stargazing tour (with a clear sky policy – they'll rebook a suitable date if the clouds roll in) offers amazing viewing from the pitch-black Lake Clifton shoreline.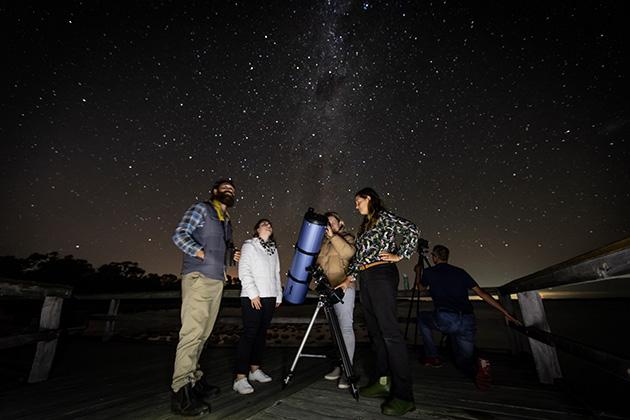 Southern Wheatbelt
The Shire of West Arthur is another WA region that has enthusiastically embraced Dark Sky Tourism and Darkan, 2.5 hours from Perth, is the place to base yourself.
Apart from spectacularly dark night skies, the beautifully maintained historic buildings add that extra touch for those who want to try some astrophotography. Hillman Siding and Six Mile Cottage are also popular stargazing spots.
There's plenty of accommodation in or near town, including the Darkan Hotel, a caravan park, backpacker's cottage, lakeside camping and farm stay options.
Pilbara
You'll run out of superlatives after viewing the heavens from pretty much anywhere in the Pilbara. Tom Price, Paraburdoo and the Onslow region make an ideal travel base, but one great option is to stay at Cheela Plains Station, 170km from Tom Price. The station has camping or lodge options and sitting around a fire with that canopy of stars above you will knock your socks off.
Remtrek Astronomy and Guided Adventure Hikes also has some great stargazing tours to Dales Campground within Karijini National Park.
Broome and the Kimberley
Greg Quicke got hooked on astronomy after being gob-smacked by the view while camping under dazzling Kimberley skies.
Turning his passion into a profession, Greg's Broome-based Astro Tours aim to introduce others to the magnificence of WA's night sky. From Broome's famous Stairway to the Moon events to galaxy gazing just 20 minutes out of town, Greg's insightful and entertaining tours bring the wonders of the universe to life.
Indigenous experiences
For 60,000 years, Australia's First Nations and Indigenous people have 'read' the night skies, incorporating their observations into songlines, calendars, ceremony, navigation, art and food gathering, so a night viewing the stars with an Indigenous perspective is a truly rewarding experience.
Ngurrangga Tours in Roebourne offer a two-day overnight camping experience in the Millstream-Chichester National Park where you can learn how the Yindjibarndi people interpreted the night sky.
A good primer for any Dark Sky trip would be to take in the Aboriginal Astronomy Night at the Gravity Discovery Centre Observatory in Gingin.
Getting the perfect shot
Perth astrophotographer Michael Goh has some sage advice for anyone wanting to photograph the heavens – do your homework first and don't be afraid to push the limits of your camera.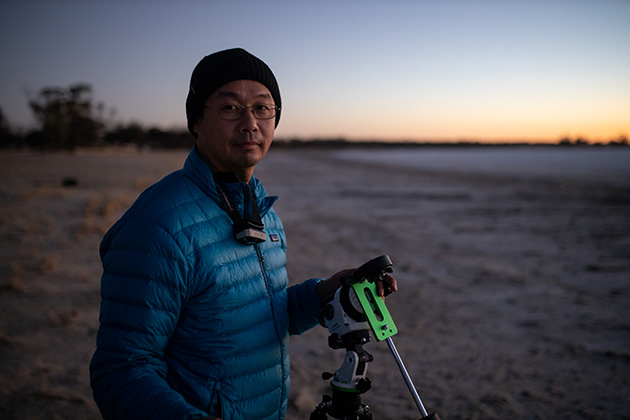 Michael's early interest in science fiction took his gaze skywards and photographing the stars was a natural progression. With the right gear, preparation, and attitude he says anyone can get great night sky images.
"A basic kit would be a DSLR or mirrorless camera that has manual exposure settings and manual focus. There are some phones that can do it now as well. A tripod helps, but I've leant against rocks before," he says.
Scoping out in daylight where you intend to take photos at night is also recommended.
"It's good to have a little wander around before it's dark so you can see what the area looks like. You might get a much better image only a few metres away than if you just started photographing as soon as you get to a site."
Picking a favourite WA spot for his astrophotography passion is difficult but Michael says the myriad salt lakes make great locations.
"With a small layer of water, they reflect the stars like a mirror and in some hot, dry conditions can have interesting textures."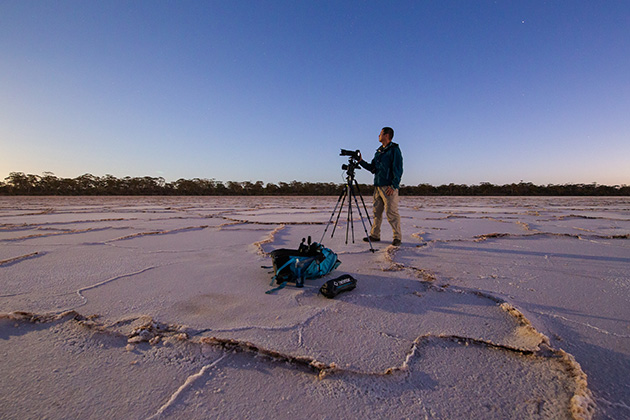 Five-day astro-tour from Perth (self-drive)
Day 1: Perth to Carnamah/Three Springs (285km, three hours)
Carnamah's Macpherson Homestead, just 2km from town, provides a striking backdrop for astrophotography, as do the Yarra Yarra Lakes to the town's west. But remember the lake shoreline is only suitable for four-wheel drives and definitely not suitable for caravans. Carnamah, named an official astrotourism town in 2018, has plenty of accommodation options too.
Day 2: Carnamah/Three Springs to Mingenew (75km, 50 minutes)
Mingenew's hockey oval, golf course, Yandanooka Hall (21km south of the town) and Coalseam Conservation Park are the best local stargazing spots.
Day 3: Mingenew to Eneabba (100km, 1.25 hours)
Carpets of wildflowers (when in season) during the day and carpets of stars overhead at night make for a truly unforgettable sightseeing experience. If you're not camping, head to Jurien Bay (70km away) for other overnight options.
Day 4: Eneabba to Cervantes via Jurien Bay (110km, 1.25 hours)
Seaside Cervantes is a great spot to recharge before heading out to either Lake Thetis (2km from Cervantes) or the Pinnacles – both of which have front-row seats for viewing our own Milky Way.
Day 5: Return to Perth
Book for the 2023 Solar Eclipse
Accommodation bookings at RAC Exmouth Cape Holiday Park for the solar eclipse will be released in line with the April 2022 school holiday program. RAC members save up to 20%* on accommodation.
*Terms and conditions apply. Member rate varies according to season. See full website for details.