Travel & Touring | WA Destinations
By: Tatum Stafford
Dramatic coastlines, sweeping forests and epic whale-watching lookouts are just the beginning in the peaceful seaside hamlet of Augusta.
Nestled by the mouth of the Blackwood River, the peaceful town of Augusta within the South West is home to some of the State's most beautiful beaches, iconic landmarks and majestic humpback whales from June to August. Grab your binoculars, we're heading to Augusta.
At a glance
Distance from Perth
317 kilometres, close to three and a half hours' drive
Why go?
To witness some of the State's largest humpback and southern right whale gatherings, tour the iconic Cape Leeuwin Lighthouse, explore WA's largest show cave, kayak along sections of the tranquil Blackwood River and explore a historical museum packed with fascinating exhibits and artefacts.
When to go

Jun - Aug: Peak whale-watching season in Augusta, particularly in the tranquil Flinders Bay. These are also guaranteed months in which you can book a whale-watching charter or tour.
Nov - Mar: Warm weather provides great conditions for swimming or paddling along the Hardy Inlet. It's also the peak time to spot migratory wading birds along the Blackwood River.

How long to stay
If visiting in whale-watching season, stay for three to four days to improve your chances of a sighting. If visiting in summer, two to three days will provide ample time to explore.
Need to know
There is no longer an official Augusta Visitor Centre, instead, there are two tourist information hubs at the Augusta Newsagency and the Deckchair Café. Stop in for a local map, insights about walking and biking trails in the area, and advice about which attractions will best suit your group. If you're in need of supplies, there's a supermarket, liquor store, post office, pharmacy and a handful of cafes and restaurants along Blackwood Avenue, the main street. Phone reception in main areas of town is strong, but can be spotty if you venture out to Cape Leeuwin.
Fast facts
Town population: 1,109 
Indigenous people: Wadandi.

Insider tip
For lunch with a view, visit the café at the Cape Leeuwin Lighthouse. The Devonshire Tea here is a highlight, and you'll be treated to unbelievable views over Cape Leeuwin as you eat and unwind.
Related road trips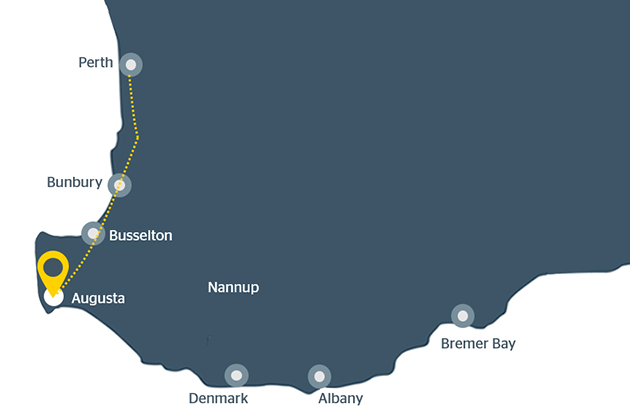 Top things to see and do
Go whale-watching
Augusta is one of the most prolific whale-watching hotspots in WA. Flinders Bay, in particular, is a fantastic spot to watch southern right and humpback whales interact, mate, play and give birth to their young. If you're visiting towards the end of whale-watching season (in August), you may spot playful newborn calves frolicking in the bay's sheltered waters. For a great view of the bay, head to the viewing deck on the Cape Leeuwin Lighthouse – there are free binoculars you can use.
If you're eager to hop on a tour, head to the Augusta Boat Harbour (located within Flinders Bay). It's a departure point for several whale-watching charter boats, with multiple tours running each day.
RELATED: 10 of the best whale-watching spots in WA »

Fish, swim or kayak along the Hardy Inlet
This section of the peaceful Blackwood River is perfect for an afternoon of water activities. There's fishing, swimming, boating and kayaking on offer – and as the water is flat and shallow, it's a great place for kids to splash around. The inlet is also home to an array of diverse wildflowers and birdlife, including migratory waders (from November to March each year), Caspian terns and Australasian darters.
Explore Jewel Cave
As the biggest show case in the State, Jewel Cave is jam-packed with delicate helectites, pendulites, cave coral, flowstone and a massive stalagmite that is known as the 'Karri Forest'. Fossilised remains of Tasmanian Tigers have been discovered within its chambers, with a skeleton of one on display in the visitor centre at the cave's entrance.
Hop on a guided tour (they depart every hour), or complete the short walk trail that meanders through forest to the original entrance of the cave. The Jewel Cave café is a great spot for a bite to eat and a spectacular view of the cave's lush surrounding karri forest.
RELATED: 10 of the best caves in WA »

Walk the Whale Trail
This 6-kilometre walking trail travels from the mouth of the Blackwood River to the Augusta Boat Harbour in Flinders Bay. This relatively easy walk is named for its incredible whale-watching opportunities (in season), as you'll often spot humpback whales, southern right whales and dolphins from its path along the coastline. The walk follows a formed trail and some sections of road, also weaving through the picturesque Flinders Bay caravan park.
Tour the Cape Leeuwin Lighthouse
Located at the most south westerly tip of Australia, the Cape Leeuwin Lighthouse is the tallest mainland lighthouse in the country. This iconic landmark was constructed from local limestone in 1895, and is still a working lighthouse for vessels travelling in and around Cape Leeuwin. The lighthouse's interpretative centre is located within one of the original lighthouse keepers' cottages, and provides an insight into the daily lives of the numerous kepeers of this lighthouse over the years.
Fully guided tours of the lighthouse tower depart daily, running every half an hour from 9am to 4:30pm.
Visit the Augusta Historical Museum
Established in 1979, this comprehensive museum is filled with displays that document the history of Augusta since European settlement occurred in 1830. A stroll through exhibits will reveal commemorative coins, church organs, artefacts from a monumental whale rescue event and more. The museum is open daily from 1pm to 4pm.
Getting around
As the various attractions within Augusta are quite spread out, you'll need a car to tour the region. If you're planning on visiting wineries within nearby regions, make sure you have a designated driver or hop on a tour – many of these depart from Margaret River town.
If you'd rather explore the region on two wheels, visit Electric Bike Hire Augusta or the variety of bike hire shops in the nearby town of Margaret River.
What to pack
As the town is located on the most south westerly tip of the country, temperatures in Augusta can drop very low in winter months. Packing plenty of layers, enclosed footwear and a warm jacket is wise. If you're visiting in summer, bring your bathers, light clothing, and any gear you'll need for fishing, paddling or boating.
Travelling safely
If travelling from Perth, stop off at rest stops along the way to avoid fatigue – you'll pass the towns of Mandurah, Bunbury and Busselton. Once you arrive in Augusta, keep an eye out for wildlife at dusk and dawn, winding roads, narrow roads and loose gravel – particularly in heavy tourist areas. Read more long distance driving tips before setting off.
Eager to go whale-watching in Augusta?
RAC members save 10% on whale-watching tours departing from Augusta with Naturaliste Charters.
Last updated October 2020