Travel & Touring | WA Destinations
By: Danielle Costley
Get airborne on some of the state's best bike trails, paddle along the majestic Blackwood River or become immersed in a blaze of colour in autumn.
You may even spot the odd scarecrow or medieval horse at this eclectic township. Welcome to Balingup.
At a glance
Distance from Perth
241 kilometres, two and a half hours' drive
Why go?
To visit one of WA's most picturesque parks, paddle along the majestic Blackwood River, fly high on some seriously fun mountain bike trails, get lost in a sea of wildflowers, and sample local produce on WA's 'Harvest Highway'.
When to go

Mar - May: Great time to hit walking trails and the Golden Valley Tree Park, plus the annual Small Farm Field Day and Farm to Table events.
Jun - Aug: Cooler temperatures but the town comes alive for the Balingup Medieval Carnivale.
Sep - Nov: Wildflower season, and the orchards are brimming with fruit.

How long to stay
Two to three days to explore the forest, historic walks, river, nearby wineries and orchards.
Need to know
The Balingup General Store is open seven days a week. There are groceries, fresh fruit and vegetables, a petrol station, and a liquor store. Cafés and artisan stores are on the main street. Mobile reception is good in town, but coverage can be patchy on the outskirts. There is free WiFi at the Balingup Visitor Centre.
Fast facts
Town population: 600 
Indigenous people: Noongar. Balingup is an allegedly taken from the name Balingan, a noted Noongar warrior believed to have been born in the district.

Insider tip
The Balingup Racecourse Flora Reserve is a hidden hot spot to immerse yourself in a stunning display of wildflowers.
Related road trips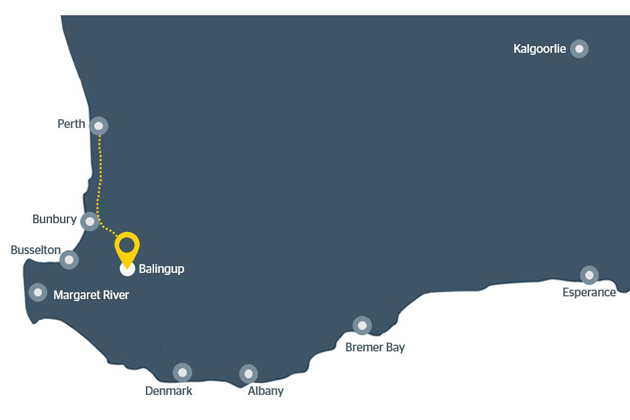 Top things to see and do
Hike
Discover the hiking trails that weave through the picturesque Wellington National Park. Pack a picnic and spend the day beside the picturesque Honeymoon Pool, where you can go swimming, canoeing and bushwalking.
The heritage-listed Golden Valley Tree Park is at its best in autumn. Open daily, this park is alive in a vivid display of autumnal hues, with its vast collection of exotic trees from around the world.
The Bibbulmun Track meanders through the township, too. Head south and immerse yourself in the rich biodiversity as you follow the trail through the Golden Valley Tree Park until you arrive at the edge of the Blackwood Valley for panoramic views over the spectacular forest.
RELATED: 12 epic long-distance hikes in WA »

Avenue of Honour
Take a stroll along Balingup-Nannup Road (one kilometre from town) and discover the Avenue of Honour. This small stretch of road is laden with 54 oak trees that were planted back in the 1930s to honour Balingup's fallen soldiers from World War One. Let the boughs of these trees envelop you in a picturesque canopy.
Mountain biking
Be adventurous and head out on one of the region's many mountain biking and cycling trails, including the world-famous Munda Biddi track. Serious mountain bikers can visit the Linga Longa Bike Park.
Try some of the best jump and flow bike trails at this private farm in Southampton. The trails are diverse at this gravity bike track, where bookings are a must, as is safety gear. Several Balingup accommodation providers have bike available for guests, or the closest bike hire is in Nannup or Bridgetown.
Balingup Ghost Walk
Enter the Balingup Heritage Museum and discover the Balingup Ghost Walk, with locals regaling stories of the township's pioneers in an interactive format. Learn how the settlers cleared the land and fought for their country. The walk is two kilometres long on mainly flat ground and is a great family experience. Good walking shoes are essential.
Canoe or kayak
The tranquil Blackwood River is perfect for a paddle. Hire a canoe at Balingup Brook Canoe (entry point at the end of the Balingup Avenue of Honour). Here you will find a 1.5-kilometre stretch of calm water. The closest direct entry points into the Blackwood River are at Wrights Bridge on Balingup-Nannup Road or in Bridgetown under the bridge. There is also canoe hire at the Bridgetown Caravan Park.
Wander the main drag
Grab a coffee and stroll through the main street's specialty shops and galleries. You will also find Tinderbox along this main street; a small local business specialising in natural aromatherapy products. Originally built in 1982, the store has developed quite a following for its organic hand-made wares, including essential oils, skincare, soaps and perfumes, as well as teas, condiments and herbs and spices.
Harvest Highway
Along the South-Western Highway are local fruit and vegetable stalls where you can sample the town's local produce, with some farms even allowing visitors to go picking themselves among their gardens and orchards. Some of the best produce can be found at Newy's Vegie Patch, a short 10-minute drive.
Getting around
The best way to explore this scenic region is by car, driving through the town's many valleys and along the Blackwood River. The main street is quiet and pedestrian friendly, and the town is surrounded by mountain bike and walk trails.
What to pack
Good walking shoes and warm clothes. The mornings and evenings can be cool, especially during autumn and winter. During the warmer months, there are flies and mosquitoes, so remember the bug repellent.
Travelling safely
The roads in Balingup are winding, but well-maintained. There is an abundance of wildlife in this region, so drive slowly and be watchful especially at dawn and dusk. Read more long distance driving tips.
Need a place to stay?
RAC Busselton Holiday Park is just a short drive from Balingup - plus, RAC members save 20%* on accommodation.
*Terms and conditions apply. RAC member rate varies according to season. See full website for details.
Last updated July 2020