Travel & Touring | WA Things To Do
By: John Bormolini
Whether it's packing a small rod or two for fun or loading the four-wheel drive to the hilt for a serious extended fishing trek, West Aussies have plenty to choose from in terms of our best shore-based spots.
Stretching from the Pilbara to the white sand beaches of Esperance, here are 10 of our state's most remarkable land-based fishing spots.
RELATED: WA's best off-shore fishing spots »

1. Cape Arid National Park and Esperance
Without doubt one of the best-kept secrets of our picturesque southern coastline is Esperance. Its snow white surf beaches tend to be far less crowded than the South West corner, and the further east one explores the better it becomes. Cape Arid National Park, right through to Israelite Bay is a great region to trek to for a camping and fishing escape, and is one of the most consistent places to find salmon, almost year-round. Alexander Bay, Kennedy Beach, Thomas River and Poison Creek are all proven spots to try, especially if there are tell-tale dark masses of fish moving slowly just offshore.
Our commonly named salmon are not in fact a true salmonoid which is why they're poor eating quality but they are great family fun to catch and release and they do add enormously to the recreational fishing economy. The added bonus is that compared to other states, the southern salmon are larger over here, reaching up to eight kilos.
RELATED: Guide to Esperance's best beaches »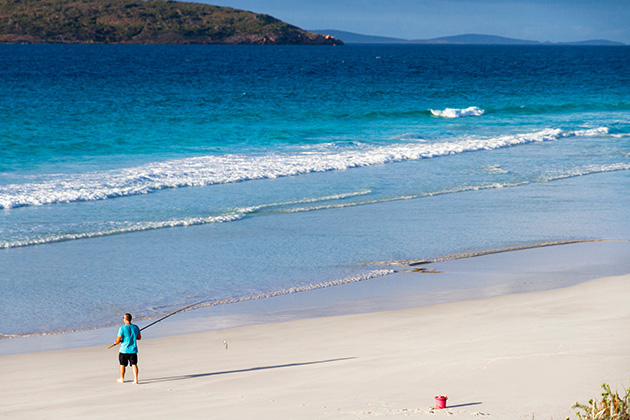 2. Fitzgerald River National Park and Bremer Bay
With Hopetoun on the eastern fringe and Bremer Bay to the west, the Fitzgerald is a beautiful southern national park. Although access can be restricted at times due to dieback and conservation works, the region is again less visited than the South West, and small bays and beaches between the rocky granite headlands are spectacular. Barrens Beach, Hammersley Inlet, Quoin Head, Mylies Beach and Point Anne are all areas worth surveying for a cast for our typical, southern surf species.
Big southern bull herring, garfish, sand whiting, flathead with salmon and silver trevally (skippy) in the cooler months, might all be part of the catch when the conditions are good. Be sure to research the most current information and check with DPAW about restrictions or closures before travelling.
3. Pemberton
Freshwater anglers and especially fervent groups of trout enthusiasts focus heavily on the beautiful Pemberton and Southern Forests region. It's here that rainbow and brown trout become the focus in waterways such as Lefroy Brook, Big Brook Dam, and a range of spots on the Warren River (particularly Moon's Crossing, Regan Road and the Bannister Road Bridge). One Tree Bridge along the Donnelly River is also a great spot.
There's something very special about fishing within the confines of our magnificent karri country and whilst it can be often damp and hard work hiking to the best streams or sections of river, the surroundings make up for it. If a trip is timed to coincide with our brief annual marron season in summer, a delicious marron or two could be an added bonus. Bear in mind recreational fishing licences for both freshwater fishing and marron fishing are required.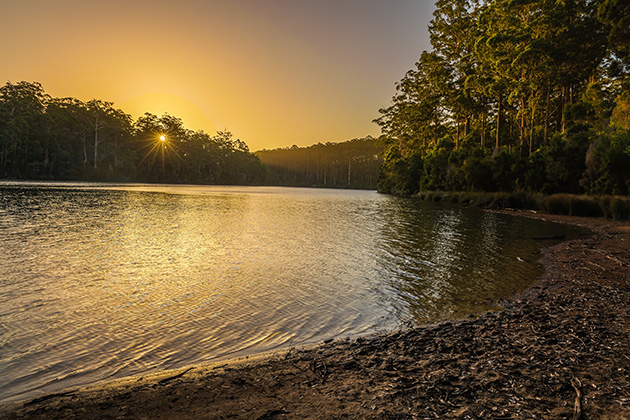 4. Geographe Bay
We all enjoy a long stroll on a calm, sandy shoreline. The peaceful expanse of Geographe Bay is a perfect example. And what better way to unwind than combining a long walk with some sight casting for delicious yellowfin whiting. It is in fact one of our most reliable spots for landing a feed of these great fish, and when they're often in the 30cm range, it's not a bad way to spend a few morning hours.
All that's needed is a light flick rod, a short length of leader line with a ball sinker and a long shank whiting hook, a tiny cube of fresh prawn or bloodworm and the tide on the rise. Quality polarised sunglasses are a must.
The yellowfin can be easily spotted cruising in small groups only a few metres from shore. Cast well in front of the fish and retrieve slowly. Watch for a couple of the fish to peel off and follow and be ready for the hook up. There are certainly lots of other fish to be caught within this great shore-based region. If it's autumn for example, pack a bigger rod and some chrome metal lures for the western stretches around Bunker Bay, one of our most reliable salmon haunts when they're migrating.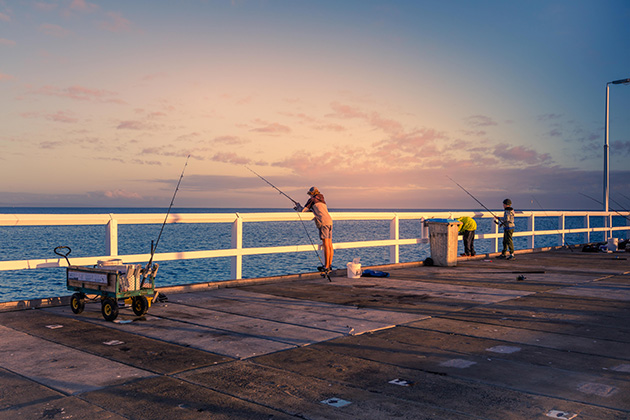 5. Myalup, Moore River and near Perth
There are lots of reliable surf fishing spots within easy day reach of the metro area. White Hills, Yanchep Lagoon, the Hill River mouth, Cervantes and the S Bend Caravan Park near Dongara are all well worthy of mention if the feel of sand between the toes and a long surf rod is your favourite way to fish. Myalup is a little coastal Hamlet 140km south of central Perth with a small caravan park and a collection of holiday homes.
The beach section a couple of kilometres to the north is usually the most productive and reliable for tailor, herring, tarwhine and garfish. Alternatively, to the north of the metro area and a similar comfortable day trip lies Moore River at Guilderton. The Three Mile Reef north of the mouth is a very reliable tailor spot at first light, and at dusk a kayak for bream fishing on the river will also prove handy.
6. Kalbarri
Kalbarri has always been regarded as one of our best shore-based fishing locations. It's not an easy spot to fish, but with the right know-how and gear the rewards are quality fish. Kalbarri consistently produces the biggest tailor, and is arguably one of the most reliable places in WA to catch mulloway. Just south at Wagoe Farm, anglers regularly land Spanish mackerel using balloon-launched baits from the beach.
The river mouth, Wittecarra Creek, Frustration Reef, the Blue Holes and the reef ledges south of Chinaman's Rock are all well-known. Fishing from the small marina jetty also turns up the odd mangrove jack, and further upstream in the river, Gregory Rocks is one of the many spots to find some black bream.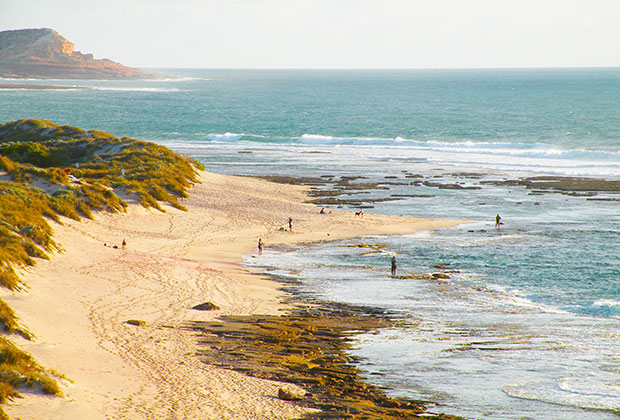 7. Steep Point, Shark Bay
Nothing quite compares to standing high above clear blue water, watching your lure return and seeing a flash of silver from 30m away streak across and engulf it in a crashing strike. It's a scene repeated many times at the most westerly point of mainland Australia. Acknowledged as a Mecca for land-based "rock hoppers", the intrepid group of serious anglers that love to cast a line from the cliffs for big fish, Steep Point has a legendary reputation.
Getting there is part of the adventure as it's four-wheel drive only with self-sufficiency and camping atop exposed cliffs all part of the challenge. In its heyday it was unsurpassed, with everything from sailfish, yellowtail kingfish, snapper, various tuna and mackerel species. These days the bottom fishing is quieter and the ever-present threat of sharks taking hooked fish has dimmed the appeal. Yet it still rates as one of the country's top angling hotspots.
8. Quobba Station
Another legendary land-based hotspot of similar stature is found north of Carnarvon at Quobba Station. Here you'll find are a number of cliff fishing spots across the length of the station's coastline from High Rock, Whistling Rock, Garth's Rock, The Caves and Red Bluff.
There are basic accommodation facilities at the Homestead but like Steep Point, meticulous preparation is required with regards to tackle and equipment, and a lot of care and caution should be exercised to stay safe. Numerous fatalities have occurred in this area over the years from anglers not paying enough heed to the danger of swells and king waves.
9. Ningaloo Reef
The whole stretch from Warroora Station through to Coral Bay, Ningaloo Reef and Yardie Creek on the west side of North West Cape is simply stunning. The shining light is Ningaloo Reef itself, the world's largest fringing coral reef that stretches over 250 km. In places the coral reef comes virtually to the shoreline providing excellent fishing opportunities for all sorts of trevally, emperor, mackerel, queenfish, dart, permit, and even bonefish, the saltwater fly fisherman's holy grail.
There are also great spots to camp, especially for those escaping the southern winter. Look carefully at the assorted marine park and sanctuary zone restrictions first but there are a multitude of spots to try all along the west side, right up to the Lighthouse at Vlamingh Head.
10. Pilbara creeks and shoreline
While there are many advantages to exploring the estuaries and creek systems of the North West in a small boat, it's very possible to enjoy some brilliant shore fishing in this region. There are so many interesting locations to try but gaining as much local or firsthand advice is key before venturing to a creek mouth or rock bar and simply using guess work.
Some of the prime spots to build some fishing sessions around would include the Nickol Bay creeks, Point Samson, Balla Balla Creek, Cape Keraudren, Pardoo Station and Eighty Mile Beach. These are all reliable spots to try for mangrove jack, barramundi, giant and blue nose threadfin salmon, bluebone and queenfish.
You'll need to be cautious in this region – don't ignore the seemingly firm mud flats as a shortcut to drive across, and prepare full protection against biting midges near the mangroves.
Ready to hit the road on your fishing adventure?
Make sure you fuel up first - RAC members save 4 cents per litre at participating Puma Energy and Better Choice Stations.
Last updated: June 2021