Travel & Touring | WA Things To Do
By: Kirsty Petrides
With its dramatic coastline, stunning nature reserves and proximity to one of the oldest mountain ranges in the world, Albany is a hiker's delight.
What makes it even more enticing to hit the trails in this coastal town is the variety of hikes on offer. You can take the seaside route and explore tracks that hug the ocean, or opt to head inland to the nearby Porongurup National Park and wind your way through forests and granite rock formations.
Either way, you'll be surrounded by breathtaking views, incredible wildlife and a generally amazing nature experience. So get your walking shoes – here are seven of the best hikes in and around Albany.
1. Bald Head Trail, Torndirrup National Park
| | |
| --- | --- |
| Start and finish | Murray Road, Torndirrup National Park to Bald Head |
| Length and time | 12.5km return, 5-7 hours |
| Difficulty | Medium to difficult - terrain is steep and tough in sections |
| Suitable for | People with a decent level of fitness and some hiking experience. |
Often when hiking, you don't experience a spectacular view until you reach the summit. You may be walking for some time, possibly through dense bushland or forest, and its only when you reach the top that you're rewarded for all that hard work. But this is not the case with the Bald Head Trail.
As soon as you start this hike, you'll be wowed immediately, and it stays that way for pretty much the whole trail. This is due the very unique landscape the Bald Head trail is situated on - the track climbs and descends along the narrow ridge line of the Flinders Peninsula, a granite formation that sticks out from the land, almost like a finger jutting out into the Southern Ocean. This means hikers are rewarded with breathtaking 360-degree views of the ocean, granite cliffs and back to Albany and King George Sound for the entirety of the walk.
The trail has a combination of surfaces – wooden boardwalks, soft sand, packed limestone and hard granite sections – and can get quite steep in parts. But this is truly one of the best hikes in the South West, so if you're visiting Albany, put it on your list.
RELATED: 9 epic WA day hikes with views that are worth the climb »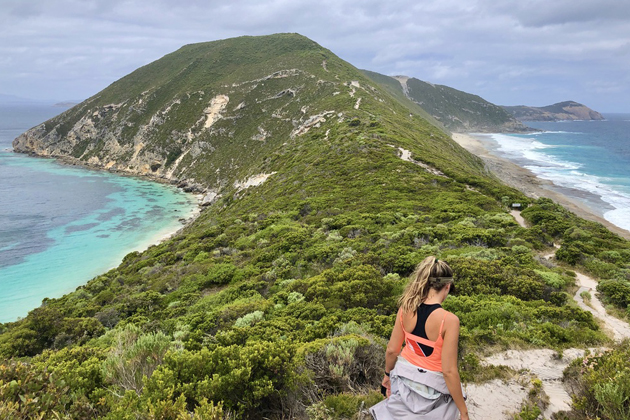 2. Peak Head Walk Trail, Torndirrup National Park
| | |
| --- | --- |
| Start and finish | Stony Hill Track Road to Peak Head |
| Length and time | 4.8km return, 2-3 hours |
| Difficulty | Moderate - there is some scrambling and climbing over granite along this walk. |
| Suitable for | Those with a decent level of fitness, and who enjoy coastal views. |
If you want a similar experience to Bald Head but are a bit daunted by the distance and difficulty, then Peak Head - which sits at the southernmost point of the Torndirrup Peninsula – is for you.
The track starts near the Stony Hill carpark and winds through thick coastal scrub, with a few challenging sections – you'll need to scramble up rocks and small granite walls in some parts. As long as you have footwear with a suitable amount of grip, you'll be fine. Once you get to the large granite dome that is Peak Head, you'll enjoy fantastic views over the ocean, Eclipse Island and West Cape Howe.
3. Point Possession Heritage Trail, Albany
| | |
| --- | --- |
| Start and finish | Loop from Whalers Cove Car Park, Quaranup Rd |
| Length and time | 5km loop, approx. 1-2 hours |
| Difficulty | Easy |
| Suitable for | Families, history buffs and dog-owners |
This heritage trail was built in 1988 to celebrate Australia's Bicentenary, and takes you out over the Vancouver Peninsula, along a white-sand beach and up to the granite dome of Point Possession.
Starting along the cliffs above Whalers Cove, you'll hike through woodlands (which in springtime are filled with wildflowers) and along the pristine sand of Brambles Beach, before climbing up to Point Possession for some of the best views of King George Sound. The trail then leads down to the stunning Barker Bay Beach, so pack your bathers if you're partial to a post-hike dip. This is also one of WA's pet-friendly walking trails so don't forget your furry friend.
4. Baie des Deux Peuples Heritage Trail, Two People's Bay Nature Reserve
| | |
| --- | --- |
| Start and finish | Two Peoples Bay Visitor Centre to Little Beach |
| Length and time | 5km return, approx. 2-3 hours |
| Difficulty | Easy to moderate |
| Suitable for | Families, beach-lovers, swimmers and snorkellers |
Two People's Bay is regarded as one of the most beautiful reserves in WA, known for its clear turquoise waters and white sand beaches. This easy walk starts at the visitor centre, and takes you first to Whalers Cove Lookout which offers sprawling views over Little Beach below.
From there, it's a straightforward walk across the headland to Little Beach, where you can admire the granite platforms, cool down in the rock pools and enjoy the serenity. If you're keen for extra exploring, keep going towards Waterfall Beach, which is an equally-as-breathtaking experience.
5. Luke Pen Walk, Albany
| | |
| --- | --- |
| Start and finish | East Bank Road, Lower Kalgan |
| Length and time | 14.4km, approx. 4 hours |
| Difficulty | Easy to moderate |
| Suitable for | Families with young children, and dog-owners |
While many of Albany's hikes are coastal, the Luke Pen Walk takes you away from the ocean and into a mixture of eucalypt bushland, lush vineyards, and green pastures with grazing cattle. The trail was named after Dr Luke Pen, a strong supporter of the Kalgan River and its surrounding vegetation – and after a walk along this trail, you'll quickly see why he was such a passionate advocate. The area boasts a huge variety of wildflowers, orchids, birds, bandicoots and insects, and interesting local Aboriginal history – keep an eye out for the local Noongar fish trap relics along the walk.
The trail itself is very well formed and well sign posted, with the best time to go being immediately after winter when the rains have turned the countryside green. There are plenty of spots to stop for a picnic lunch, and you can even take a dip in the river on a hot day. Don't forget your dog - this is another one of WA's pet-friendly walking trails.
6. Castle Rock, Porongurup National Park
| | |
| --- | --- |
| Start and finish | Porongurup National Park (40 min from Albany) |
| Length and time | 4.4km return, approx. 2.5 hours |
| Difficulty | Moderate to difficult |
| Suitable for | Experienced hikers and nature-lovers |
Porongurup Range National Park is about a 40 min drive from Albany, and given it's one of the world's oldest mountain ranges with massive ancient granite domes, it's a hiking wonderland. One of the best hikes to experience within the park is the Castle Rock trail, that takes you up to one of WA's best scenic lookouts - the incredible Granite Skywalk.
At 'only' 2.2km in distance, you might think this hike is just an easy stroll, but don't be fooled. The trail gains incline almost immediately and quickly becomes a serious uphill glute-burner, before reaching giant granite boulders which you need to climb up and scramble across. From there, you ascend the ladder to the Granite Skywalk, which is 570m above sea level (and definitely not ideal if you're someone who doesn't do well with heights.)
So, while it is indeed only a few kilometres, it is a big few kilometres. But it's well worth it for the spectacular views over the national park, across undulating farmland to Albany on the south coast, and to Mt Gardner and Mt Manypeaks to the south-east.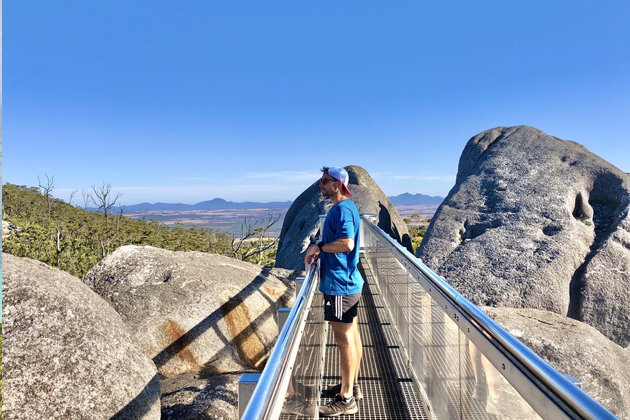 7. Nancy Peak, Porongurup National Park
| | |
| --- | --- |
| Start and finish | Porongurup National Park (40min from Albany) |
| Length and time | 5.5km loop, approx. 3-4 hours |
| Difficulty | Moderate to difficult |
| Advice | Experienced hikers, nature-lovers |
Also in Porongurup National Park is Nancy Peak, a stunning circuit walk that traverses the main peak of the Porongurup Range. Much like the nearby Castle Rock trail, this walk is short but sharp – it's almost continually uphill with some very steep sections. About 100 m into the trail, you'll see the famous Tree in the Rock - a karri tree growing out of a relatively small fissure in a large granite boulder.
From there, the track is a series of switchbacks through karri forest, with some parts steeper than others. You emerge out of the greenery and onto exposed granite sections, with views over farmland, forest and the Stirling Ranges looming in the distance.
Once you tackle a bit of bushland, you'll end up at the summit of Nancy Peak, with its impressive views of Devils Slide, the highest peak in the Porongurup Range.
Planning a national park visit?
RAC members save 50% on digital WA national park passes.*
*Terms & Conditions apply. Visit www.rac.com.au/onlineshop for full details.
Last updated February 2021