Travel & Touring | WA Destinations
By: Tatum Stafford
It may be one of WA's more isolated holiday destinations, but the seaside town of Bremer Bay is home to some of our most breathtaking natural wonders that make the trip very worthwhile.
A hotspot for majestic orcas, colourful sea life, protected white beaches and beautiful WA wildflowers, this quaint town is a nature lover's dream, no matter the time of year. Start the car, we're heading to Bremer Bay.
At a glance
Distance from Perth
488 kilometres, a five hour and fifteen-minute drive
Why go?
To explore one of WA's most prolific whale-watching locations, admire diverse flora and fauna within the Fitzgerald River National Park, and enjoy epic snorkelling, fishing and four-wheel driving opportunities on the town's many beaches.
When to go

Feb - Apr: The best months to view Bremer Bay's famous orcas – it's also the only time of year that charter boats travel specifically to Bremer Canyon on full-day orca spotting and feeding expeditions.
Jun - Oct: A great time to view the hundreds of WA wildflower species flowering within Fitzgerald River National Park.
Dec - Feb: Warm weather in summer provides great conditions for swimming, snorkelling and diving in the town's various bays and beaches.

How long to stay
Two to three days in cooler months, or up to five days if visiting in summer.
Need to know
Within the town centre, there are plenty of services including a general store, roadhouses, hardware stores, a post office and a visitor centre (called the Bremer Bay Community Resource Centre). If visiting the Fitzgerald River National Park, be wary that all roads are gravelled, and mobile phone reception will be intermittent.
Fast facts
Town population: 270
Indigenous people: Wudjari Noongar.

Insider tip
Stop in at the Wellstead Museum Café for a wood-fired pizza. The café is run by Dan and Sarah Hill, a couple who met while working in Bremer Bay in 2020. There's plenty to choose from on the menu (including fresh Bremer Bay seafood), but the pizza is prepared in the woodfired oven from the original Albany bakery; a nostalgic spot for locals in the area.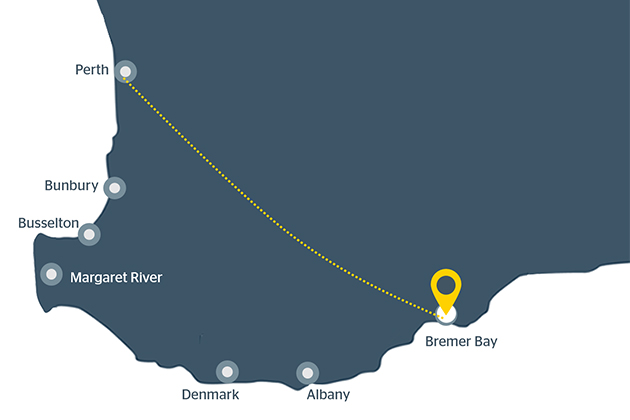 Top things to see and do
Go whale-watching
The Bremer Canyon is one of WA's most prolific whale-watching locations. Sperm, pilot and beaked whales are common – and though they are technically part of the dolphin family, Bremer Bay's orcas are the species that have put this diverse marine location on the map. Bremer Bay is home to the largest congregation of orcas in the southern hemisphere, and it's the only location in the country where visitors are guaranteed to spot them. Over 150 orcas traverse the Bremer Marine Park from late January to April each year, and they are best viewed on a chartered tour through the canyon.
If you'd rather watch whales from the shore, there are number of points across town with fantastic ocean views. Bremer Bay Beach, the platform at Point Ann and the Doubtful Islands are all great whale-watching locations. Tooleburrup Hill is another popular whale-watching spot, with fantastic views of both Bremer Bay and Dillon Bay.
RELATED: 10 of the best whale-watching spots in WA »

Spot wildflowers in Fitzgerald River National Park
Bremer Bay is treated to a long wildflower season – and luckily for enthusiasts, there are a few wildflower species that flower all year-round within the Fitzgerald River National Park. The national park is one of the South West's largest biodiversity hotspots, and houses nearly 20% of WA's floral species.
The hakea is one of the park's most prominent species that you'll spot at all times of year. Another common variety are quaalup bells which flower from June to October, or orchids which can be spotted in springtime.
Go beach fishing
There are plenty of great fishing spots across Bremer Bay, but two of the most popular are Reef Beach and Fosters Beach. The latter, Fosters Beach, is famous for its salmon fishing, which is on offer almost year-round. There are also a few salmon at Reef Beach, but you're more likely to catch mulloways at this spot. If you're venturing onto the rocks at Reef Beach, take care on slippery sections – the Bremer Bay Hardware store on Wellstead Road loans out free life jackets if you're fishing from the rocks.
RELATED: 10 of WA's best beach fishing spots »

Go four-wheel driving on the beach
There are plenty of legal beach four-wheel drive tracks and dune systems in and around Bremer Bay. Strem Beach has one of the town's most prolific beach tracks, and involves tackling a steep sandy track to arrive on the sand. Other notable beach driving areas are on Dillion Beach, Blossoms Beach, Peppermint Beach and Whalebone Beach.
Snorkel with fish, sea grass and seadragons
Bremer Bay has temperate waters all year-round, so it can host a diverse array of underwater flora and fauna that wouldn't survive in nearby waters. Some of the fish snorkeller's will be able to spot include redlip morwongs, western fox fish, blue devils, zebra fish and scaly fins. Leafy seadragons are also common visitors to the waters' sea grass beds and breeding areas. The sheltered Barrens Beach in the Fitzgerald River National Park is one of the town's best snorkelling spots.
RELATED: 10 of WA's best snorkelling spots »

Hit the walking trails in Fitzgerald River National Park
One of the best ways to explore this diverse national park is on one of its various walking trails. The 15.5-kilometre Mamang Trail is a popular option, offering spectacular views of the coast and of the park's peaks. The trail begins in Point Ann at the western side of the park, and travels over sand dunes, lookouts and inlets. It's recommended to break this trail up into sections, and camping is available at the Fitzgerald River Inlet at the end of it.
If you'd prefer a shorter walk, opt for the Point Ann Heritage Trail. This 1.5-kilometre loop follows part of the original rabbit proof fence, and offers stunning views over Point Charles Bay – a hotspot for humpback and southern right whales in winter. This is a really easy walk with plenty of signposts and a spacious picnic area with barbeques and information boards about local flora and fauna.
Visit the Big Snail
Constructed by local artist Peter Hill, the Big Snail sculpture weighs a whopping 700 kilograms and sits on Australia's first native 'snail trail'. This incredible artwork is roughly 10,000 times the size of a regular garden snail and was modelled on the South Coast Land Snail, which plays an essential role in the region's ecological landscape.
RELATED: 10 of WA's best big things »

Go birdwatching at the Wellstead Estuary
Over 100 species of birds call this estuary home, and the habitat is a prominent feeding ground for migrating birds travelling the East Asian-Australasian 'flyway'. You're most likely to spot wading birds in and around the estuary, including grey plovers, red knots and sanderlings. The Culham Inlet within the national park is another birdwatching hotspot, where you'll find Australian pelicans, cormorants, Eastern ospreys and waterfowl.
Getting around
To travel in and around Bremer Bay, you'll need a car. There are a few 4WD tracks in town that are not 2WD accessible, so check ahead to ensure your car will safely manage the route you're taking.
If you'd prefer to explore the town on two wheels, there are a few bike hire shops in Albany, a town you'll pass through if travelling from Perth.
What to pack
Bremer Bay can get quite chilly in winter months, so pack plenty of layers if this is when you're visiting. Weather for the remainder of the year is quite temperate, so pack a few jackets or long-sleeved shirts to be safe. You'll need sturdy walking shoes if you're planning on exploring the national parks. When it comes to gear, it's best to bring your own snorkel, surf board or camping equipment – but if you need to hire anything, there are a few shops in town you can stop at.
Travelling safely
If driving from Perth, take plenty of breaks along the way to rest, as it's quite a lengthy drive. If you're visiting the Fitzgerald River National Park, the roads are mostly made of gravel, so take extra care on rough sections that may be well-worn in peak travel periods. Read more long distance driving tips.
Eager to see Bremer Bay's famous Orcas up close?
RAC members save 10% on whale-watching tours in Bremer Canyon with Naturaliste Charters from January to April.
Last updated October 2020