Travel & Touring | WA Destinations
18 January, 2022 By: Fleur Bainger
Flying into Broome for a family holiday? Hire a four-wheel drive, make tracks for the Dampier Peninsula and give your kids a culture hit with these family-friendly adventures.
The Kimberley is as much a nature playground for families as it is a glittering escape for jet-setters swooping in on its bucket list sites. It's not exactly cheap to visit wonders like the Horizontal Falls, Montgomery Reef and King George Falls – particularly if you're travelling as a family – but there are loads of things to do in Broome and on the Dampier Peninsula that fit the family brief of being accessible and enriching.
We'll dive into Broome activities in a moment, but first, let's look at the advantages of the now paved road between Broome and the tip of the peninsula, Cape Leveque.
The once jarringly corrugated, dusty red-dirt track was a work-in-progress for two years. It opened to travellers after $65M worth of bitumen finished being laid in November 2020 – a time when few of us could travel far. With the nearing of the new dry season this May, the smooth outback route is looking particularly appealing, even if a four-wheel drive is still required to reach attractions down sandy side routes.
RELATED: Things to do in Broome »
RELATED: The Kimberley by land and water »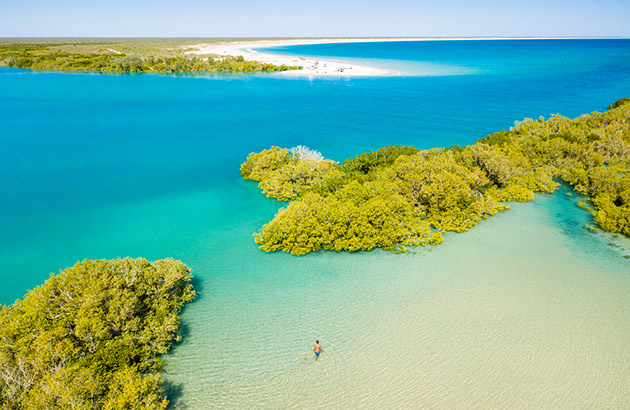 Hands-on adventures
The road's easier access opens up Aboriginal tourism experiences like never before. Traditional custodian, Bolo Angus, runs a family-friendly drive-and-walk experience with Lullumb Tours. He weaves through marsh flats, tropical bush and mangroves, exploring a creek and finishing with a beach cook-up overlooking the tidal zone of King Sound.
He's hosted kids of all ages, from babies in backpacks up to teens. "Kids really love collecting their own food, getting into the mud, swinging on the mangrove roots, drinking from a natural water source and checking out native bees that don't sting," he says.
"If they're really hands-on, I'll get them to spear a crab. Also, an eagle often hangs around, so we'll get a couple of fish in the mangroves, chuck them out and the eagle swoops down for them." The four-hour Southern Cross Cultural Walk tour costs $160 per adult and $80 per child, with discounts available to families of five or more.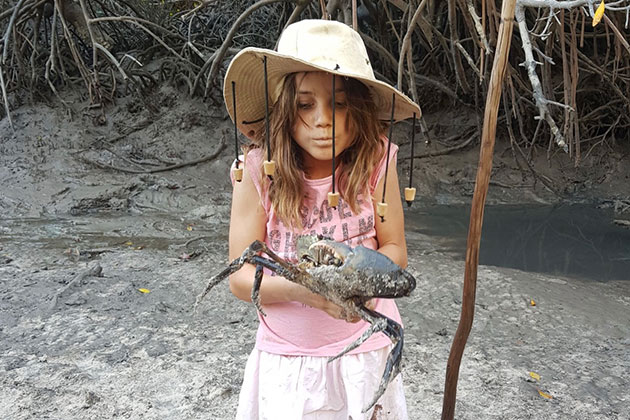 Nearby, Terry Hunter leads the two-hour, Borrgoron Coast to Creek Tour at Cygnet Bay Pearl Farm, on Bardi Jawi country. He is the fourth generation of his family to work and live on the Kimberley property, and his love for it is obvious in the stories he tells of a barefoot, free-range childhood. Kids are particularly wowed by the secrets he shares.
Kneeling at beach rockpools, he scoops up water and drinks, to their giggling surprise. He knows something they don't: at low tide, fresh spring water seeps in and Terry invites them to taste the bush magic. He also cooks oysters prised straight off the rocks, using spinifex fire to pop them open. The kids may not want to eat them, but they'll be captivated by the handmade bush barbeque.
Walking through mangroves and scrub, Terry plucks leaves used for bush medicine while talking about the tin shed schooling he did with his best mate James, who's now at the helm of Australia's oldest continuously operating pearl farm, Pearls of Australia.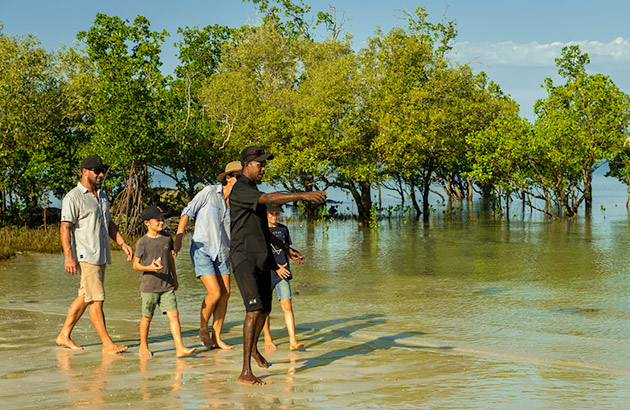 Terry's tour costs $85 per adult and $35 per child.
Beyond the property's wide, flat beaches are raging tidal movements that form the basis for Rosanna Angus' new dinghy expeditions, which launched in 2021. The Bardi Jawi woman follows the journeys of her ancestors, the tide drifters, on her Oolin Sunday Island Cultural Tour.
Way back when, her people would build mangrove wood rafts to navigate the world's biggest tropical tides, using the fast-flowing water to travel and trade between the mainland and King Sound's craggy, red rock islands. Their ability to handle the sieve-like waterscape of reefs, islets and hidden rocks becomes more astounding when you're in a boat winding through the same passage – it's a thrilling insight into ancient culture and geology.
While Rosanna's half day tour costs a little more, it's still a fraction of the price of visiting the nearby Horizontal Falls. Expect to pay $350 per adult and $250 per child, with family discounts available.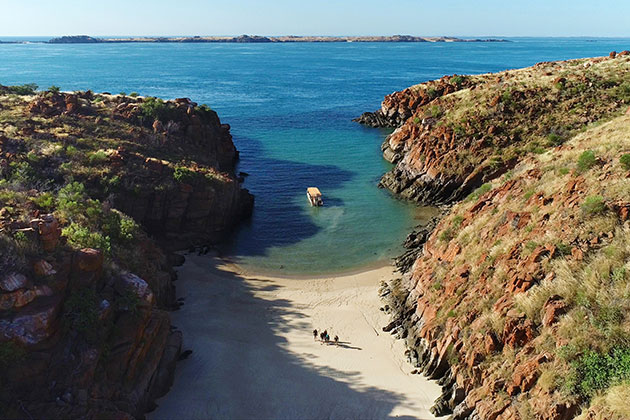 Where to stay
Never before have there been so many options for staying on the Dampier Peninsula. In 2022, the region's first Camping with Custodians campsite will open with 37 powered and 10 unpowered campsites. The two-wheel-drive-access campsite is owned and run by the Djarindjin community, allowing for spontaneous cultural interactions as well as bookable Aboriginal tours.
It comes as the popular Kooljaman campground closes indefinitely for major upgrades. Kooljaman tours, such as the all-day four-wheel drive and bush tucker tagalong tour run by Brian Lee ($150/ adult, $75/child; djarindjin.com.au), will now come out of Djarindjin Roadhouse. Families who have joined him describe his ability with children as "magical".
For all-inclusive accommodation, look to Mercedes Cove, where 50 per cent of the visitors are families and only 18 people can stay at any one time. Dave Channing and his Bardi wife, Pat live on site, surrounded by four beaches that can be accessed on foot.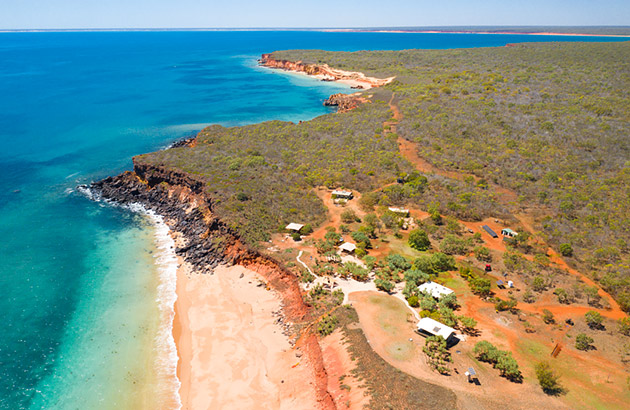 Dave says children thrive there, quickly forgetting their electronic devices.
"The kids are out playing on the blowup water slide, the trampoline, the cubby house. They're swimming, hiking, fishing and climbing trees."
There's also snorkelling and free kayaks to explore the ocean with. "They run around at night with torches collecting hermit crabs. Everyone becomes friends by the time they leave," says Dave. There are no set tours, but Pat talks about her culture with those who show interest, and Dave has gleaned a fair bit during the four decades they've been married.
The most affordable option is a self-contained eco tent sleeping two adults and two kids under 11, which contains everything you'll need, including a mini fridge ($180/night).
Nearby, Goombaragin is a private property containing unpowered campsites, an unpowered bush tent on raised decking, an eco tent and an eco chalet. "They're at the edge of the clifftop, 38m above sea level so we get panoramic views of Pender Bay," says Kathleen Cox, who runs the place. "I live on country, Goombaragin is my home, and I show people around the property."
All accommodation is self-contained and ranges from $80 to $250, with the campground $18 per person over 13yrs, $9 per child and free for kids under 6yrs. With no play equipment and no set tours, the focus is on the surrounding nature, and the sharing of Kathleen's everyday life.
"When families stay for four nights or more, we often go for a walk on the reef together and talk about different marine life. We might collect oysters or go fishing and cook them on the communal fire so everyone can have a taste," she says. "Sometimes we take the wheelbarrow to collect wood and talk about the trees. I might show them the bush fruits, and how to eat the nuts inside."
Back in Broome
The mix of authentic culture and outback adventure makes the Dampier Peninsula hard to leave. But Broome beckons, with its many family-friendly activities and the seductive lure of Cable Beach. Dinosaurfans will also be captivated by the fossilised footprints left in Broome's rockscapes some 120 million years ago.
You can search for the free-to-view, three-pronged prints on Gantheaume Point's rock platform at low tide, but kids will likely be more excited by a boat ride across Roebuck Bay to a lone beach. There, you'll find yourself standing in the 1.7m-wide circular prints of a sauropod, dotted across rocks. There's even a print that shows the impact of such weight in the rock layers beneath.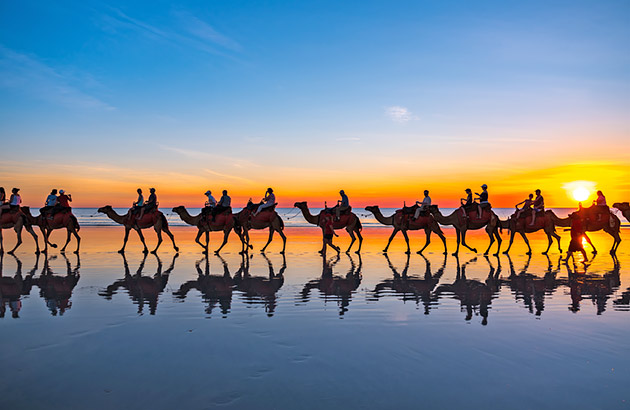 While the dinosaur prints are all around, they're hard to see without having them pointed out, and guide Myles Penegar couldn't be more enthusiastic - or knowledgeable - about the paleontological treasures underfoot.
His three-hour Dinosaur Adventure Tour includes a barbeque, cocktails, bird watching and the trip to see the 120-million-year-old dinosaur footprints fossilised in rock on a secluded beach.
By night, head to Town Beach to watch the monthly phenomenon known as the Staircase to the Moon over the Roebuck Bay tidal flats (Mar-Oct), or buy tickets to the world's oldest operating garden cinema, Sun Pictures ($55/family of four).
For your family stay in Broome, RAC Cable Beach Holiday Park has minigolf, a saltwater pool, barbeques, camp kitchen and even a general store, all within walking distance of the famous 22km-long sandy stretch (sites from $43/ night to cabins from $212/night.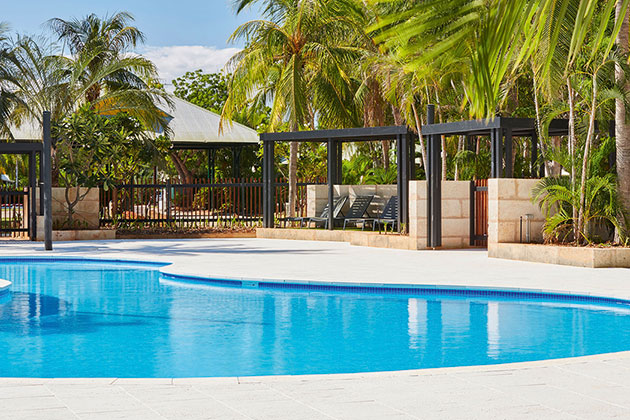 Vehicle hire
RedSands Campers, Broome & Beyond Camper Hire, Red Dirt Rentals; major car rental brands are also represented in Broome.
Flight details
Qantas and Virgin fly to Broome from Perth.
Best time to go
May to October marks the Kimberley dry season, with peak period during winter.
Need a place to stay in the Kimberley?
Members save up to 20%* on accommodation at RAC Cable Beach Holiday Park.
Banner image credit: Oolin Tours