Travel & Touring | WA Destinations
By: Tatum Stafford
If you're hunting for a seaside holiday spot the whole family will enjoy, it's time to pay the idyllic town of Busselton a visit.
Nestled in the heart of the vibrant South West region, Busselton has a plethora of swimming, bushwalking, cycling, birdwatching, snorkelling and even underwater walking opportunities on offer. And at under three hours from Perth, it's the perfect location if you're in need of a seaside getaway.
Set your GPS and grab your sunnies, we're heading to Busselton.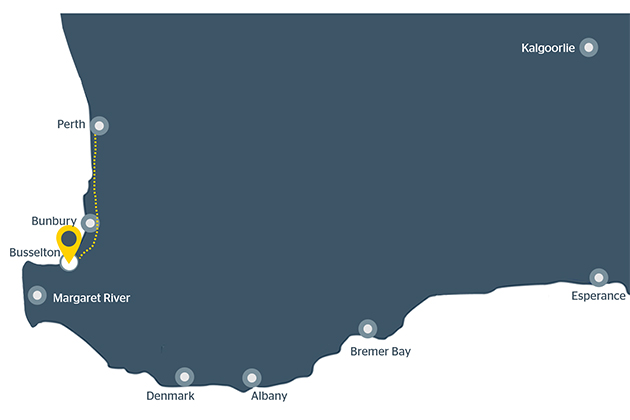 Top things to see and do
Visit Shelter Brewing Co
Created by two local Busselton families, the massive two-storey Shelter Brewing Co is the newest dining option on the beautiful Busselton foreshore. Comprised of a brewery, restaurant, and a few function rooms, it's a gorgeous spot to take in the sunrise or sunset, and has a menu jam-packed with woodfired pizzas, fresh seafood and specialty brews.
The building itself is worth a visit, with more than 1,000 square metres of floor space, and impressive 10-metre floor-to-ceiling windows offering sweeping views of Geographe Bay.
Shelter is open daily from 7am to 10pm.
Go ziplining in the Ludlow Tuart Forest
The Ludlow Tuart Forest is the last remaining natural tall tuart forest in the world, and though it's traditionally a tranquil spot to visit, the forest is also a popular spot for adrenaline-fuelled ziplining and high ropes courses. Run by Forest Adventures South West, tackling one of these courses will involve flying foxes, Tarzan swings and wooden bridges – all amongst the majestic tuart trees. Visitors can take their pick from beginner to advanced courses, or can even opt for a zip line course with over 500 metres of cables to speed down.
If you're an RAC member, you can save 10% on adult and child entry costs. Online bookings are highly recommended.
RELATED: 7 family-friendly things to do in Busselton »

Visit the ArtGeo Cultural Complex
The ArtGeo is Busselton's official cultural precinct. Dating back 160 years, the complex is comprised of several restored, heritage-listed buildings including the Courthouse complex, Police Station, Bond Store and gaol exercise yard. Today, the complex is home to two artist-in-residence studios, an art gallery, several society headquarters including the Busselton Woodturners' and Acting Up Performing Arts, and several venues available for hire for functions, workshops or performances.
The complex is open 10am to 4pm daily, with free entry. If you're planning to attend an exhibition or performance at the complex, check their online events calendar. If you'd rather a more in-depth look at the historic buildings, hop on a guided Heritage Tour and hear escapee stories, anecdotes about notorious characters and accounts of famous court cases that occurred in the iconic Courthouse complex.
Go birdwatching in the Vasse Wonnerup Wetlands
If you're looking to get up close and personal with some of Busselton's beautiful birdlife, head to the walking trail (accessible from Layman Road) on the southern side of the Vasse-Wonnerup Wetlands. Here, you'll have the chance to spot over 75 species of birdlife, including tattlers, warblers, stints, turnstones, knots and more. The wetlands vary in size from broad channels of open water to sheltered, small bays – and depending on the time of your visit, you may also catch a glimpse at egrets, spoonbills, bandicoots and other wildlife native to the area.
Meander down Busselton Jetty
Arguably one of the State's most well-known tourist attractions, there's no shortage of things to do around and on the 1.8-kilometre-long Busselton Jetty. If you're eager to get a glimpse of marine life under the jetty (without getting wet), hop on the Underwater Observatory tour. It starts with a relaxing train ride down the jetty, offering 360-degree views across the peaceful Indian Ocean. Once you arrive at the observatory, you'll descend eight metres below the ocean's surface to view an artificial reef; hot to a range of sub-tropical corals, sponges, fish and invertebrates. The tours depart on the hour from the start of the jetty, and bookings are recommended.
If you'd prefer a self-guided walk along the jetty, you'll be able to do so on the marked walking side of the pathway. Buying a Jetty Day Pass will give you access to dive, swim or walk the jetty – and snorkelling is also available in the jetty's Olympic swimming pool-sized Deep Sea Pool. If you'd rather a more unique experience, opt for a SeaTREK, an undersea walk within the pool. The first of its kind in Australia, this guided underwater walk allows participants to wear a dive helmet and self-contained backpack that make underwater breathing natural and stress-free.
RELATED: 10 of WA's best snorkelling spots »

Stay in a tiny cabin
Situated on the grounds of Whicher Ridge, guests at one of Heyscape's tiny cabins will enjoy access to the winery's unique wine sensory garden, views of grazing kangaroos each evening, and plenty of amenities packed into each quaint, self-contained cabin. The cabins are decked out with a queen size bed, mini fridge, fully stocked kitchenette, outdoor barbeque, indoor shower and a collection of board games.
RELATED: WA's quirkiest accommodation »

Test your aim at an archery park
Featuring a 10-target course, Primal Archery (formerly the Busselton Archery Park) is a great spot to try your hand at archery. Suited to both beginners and experienced archers, the park's friendly team will supply you with all the equipment you'll need to complete the varying course targets. And if you're feeling competitive after the course, the park also has a nine-hole mini-golf course shaded by a tree canopy.
The park isn't currently accepting bookings, so try to arrive early to guarantee yourself a bow. It's open Wednesday through Monday from 9am to 4:30pm.
At a glance
Distance from Perth
223 kilometres, two and a half hours' drive
Why go?
To drive through the last remaining natural tall tuart forest in the world, snorkel or dive in the sub-tropical waters of Geographe Bay, unwind with a stroll along the picturesque foreshore or keep the kids entertained with farm animals, mini-golf courses and plenty of playgrounds.
When to go

Dec - Feb: Summer is a great time to experience the swimming, snorkelling, diving, fishing and other water activities Busselton has to offer. The annual Busselton Festival each January is also a highlight. The month-long celebration features a log chop, fireworks, chalk artwork, treasure hunts and even a sandcastle competition.
Aug - Nov: Wildflower season is in full bloom throughout the South West, including Busselton. Head to the nearby Cape Naturaliste Lighthouse for a view of these blooms (and perhaps a few humpback whales frolicking in the waters below).

How long to stay
Two to three days will give you plenty of time to explore the town's attractions at a leisurely pace. If you're road-tripping deeper into the South West region, Busselton is a good spot for an afternoon stop-off to stretch your legs.
Need to know
There are plenty of shops throughout town for supplies, and there are also several restaurants to choose from if you're eager to try local cuisine. Phone reception is good throughout town. For maps or further information about the town, pop into the Busselton Visitor Centre, right next to the Busselton Jetty on the foreshore.
Fast facts
Town population: 38,000
Indigenous people: Noongar from Wardandi and Bibulman ancestral groups.

Insider tip
Mountain biking enthusiasts should venture to Secret Whicher, a network of trails that suit beginner to intermediate riders situated at the edge of Whicher National Park. The 24-kilometres of trails wind through scenic bushland, grass trees and other hidden features.
Related road trips
Getting around
To get around Busselton and its surrounding areas, driving is the most efficient means of transport. There are a few bus routes in the town centre if you need to take public transport, and once you're in the town centre, there are a few attractions that are within walking distance – particularly along the foreshore. If you'd rather explore on two wheels, bike hire is available at Busselton Bike Hire, the Bike Shed or the Aqua Resort on Bussell Highway.
What to pack
Summers in Busselton are hot and dry, whereas winters can be quite mild and wet. If you're visiting in winter, make sure you pack plenty of layers, closed-toed shoes and an umbrella. Suitable summer attire for Busselton can include light clothing, a hat, sunscreen, and your bathers if you're hoping to cool off in the calm waters of Geographe Bay.
Travelling safely
The drive down to Busselton on State Route 2 is relatively simple to complete. All roads are sealed, and you'll pass towns such as Mandurah and Bunbury if you need a rest stop. Read more long distance driving tips before setting off.
Need a place to stay?
RAC members save up to 20%* on accommodation at RAC Busselton Holiday Park.
Last updated January 2021