Travel & Touring | WA Road Trips
By: Chris Morton
Stretching over 1,800km from Halls Creek to Wiluna, the mighty Canning Stock Route is a must-do trip for experienced four-wheel drivers.
Completed in 1910, the Canning Stock Route (CSR) was commissioned by the WA Government to break the monopoly of West Kimberley cattle barons by providing an alternate way of getting beef cattle to the south. It was first surveyed by Alfred Canning who was later tasked with the construction of the 48 wells required to make the CSR viable.
Controversy surrounded Canning, with a Royal Commission investigating his treatment of Aboriginal labour and the impact the wells had on local communities' access to fresh water. At a cost of approximately $2.6 million, the 1850km journey proved extremely unpopular with it only being used 28 times to move cattle south between 1911 and 1959.
Due to its remoteness and varied terrain, today the CSR is seen as one of the most challenging four-wheel drive journeys, not only in Australia but around the world. Tackling this arduous trip should not be taken lightly.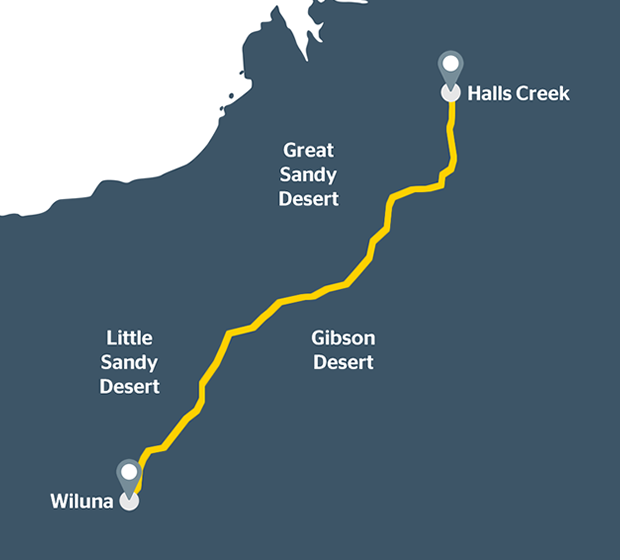 | | |
| --- | --- |
| Distance and days | 1850km through extremely remote terrain. Allow a minimum of 14 days to complete. Please note, the faster you travel the more damage you will do to your vehicle, resulting in potentially extremely costly repairs or recovery. |
| Best time to go | The cooler months between May and September. |
What you'll need to know
Travel permits are required to travel along the CSR. It is highly recommended that you travel in convoy and carry adequate fuel, food and water, spare parts, tools and recovery equipment.
There are limited opportunities to replenish fuel and supplies along the CSR. Adequate first aid and communications equipment should also be carried as there is no mobile phone reception.
Slow down and keep your tyre pressures below 20psi. Don't be tempted to drive fast seeking to skim across the top of the corrugations; it's dangerous and serious vehicle damage could result.
RELATED: Planning for the Canning Stock Route »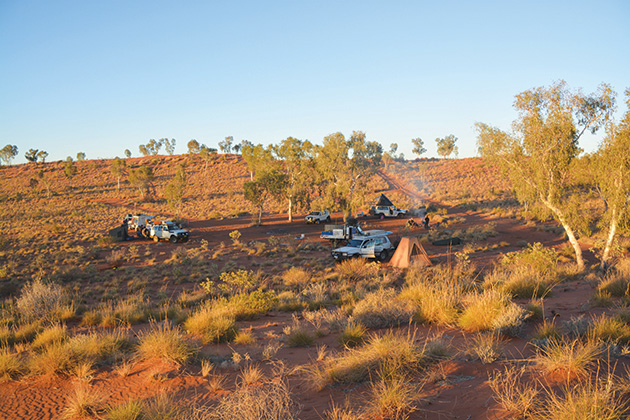 RELATED: Driving the Holland Track »
RELATED: Driving the Gibb River Road »
Canning Stock Route itinerary
Starting in Halls Creek, you will slowly make your way south to Wiluna, passing through the 51 wells. This guide is by no means complete and should only be used to garner your interest in travelling the CSR. Travel times vary day by day and are dependent upon the condition of the track, traffic, weather and localised events such as fires. Most importantly, the condition of the occupants and their vehicles is the most important factor.
Wolfe Creek Crater
The result of a meteorite impact approximately 120,000 years ago that was estimated to have weighed about 14,000 tonnes, the Wolfe Creek Crater was first discovered by Europeans in 1947. It makes an interesting 46km detour prior to commencing.
RELATED: 10 of WA's most fascinating craters »

Approximately 40km south of the Wolf Creek Crater turn-off is Billiluna. This is your last chance to gather supplies, with the community also offering limited workshop facilities and a medical clinic. Billiluna is alcohol free.
Billiluna to Stretch Lagoon - 15km
This is a heavily corrugated, unmaintained track to a large tree-lined waterhole that attracts a variety of bird life. Camping areas are on the western side with a long drop toilet.
Stretch Lagoon to Bloodwood Well - 11.5km
Expect open spinifex plains, plenty of corrugations and an average speed of approximately 20km/h. Around 3km west of Bloodwood Well is an extensive grove of Desert Oaks. A non-operational windmill is all that remains..
Bloodwood Well to Well 51 - 86.5km
The first of the Canning's wells, the terrain will change to a mixture of open plains, low dunes, spear tree groves and white gum flats. Expect to see camels and wild horses. A non-functioning windmill remains and the well has collapsed and only a low depression can be seen.
Well 51 to Well 50 - 22km
The well (now collapsed) is situated on the edge of a eucalypt covered claypan which would be a good campsite.
Well 50 to Well 49 - 28km
This part of the track was refurbished by Track Care WA in 2019. It provides good water, offers excellent camping and has twin toilets. A ranger station is located here but its private property so please don't interfere with it. Near Mt Ernest is a trackside hill, which you can drive up. It gives excellent views of the picturesque Breaden Hills. Located between Well 50 and Well 49, Gulvida Soak has a scenic 2.5km walk up a rock-walled creek line.
Well 49 to Well 48 - 24km
Remains of the well include a depression and well buckets. Breaden Pool, with its sandstone walls and hanging fig trees, is a pleasant walk and worth seeing. A 20min walk northwards across the plateau, following small rock cairns, will bring you to Godfreys Tank – a plunge pool below a waterfall. A close inspection of the rock walls will reveal the who's who of the CSR including: H S Trotman, drover Ben Taylor, and a plethora of government surveyors, WWII well restorers and other travellers.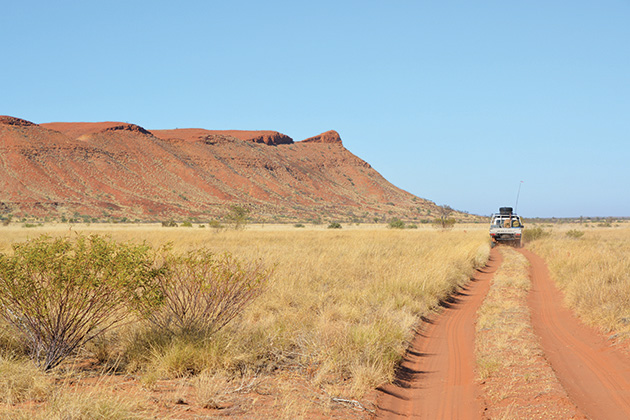 Well 48 to Well 47 - 67km
This well has collapsed, with only lengths of troughing and buckets visible. The easiest track in is via the 29km Dave Morton line.
Well 47 to Well 46 - 29km
Refurbished in 2019 this well provides good water and excellent camping among the white gums.
Well 46 to Well 45 - 24km
The track between these two wells has corrugations on the flats and many dunes to cross. Continuing southward, on the east side of Gravity Lakes is a red sandstone bluff with small caves and Aboriginal art.
Well 45 to Well 44 - 40km
Little remains this well, with only troughing, windlass supports and well lids remaining. There are many dune crossings with heavy corrugations.
Well 44 to Well 43 - 46km
This part of the track contains corrugated dune corridors with some dune crossings.
Well 43 to Well 42 - 22km
The grave of Aboriginal drover Jimmi, who died in 1954 is located here. Excellent camping near the turn-off to Helena Spring.
Well 42 to Well 41 - 55km
The track between Wells 42 and 41 has some of the highest dunes on the CSR. Make driving easier by letting your tyres down. Refurbished by Track Care, this well has excellent water and a toilet nearby.
Well 41 to Well 40 - 27km
This section has the highest sand dunes on the CSR and some have many 'heads' so be prepared. Not much remains of this well, which is located 2.4km eastward of the CSR track. There are two head stones some 250 metres northeast of Well 40.
Well 40 to Well 39 - 21km
The track between these two wells is mostly across Tobin Lake, which has a very firm surface unless there has been heavy rain. The riskiest area for bogging is in the northern end.
Well 39 to Well 38 - 38km
Prepare for corrugations and dune crossings. Originally a rockhole, it was enlarged by Alfred Canning but nowadays it's silted up. There is good camping among the eucalypts 4km north of the well. Nearby are many Aboriginal rubbing grooves on a rockface also 11km south of Well 38 is a small cave with some Aboriginal art.
Well 38 to Well 37 - 28km
Also known as 'The Haunted Well' due to multiple historic graves nearby, it is set in a dusty claypan and is usually dry. The next spot to fill up with water is Well 34, 77km away.
Well 34 to Well 33 - 24km
Here there's a windmill, good camping and a TCWA toilet available. The Kunawarritji Community has a store selling food and fuel, with showers and laundry facilities.
Well 33 to Well 32 - 23km
Corrugations along this section are appalling. Reduce speed and have tyre pressures lower than 20psi.
Well 32 to Well 31 - 32km
Located around 8km south of Well 32 is an excellent campsite set among gum trees.
Well 31 to Well 30 - 31km
The track here becomes rockier with speeds best reduced to 10-12km/h. The well is situated on a Desert Bloodwood flat.
Well 30 to Well 29 - 43km
Sandridges recommence here, with some being soft and high. Mujingerra Cave is 4km south-east of Well 30. The tunnel from the cave entrance has collapsed, take care and keep away from the edge. Thring Rock comes into view as you approach Well 29. It is possible to climb to the top of this spectacular rock.
Well 29 to Well 28 - 31km
The track tends westward here, with firm dunes and gravel patches. There's a good campsite 15km south of Well 29. The well can be found in a grove of trees.
Well 28 to Well 27 - 31km
Keep an eye out for Turtle Rock, 21km south of Well 28. There are numerous rocky outcrops in this area providing excellent photo opportunities. Well 27 is set in a grove of melaleuca trees with coarse sand in open areas, making tenting difficult.
Well 27 to Well 26 - 29km
Slate Range, south of Well 27, is a series of bluffs and mesas having many ridges and valleys to explore and climb. Well 26 is a refurbished with good water, has excellent camping areas and a Track Care toilet.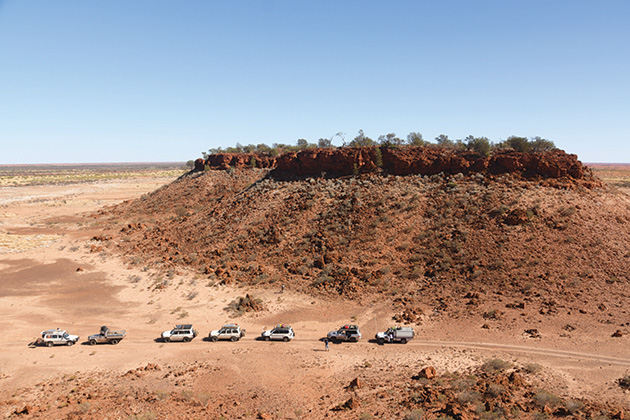 Well 26 to Well 25 - 20km
You'll encounter some very tall dunes in this section, many with heavily damaged approaches. Around 2km north of Well 25 are two large claypans with excellent camping. The well is located in an area of white gums and offers good camping all round with lots of room.
Well 25 to Well 24 - 22km
The country here becomes flatter and is mainly spinifex. There are some easily crossed sandhills and good camping areas amongst the trees. Len Beadell's Talawana Track, built in 1963, forms part of the CSR 3km north of Well 24 and leaves it at Georgia Bore.
Well 24 to Well 23 - 18km
Not much remains of Well 23. Fuel is no longer available from the fuel dump north of this well. Fuel and stores can be purchased 208km west at Parnngurr.
Well 23 to Well 22 - 32km
Georgia Bore can be found between Well 23 and 22. Although not a CSR well, it offers good water via a hand pump and has excellent camping and a toilet.
Well 22 to Well 21 - 40km (by southern track)
There are two tracks between these wells, but the shorter southern track is preferred over the northern track which is 69km.
Well 21 to Well 20 - 41km
South of Well 21, you approach Lake Disappointment. Beware when travelling across salt and claypan areas when wet as bogging is common.
Well 20 to Well 19 - 53km
This is a worthwhile 20km return trip through a superb desert oak forest. Halfway to the well is a patch of enormous termite mounds. The track then skirts Lake Disappointment to the Savory Creek crossing. On most occasions the water is less than wheel height making the crossing relatively easy. It's your responsibility to ensure it's safe to cross. Walk across to determine how solid the bottom is and where you should place your wheels.
Well 19 to Well 18 - 32km
Around 4km south of Well 19 you'll cross the Tropic of Capricorn. Well 18 has been refurbished by Track Care, has good water and offers excellent camping.
Well 18 to Well 17 - 77km
There is no access to Well 17 as this is an Aboriginal cultural site of high significance and locked off by a gate. Approximately 40km south of Well 18 is Durba Spring. The track here becomes rocky with numerous creek lines.
Durba Gorge is an oasis with towering red sandstone walls, tall eucalypts and a large waterhole which is rarely dry. It has fabulous camping and offers relief from ongoing dune crossings and corrugations. Many stay two nights; resting up, doing chores and repairs.
For Aboriginal art, springs and fabulous views, leave the gorge and follow the walls of the plateau southward.
Optional side trip - 40km
A return trip of some 40km to the Diebil Hills from the CSR track is worthwhile. There are a number of steep-sided gorges to explore and the views from the top to Lake Disappointment and Durba Hills are superb.
A climb up the Durba plateau to Canning's Cairn rewards with excellent views westward to the Diebil Hills. A walk up the Biella Spring creek line is a must. It has many pools and the northern walls have Aboriginal art.
Well 16 to Well 15 - 38km
Twenty kilometres south of Well 16 is Murray Rankin's trolley, abandoned by him in 1972 during his first attempt to walk the CSR. Well 15 has been refurbished by Track Care, who have also installed a toilet. Your next stop is Well 11, 101km away.
Well 11 to Well 10 - 15km
This well is 21m deep and holds water. It was known as the Lucky Well because it signified the end of sand dunes and the start of pastoral country.
Well 10 to Well 9 - 22km
This section has numerous creek crossings, some deep with sharp drop-offs. Well 9 has been refurbished by Glen-Ayle Station for pastoral use. It's best to keep away from the well; the area is still in use for cattle. It is possible to leave the CSR at Well 9 and head to Wiluna via Glen-Ayle Station. Access fees are payable.
Well 9 to Well 8 - 26km
The track here takes you through hilly country with stony rises, then mulga and spinifex flats. Although very deep, the well is dry.
Well 8 to Well 7 - 13km
The CSR is now in station country. Watch out for cattle on the track. Well 7 is located in a grove of Mulga. Stay away from the edge; there is a danger of collapse.
Well 7 to Well 6 - 23km
Around 6km before the well are the Ingebong Hills. A climb to the top gives excellent views and a careful look around will reveal Aboriginal petroglyphs, mainly boomerang shapes which are heavily weathered. Ochre art can be found on the rock walls near the parking area. Well 6 is located in a grove of gum trees. It is refurbished, offers camping and a Track Care toilet.
Well 6 to Well 5 - 19km
This section is easy travelling, with low dunes and a few creek crossings. Well 5 is also refurbished and has good camping among mulga trees. It is possible to leave the CSR here and head to Wiluna via Granite Peak Station. Access fees are payable.
Well 5 to Well 4b - 18km
Take extra care on this section as there are rocky sections with washouts and side tracks, as well as bog holes and corrugations.
Well 4b to Windich Springs - 10km
Windich Springs offers excellent camping and has a Track Care toilet. A walk around the waterhole, among the gum trees is a must.
Windich Springs to Well 4a - 7km
Wells 4b, 4a and 3a aren't original Canning wells; these wells were built by William Snell in 1929. Both Wells 4b and 4a are usually dry, and recently Well 3a was blocked off by corrugated iron sheets and posts. Next, travel to Well 2 to reach the Wiluna North Road, 134km away.
Well 2 to Well 1a (North Pool) - 39km
The Wiluna North Road is frequently used by vehicles and in excellent condition. Now is a good time to inflate tyres to road pressures and remove sand flags. North Pool is a very large pool with excellent, almost permanent water.
Well 1a (North Pool) to Well 1 - 20km
A windmill and two steel tanks can be found at this well. This is the southern-most well of the Canning Stock Route.
Well 1 to Wiluna - 8km
A trip along the CSR is not just an adventure through the WA outback, it is a humbling journey through our past. Successfully enduring the CSR is seen by many as a rite of passage for those serious about really challenging themselves. Just do so with care so you have nothing but great stories to tell when you return.
Eager to explore more of WA?
It pays to be prepared. RAC members save 50% on digital national park passes.
Last updated: April 2021