Travel & Touring | WA Destinations
By: Danielle Costley
Walk amongst 30,000 year old limestone structures, go on a stargazing tour and visit one of the few 'living fossil' sites in the state.
And when it's time for dinner, devour some fresh seafood in this iconic cray-fishing community.
It's time to head north to Cervantes.
At a glance
Distance from Perth
198 kilometres, approximately two hours' drive
Why go?
Nambung National Park – home to the unique stone formations known as the Pinnacles, as well as fresh crayfish, stunning wildflowers, and a range of land and water-based activities.
When to go

Oct - Apr: High temperatures and a low rainfall make it ideal for a coastal getaway for fishing or swimming. It's also when you can catch the Cervantes Art Festival, Indian Ocean Festival and the blessing of the crayfishing fleet event, with live music, events and fireworks. are held during this time.
May - Jun: Cool with an average rainfall. Great time to go hiking or cycling in the national park.  
Jul - Sep: Warm temperatures, low rainfall and an abundance of spectacular wildflowers. 

How long to stay
Two to three days.
Need to know
There is a fuel station, supermarket and restaurants. Mobile phone coverage is generally good. The nearby township of Jurien Bay is only a 20-minute drive north and has more facilities.
Fast facts
Town population: 500 
Indigenous people: Yued (Noongar language or dialectal group) .

Insider tip
Cervantes is stargazing central and has officially been named an Astrotourism Town. There are specially selected Observing Sites where you can take in the night sky.
Related road trips
Top things to see and do
The Pinnacles
No trip to Cervantes is complete without a trip to the world-famous Pinnacles in Nambung National Park. The Desert View Trail is relatively easy walking track, running a 1.5-kilometre return loop through these unique sandstone structures departing from the Pinnacles Discovery Centre car park.
If you'd prefer to do it on two wheels, the cycle trail is reasonably hard and compact. To get there, cycle south for two-kilometres from Cervantes to the Nambung National Park boundary, then continue a further 14-kilometres to the Pinnacles car park.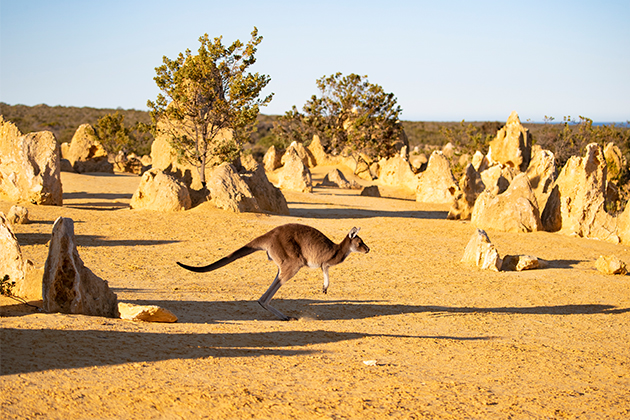 Snorkelling, surfing and fishing
The white, sandy beaches and turquoise waters are teeming with marine life. It is a popular spot for all water activities - not to mention a great place to sample local fresh seafood, especially crayfish.
RELATED: 10 of WA's best beach fishing spots »

Lake Thetis
Thetis, situated between Cervantes and Jurien Bay, is one of only five sites in Western Australia that features thrombolites which are closely related to the Shark Bay Stromatolites - the oldest 'living' fossil in the world at 3.5 billion years old. The thrombolites found here are believed to be over 3,000 years old. Take the 1.5-kilometre walking loop with a boardwalk to view these ancient micro-organisms.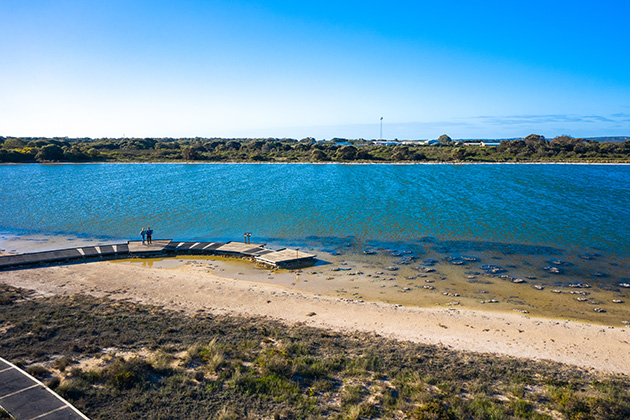 Nambung National Park
This park covers 17,000 hectares and is home to a range of stunning native plants and animals. From winter through to the end of spring, this parkland is alive with a spectacular display of wildflowers. Discover species such as wattles, quandong, yellow tail flower, thick-leaved fan flower, white clematis, cockies tongues, parrotbush and banksia species. You will also spot its unique wildlife such as western grey kangaroos, cockatoos, emus, bobtail skinks and the occasional bird of prey.
Kangaroo Point and Hangover Bay
These lookouts are located a short distance from the Pinnacles and are well worth a visit to enjoy the scenery and views. Both have barbeques, toilets and shelters. Kangaroo Point is also a great place to launch the boat or enjoy a secluded BBQ or picnic, while Hangover Bay is more suited to snorkelling, surfing and windsurfing. If you want to travel a bit further for more impressive nature, the area north of Kangaroo Point is a marine park sanctuary zone.
Lesueur National Park
One of the state's most significant reserves for flora conservation is only a short drive north-east of Jurien Bay. Several species cannot be found anywhere else in the world and have been included on an endangered list. This special place is also home to over 100 species of birds that rely on the flora for their survival.
Cervantes Art Trail
Collect an art trail map from the visitor centre on Cadiz Street, and take yourself on a self-guided tour of 23 pieces of art throughout the township. Discover Cervantes' colourful Spanish history and its relationship with the ocean, particularly its crayfish industry.
Stockyard Gully Caves
Just one hour north of Cervantes is the Stockyard Gully National Park, home to the Stockyard Gully Caves. This intricate cave system features an impressive river system, sandy floors and a variety of smaller caves that are a little trickier to manoeuvre through. You'll need a four-wheel drive to reach the cave carpark.
RELATED: 10 of the best caves in WA »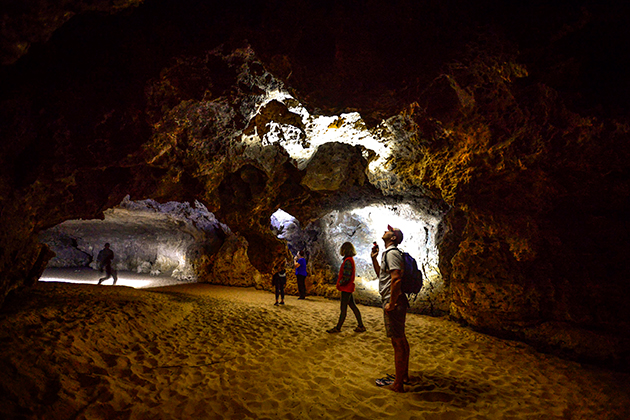 Hansen Bay and Molah Hill Lookouts
Hansen Bay offers a picturesque view of the ocean, Lake Thetis and the Cervantes town site; while Molah Hill, located halfway between Cervantes and Jurien Bay, offers panoramic views of the Indian Ocean and Mount Lesueur.
Beekeepers Nature Reserve
Located approximately 18-kilometres north of Jurien Bay, this reserve offers sweeping coastline views.
The Lobster Shack
Situated right on the ocean, this local eatery specialises in the freshest seafood lunches, and also offers seal tours where you can watch sea lions swimming in the clear blue waters. There are also fishing charters, where you can pull a crayfish pot or catch your own lunch.
Getting around
Cervantes is quiet and slow-paced, so the best way to get around the township area is on foot. If you're planning on venturing further out to explore, cycling is very manageable on the excellent cycle paths of the Turquoise Coast Trail. However if you'd prefer to travel in comfort, driving is commonplace. 
What to pack
Cervantes is quite similar to Perth's weather conditions, but it can be very windy. It is advisable to pack a jacket and a bush hat for the windy conditions and the number of flies that are prevalent during the summer months.
Travelling safely
The roads are well-maintained and sealed, making it a pleasant journey from Perth, with stops available to refuel or stretch your legs at a couple of roadhouses. It is common to see kangaroos and other native wildlife on your travels in this region, so slow down – especially when driving at dusk and dawn. Read more long distance driving tips.
Need a place to stay?
Members save up to 20%* on accommodation at RAC Cervantes Holiday Park.
*Terms and conditions apply. RAC member rate varies according to season. See full website for details.
Last updated July 2020