19 January, 2020 By: Fleur Bainger
Exotic islands near WA have been getting a whole lot of attention. Here's why the Cocos Keeling Islands and Christmas Island should be on your getaway list.
Look at any image of the Cocos Keeling Islands and your gaze will be met by blindingly white, gloriously empty beaches and crystalline water, edged by lush tropical palms. Nearby Christmas Island may be marred by its detention centre association, but it too bears beauty aplenty, be it masses of migrating red crabs, whale sharks coasting through the glass-clear ocean or coral reefs swarming with colourful fish.
For West Aussies hankering after an exotic tropical island fix, both islands really are like "going overseas without going overseas," says Christmas Island marketing manager, Jahna Luke, who points out the region's rich cultural mix.
"Christmas Island's community is predominantly of Chinese and Malay decent, whilst Cocos is home to a Cocos Malay community, the descendants of the original copra (coconut) plantation workers. Our foods, celebrations and festivals are bright and colourful and a fabulous experience for visitors."
Happily, both duty-free destinations are external Australian territories. Normally the stuff of someday dreams, in 2020 demand had been so high that at the time of writing, accommodation on the Cocos was booked out until April 2021, while on Christmas Island, hire cars are as rare as hens' teeth until the same time.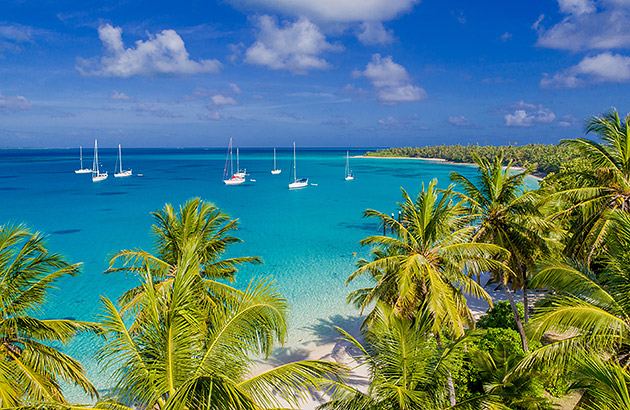 Closer to Indonesia than Australia, the Cocos Keeling Islands lie 2750km northwest of Perth (a 4.5hr flight), while Christmas Island is 2600km away (almost a 4hr flight). The two are about 900km, or a 1.5hr flight apart.
Closer to Indonesia than Australia, the Cocos Keeling Islands lie 2750km northwest of Perth (a 4.5hr flight), while Christmas Island is 2600km away (almost a 4hr flight). The two are about 900km, or a 1.5hr flight apart.
RELATED: WA's best island experiences »

The Cocos Keeling Islands
History and culture
This archipelago of 27 uninhabited islands was discovered by an East India sea merchant in 1609, but it wasn't until 1825 that Scottish seaman, Captain John Clunies-Ross fell in love with the sandy cays on a stopover. He returned a couple of years later with his family to rule the islands as a private fiefdom. In 1955, the islands were transferred to the Commonwealth of Australia and in 1984 were fully integrated into Australia.
These days, two of the Cocos' islands are inhabited, West Island, a settlement of 150 mainly Australian expats, and Home Island with around 450 Cocos Malay residents, where both Cocos Malay – an old trading language of the East Indies – and English are spoken. A short ferry ride across a lagoon links the two.
The Home Island community has evolved in geographical isolation for more than 150 years, resulting in strong family bonds and a defined culture. Traditions are on show at the Home Island Museum, along with the story of the Clunies-Ross family.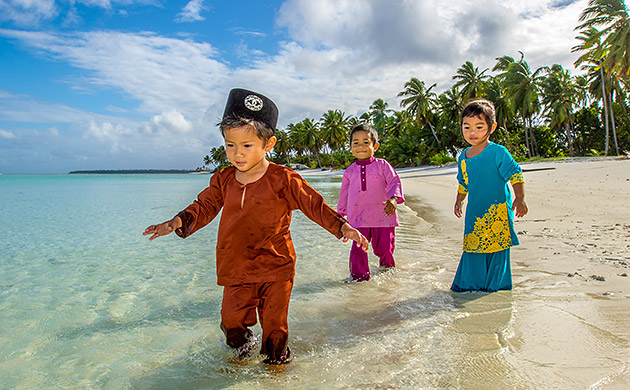 Natural wonders
The Cocos, and Christmas Island are on top of an undersea range of volcanic mountains so the terrain – above and below the water – is incredible.
Direction Island is described as being like the Maldives before tourism and one of its sandy stretches, Cossies Beach, was voted Australia's best beach by Tourism Australia in 2016.
Another island, North (Pulu) Keeling, is home to one of Australia's most remote national parks. Keep an eye out for the quizzical red-footed boobies – fearless birds that do a comical mating dance.
There are more than 1500 species of sea creatures, including sharks, manta rays, dolphins and turtles. With water temperatures ranging from 26 to 29°C, you'll be in the water as much as out of it.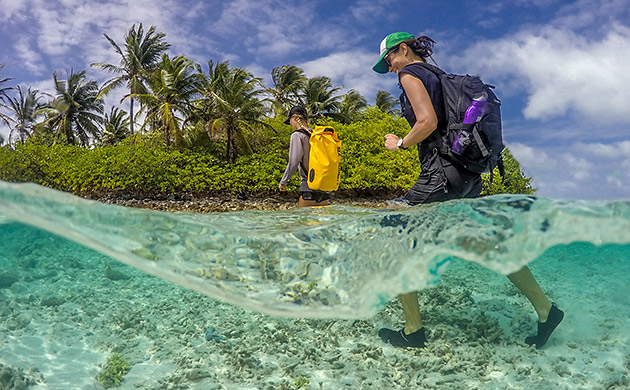 Activities
The warm, waist-deep waters of Cocos lagoon see it regarded as one of the best places in the world for kitesurfing and windsurfing. There are lessons and tours available.
Divers and snorkelers are similarly spoilt: endless coral reefs, shipwreck dive sites and masses of marine life mean the view through your mask utterly pops (and not least because average visibility is 25m). BYO snorkel gear or hire it from the visitor centre.
Away from the lagoon, surfers will find the best breaks on the ocean-side of West Island. The Shack pumps hard while The Spot is best for learners and kids. You can also join a motorised canoe safari trip or hire a stand-up paddleboard or kayak.
Fishing is out of this world – think wahoo, mahi-mahi and tuna in the outer reaches, or sweetlip, cod and mullet closer in. You can throw in a line off the jetty (the visitor centre sells fishing tackle) or on an instructed tour.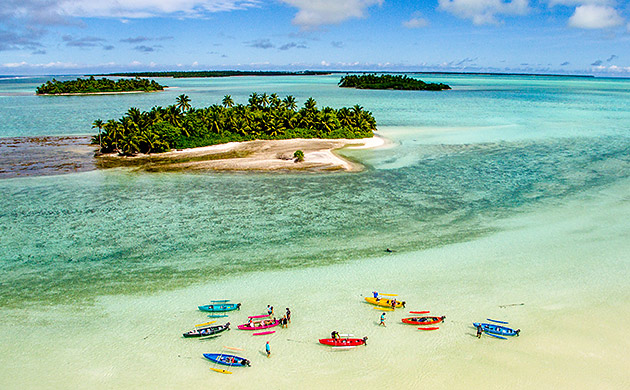 Dining
Choose between Western fare or Malay cuisine at the restaurants and cafes on West and Home islands. The community pub, the Cocos Club, doubles as West Island's cyclone shelter and is popular with the locals for its parmis and cheap beers.
Accommodation options
Almost all accommodation is on West Island, although you can stay at the original Clunies-Ross residence on Home Island, Oceania House.
Air conditioning, self-contained facilities and water views are widespread, whether you go for a fancy holiday house, a comfy cottage or a budget motel. There are also lush campgrounds; you need a permit to camp for more than seven days. Ask if your accommodation offers airport pickup, hire cars or bicycles – some do.
Seasons and best time to visit
From around November to April, the winds drop, making for excellent diving and beach combing. From May to October, trade winds blow, turning the Cocos into a mecca for kitesurfers, surfers and windsurfers. Given the climate is warm and tropical yearround, with 25-30°C the norm, pretty much anytime is a good time.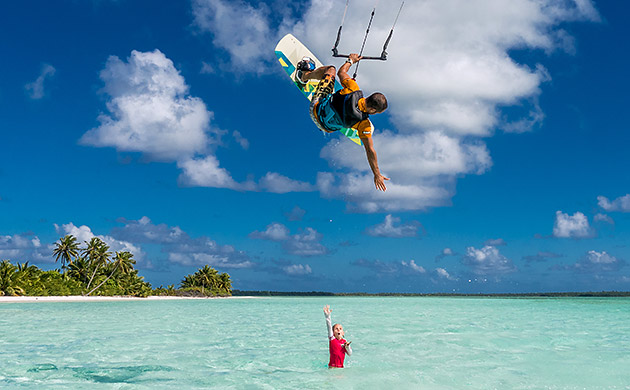 Getting around
You can hire a car, four-wheel drive or scooter. Island hop via the local ferry, join a tour or even walk across the reef to some tiny islands at low tide.
Things to be aware of
Internet speed is slower than on the Australian mainland. Sim cards can be hired from the Community and Resource Centre, otherwise there are public phones on West and Home islands.
The islands use Australian dollars and are duty free. Credit cards are widely accepted. Medical clinics provide basic health services only.
Christmas Island
History and culture
On December 25, 1643, Captain William Mynors of the East Indian Company spotted and named Christmas Island. More than two centuries later, phosphate was discovered, leading to mining and exporting of the resource. Over the years, a workforce of Malay, Chinese, Cocos and Sikh people came to the island, creating a multicultural mix. In 1958, sovereignty was transferred from the UK to Australia.
Discover the island's history at Tai Jin House, the former District Officer's Residence and the Chinese Museum, while keeping an eye out for temples; Buddhist, Christian, Taoist and Muslim cultures continue to exist today.
Natural wonders
The annual crab migration is like nowhere else in the world. Usually each October, about 60 million red crabs scuttle from the tropical forests to the rocky coast to spawn. The event marks the beginning of the wet season, and while the swarms often dissipate by December, crabs can be seen year-round – including enormous robber crabs, the world's largest kleptomaniac land crab, which can span 1m wide and live for a century.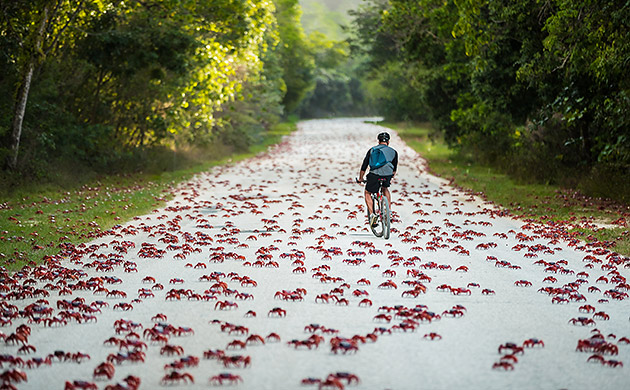 Almost two-thirds of Christmas Island is national park. See incredible birdlife including the fearless boobies – there's the red-footed, brown and extremely rare Abbott's booby – as well as frigatebirds and golden bosuns.
Below the waterline, there are more than 575 species of tropical fish, and whale sharks visit regularly between November and May.
Activities
At least 60 dive sites pepper the transparent waters, with some of the longest drop-offs in the world among them. Head only 20m offshore over coral then watch the underwater world fall away, with walls that descend up to 5000m deep. There are tours for diving, snorkelling, and swimming with whale sharks.
In the rainforest, find four-wheel drive tracks and walking trails to remote beaches and clifftops. Dolly Beach is a favourite, loved for its natural spa fed by rolling surf. It's reached via a boardwalk through palm trees and pandanus. The Grotto sea cave also captivates with its ceiling of stalactites and swimmable, turquoise pool.
The Blowholes spurt through hundreds of holes eroded through black volcanic rock pinnacles. Follow the 1km-long Territory Day Park nature trail and reach the stunning lookout over Flying Fish Cove.
By night, the local outdoor cinema screens movies every Saturday and every second Wednesday, tickets are just $5. And for golf fans there's an 18- hole fairway.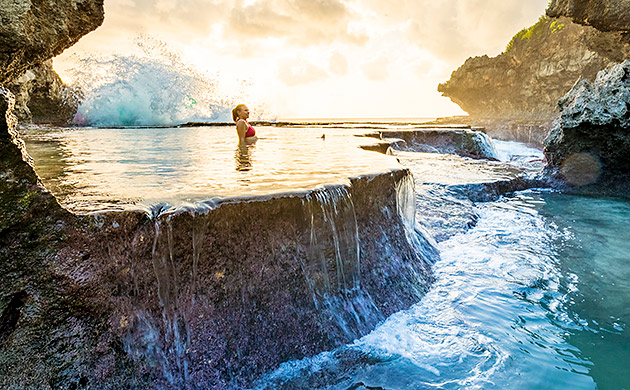 Dining
Dining options range from casual pubs to grill houses, cafes and restaurants, doing spicy Asian and western menus. Expect meal prices to reflect the cost of importation.
Accommodation options
Swell Lodge is one of those lusted after accommodations that front magazine covers. Remote, exclusive and intimate, it's made up of only two glass-fronted eco-chalets that are shrouded in rainforest and overlook the ocean from a cliff perch. Staying here is all-inclusive of chef-prepared meals, guided tours and activities. There's a variety of other options, from self-contained apartments to lodges, bungalows and villas.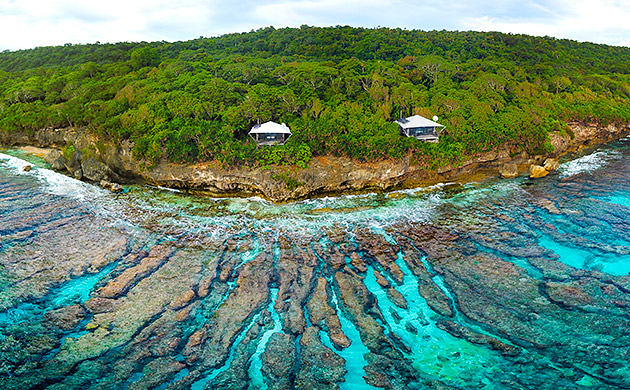 Seasons and best time to visit
The mercury hovers at 27°C year-round. December to April is wet season.
Getting around
Hire a vehicle – a four-wheel drive is recommended – or join a tour.
Things to be aware of
Drive slowly - there are fines for running over crabs. Medical facilities are basic so take out good travel insurance. If visiting the Kampong area, dress respectfully. Shoes should be removed before entering any house, temple or mosque on Christmas Island. The Australian dollar is the local currency.
COVID-19 travel rules
At the time of writing, all travellers to the Indian Ocean Territories (IOTs) of Christmas Island and the Cocos Keeling Islands are required to submit an IOT Traveller Request Form. An application to re-enter WA must also be made with a Good to Go pass.
Visit Christmas Island and Cocos Keeling Islands
To find out more about travelling to the Cocos Keeling Islands or Christmas Island, contact RAC Travel on 1300 655 179.