Travel & Touring | WA Destinations
By: Ryan Suckling
Where to go for excellent swimming, kayaking and game fishing along with the region's most iconic underwater experiences.
Coral Bay is quieter than neighbouring Exmouth, yet home to the same natural wonders. Here you can experience swims with whale sharks and graceful manta rays, see turtle hatchlings and explore the incredible coral wonders of Ningaloo Reef.
Top things to see and do
Explore Ningaloo Reef
Coral Bay faces the southern portion of the Earth's largest fringing reef, the World Heritage-listed Ningaloo Reef. Its waters are brimming with around 500 species of fish that live among 300 species of coral. Snorkelling, diving and kayaking are year-round pursuits in these parts.
In the autumn, winter and spring school holidays, the Department of Parks and Wildlife run free activities for visitors, focusing on the marine and land animals in the region.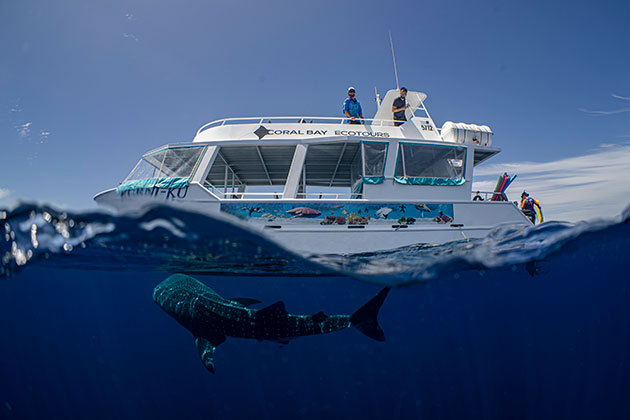 Swim with whale sharks
Despite the name, whale sharks are not whales but the biggest fish in the ocean and each year, these gentle giants descend on Ningaloo for the reef's annual coral spawning. They stay from about March to June and sometimes longer, feeding on the reef's abundant krill and plankton and giving visitors the chance to swim alongside them.
Although whale sharks can grow up to 12 metres in length, those travelling along our coast are usually around 5.5 to 10 metres.
While most charter boats depart from Exmouth, a number are also based at Coral Bay. Coral Bay Eco Tours and Ningaloo Reef Dive & Snorkel are both based in Coral Bay and offer whole day whale shark tours. Typically lasting between 8 to 10 hours, these tours use a spotter plane to catch sight of the slow-moving giants while you spend the start of the day snorkelling. Once a whale shark is spotted and within reach, guests are split into groups and have a maximum of one hour to swim with them to avoid too much disturbance. You'll also have the chance to reef snorkel on the way back.
If you want to professionally capture the experience, photos and video footage can be purchased for an additional cost.
All snorkel gear and fins are provided on these day-long excursions, and you're likely to also see manta rays, colourful fish and coral as part of the trip.
Plus, if you're an RAC member, you'll save 10 per cent on whale shark dives with Ningaloo Reef Dive & Snorkel.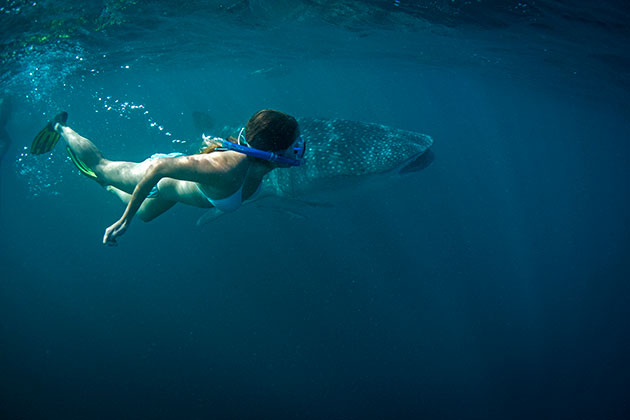 Swim with manta rays
Coral Bay is best known for its accessibility to graceful manta rays that seem to dance in the ocean despite their size: they have a wingspan of up to four metres. Fortunately, they swim just beneath the water's surface, so they're easily seen on snorkelling tours. Unlike stingrays, manta rays pose no threat to humans as they do not have a barbed tail.
You can embark on a full day safari with Coral Bay Eco Tours or Coastal Adventure Tours. On board their shallow draft vessels, the roughly 7-hour trip goes to some of the reef's top snorkelling locations while receiving updates from a spotter plane on manta ray sightings.
Priced between $220 and $250 for adults, the tours include food and drinks for the full-day tour, as well as snorkelling gear and wetsuits.
If you're after something a little shorter to give you more time for other adventures, take a half-day tour with Ningaloo Coral Bay, priced at $155 for adults. They also stop at prime reef spots and have a professional underwater photographer to capture your unique marine encounters.
You'll also get 10 per cent off with Ningaloo Reef Dive & Snorkel if you're an RAC member.
Swim with humpback whales
West Aussies are familiar with whale watching up and down the coast, but at Coral Bay you can book interactive safaris that bring you within the contact zone of majestic humpback whales. You'll catch them from the end of June to mid-October as they make their annual migration.
Both Coral Eco Tours and Ningaloo Reef Dive & Snorkel take visitors out for tours that last about eight hours. If you're not keen to get into the water with them, you can also sit back as an observer and watch the humpbacks breach and slap their fins.
Those keen to swim with the whales should note tour guides cannot guarantee the whales will be as eager to get too close to the tour boats. Using a spotter plane and drone, the guides search for the whales, and once spotted, you'll be dropped off just in front of or at the side of the whales but within the safe viewing zone.
If it turns out that you don't get to have an interactive experience with the humpbacks in the water, you won't have to pay for it. You'll either get a refund on the swimming charge or only pay an observer cost.
If you're interested in whale watching tours across the state, RAC members save 10 per cent on whale watching tours with Whale Watch Western Australia.
RELATED: 10 of WA's best locations for whale watching »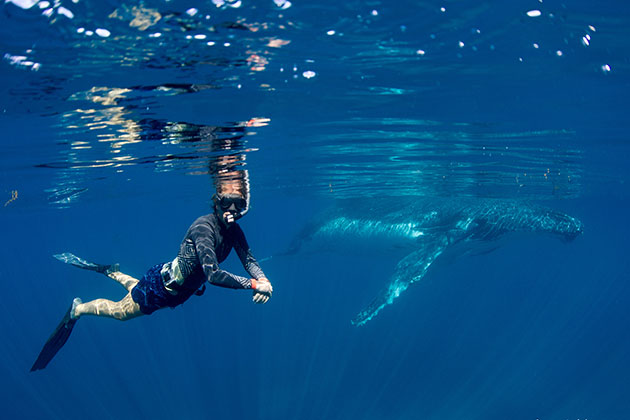 See turtles
You can catch sight of Coral Bay's turtles on land and in the water. Green, loggerhead and hawksbills frequent the region year-round, swimming in the shallows, nesting and then hatching in the sand. During the nesting season, from November to March, Maud's Landing is a top hatching spot, just be sure to educate yourself on the rules for a positive observing experience. The main points are 'No Glow, Move Slow and Stay Low' as well as 'Stop, Drop and Become a Rock' when you're near a turtle.
This means flash photography and torches should not be used near the turtles as it discourages them from coming out of the water and disorientates the hatchlings. You also need to crouch to a low position and move slowly so you don't disturb their precious nesting. The general rule is to keep 15 metres from the turtles until the mother reaches the ocean, but if you encounter one any closer it's best to stop, crouch down and stay as still as a rock.
To see the nests up close, crawl 'commando-style' and avoid making too much noise. Staying behind the turtle, you'll know nesting is underway when she starts digging and exerting her flippers. The process can take up to 40 minutes, so be patient and give her enough space. If you see the hatchling, stay back from the nest and let the little ones find their way down the beach.
Driving on or taking dogs to nesting beaches is also prohibited to prevent trampling on the nests and disturbing the hatchlings.
In the water, you can come as close as two metres and there are dedicated tours available from the bay. Coral Bay Eco Tours run a three-hour turtle tour on board their glass bottom boat. The knowledgeable crew will also tell you about the different species of turtle and their nesting behaviours. Or you can hop aboard the Coral Breeze catamaran operated by Coastal Adventure Tours, who offer a four-hour trip that takes you to turtle snorkelling hotspots.
Alternately, if you're wanting to extend your Coral Coast adventure and head north to Exmouth, book a Turtle Eco-Education Tour with the Jurabi Turtle Centre. From the nesting months of December to March, they run night-time tours searching for hatching turtles guided by expert staff.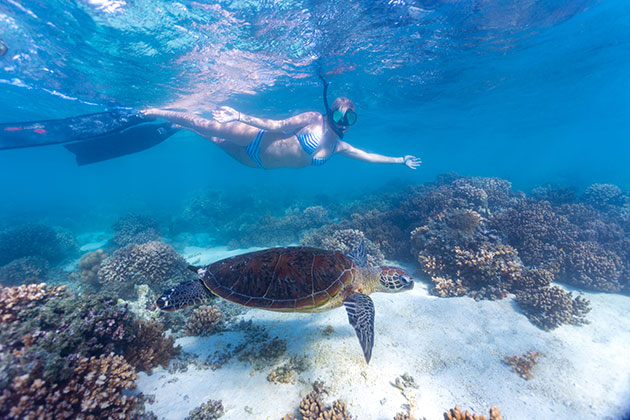 Take a glass bottom boat tour
You can have an immersive marine experience without getting in the water. Ningaloo Coral Bay has a year-round viewing cruise onboard their glass bottom boat, Miss Coral Bay II. Relax and soak up the reef on the spacious vessel with the floor as your viewing platform. Plus, there's the option to extend the tour by another hour to fit in some prime snorkelling spots in the outer reef.
Coral Bay Eco Tours have a glass bottom boat, the Nhanya Ku, meaning 'to gaze upon' from the Yamatji languages of the local Indigenous people. They run snorkelling excursions and turtle tours on the Nhanya Ku as well, if you're after more adventure.
These boats are perfectly suited to Coral Bay's shallow coastal waters, so be sure to grab your camera and look out for the turtles, manta rays and coral fish.
Prices start from around $50 for an hour viewing experience and upwards of $70 to include snorkelling.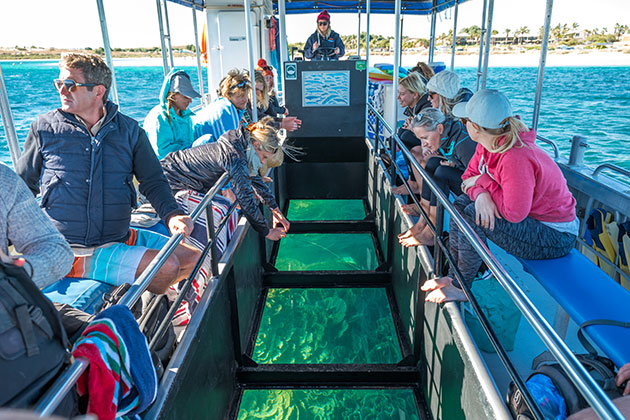 Learn to scuba dive
If you've always wanted to learn to dive, there's no better place to do it than at Ningaloo Reef. The experts at Ningaloo Reef Dive & Snorkel offer a range of multi-day courses that get you PADI certified for your next plunge in the water.
Their most popular training is the three-day open water course that starts in the classroom, where you'll get to understand all the basic skills needed. Then the instructors will put your knowledge to the test in a pool before taking you out on the boat for an epic diving experience. They usually run the dives alongside their manta ray tours so you'll likely get the chance to snorkel with the giant sweepers.
To dive in style and spend a few nights or more on the water, Sail Ningaloo offers live-aboard dive trips on their sailing catamaran, the Shore Thing. It's owned and run by Lannie and Luke Riley who have a wealth of marine knowledge, with Luke having spent years studying marine life in the Seychelles. Their dive-stay packages range from three to five nights, and they have a fulltime PADI dive instructor on board. They also offer an open water course for those new to the scuba game.
Book a kayak tour
At the end of Main Street and taking a prime spot on the beach, Ningaloo Kayak Adventures have plenty of kayaks and water gear for hire. They offer stand-up paddle boards, glass bottom canoes, kayaks, snorkels and fins.
You can also take one of their underwater sea scooters for a spin on a guided tour and go the extra length in search of marine life. Scooter training is given on the day and allows you to explore up to five kilometres of the reef. The two-hour tour is priced at $60.
If you're on board the catamaran Shore Thing with Sail Ningaloo, they have one and two-person kayaks for their guests to use.
There's even a kayak trail for visitors to row out to epic snorkelling spots. Starting at the end of Robinson Street on the main beach, the Coral Bay Kayak Trail is made up of four sites that each have a designated buoy for you to tie up your kayak and have a snorkel. Ranging from 300 metres to two kilometres between each buoy, the first site is near a coral bommie and extends across the boating channel from Bill's Bay. Allow up to four hours to make the return journey.
Ride a jet ski
Enjoy the thrill of surging over the waters of Coral Bay on a jet ski tour. Coral Coast Tours has four jet skis up for grabs with each able to hold up to three people. There are two ride options to choose from.
The first is a standard one-hour hire to explore the reef for $210 per ski. The second runs for two hours and includes a guided snorkel out on the reef for an extra $40 per ski.
Take a 4X4 beach buggy tour
If you don't have a four-wheel drive but still want the beach driving experience, take a tour on a 4x4 beach buggy. The guides at Coral Coast Tours and Coastal Adventure Tours run many excursions along the southern coastline of the bay that last roughly two hours.
They have tours that take you to Turtle Cliffs to overlook the turquoise waters and see the turtles feeding, and another that brings together Coral Bay's top sunset locations on a balmy evening ride.
If you're looking to combine the ride with snorkelling, they'll take you to the famous Five Fingers Reef to explore its rich underwater world.
Where to go four-wheel driving
As well as abundant activities on and in the water, Coral Bay offers world-class four-wheel drive tracks.
To get the full coastal driving experience, make your way to the boat ramp just off Monck Head Drive and head south until you reach Five Finger Reef. Get even more out of your drive by stopping off at the prime snorkelling spots just south of the ramp.
If you're going for an extended road trip, you can't go past the four-wheel drive tracks that line the coast from Coral Bay to Exmouth, where the stunning inclines north of Coral Bay provide spectacular views. Be careful once you reach Yardie Creek, which can't be crossed at certain times of the year. Check into the Coral Bay Information Centre on Robinson Street for more information.
From the northern portion of the bay, you'll arrive at the popular Mauds Landing and Oyster Bridge reef.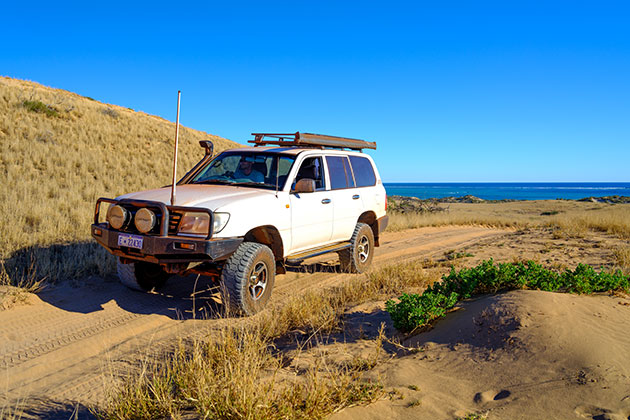 Eating and drinking
Fins Café does a great breakfast in town and is BYO at lunch and dinner. Order their takeaway fish and chips and head to the bay's public picnic tables for sunset. The bakery is good for coffee and is loved for its pies and pasties, traditional vanilla slices and smoothies; it also offers vegetarian and gluten free options.
Find a seafood platter to sate all desires at Reef Café, which also dishes up good pizza. Sip a coldie at Bills Bar and target their steak and parmy nights and live music. There's also a new, genuine Italian gelateria called Sweet Coral Bay.
Get your art fix
Local gallery, The Bubble is filled with paintings inspired by Ningaloo, from turtles to fish and whale sharks. There are also locally made bags, tea towels and souvenirs as well as children's books created by the artist, Sadie James.
Best snorkelling spots
Just off town beach is an enormous coral bommie. Ask at the information centre on how to swim or kayak to it and hover over the three metre living coral – just don't sit or stand on it. There are often glass bottom boats cruising around it and if you can dive down, you'll be rewarded with views of the many, often large, fish sheltering underneath. You can see it from the pub at low tide. There are smaller coral bommies just in front of the kayak hut.
A must-do at Coral Bay is to go on a 'drift snorkel' where you start at one point on the reef and let the current slowly take you along the reef. To start, walk to the five-knot sign that sticks out of the water in the main bay, where you see a headland of orange rocks. Swim out to the dark water about 50 metres offshore, this is where the coral is, and then drift all the way back into the bay as you watch Ningaloo's underwater wonders float gently past you.
Extra tip: look out for piles of shells in the shallows as they are tell-tale signs of where octopuses are lurking. Although they are camouflaged in the coral, they will flush a red wine colour if you get too close. There's occasional fish feeding sessions at the pontoon at the beach at 3:30pm, drawing in spangled emperor fish.
RELATED: 5 of the best snorkelling spots in Exmouth »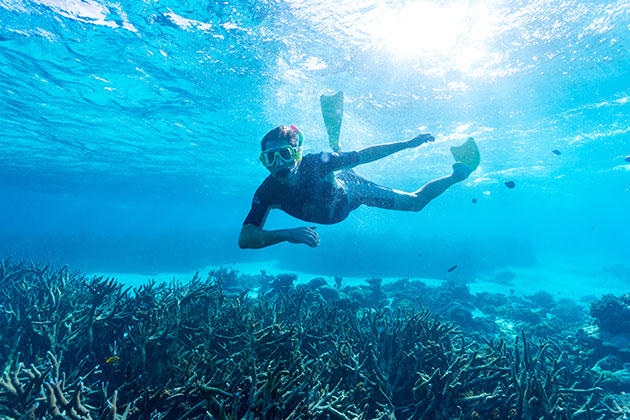 Walk trails and sunset spots
Aside from the main beach, you can four-wheel drive to the jetty car park and watch the boats come in as the sun sets. Or, put on grippy shoes to tackle some of the rocks on the walk to Paradise Beach, where you'll find tide pools often harbouring octopuses and crabs. There's another nice lookout at the end of Coral Bay Road, past the pub, on top of the dunes.
To soak up unparalleled views, take the Coral Bay Walk Way trail which brings you right up to the coastline and winds through the Pioneer and Naturalist Parks. At only two kilometres, you might even get a peek at the turtles nesting on the beaches during the summer months.
Go fishing
The waters here are a fisher's dream with plenty of fish, big and small, to keep you busy, including emperor, cod, Spanish mackerel and bream, as well as tuna, marlin, mahi mahi and sailfish. There are a couple of fishing charters that run from Coral Bay. Mauds Point is good for beach fishing.
Getting there
Coral Bay is a 12-hour drive from Perth. Due to the length of travel, it's a good idea to make a stop on the way up. Geraldton, Northampton and Carnarvon are popular options and have a variety of accommodation available.
If you're planning to spend some time in Kalbarri or Monkey Mia, you'll need to factor in additional time as you won't pass through them on the North West Coastal Highway from Geraldton.
What to pack
You'll live in your bathers and t-shirt most of the time but bring a jumper for winter - the temperature drops at night. You may also need a spray jacket if you're planning time out on a boat.
Travelling safely
Look out for thorny devils on the road, they're often sunning themselves between the Coral Bay turnoff and town.
If you join a whale shark tour, manta ray or humpback whale tour, ensure you're a strong and confident swimmer so you can keep up and feel comfortable in deep water.
If you're planning on doing some four-wheel driving, make sure you've got all the necessary gear to deflate and reinflate your tyres to the recommended pressures and only drive in areas authorised for four-wheel driving.
At a glance
Distance from Perth
1,121km, or about an 12-hour drive from Perth
Why go?
The World Heritage-listed Ningaloo Coast, giant whale sharks, ballerina-like manta rays, turtles, migrating whales, colourful coral and loads more marine life, as well as white sand beaches and watersports like kayaking and fishing.
When to go

Nov - Mar: Hot temperatures and often windy. Turtle nesting is Dec-Feb, hatching Jan-Mar.
Apr - Oct: Beautiful one day, perfect the next. Sunny, warm days abound. Whale sharks visit Mar-Jul; humpback whales migrate from Jul-Oct.


How long to stay
Anywhere from two to five days, depending on how relaxed you want to get.
Need to know

Coral Bay is tiny, with basics including a couple of petrol stations, a supermarket and minimart, a post office, nursing post, two resort hotels, two caravan parks, a bakery, a couple of café/restaurants and a few watering holes.

Phone signal is good in town and sketchy elsewhere.

There are airport transfers available to Exmouth/Learmonth airport.

Fast facts
Town population:  207 
Indigenous people: Baiyungu

Insider tip
Go stingray spotting at Bills Bay at night. Stand in ankle-deep water with a torch and look for spotted lagoon rays.
Related road trips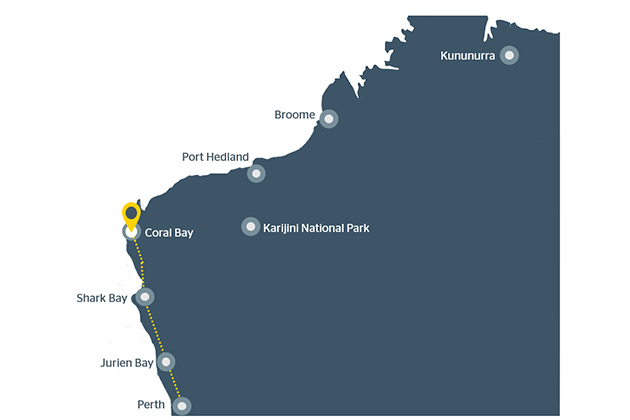 Need a place to stay nearby?
RAC members save up to 20%* on accommodation at RAC Exmouth Cape Holiday Park.
*Terms and conditions apply. Member rate varies according to season. See full website for details.

Banner image credit: Tourism Western Australia
Last updated October 2021