Travel & Touring | WA Destinations
By: Fleur Bainger
Where to go for excellent swimming, kayaking and game fishing along with the region's most iconic underwater experiences.
Coral Bay is quieter than neighbouring Exmouth, yet home to the same natural wonders. Here you can experience swims with whale sharks and graceful manta rays, and explore the incredible coral wonders of the Ningaloo Reef.
Top things to see and do
Explore Ningaloo Reef
Coral Bay faces the southern portion of Earth's largest fringing reef, the World Heritage listed Ningaloo Reef. It swarms with around 500 species of fish that live among 300 species of coral. Snorkelling, diving and kayaking are year-round pursuits in these parts.
In the autumn, winter and spring school holidays, the Department of Parks and Wildlife run free educational activities for visitors, focusing on the marine and terrestrial creatures and habitats of Ningaloo.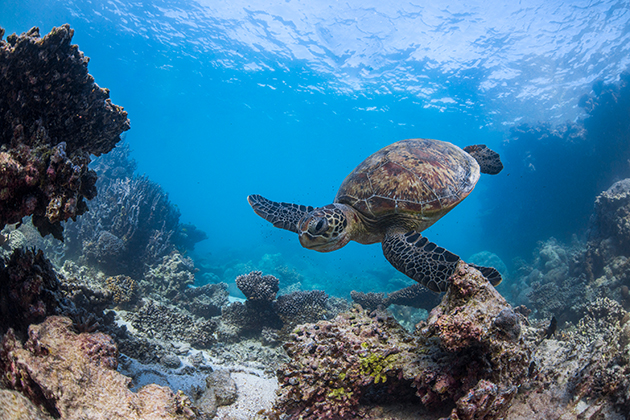 Swim with whale sharks
Each year, these gentle giants descend onto Ningaloo, hanging about from March to July and sometimes longer. While most charter boats depart from Exmouth, a number are also based at Coral Bay.
All snorkel gear and fins are provided on day-long excursions, and you'll likely also see manta rays, coral and fish as part of the trip. Seeing the biggest fish in the ocean up close is one of life's great encounters.
If you're an RAC member, you'll save 10% on whale shark dives with Ningaloo Reef Dive.
See manta rays
Coral Bay is best known for its accessibility to graceful manta rays that seem to dance in the ocean despite their size: they have a wingspan of up to four metres in width. Happily, they do loop-de-loops just beneath the water's surface, so they're easily seen on snorkelling tours – if you love them, lock in a dedicated manta ray tour.
Spot humpback whales
Keep your eye on the horizon from June to November and you'll spot plenty of migrating whales. Join a whale-watching tour in town – many now allow you to swim alongside the humpbacks for an extra thrill. RAC members save 10% on whale-watching tours with Whale Watch Western Australia.
RELATED: 10 of WA's best locations for whale watching »

See turtles
Green, loggerhead and hawksbills frequent the Coral Bay region year-round, swimming in the shallows, nesting and then hatching in the sand. Maud's Landing is a top hatching spot, just be sure to educate yourself on the rules for a positive observing experience. The main points are 'No Glow, Move Slow and Stay Low' as well as 'Stop, Drop and Become a Rock' when you're near a turtle. More info here.
Alternately, book a Turtle Eco-Education Tour with the Jurabi Turtle Centre at Exmouth.
Visit a reef shark nursery
A short walk north of town, you can see baby sharks in the shallows at Skeleton Bay during spring. Go at high tide and sit on the dunes to see them below.
Eating and drinking
Fins Café has the best breakfast in town and is BYO at lunch and dinner. Order their takeaway fish and chips and head to the bay's public picnic tables for sunset. The bakery does the best coffee in town and is loved for its pies and pasties, traditional vanilla slice and smoothies; it also offers vegetarian and gluten free options.
Find a seafood platter to sate all desires at Reef Café, which also dishes up good pizza. Sip a coldie at Bills Bar and target their steak and parmy nights and live music. There's also a new, genuine Italian gelateria called Sweet Coral Bay.
Get your art fix
Local gallery, The Bubble is filled with paintings inspired by Ningaloo, from turtles to fish and whale sharks. There are also locally made bags, tea towels and souvenirs as well as children's books created by the artist, Sadie James.
Explore snorkelling spots
Just off town beach is an enormous coral bommie called Ayres Rock. Ask a local how to swim or kayak to it and hover over the 3m wide living coral – just don't sit or stand on it. There are often glass bottom boats cruising around it and if you can dive down, you'll be rewarded with visions of big fish sheltering underneath. You can see it from the pub at low tide. There are smaller coral bommies just in front of the kayak hut.
Go on a lovely drift snorkel by walking to the 5 knot sign that sticks out of the water in the main bay, where you see a headland of orange rocks. Swim to the dark water about 50m out, which indicates where the coral is, and drift all the way back into the bay.
Extra tip: look out for piles of shells in the shallows as they are tell-tale signs of where octopuses are lurking. Although they camouflage in the coral, they will flush a red wine colour if you get close. There's occasional fish feeding at the pontoon at the beach at 330pm, drawing in spangled emperor fish.
RELATED: 5 of the best snorkelling spots in Exmouth »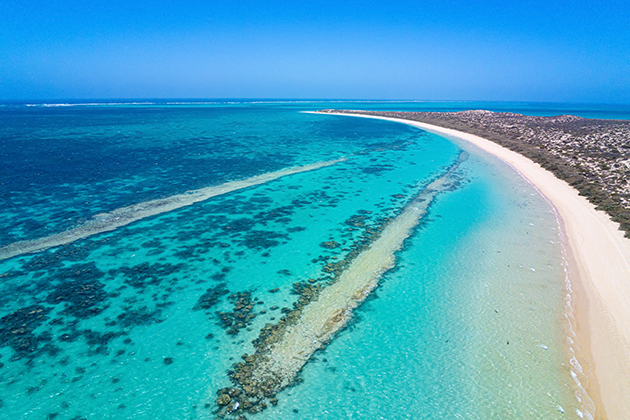 Visit sunset spots
Aside from main beach, you can four-wheel drive to the jetty car park and watch the boats come in as the sun plummets. Or, put on shoes for the rocks and walk to Paradise Beach, where you'll find tide pools often harbouring octopuses and crabs. There's another nice lookout at the end of Coral Bay road, past the pub, atop the dunes.
Go game fishing
Aim to hook fish including emperor, cod, Spanish mackerel and bream, as well as tuna, marlin, mahi mahi and sailfish. There are a couple of fishing charters that run from Coral Bay. Maud's Point is good for beach fishing.
Getting around
Walk. Coral Bay takes minutes to get around on foot – it's one of the town's great pleasures.
Around town, there are a lot of 4WD tracks best suited to experienced drivers who have equipment on hand should they get bogged. Ensure your tyre pressure is dropped and keep to the existing tracks, don't create new ones. Oyster Bridge and Five Fingers Reef are good spots; head to Maud's Point for 4WD beach fishing.
Alternately, there are dune buggy tours with Off Road Rush and quad bike adventures with Coastal Adventure Tours.
What to pack
You'll live in your bathers and t-shirt most of the time, but bring a jumper for winter - the temperature drops at night. You may also need a spray jacket if you're planning time out on a boat.
Travelling safely
Look out for thorny devils on the road, they're often sunning themselves between the Coral Bay turn off and town. Besides dodging them, they're incredible to see up close.
If you join a whale shark tour, ensure you're a strong and confident swimmer – you'll need to be, to keep up with the gentle giants, and feel comfortable in deep water.
At a glance
Distance from Perth
1,121km, or about an 11-hour drive from Perth
Why go?
The World Heritage listed Ningaloo Coast, giant whale sharks, ballerina-like manta rays, turtles, migrating whales, colourful coral and loads more marine life, as well as white sand beaches and watersports like kayaking and fishing.
When to go

Nov - Mar: Hot temperatures and often windy. Turtle nesting is Dec-Feb, hatching Jan-Mar.
Apr - Oct: Beautiful one day, perfect the next. Sunny, warm days abound. Whale sharks visit Mar-Jul; humpback whales migrate from Jul-Oct.


How long to stay
Anywhere from two to five days, depending on how relaxed you want to get.
Need to know

Coral Bay is tiny, with basics including a couple of petrol stations, a supermarket and minimart, a post office, nursing post, two resort hotels, two caravan parks, a bakery, a couple of café/restaurants and a few watering holes.

Phone signal is good in town and sketchy elsewhere.

There are airport transfers available to Exmouth/Learmonth airport.

Fast facts
Town population:  207 
Indigenous people: Baiyungu

Insider tip
Go stingray spotting at Bills Bay at night. Stand in ankle-deep water with a torch and look for spotted lagoon rays.
Related road trips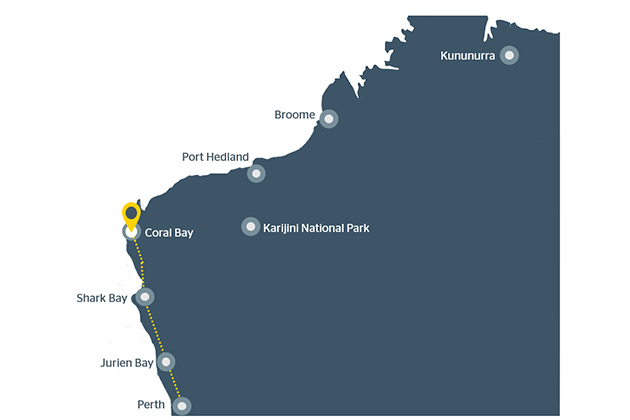 Need a place to stay nearby?
RAC members save up to 20%* on accommodation at RAC Exmouth Cape Holiday Park.
*Terms and conditions apply. Member rate varies according to season. See full website for details.
Image credit: Tourism Western Australia Last updated August 2021