Travel & Touring | WA Destinations
By: Tatum Stafford
The town of Dunsborough has everything you need for the perfect seaside holiday – plenty of sun, sand and surf.
Throw in award-winning wineries, a spectacular national park, one of WA's most beloved ice-creameries and a stunning array of walking and mountain bike trails, and you've got a bucket-list holiday destination.
Pack your bathers, we're heading for Dunsborough.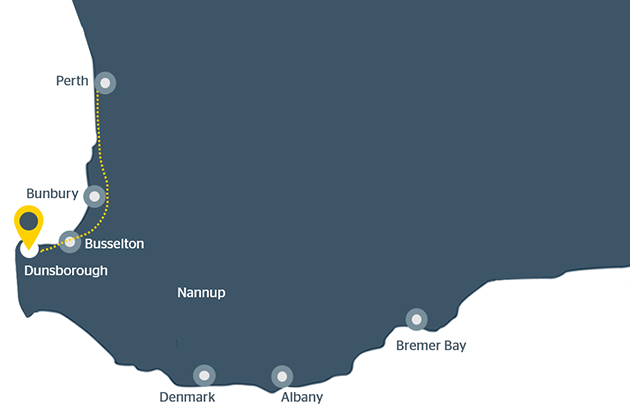 Top things to see and do
Walk the Meelup Reserve Trail
It's no secret that Dunsborough is blessed with one of the State's most beautiful coastlines – and one of the best ways to explore it is on a walk trail. Starting at the Old Dunsborough Beach, this 7.4-kilometre trail weaves alongside the tranquil Geographe Bay to reach the iconic Meelup Beach. On the way you'll pass excellent whale-watching lookouts (Dunsborough's whale-watching season stretches from September to early December), a variety of birdlife, and incredible views of some of the South West's best beaches.
One of the best features of this trail is its easy access points – so if you're eager for a dip or want to stop in at Eagle Bay or the tranquil Point Picquet bay, you can do so without losing your way. If you're completing the trail remember to pack your bathers, as you'll pass a plenty of great spots to swim, snorkel or surf at.
RELATED: 10 of the best whale-watching spots in WA »

Unwind at Castle Bay
Located in the Meelup Regional Park, this tranquil bay is perhaps best known for the towering Castle Rock; an impressive natural tourist attraction. It's an easy climb to the top of the rock, which provides sweeping views of the bay and surrounding bushland. And if you're eager to hit the water, the bay is a fantastic spot for all sorts of water activities, including swimming, SUP'ing and fishing. The bay holds great swell and is quite protected, so it's also one of the region's best surf breaks.
If you'd rather stay dry, the coastal track around the bay is a wildflower wonderland in spring, boasting several varieties of donkey orchids, spider orchids (including the rare Dunsborough spider orchid), hoveas and acacias. There are plenty of picnic tables and barbeques on the banks of the bay, so it's a great spot for a picnic after you've finished exploring.
Grab a scoop at Simmos
This local ice-creamery was established 25 years ago, and is stocked to the brim with over 60 flavours of delicious ice creams, sorbets and frozen yoghurts. But a visit to Simmos is more than a sweet treat, as there are plenty of activities onsite that the whole family will love. Try your hand at mini golf, let the kids run wild on the adventure playground, and say hi to Edward the Emu – but be warned, he loves ice cream as much as humans do!
Go trinket-shopping at boutiques and gift shops
When it comes to trendy coastal-style homewares, clothing and knick knacks, Dunsborough takes the cake as one of WA's premier shopping destinations. The Merchant and Maker General Store is a great stop if you're hunting for gourmet groceries like Prana Chai, specialty dukkah and truffle oils, Beach Lifestyle Living is stocked full of unique homewares, gifts and jewellery, and Milc Homewares is a popular spot to try on new-season clothing, accessories and footwear.
Climb the Cape Naturaliste Lighthouse
The 59-stair climb to the top of the Cape Naturaliste Lighthouse offers one of the most breathtaking ocean views the region has to offer. To learn about the lighthouse's rich history, join a half-hour guided tour and hear about the ships that have wrecked off this coastline, the hardships of life as a lighthouse keeper, and interesting insights about the lighthouse's operation and function. Once you've finished your tour, venture to the new observation platform at the base of the tower for an impressive photo opp.
Dive the HMAS Swan wreck
The 140-metre long HMAS Swan wrecked in Geographe Bay in 1997 – and today, it's one of a handful of world-class dive wrecks in WA. The upper deck of the ship is 15 metres below the surface, and there are almost 200 globefish continually swimming around the ship's bow. Other fish to keep an eye out for include western blue gropers, dusky morwongs, samsonfish and mulloways.
You'll need a permit from the Department of Environment and Conservation or the Dunsborough Visitor Centre before completing this dive. The best way to explore the wreck is via a charter or an Advanced Wreck Dive Course, both of which can be scheduled at any of the local dive shops. The latter option will allow you to explore inside of the ship, whereas the charter will only show you the outside of the wreck.
Tuck into fresh seafood at local eateries
Like many towns on the South West coastline, Dunsborough is a hotspot for fishing, and subsequently, is well-stocked with fresh seafood at local eateries. If you're eager to get a taste of the region's delicious seafood, the Blue Manna Bistro is a popular local haunt. Located in the town centre, it's an ambient spot to indulge in scallops, oysters, bluefin tuna, squid and mussels.
If you'd rather head further inland, you can't go wrong at the iconic Clancy's Fish Pub. Surrounded by natural bushland, this no-nonsense eatery offers tasty local produce and seafood, with entertainment ranging from touring art exhibitions to international music acts. The spacious back lawn at Clancy's is a great spot to unwind and let the kids (and dog) have a run around.
Admire photography at the Christian Fletcher Gallery
Luckily for local and visiting art enthusiasts, award-winning photographer Christian Fletcher calls Dunsborough home – and has established an incredible gallery within Dunsborough's vibrant town centre. Fletcher is renowned for capturing the 'perfect light' in landscape photography, and has taken photos in corners of the world including Cambodia, Iceland, Antarctica and of course, the coastline of his home State. His brilliant photographs are on rotating display in his gallery, which is open year-round.
Entertain the kids at Country Life Farm
Just one kilometre out of the town centre, the vibrant Country Life Farm is filled with farm animals including rabbits, guinea pigs, ducks, donkeys, ponies, llamas, cows and plenty more. And once you've cuddled and fed these cute creatures, head for the giant bouncy castles, dodgem cars, merry-go-round and huge inflatable slide. There are also paddleboats and canoes for a small lake by the farm, with a ride on either included in your entry fee.
RELATED: 13 of WA's best farm stays »

Stop in at the Dunsborough Central Markets
Held every second and fourth Saturday morning of the month, the local Dunsborough markets are a great place to listen to live entertainment and stock up on fresh local produce, pastries, preserves, soaps, crafts and more. The markets are located at Lions Park in the town centre.
At a glance
Distance from Perth
249 kilometres, under three hours' drive
Why go?
To beach-hop your way along the pristine South West coastline, dive one of Australia's most prolific wrecks, indulge in fresh seafood, go trinket-shopping at a range of trendy coastal boutiques, and walk through picturesque, winding bushland.
When to go

Jun - Aug: Winter is a great time to explore the region's various caves, cellar doors and natural attractions. Pop into local bars and eateries to catch a Jazz by the Bay music event in June.
Sep - Dec: Dunsborough's peak whale-watching season makes this a great time to visit vantage points throughout town and within the Leeuwin-Naturaliste National Park.
Dec - Feb: Summer is the most popular time to visit, thanks to warm temperatures and great conditions for surfing, snorkelling, SUP'ing and swimming. The annual Dunsborough Arts Festival during the February Labour Day long weekend is a highlight.

How long to stay
In winter, three days. In summer, three to five days.
Need to know
There are plenty of facilities in the Dunsborough town centre, including supermarkets, banks, a post office and the visitor centre. Mobile reception in and around town is strong. Most of Dunsborough's beaches are easily accessible, and there is plenty of signage on various walking and biking trails across town. If you want to explore more of the region, tours or charters can be booked from the visitor centre.
Fast facts
Town population: 5,300
Indigenous people: Wardandi, who refer to Dunsborough as 'Quedjinup', which means "place of women".

Insider tip
The charming Dunsborough Bakery is a must-visit for a country classic: a steak pie. The bakery also produces a range of pastries, breads and gourmet desserts, best enjoyed on the shores of Dunsborough Beach, a 15 minute walk away.
Related road trips
Getting around
As the roads in and around Dunsborough are quite hilly and winding, you'll need a car to get around the town and surrounding areas. There are also local walking and mountain bike trails to explore – and if you need to hire a bike, you can do so at the Dunsborough Bike Shed or at South West Boats & Bikes on Dunsborough Beach.
If you're planning of exploring more of the region, there are plenty of charter or touring services that can transport you around to various attractions, wineries and beaches. Head to the visitor centre to book your tour.
What to pack
If you're visiting in summer, pack plenty of loose clothing, swimwear, sunscreen, a hat, and any camping or snorkelling gear you'll need. If visiting in cooler months, be sure to pack plenty of layers and a good pair of walking shoes, as tracks can get muddy. Mosquito repellent is a must, especially if you're exploring local bushland.
Travelling safely
If you're driving down from Perth, take plenty of breaks to avoid fatigue. There are many places to stop off at, including the towns of Busselton and Bunbury. Once you arrive, most roads in and around Dunsborough are sealed, but you may need to drive over gravel in certain areas, so take care. Keep an eye out for kangaroos or other wildlife, especially at dawn and dusk. Read more long distance driving tips.
Want to interact with some of Dunsborough's friendly whales?
RAC members save 10% on whale-watching tours departing from Dunsborough with Naturaliste Charters.
Last updated September 2020