Travel & Touring | WA Things To Do
By: Tatum Stafford
Home to a record-breaking mural, award-winning wineries and a village filled with thousands of gnomes, the Ferguson Valley is a destination that ticks a lot of boxes.
Stretching from Bunbury to Collie, entrance to the valley is just under two-hours' drive south of Perth, making it an idyllic spot for a weekend getaway.
However, if you're hoping to tick off the valley's highlights on your way down further south (or on your way back to Perth), it can be done in a day. Whether you're staying the night or just passing through, here's our jam-packed itinerary for a Ferguson Valley day trip.
Stop one: Collie
Start your tour of the valley in the town of Collie. Once WA's most important coal mining town, Collie is today filled with nature trails, picturesque swimming spots and plenty of local history. A stroll around the town will reveal the Old Goods Shed (which now houses a café and community market on weekends), the Old Railway Station and the historic Courthouse, which was built in 1913.
One of the town's newest additions is the vibrant Collie Mural Trail. Officially unveiled in February 2021, the trail features more than 40 murals painted across local shops, community centres and previously blank walls, forming a walkable outdoor art gallery. Download the trail map and scan each mural's QR code for more information about each mural and artist.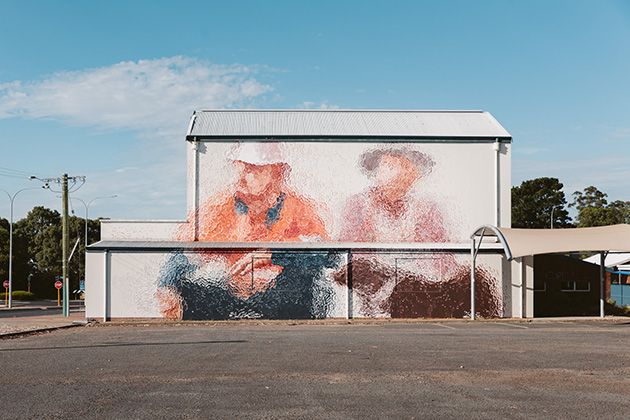 If you want a more substantial walk after a stroll around the murals, head for the Soldiers Memorial Park and start the Collie River Walk. The dog, cycle and walk-friendly track offers scenic views of the riverbank's surrounding bushland (and in spring, wildflowers). Take the 2.5km 'Bridge to Bridge' shortcut - it's well signposted and loops around at Collie's East End Bridge.
A bustling spot for boating, camping and swimming in summertime, Stockton Lake is well worth a visit no matter the time of year. A short five-minute drive from the Collie township, the lake is renowned for its crystal blue waters that meet white cliffs to create a striking visual effect. If you're visiting in cooler months, there are a few public parking areas where you can pull over and take a short walk down to the water to view the lake's colours up close. Swimming is at your own risk, as the lake is mildly acidic.
Minninup Pool, 3km out of Collie, is another popular swimming spot if you're eager to cool off.
Stop two: Wellington National Park
Travel deep into jarrah, marri and yarri forest to enter the Wellington National Park. Here you'll find a vast network of walking and mountain biking trails, plenty of picnic spots, and opportunities for rafting, canoeing and fishing in the Collie River.
Your first stop in the park is the towering Wellington Dam, which is adorned by one of the Collie Mural Trail's newest displays. The 8000sqm Wellington Dam mega mural is fast becoming the park's most popular attraction. Titled 'Reflections', the dam mural (which is now the world's largest) was created by award-winning artist Guido van Helten, who completed it in three months using abseiling ropes, a vertical painting platform and grid coordinates stored on his phone.
Stop in at the Wellington Dam Kiosk for a coffee, then stroll down to the lower lookout for the best view of the dam. There are plenty of signs to direct you.
RELATED: The story behind the Wellington Dam mega mural »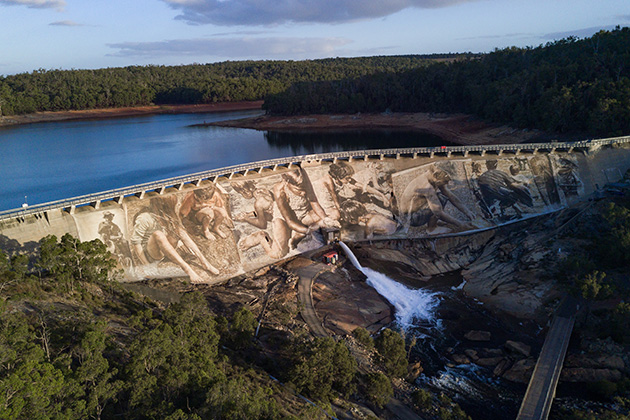 You'll be spoilt for choice when it comes to trails within the park. If walking, the 12km return Jabitj Trail (meaning 'running water' in the Noongar language), provides fantastic views of the rapids and pools between the Wellington Dam and Honeymoon Pool. It has a few steep and rocky sections, so prior bushwalking experience is advised. There are a few quiet pools great for swimming along the way, or you could take a dip in Honeymoon Pool at the trail's halfway point.
If you'd rather hit the pedals, the Pile Road trail network at Mt Lennard offers more than 40km of trails of varying difficulties and lengths. All trails weave through the park's lush jarrah forest and boast sweeping views over the Collie River Valley. The easiest trail (and a great option for kids or first-timers) is the 6km Lennard Half Circuit half loop. More experienced bikers should try the 11.5km Mill Brook Trail, which is packed with steep descents and challenging river sections.
Stop three: King Jarrah Tree
Heading further south, visit the King Jarrah Tree, estimated to be between 300 and 500 years old (the park's oldest). Sitting just south of the national park border, the tree is a whopping 36m tall and has survived centuries of local bushfires, storms and even insect attacks.
There's a short boardwalk leading from the car park so you can walk to the tree's base and learn more about its significance on information plaques. Avid birdwatchers should visit early in the morning, when fairy-wrens, scarlet robins, inland thornbills and golden whistlers are known to hover in surrounding bushland.
Stop four: Gnomesville
More than 10,000 garden gnomes call this shady corner of the Ferguson Valley home in what's become one of WA's quirkiest attractions. You'll spot a faint sea of red, yellow and green in the distance before seeing this eclectic array of gnomes up close, and after parking the car, you'll be amazed at just how far you can walk before reaching the edge of this 'town' of gnomes. It's worth taking your time to explore Gnomesville's hidden nooks and crannies, as there are gnomes of all shapes and sizes dangling from trees, hidden in logs and placed in tiny, handmade houses.
If you're feeling inspired to re-home your own gnome, bring one along with you or purchase one from the nearby Ferguson Valley Visitor Centre. The only challenge will be finding a spot for your gnome that isn't already inhabited.
RELATED: 7 of WA's quirkiest attractions »

Stop five: Late lunch (or tea)
As part of the Geographe wine region, the Ferguson Valley is home to several award-winning wineries, breweries and cafes that serve up delicious lunches made from fresh local produce. If you're feeling indulgent, the five-course degustation at Hackersley Estate is sure to impress. Simpler fare is served at the boutique Green Door Wines, who serve gourmet platters on their deck overlooking a slope of the Darling Scarp. On a clear day, you'll enjoy coastal views out as far as Dunsborough.
For a more casual lunch, order a stone-baked American or Italian pizza at the Ferguson Falls Wines Café, dig into curry, soup or cheese plates at the Evedon Lakeside Restaurant, or visit Bush Shack Brewery's Steakhouse for rustic-style burgers, steaks and salads.
If you'd rather enjoy afternoon tea, traditional Devonshire teas are another popular offering within the valley. You'll find them at St Aidan's Wines and Evedon Lakeside Restaurant.
Stop six: Dardanup and Crooked Brook Forest
Next, call in at the small-but-mighty town of Dardanup. Stroll down the main drag, Charlotte Street, to view local parklands and visit what many regard as the best bakery in the region. The Dardanup Bakery is renowned for its freshly baked pies, sourdough loaves and sweet pastries. It closes at 3pm, so plan a return visit if you arrive too late.
Enjoy a relaxing, 2km walk along the Heritage Trail, or head into the nearby Crooked Brook Forest for a casual stroll along the Forest Path. It circles the Crooked Brook and is particularly pretty in springtime when wildflowers are in bloom. If you're up for a longer walk, tricker trails within the forest include the 10km Marri Walk, the 3km Wildflower Walk and the 1.5km Jarrah Walk.
Stop seven: Bunbury
It may be nearing night by the time you arrive in Bunbury, but if there's still a bit of daylight, head for the coast to catch the sunset. Reliable sunset spots near town include Koombana Bay, the base of the Bunbury Lighthouse or Hungry Hollow Beach.
If you're spending the night in Bunbury, give some of the city's most vibrant restaurants a try. Head to Market Eating House for charcoal-grilled comfort food, Mojo's for a taste of fine dining, Bayview Bar & Grill for ocean views and delicious steaks, Funkee Monkee for a bustling atmosphere or The Rose Hotel for a no-frills pub meal.
RELATED: 12 reasons you shouldn't bypass Bunbury »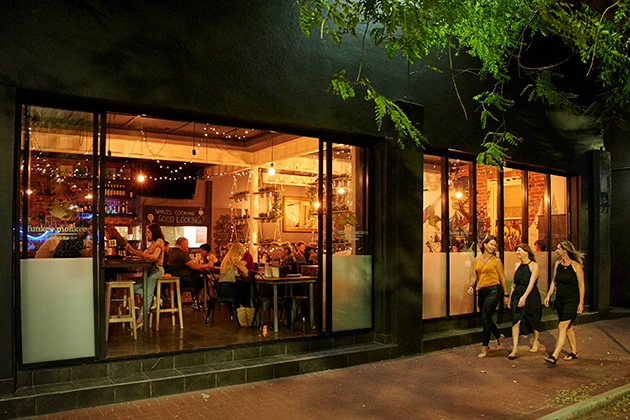 Extra stops
If you're planning to spend more time exploring the valley, here are some extra stops worth adding to your itinerary.
Fruit picking
Dubbed the 'apple capital' of WA, Donnybrook sits at the bottom of the valley and hosts a vibrant harvest season between March and May each year. Head to the Spring Valley Orchard to pick Pink Lady and Sundowner apples, and plums. To reserve your place, you'll need to join the mailing list on the Spring Valley Orchard website.
Farm activities
The Ferguson Farmstay offers a range of fun farm activities the kids will love for just $15 per person. Their daily farm program includes feeding animals (pigs, chickens, goats, ducks and rabbits), pony rides and a tractor ride to feed cows at the back of the property.
Art galleries and studios
Local Ferguson Valley galleries are filled with unique artworks, including ceramics, jewellery and glassware. Visit the 5th Element Art Glass Studio & Gallery to view award-winning pottery and glassware, Jenni Doherty's studio to view printmaking and textiles, or Elliott Smith's studio to view mixed media sculptures.
Need to fuel up before your Ferguson Valley road trip?
RAC members save 4 cents per litre at participating Puma Energy and Better Choice service stations.
Last updated: May 2021
Tile image credit: Bunbury Geographe Media Library