Travel & Touring | WA Things To Do
By: Tatum Stafford
Western Australia is home to some of Australia's most beautiful national parks – and luckily for city dwellers, there's a handful of them on Perth's doorstep.
With tons of hiking, swimming, wildlife-spotting and camping opportunities on offer, national parks are the perfect way to reconnect with nature. Plus, with many less than two hours from the CBD, it's easy to drop in if you're taking a day trip from Perth.
Before you start the car, it's important to be aware of a few national park rules. Pets are not permitted, and there are fees payable at the visitor entrances: $15 per vehicle (with up to 12 passengers included), and $8 per motorcycle.
Now, with the details out of the way, here are six national parks near Perth that are worth a visit.
RELATED: Waterfalls under an hour's drive from Perth »

1. Kalamunda National Park
Distance from Perth: Just under 40mins.
For lovers of: Bushwalking, horse riding, birdwatching, wildflower spotting and mountain biking.
Facilities: Toilets and picnic tables.
If you only see one thing: The visitor centre at the beginning of the Bibbulmun Track for a dose of local history.
Just a short walk from the Kalamunda Township, the Kalamunda National Park is located in the picturesque Perth Hills. Notably, the park is the beginning point of one of the world's greatest long-distance hiking trails, but is also a great spot for horse riding, mountain biking, wildflower spotting and picnicking with some fantastic views of the CBD skyline.
As mentioned above, bushwalking is a key attraction for those visiting the Kalamunda National Park. The park is the beginning location of the world-famous Bibbulmun Track, which stretches for 1,000 kilometres from Kalamunda to Albany. The portion beginning in the park is dubbed 'The Darling Range' and covers 211 kilometres from Kalamunda to Dwellingup. If you're planning on tackling this leg of the track, be sure to plan stops at the multiple lookouts, cultural centres and campsites you'll pass along the way.
For those after a shorter walk, the Schipp Road Walking Trail and the Rocky Pool Walk are picturesque tracks that will take less than a few hours to complete. Whilst walking, you'll be treated to views of the park's incredible variety of woodlands; including species of jarrah, marri, wandoo and a gum that is often called the 'Darling Range ghost gum' because of its powdery, white bark.
RELATED: 10 hikes in national parks near Perth »

2. John Forrest National Park
Distance from Perth: Around 40mins.
For lovers of: Horse riding, bushwalking, wildflower spotting, mountain biking and picnicking.
Facilities: Picnic tables, toilets, barbeques and an entry station.
If you only see one thing: A spot on WA's earliest railway line, the Swan View Tunnel.
The John Forrest National Park is the oldest national park in WA. Set amongst thick jarrah forest, the park has excellent recreational facilities including walking and horse-riding trails, mountain bike tracks and multiple spacious picnic areas.
The park is home to two waterfalls that flow in winter and spring; Hovea Falls and National Park Falls. It's best to visit both during months of heavy rainfall, which are generally from July to September.
Some of Perth's best walk trails can also be found in the park - all of which conveniently begin from the main picnic area. Some of the most popular trails are the Glen Brook Dam Walk, the Christmas Creek Tree Walk, and the John Forrest Bridle Trail. If you're a history buff, the Railway Heritage Trail leads you through the iconic Swan View Tunnel. Built in 1893, this structure was WA's earliest railway tunnel and formerly linked Fremantle to York.
The park is also a great spot for wildflower enthusiasts. In terms of bushwalking, the 15 kilometre long Eagle View Trail displays an abundance of wildflowers during spring – or if you'd prefer a slow drive, over 500 species of wildflowers can be spotted on the winding Park Road.
3. Yanchep National Park
Distance from Perth: 45mins.
For lovers of: Caving, bushwalking, bird watching, Aboriginal cultural experiences and wildlife spotting.
Facilities: Picnic tables, barbeques, toilets and a visitor centre.
If you only see one thing: The only cave in Perth that is open to the public, Crystal Cave.
Whether you're new to town or a fully-fledged local, Yanchep National Park in Yanchep is a great place to experience an authentic Aussie experience – thanks to its famous population of koalas and kangaroos. A stroll along the 240-metre koala boardwalk will give you the best view of these furry creatures, and there's also a free daily Koala Talk if you're curious to learn about the broader history of Yanchep's wildlife.
The park is also home to over 400 caves, including Perth's only tourist cave, Crystal Cave. Packed with crystal formations, the cave is open daily for tours – or if you'd prefer a self-guided option, there are nine different walking trails that weave in and around the park's collapsed cave systems.
4. Serpentine National Park
Distance from Perth: 50mins.
For lovers of: Waterfalls, hiking, birdwatching and wildflower-spotting.
Facilities: Picnic tables, toilets, barbeques and an entry station.
If you only see one thing: Serpentine Falls in full flow after winter rains.
Sitting on the edge of the Darling Scarp, Serpentine National Park is home to plenty of picnic areas, wildflowers in springtime and one particularly famous natural attraction: Serpentine Falls. The naturally-formed falls occur after heavy winter rains, when water cascades down a 15m-tall granite outcrop into a pool below. It's a notoriously popular and busy destination, so plan to arrive before 10am to guarantee yourself a prime picnic spot.
There are a number of great walk trails that depart from the falls, including Baldwin's Bluff Nature Track, the Falls Walk Trail and Kitty's Gorge Walk. The latter is one of the park's most popular trails, following the Serpentine River and Gooralong Brook.
Other popular activities within the park include wildflower-spotting from July to November, birdwatching along the slopes of the Serpentine River valley, and picnicking under the park's shady trees.
RELATED: Ultimate guide to Serpentine and Jarrahdale »

5. Walyunga National Park
Distance from Perth: Just under an hour.
For lovers of: Aboriginal and local history, bushwalking, canoeing, camping, kayaking and fishing.
Facilities: Picnic tables, toilets and barbeques.
If you only see one thing: The tranquil Walyunga Pool.
Covering 1,800 hectares of the Darling Range, the Walyunga National Park is characterised by its deep pools, plentiful gum trees and rugged valley scenery. The park is steeped with cultural significance, as it contains one of the largest known Aboriginal campsites within close proximity to Perth. In fact, archaeological evidence suggests the area has been used by Aboriginal people for more than 6,000 years.
The park is renowned for its vibrant wildflower displays in winter and spring that are best explored on the region's many walking tracks. For families, the flat Syd's Rapids Trail leaving from Boongarup Pool is a great option, and for more experienced hikers, the 11 kilometre Echidna Trail loop involves a few steep ascents that make for a rewarding challenge.
Walyunga Pool is a particularly popular camping spot – and for good reason. This first-come, first-served campsite is a stone's throw from the pool, but just far enough from the Swan River that it offers an escape from some of the park's busiest areas. If you're interested in camping within Walyunga National Park, check out our round-up of Perth campsites by the water.
6. Yalgorup National Park
Distance from Perth: 75mins.
For lovers of: Birdwatching, bushwalking, wildflower-spotting and camping.
Facilities: Picnic tables, toilets and lookouts.
If you only see one thing: The famous Lake Clifton thrombolites.
Stretching just south of Mandurah to north of Myalup, the expansive Yalgorup National Park encompasses ten lakes, a thriving wetland system, plenty of nature walks and a few waterside camp sites.
The park's most renowned attraction, however, is the famous thrombolites at Lake Clifton. Thrombolites are rock-like structures that scientists believe represent one of the first life forms on earth. This thrombolite reef is one of only a handful in WA, and can be viewed up close on a Lakeside Loop walk trail over a boardwalk.
Other popular pastimes within the park include camping at Martins Tank Campground, strolling along trails at Lake Clifton and Lake Preston to view bird life, and spotting wildflowers (namely orchids) in the park's various wetlands.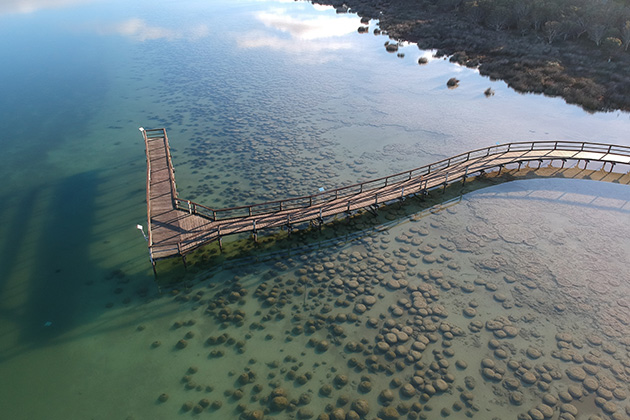 7. Avon Valley National Park
Distance from Perth: 90mins.
For lovers of: Bushwalking, camping, canoeing, kayaking, picnicking, 4WDing and birdwatching.
Facilities: Picnic tables, barbeques and toilets.
If you only see one thing: The famous Avon River rapids.
Named after the river which flows through it, the Avon Valley National Park is home to lush woodlands, white-water rapids and a money-can't-buy view of the sweeping Avon Valley plains. The park is steeped in local history, as it was a hide-out for notorious bushranger Moondyne Joe after his first escape from a Toodyay lockup in 1861.
The park is also a key site for the epic Avon Descent; a two-day, 124 kilometre race from Northam to Bayswater held in August. Spectators for the event are welcome, but if you'd rather hit the water and experience the rapids for yourself, canoeing and rafting tours of the river are available during winter and spring.
For those who prefer staying on land, birdwatching and wildflower spotting are among the most popular activities within the park. There's also a picturesque campground on Bald Hill, that offers some panoramic views and easy access to local 4WD tracks, hiking trails and the rivermouth.
RELATED: 15 of WA's best national parks for camping »

Enjoying this article? Check out:
10 of WA's best waterfalls »
8 of the best family bike rides in Perth »
Inspired to visit some of these parks?
Don't forget to fuel up, first - RAC members save 4 cents per litre at participating Puma Energy and Better Choice service stations.
Tile image credit: Russell Ord and Visit Mandurah
Last updated August 2021