Jun 4, 2019 By: Fleur Bainger
You dream about owning a campervan. Rich childhood memories of driving across the countryside with jangling cutlery and Uno cards, prompt you to shell out for a home-on-wheels.
B
ut once you have your motorhome, caravan, camper trailer or campervan, it sits in the driveway for 46 weeks a year. The dream is one thing, the reality is another.
Share-community websites have come up with a solution: what if you could rent out your unit to other starry-eyed holidaymakers, and still have it when you need it?
That's the premise behind operators such as Camplify and Share-A-Camper. Described as the Airbnbs of the camping sector, they allow owners to create profile pages that list things like nightly rates and availability for other to book. Those that rent through the service can ask for extras like pre-set up at a camping ground, personalised travel tips or sun umbrellas and lilos.
There is certainly a market for it. Our love of road tripping holidays at home is on the rise. In 2017, there were 22,381 Recreational Vehicles manufactured to fill demand, making it "the second largest year for manufacturing in the last 37 years," according to the Caravan and Camping State of Industry report.
Enjoying this article?
Sign up to our monthly enews
In Australia, there are nearly 650,000 registered RVs and contrary to popular belief, it's not all grey nomads: the RV Consumer Report 2018 found the average age of an Australian RV owner is 33 with the passion for hitting the bitumen strongest among 30 to 54-year-olds,.
So let's meet the movers and shakers in the peer-to-peer rental movement.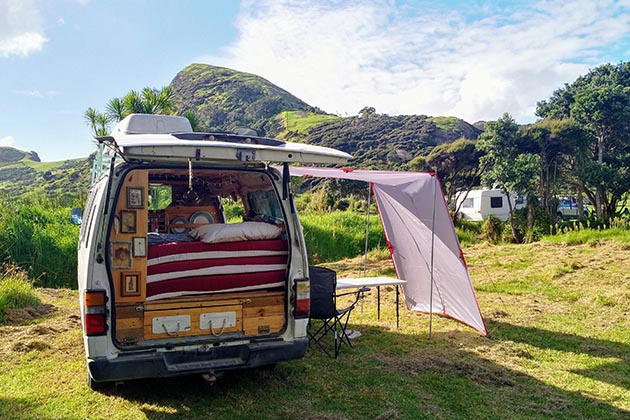 Off-the-grid camping from Camplify
Introducing Camplify
Camplify CEO Justin Hales couldn't afford to buy a motorhome to recreate the happy times he spent as a youngster exploring Australia in the 1980 Viscount family caravan. So, he thought up a way around his problem - Camplify.
Following a kickstart through the National Roads and Motorists' Association (NRMA) Slingshot Jumpstart Accelerator Program in 2014, Camplify has evolved into Australia's largest peer-to-peer caravan and motorhome hire company. Currently valued at around $25million, its services are now available in the UK, with plans to launch into New Zealand and Europe.
"Caravanning is cool now," says chief operating officer and Hales' co-founder, Josh Fischer.
"When I was a kid, that's we would go out in my granny's van, and I can't remember not having a laugh.

"This year the popularity has been particularly noticeable. Everyone wants to go away in a caravan."
Camplify lists 2800 owners in Australia, and some 200,000 users or hiring members - 75 per cent of whom are families. Fischer says the Xenials market – those born in the late 70s and early 80s who have had an analog childhood and a digital adulthood – are embracing the movement.
"That group are very conscious of sharing. They've grown up with Airbnb, rather than traditional hotels. They don't want to own, and they want to create less pollution," he says. "We do get asked about off-grid or free camping, where you don't need power, so people look for vans that have solar panels – that's a real growing trend."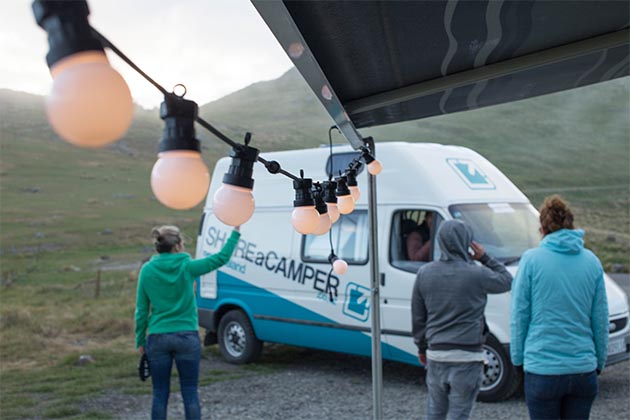 Share-A-Camper's van and team
Share-A-Camper is similar to Camplify, and was created by two friends who fell in love with camping during a campervan trip through Australia and New Zealand.
"Renting a campervan during the busy season is really pricey, so we wanted to offer an option where the traveller can be connected right away with a local who has the gear and the knowledge that they might need," says managing director Stefanie Bender.
The how-to
Each of the hire sites works roughly the same. As a hirer, you create a personal profile, search the listings and get in touch with the owners to book. Once the owner approves the rental, you pay to confirm the booking.
As an owner, you need to create a profile page with photos of your RV, rates, what periods you're happy to rent out and any rules. When you're contacted by a holidaymaker, you can ask them questions and choose whether to rent to them. A percentage of their payment goes to the hiring website.
At the end of the journey, Camplify invites you to provide a review of your experience. Share-A-Camper doesn't yet have this feature but plans to add it as well as a rating system for the vehicle, to indicate if it's budget or fancy.
Caring for the wear and tear
Camplify's Josh Fischer argues that because travellers meet the owner they're renting from, there's a connection that encourages them to take better care with the RV.
"We're seeing that damage has declined, even though van numbers are up," he says.
For both services, an upfront bond is required and insurance and roadside assistance is a must, although at Camplify it is paid by the owners, while at Share-A-Camper the cost is covered by the renters with an easy daily or monthly rate.
Fischer says serious accidents are rare. "Other than general wear and tear, stone chips are common, awnings often get damaged but in terms of people being malicious and reckless, I could count them on less than one hand," he says.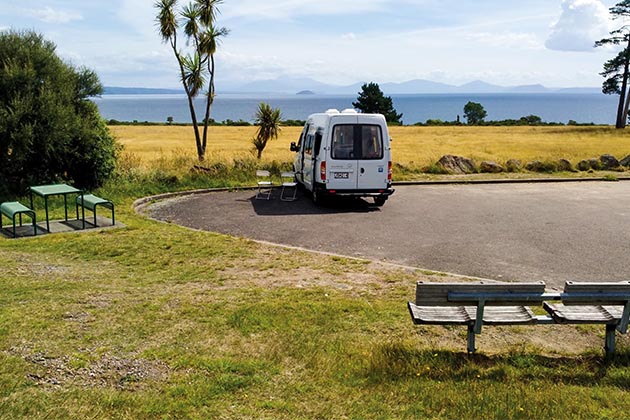 Remote camping opportunities are becoming increasingly mainstream
How does it stack up?
Just as there is still room for hotels alongside Airbnb rentals, there's definitely still a place for traditional RV operators.
For starters, at different times of the year, the price competitiveness can vary dramatically. Share-A-Camper's Bender says it's worth doing your homework on rates.
"In low season, we can't compete with the big companies. They have the fleet and renting out cheap is better than not renting out at all, whereas our owners don't have that thinking," she says.
"But, in the high season, you can save about 50 per cent on the same campervan by going through our platform."
With traditional and trusted hire companies, like Apollo, renters know exactly what they are getting both in quality and the standard inclusions and standard processes. They also don't need to return vans to where they came from.
"Apollo can offer a one-way journey whereas ours need to come home," says Fischer.
He also notes that businesses like Apollo specialise in motorhomes, which suit international visitors, whereas peer-to-peer operators tend to be more weighted in the caravan sector, which works for domestic travellers, especially in WA.
"The average holiday than the east is five or six nights, whereas in WA it's more like nine or 10," he says. "People are doing a lot of kilometres so they want to enjoy the stops on the way.
"Aussies love having the freedom of parking the van up and then going exploring in the car," he says.
Enjoy this story? Get more of the same delivered to your inbox. Sign up to For the Better eNews.
Fancy taking a driving holiday?
We have put together a collection of driving holiday hints and tips to help plan your next driving holiday in Australia or overseas. Whether it's campervan hire, maps or guides, we've got you covered.
And if you're looking for a good spot to pull up in your campervan, check out our RAC Parks & Resorts with discounts for RAC members.