Travel & Touring | WA Destinations
By: Tatum Stafford
The coastal town of Geraldton is one of Western Australia's hotspots for windsurfing, diving, snorkelling, wildflower-spotting and so much more.
Situated along WA's beautiful Coral Coast, the town is also a favourite amongst four-wheel drive fans, maritime enthusiasts and lovers of water-sports. Pack the car, we're heading to Geraldton.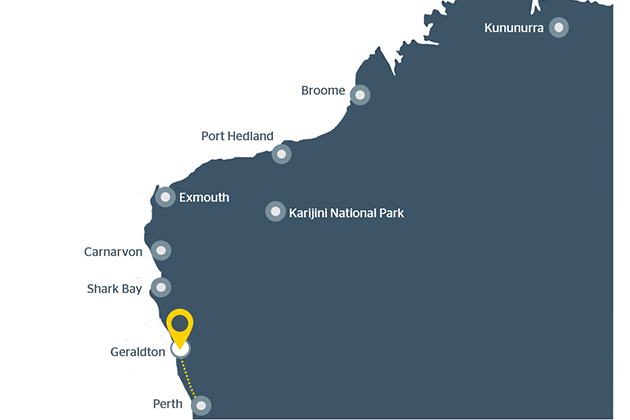 Top things to see and do
Tour the Houtman Abrolhos Islands
Comprised of 122 islands, the Houtman Abrolhos Islands are often dubbed the Galapagos of the Indian Ocean, and are perhaps best known because of the infamous Batavia Shipwreck in 1629. The islands are characterised by their crystal-blue waters, plentiful marine life and epic snorkelling, fishing, diving and photography opportunities.
If diving or snorkelling, you're likely to encounter magnificent coral gardens, plenty of colourful fish, meadows of seagrass and native animals such as the Australian sea lion. The islands are also home to several vulnerable shorebirds and marine species, including the curlew sandpiper, bar-tailed godwit and great knot. There are four marine sanctuaries within the islands, and there are seven self-guided dive trails that will allow you to explore the local marine life, as well as the remains of the Batavia.
To reach the islands, consider a two-hour, half-day or full-day flight, or hop on a charter boat for a longer visit.
RELATED: Your guide to Geraldton and the Abrolhos Islands »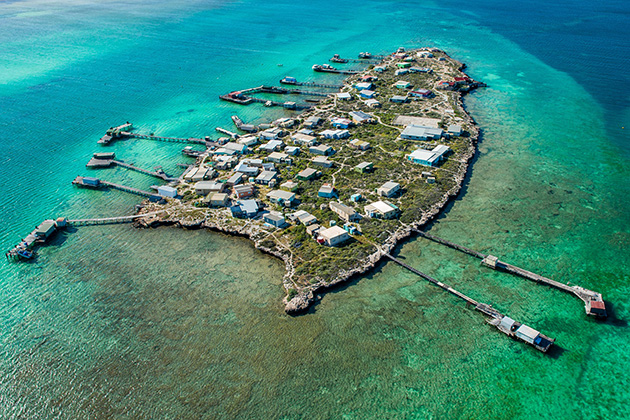 Go kitesurfing
Geraldton's prime coastal location makes it a favourite with wind and kitesurfers across the state. One of the town's most popular kitesurfing spots is the beach at Point Moore. It's a large, exposed beach that juts out into the ocean, meaning it receives strong winds. You'll be able to park your four-wheel drive on the beach here. If you'd rather a more sheltered spot, visit Separation Point just south of Geraldton. The waves here are a little smoother, and you'll also be able to park your four-wheel drive on the sand while you hit the water.
Take a stroll along the Geraldton Foreshore
If you're visiting with kids, the water play area at the Geraldton Foreshore is a great spot to let them cool off and run around. This epic playground is filled with swings, slides and climbing equipment, as well as a shady amphitheatre where parents can relax.
If you're eager to stretch your legs, take a walk or bike ride along the Geraldton Foreshore. Hop on the walk path and pass the Geraldton Multipurpose Centre, Dome Café, and Champion Bay Surf Life Saving Club before reaching the Geraldton Marina, a picturesque spot home to several local charter boats and other water vessels.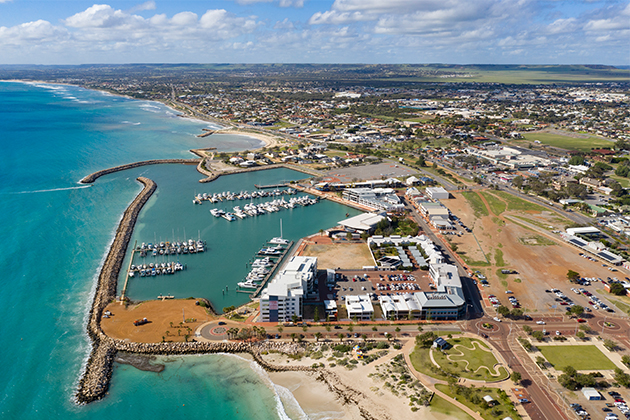 Visit the Museum of Geraldton
Home to a famous Shipwrecks Gallery, a gallery dedicated to the history of the Mid West and a series of interactive and informative exhibits, the Museum of Geraldton is a must-visit for museum buffs or those interested in WA's fascinating naval history. One of the museum's most intriguing exhibits is titled 'From Great Depths', and allows visitors to witness the wrecks of HMAS Sydney (II) and HSK Kormoran through a series of high quality 2D and 3D images. A great way to view the museum's highlights is on a daily tour departing at 11:30am.
Spend a day in the Coalseam Conservation Park
The Coalseam Conservation Park in Mingenew is one of WA's most impressive wildflower hotspots – and at a one hour and 15-minute drive from Geraldton, it's the perfect day trip destination to spot beautiful native blooms. The park is best known for its carpets of white, pink and yellow everlastings each spring, but also showcases a variety of shrubs, wattle trees and flowering bushes.
To view the flowers up close, hop on the 3.2-kilometre Plateau Loop Walk Trail. The walk meanders through eucalypt woodlands, leading to a ridge with sweeping views of the valley and surrounding landscapes. The section of trail that weaves through yellow pompom-head everlastings make this a walk to remember.
RELATED: 6 of WA's prettiest wildflower road trips »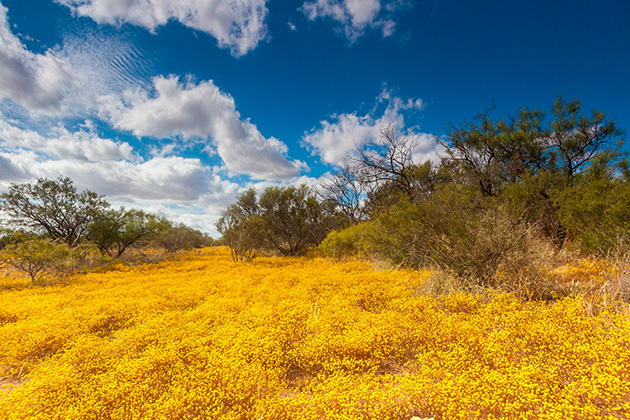 Go surfing
Geraldton boasts a variety of surf breaks to suit beginners and experts alike. One of the town's most popular surf spots is at Back Beach, which enjoys a consistent swell and is affectionately known as 'Backers'. Other popular surf spots include Separation Point, Pages Beach, Coronation Beach and Medallia Beach.
Visit the Greenough Wildlife & Bird Park
Located a 20-minute drive south of Geraldton, this popular wildlife park offers visitors the chance to hold friendly lizards, feed kangaroos, interact with dingoes and enjoy a picnic lunch beside Douglas the crocodile. The park has been rescuing and rehabilitating local wildlife for more than 30 years, and is a great spot to visit if you're eager to get up close and personal with some of Australia's most beloved creatures.
The park is open from Friday to Sunday, from 10am to 2pm.
Visit the Hutt Lagoon
At just over an hour's drive from the Geraldton town centre, the famous Hutt Lagoon (or the 'pink lake'), is one of WA's most recognisable landmarks. Its iconic pink colouring comes from the presence of an algae called dunaliella salina, which is used in cosmetics and dietary supplements because of its benefits to skin health and source of Vitamin A.
If driving, the best land-based view of the lake can be found on Port Gregory Road. There's a small parking area where you can stop, and then walk down to the water's edge. The lake's colour is most visible when skies are clear, so visiting between 10am and 2pm during warm days is your best bet to catch an impressive view of the lake.
RELATED: 7 of WA's rarest natural wonders »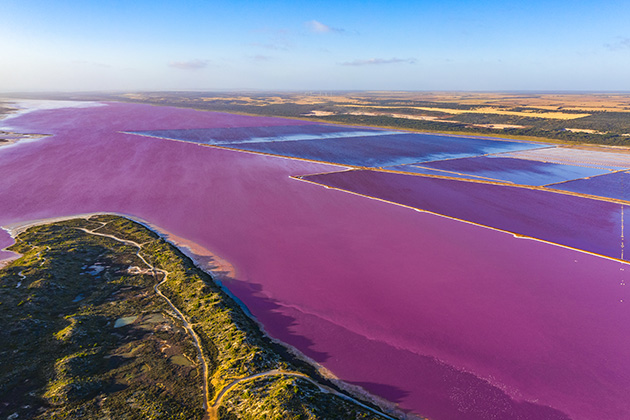 Walk the Greenough River Nature Trail
If you're hoping to tackle a long walk while in Geraldton, head for the 17-kilometre loop Greenough River Nature Trail. Beginning a few kilometres south of the Geraldton town centre, the trail will take approximately four hours to complete, and travels on a flat path through coastal vegetation and past stunning views of the Greenough River. This is an ideal trail for bird watching enthusiasts, as there are plenty of wrens, honeyeaters, pelicans, ducks and cormerants scattered in habitats along the track.
Visit the HMAS Sydney II Memorial
Situated at Mount Stott in Geraldton, this moving memorial was designed to commemorate the 645 lives lost on the HMAS Sydney II in 1941. The memorial is comprised of several symbolic elements, including a Wall of Remembrance which bears the names of the crewman who perished in the battle, the centrepiece Sanctuary made up of 645 seagulls, the Stele representing the bow of the ship, the Waiting Woman Sculpture and the Pool of Remembrance, which displays a map of the ship's final resting place.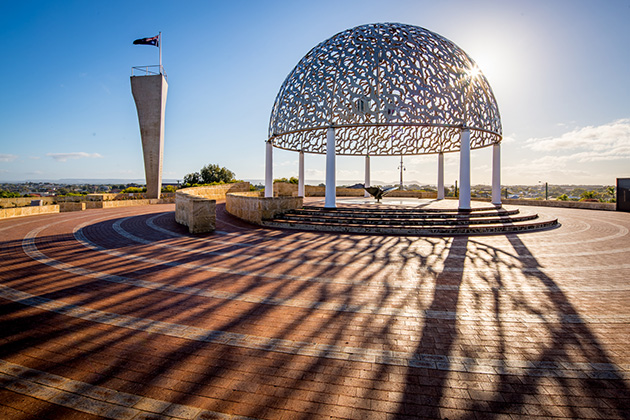 Go fishing
Geraldton is a fantastic fishing location, with plenty of herring, tailor and mulloway fishes to be caught along the town's coastline. If these species tickle your fancy, the Greenough Rivermouth is a great spot to try to catch them, along with bream and flat head. If you'd prefer to fish in salt water, Separation Point and Point Moore are both ideal spots to catch whiting, herring and bream.
If you'd rather go fishing further out of town, head for the Chapman Valley Fishing Park. Just a 25-minute drive north of Geraldton, the park is a licensed premises where barramundi, marron and silver perch can be caught. This is a great spot for beginner fisherman, as all fishing gear is provided, and an entry ticket will grant you a whole day to fish in either the park or in the separate marron pond. There are plenty of shady picnic and barbeque areas, so bring a packed lunch with you to make a day of it.
RELATED: 10 of WA's best beach fishing spots »

Hit the trails in the Chapman River Regional Park
This rugged park is a favourite for locals – particularly for its fantastic cross country mountain biking trails. There are 9.8 kilometres of track available, and as the trail is dual direction, you'll need to travel in a clockwise direction on even dates (e.g. 2nd, 4th) and in an anticlockwise direction on odd dates.
At a glance
Distance from Perth
419 kilometres, around four and a half hours' drive
Why go?
To snorkel amongst magnificent coral gardens, go four-wheel driving to hidden kite-surfing spots, witness the natural phenomenon of Hutt Lagoon (one of WA's pink lakes), be surrounded by everlastings in the pristine Coalseam Conservation Park, and view some of the State's most incredible maritime artefacts.
When to go

Mar - Sep: Prime months for surfing off Geraldton's coastline.
Sep - Nov: Spring is the best time to view everlastings in the nearby Coalseam Conservation Park, and at other wildflower hotspots in and around town. The annual Geraldton Greenough Sunshine Festival featuring parades, entertainment and kids' activities in October is an annual highlight.
Nov - Mar: Summer months provide idyllic weather for water-sports, swimming and snorkelling. This is also the best time to go kitesurfing, especially early on summer mornings.

How long to stay
Two to three days, or make an overnight stop if travelling further along the Coral Coast.
Need to know
There are multiple supermarkets, cafes and other stores in Geraldton, so there are plenty of spots to stock up on the necessities. Mobile reception is strong in town, and there's free WiFi within the town centre. There are also several petrol stations in town.
Fast facts
Town population: 37,600 
Indigenous people: Yamatji, which encompasses the Amangu people, Naaguja people, Wadjarri people, Nanda people, Badimia people and the Western Desert people know as the Martu people.

Insider tip
To witness a unique natural phenomenon, head for the nearby leaning trees of Greenough. Despite their odd appearance, these River Gum trees are very much alive and grow horizontally.
Related road trips
Getting around
If staying near the foreshore, you'll be able to tick off a few of the town's highlights on foot. If walking, keep an eye out for the recent wayfinding signs that have been installed at popular locations around the town. If visiting nearby towns or regional spots further from town, you'll need a car – most spots nearby are two-wheel drive accessible.
If you're eager to explore on two wheels, Revolutions Geraldton hires bikes as well as trikes for the kids.
What to pack
Though Geraldton reaches high temperatures in summer, its coastal location means a few extra layers are a good idea, particularly for windy and cool evenings. A hat and sunscreen are a must, and insect repellent will come in handy if visiting at the peak of summer when flies are commonplace.
Travelling safely
If driving from Perth, take extra care on windy sections of Indian Ocean Drive. Keep an eye out for native wildlife on roads in and around Geraldton, particularly at dusk and dawn. Read more long distance driving tips before setting off.
Eager to explore Geraldton?
RAC members save 10% on travel experiences with Sightseeing Pass WA, including scenic flyover tours of the Pink Lake that depart from Geraldton.
Last updated: January 2022